Faculties try to stay personal with some in-person teaching, but it's challenging during a pandemic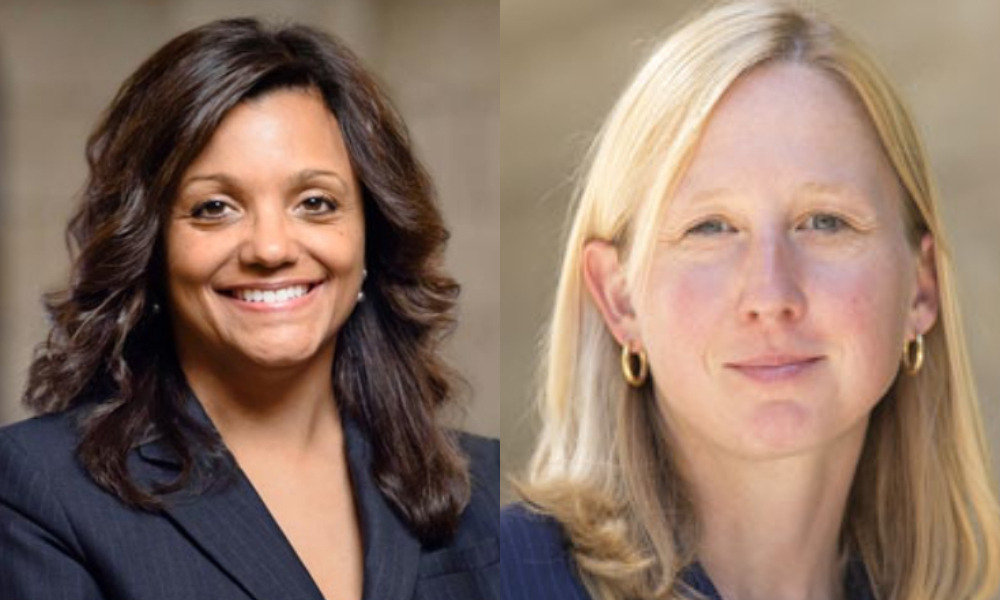 The image of law school that many of us have in our minds is typically like the 1973 movie The Paper Chase, in which Professor Charles Kingsfield (played by John Houseman) terrorizes the incoming class with his Socratic method of teaching first-year contract law.
There's fear and anxiety as students on campus try to figure out how they'll survive the next eight months. But there's also camaraderie, study groups, note sharing and the intellectual excitement of learning something new and important and discussing that with the fellow student sitting next to you.
Well, this year, for the most part, you can scratch that image. With COVID-19, law school students are facing a new reality as they deal with a shift to online learning or a hybrid model that incorporates some in-class experience but in a very limited, physically distanced way.
Still, that doesn't mean there is absolutely no way to connect with professors and fellow students. Many of Canada's law schools are finding ways to provide at least some in-class learning for those who want it. They are also becoming more innovative in how they structure online learning, so there is more connection between students at home and instructors either at home themselves or at the school in an empty or sparsely filled classroom.
Related story: Here is a comprehensive list of law schools in Canada including their current tuition figures, key faculty members, joint degree programs and licensure requirements in the respective provinces for 2021.
McGill University law school dean Robert Leckey said his faculty had originally prioritized the incoming first-year class for limited in-person activities. Still, even that was scratched as the pandemic situation in Montreal got worse this fall. "We are continuing to hope that, in the winter term, there can be in-personal activity and perhaps even more next September," he says. "But that will depend on the health situation."
So far, Leckey adds, it has been going better than expected. "Things that we normally would have thought needed to be done in person — like cross-examining and practice pleading, we're managing to do that remotely."
Erika Chamberlain, dean of law at Western University in London, Ont., says the faculty has taken a different approach. The first-year class is taught in person (except for the dozen or so students who opted for online only), while upper-year students are taking virtually all their classes, well, virtually.
"We figured that since the transition to law school is difficult under any circumstances, it was important for first-year students to feel engaged and make some supportive relationships with professors and their classmates," she says. "It's been a lot of work, I'm not going to lie, but it's been worth it."
Some classes are taught in real time, Chamberlain says, while others are taught "asynchronously," meaning students can access recorded live classes or pre-recorded classrooms. The method used depends on instructors' preferences and comfort level. Chamberlain says the advantage of the options is that it also offers flexibility for students dealing with other pandemic-related issues, such as children at home or sharing internet bandwidth with others.
Chamberlain adds that classes are restricted to the largest classrooms or auditoriums, and students are spaced well apart. There are safety protocols such as plexiglass barriers for instructors to stand behind and a questionnaire that students fill out each time they come to campus.
Lakehead University's faculty of law offers all courses for the entire academic year with online access, with some notable exceptions for courses that benefit by being done in person, such as clinical law, with appropriate social distancing measures. The Thunder Bay, Ont. law school is also offering some in-person instruction for students who prefer to be face to face, to the extent permitted by provincial and local public health rules.
"Much of that is based on student and instructor preference; that played a big role," says dean Jula Hughes. The other priority is to give first-year students a taste of the law school experience.
So far, the teaching model has been successful, "considering we had to make lemonade out of lemons," Hughes says. "It shows how much creativity and just plain old hard work has made it possible for students to really have a good educational experience, despite all of the adversity."
One concern the University of Calgary had, says associate dean Nickie Nikolaou, was how to ensure that exams done at home could be done in a way that students could work around their home lives and things they couldn't control — such as the need to look after children.
Originally, it was proposed that exams could be done any time in a 24-hour period, with no time limit, but Nikolaou says that idea "stressed out some students even more — they were thinking that some of their classmates could use all that time when they had obligations that wouldn't allow that."
The solution, she says, is to offer a 24-hour period in which students can pick a window that works for them. And they have been given 50-per-cent more time to complete the exam, to provide a buffer from their home life.
The situation at Ryerson University's faculty of law is unusual, as it is a new program that is now instructing its first cohort of students.
Dean Donna Young says the school is predominantly online now. However, it has been arranging and encouraging students and instructors to connect in voluntary ways with appropriate social distancing and protocols.
The school started its orientation early in the summer and organized lectures and seminars, bringing in guest panels of judges, lawyers and the business community.
Now that school is in full swing, there are fewer ways of connecting in person, but Young says instructors, staff and student services are "working hard" to ensure students are coping. The school has organized and encouraged drop-in sessions and study groups, and the student services office is conducting regular checks.
"The challenging part is to build up community experience under difficult circumstances," Young says, adding that, for the most part, the plan is working, but "it's heartbreaking that I could pass by one of my students on the street and wouldn't know it."
Classes at York University's Osgoode Hall are predominately online for the fall and winter terms. The law school has a remote synchronous or asynchronous program, based on what instructors and students are most interested in. Associate dean Gus Van Harten says that "one of the best" moves the school made was to hire "tech-savvy" people to join the online classes, especially large classes. That person looks for raised online hands, comments and technical issues so that the instructor can focus on teaching. "It was one of the best single investments we made in online learning. It reduced a lot of stress, and we managed to avoid many problems and challenges."
Eric Adams, the University of Alberta's vice dean of law, says, "no one wants to learn this way forever." Yet, the law school has learned there can be some advantages to doing this online, especially as instructors committed to engaging in the "act of classroom" even when the course is virtual.
"We worried about interaction, but we're discovering that students have been very quick to adapt," he says. What's more, he adds, "There are some students who normally would have been quiet during in-person classes but have actually become more involved in an online world." Adams says the chat function is especially appreciated.
One school that seems to be going against the flow of predominately online learning is the faculty of law at Queen's University in Kingston, Ont. It has decided to make in-person teaching available whenever possible, especially for those students in the first year.
Assistant dean Phillip Drew says that, while a remote option or a hybrid teaching model is also available to students, about 87 per cent of first-year students are taking classes in person. The school is taking the pandemic seriously, she says, and making sure that health precautions are being followed to the letter, with smaller classes spread out in large auditoriums across the Queen's campus. But it was important to help first-year students' transition to law school and the rigours of a professional program.
"It was our belief that, if we can have the students here, we can provide them the support that they need to make that transition a good one, keeping in mind that we are restricted in what we can do," he says.
However, all law schools are concerned about students and instructors' mental state as the pandemic goes on. As McGill's Leckey puts it: "In the grand scheme of things, the whole pandemic situation is weighing heavily on people, and we're all feeling the stress of not going to a restaurant or café, and you are not supposed to socialize in person with someone who doesn't live under your roof."
There's also the stress from job loss in the family and concerns about loved ones catching the virus and becoming seriously ill, he says.
"We're taking particular pains to listen to students and faculty and make sure that there are feedback channels to help if possible. But it's a challenging time for all."
Looking west: What schools are doing
Thompson Rivers University: Fully online, remote delivery for fall 2020
University of British Columbia: larger classes online with selected smaller classes conducted in person
University of Victoria: Lectures, small groups and tutorials online, with some in-person experience in clinical program
University of Saskatchewan: Remote classes for fall and winter 2021 term
University of Manitoba: All classes online, with some off-campus experiential and clinical activities
Find out other law schools in British Columbia that offers online law degree programs.
Looking east: What schools are doing
Dalhousie University: Online for fall, except for the Dalhousie Legal Aid Clinic
University of New Brunswick: All online via Microsoft Teams and Zoom
University of Ottawa (common law): Entirely online for the fall semester
University of Toronto: Started off with hybrid in-class/online format. After Thanksgiving, it moved online only
University of Windsor: Primarily online with limited exceptions when possible and essential to learning