Jilesen wants to continue building a more modern and innovative firm, will take over in early 2023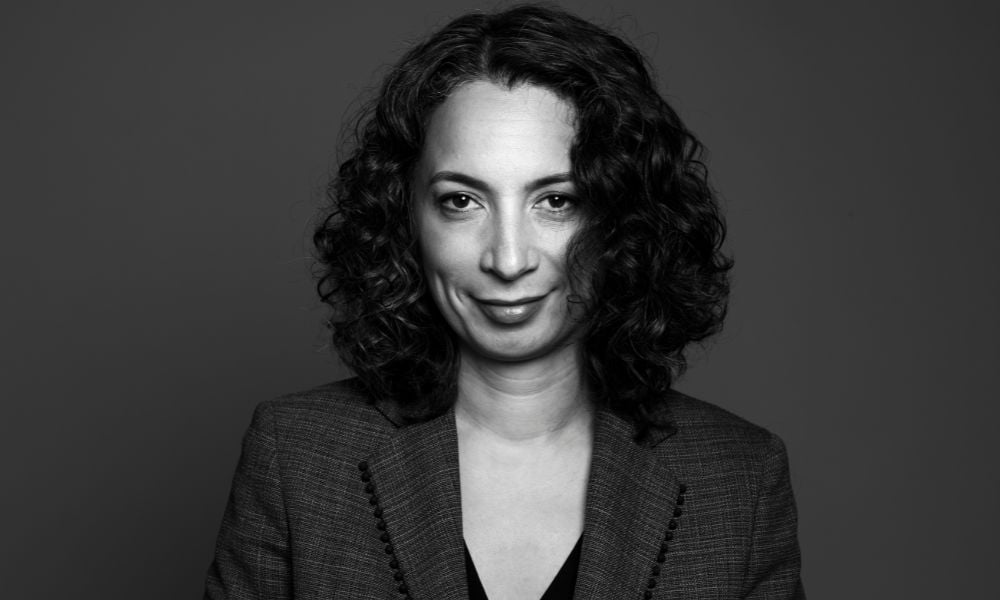 As Lenczner Slaght's new managing partner, Monique Jilesen says she plans to continue the tradition of nurturing creativity and innovation at the Toronto-based litigation law firm.
The firm announced Thursday that Jilesen will be the new managing partner, starting Jan. 1, 2023. The current managing partner, Tom Curry, will continue in the role until then.
Jilesen has been with Lenczner Slaght since articling in 1998, when the firm was six years' old – it will celebrate its 30th birthday this year. She is the first homegrown managing partner, she says, the former managing partners having been Ronald Slaght, Peter Griffin, and Tom Curry.
Jilesen's practice focuses on class actions, contract and shareholder disputes, civil fraud cases, injunctions, professional liability, bankruptcy and insolvency matters, and securities and derivatives cases. She recently represented Ukrainian World Congress in its Federal Court application for judicial review of Canada's decision to grant a special export permit allowing Siemens Canada to send gas turbines to Germany for use on a pipeline owned by Russian energy company Gazprom. And in February, she obtained a Mareva injunction to freeze up to $20 million of the Freedom Convoy's assets and crypto holdings, as part of a class action lawsuit filed by Ottawa residents.
In addition to her litigation practice, Jilesen has been involved in the firm's management throughout her career. Initially, she helped guide the student program and then was in a business development and marketing role before serving on the management committee.
As for the direction she intends to take the firm, Jilesen says: "First and foremost is maintaining our position as the best litigation firm in the country, developing that next generation of extraordinary litigators, and working to build a more modern and innovative Law Firm."
"We are already that, but there's always more to do as the world changes."
One of the most valued aspects of the firm among its members is its culture, Jilesen adds. As the firm grows, she wants to maintain it as a "fun place to work and learn."
"I am very pleased that we have continued the tradition of choosing another leading trial lawyer as our managing partner," says Tom Curry. "Monique is exceptional – fearless in her advocacy for clients and unwavering in her commitment to excellence. She has been a driving force in our firm and at the Bar for many years. Monique's values are the firm's values and Lenczner Slaght will continue to thrive under her leadership."
As the "bridge from the founding partners to the next generation," Curry has diversified the client base, built a "fabulous" business infrastructure, and on top of producing lots of ideas, he nurtures that creativity in others, says Jilesen.
"He's an amazing ideas person. He has a new idea just about every day of the week. And one of his magic powers is to bring that out in others."
Curry started the suggestion box, which allows members across the firm to bring proposals to leadership, she says. As one example of its successes, through the suggestion box an assistant recommended that the firm develop litigation kits, so lawyers appearing at out-of-town trials have everything they need.
Curry was also open to big ideas, such as the ReferToHer program, launched in 2019 to provide a referral list of experienced female lawyers.
"He encourages that culture of innovation and ideas all across the firm and, 1,000%, that is going to continue in our strategic plan," says Jilesen. "We have a plan for the future. But one of the really important parts is that we're open to new ideas and remain agile to implement them."
The firm has appointed Matthew Lerner, whose practice involves complex commercial litigation, including infrastructure and real estate disputes, and insolvency matters, to its management committee. He will assume the role Jan. 1, 2023, and join current members, Eli Lederman, and chief operating officer Tracie Crook.
"We really have a new management committee that represents this next generation of the firm," says Jilesen. "The message of the story is not just a new managing partner, but a new, excellent team to advance the firm forward."