81 lawyers under the age of 40 awarded trophies celebrating their excellence in practising law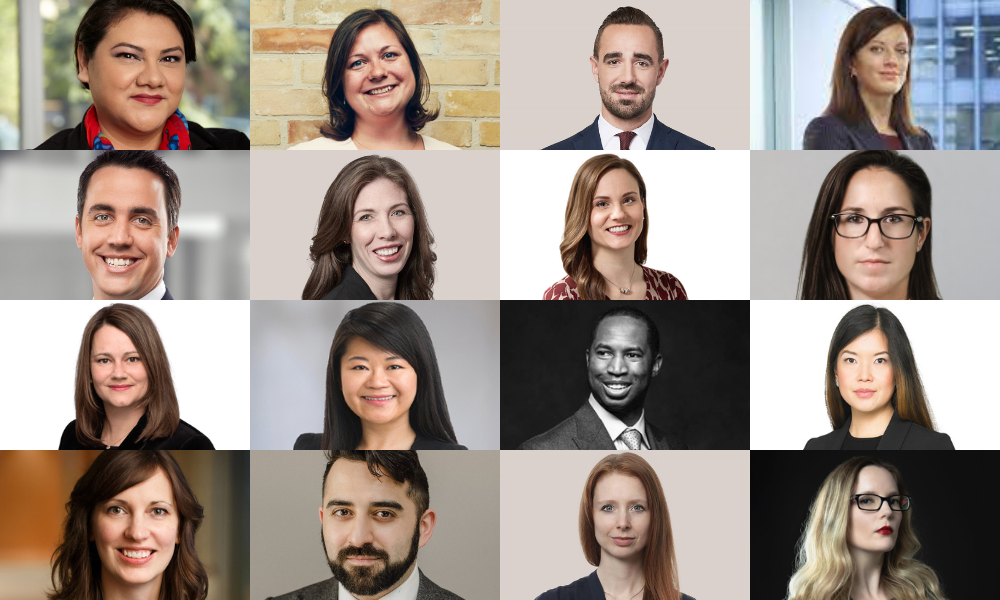 It was a night of music, laughter and mood-lighting magic on Tuesday as winners of the annual Lexpert Rising Stars Awards: Leading Lawyers Under 40 took to the stage to receive their trophies.
"I am so glad to be here for a lot of reasons," said Scott McGrath, a partner at Thornton Grout Finnigan LLP in Toronto, noting it was his first "night out" since having major surgery this month. McGrath, a litigator in areas ranging from complex commercial cases to construction, added: "It was a "terrific night," especially as colleagues at the firm were "here to support me."
The awards were given this week to honour leading lawyers under 40 at law firms, in-house legal departments, and other practices who have made outstanding contributions in their careers. Lexpert's independent advisory panel, comprised of 39 esteemed leaders within the legal profession, combed through the shortlisted nominations to come up with 81 winners for 2022.
Rising Star Fahad Siddiqui, a litigation partner at Norton Rose Fulbright, said he was honoured to receive the award, adding that he is "fortunate to have benefitted from the continuing guidance of judges I have clerked with and the mentorship of senior counsel at the firm.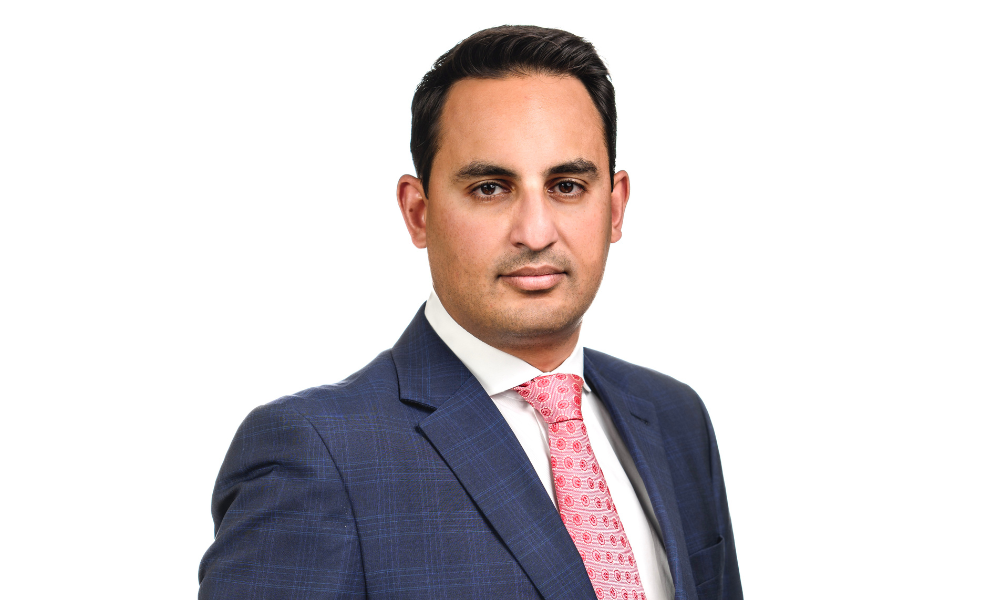 Fahad Siddiqui, Norton Rose Fulbright
"Norton Rose Fulbright has invested significant success in the success of the next generation of market leaders. That kind of support is crucial to developing as a lawyer and as a businessperson."
This year's Rising Stars were celebrated at a Tuesday in-person gala at Toronto's Liberty Grand venue. More than 400 people attended the event. They heard award-winning humanitarian and medical doctor Dr. Samantha Nutt speak on "Why the World Needs more Lawyers." Arisa Cox, the host and executive producer of Big Brother Canada, was the master of ceremonies.
Caroline Briand, a partner with Langlois Lawyers in Montreal, said she also appreciated the honour, especially as it recognizes lawyers such as herself who are involved in areas outside high-profile practices such as corporate and commercial law. As a lawyer who practises Indigenous law, constitutional law, administrative law, as well as professional and disciplinary law, she said, "it's very encouraging for lawyers in my field to be represented here."
As Executive Director of the National Association of Friendship Centres, Jocelyn Winter Formsma says she's proud that her work at the community level is recognized with this award.
"A lot of people ask me my I left private practice, but I really feel that what I am doing now is doing more in the area of access to justice for a larger group of people on a daily basis. Here I get to work at a more systemic level."
Dani Bryant, a litigation and dispute resolution lawyer at Fasken Martineau DuMoulin LLP, said after receiving her trophy that she is grateful for all the support she's received from mentors. "It has really helped me grow my career and enjoy what I do," said Bryant, whose practice focuses on Indigenous, environmental and regulatory law, as well as complex commercial litigation.
When it comes to the importance of mentorship, Laura Bevan, a partner at Lawson Lundell LLP in British Columbia and leader of the firm's litigation and dispute resolution group in Vancouver and Kelowna, said "the calibre of lawyers" she has worked with has given her "wonderful experience and mentorship" that will guide her in the future.
Noah Boudreau, another partner at Fasken, says that while it's been a challenge to be a litigator during the pandemic, it's also "been interesting in meeting those challenges." Being named a Rising Star is an inspiration for him, especially with the other winners' calibre of the talent.
Alison Adam, a partner at McLennan Ross in Alberta who practises labour and employment law, also expressed the importance of mentors and good work colleagues. In particular, she mentioned colleague Joyce Mitchell on the executive committee of her firm. "I say to everyone that I simply would not still be in private practice without her. She has supported me throughout my career, and I am so grateful."
Her advice to young lawyers is to find that mentor. "If you love the people in your practice, if you love what you do, you stay in it."
While lawyers can have many mentors, Colena Der, a tax lawyer at Osler, Hoskin & Harcourt, said the ones that stand out "realize when you're down, and they give you the pep talk, the confidence booster, so that you can pick yourself back up."
She added that, in some ways, she feels like she's "just getting started" in her career, and the Rising Star award will give her "more momentum" to build her profile and practice.
Halifax-based Rising Star Burtley Francis, a partner with Stewart McKelvey who has worked on important deals such as Sobeys' acquisition of Safeway, said he takes the "pay it forward" aspect of mentoring to heart. Every opportunity to "use your voice" is an "opportunity that you have to lift someone who's coming next."
Francis said he finds it rewarding to reach out to the larger Atlantic Canada community, especially the African Nova Scotian community, with programs like the Black Business Initiative. He is also the chair of Stewart McKelvey's recruiting committee for summer students and article clerks. Over the past five years, the firm has increased the number of Indigenous and Black students "exponentially," and has expanded its reach within the local law schools.
"We want to foster more pathways for Black students to find articles within Halifax or wherever we have connections."
Finding a law firm and a group of lawyers she could align with was crucial for Jackie VanDerMeulen, a partner with Fasken, in finding her niche where labour and employment law intersects with human rights law.
"I was always interested in human rights and never thought I could find a Bay Street practice where I could use that interest, but I gave it a shot and here I am," she said. Her work involves identifying wage gaps and systemic discrimination in pay and working with employers to correct those practices.
Chantelle Cseh, partner at Davies, and Emily Fan, partner and deputy leader of the commercial litigation practise at Lerners LLP, talked about the importance of peers as a form of support in building a career. Both are members of a collective of mid-career women lawyers called the "Sisters in Law."
Cseh said, "we really banded together to form a connection in leadership and fellowship and added that she feels that being part of that being part of the collective "is a good part of what's led me to where I am today – it's a testament to the fact that having strong supports in the career can be the secret to success."
Fan agreed, adding her advice to "work hard, but most importantly, be yourself. Find your voice and don't be afraid of that voice."
Sometimes support comes from friends and family. Tom Stevenson, a partner with Torys LLP, said that along with his wife, he's "very blessed to have fantastic friends and colleagues that makes gong to work exciting, challenging and rewarding." It has allowed him to grow his practice, providing advice to Canadian and international employers in all areas of pension governance and employment law.
Rising Star Pam Hrick, Executive Director and General Counsel for the Women's Legal Education and Action Fund, described how a champion pushing her along in her career was so important. "Top of mind for me is Brian Gover at Stockwoods LLP. "I was fortunate to get to work with him on some high-profile cases and to learn from him and to have him invest his time and convey his knowledge to me. It allowed me to grow as a lawyer and as a person and build the skills I needed to pursue the things I am passionate about."
Preet Gill, a partner at Bennett Jones LLP, said mentoring is essential within a law firm, but outside mentors are important too. That is why she is part of the mentoring program for the South Asian Bar Association and South Asian Women in the Law. "I have a real passion for first--generation lawyers like myself," said Gill, whose practice involves developing novel solutions to complex litigation and transactional issues, with a focus on debt restructurings.
Following those passions and instincts, regardless of what others might say, is essential in building a career as a lawyer, says Breanna Needham with DLA Piper Canada. "I can say anyone who has ever told you to put yourself in a box is wrong. And that everyone who has ever encouraged you to be yourself is right. I have a couple of great mentors and sponsors at my current firm who are happy for me to litigate the way I want to litigate. And the parameters of that are what you wish your professional self to be."
Justin Nasseri, a partner at Ross Nasseri LLP, echoed that sentiment, saying, "I think a lot of the winners here have done law their own way," he said, noting the litigation boutique he and his partners have built, specializing in civil and regulatory disputes "is trying to do things a different way."
Josie Caldas, assistant general counsel at the Royal Bank, said that even though the legal department is large - about 200 people - the atmosphere is "very collaborative - it's a really good culture and we're all supportive of each other."
Rising Star winner Natalie Worsfold, a partner at Counter Tax Litigators, says coming to Canada from the United Kingdom meant she didn't immediately have mentors to rely on. So she asked for help from "anyone who would talk to me." Eventually, she connected with Counter Tax Litigators founder Peter Aprile," who was writing five chapters for a book on tax law and eventually joined the firm.
"I've been really fortunate to have lots of people look out for me, make sure I was on the right path, keep me focused on providing great client service," said Joshua Krane, a partner at McMillan LLP who advises clients on competition, antitrust, and foreign investment. "All that guidance was really, really helpful in shaping my career."
When it comes to inspiration, Lenczner Slaght partner Brian Kolenda said he looks to his colleagues, who are also great mentors and friends, and "work tirelessly" to do great work, achieve great results for clients, and have fun while doing it. "Those have been the key elements to success," he said.
Lionel Tupman and his partners founded Tupman & Bloom LLP in 2018. At just four years old, its among the largest estate and trust litigation firms in Canada. "What motivates us to continue that growth is the reality that our market continues to grow, our brand continues to grow, and we continue to dispense good service to our clients. Our brand is consistency, our brand was quality. We believe in that from top to bottom, and I think that works for us."
When it comes to mentorship and guidance, it is not just other lawyers who play a key supportive role, noted the litigator for the City of Edmonton, Anna Turcza-Karhut. "Number one, I think, would be my parents, for having always believed in me and told me that I could do whatever I wanted to do, however crazy the idea seemed."
Capital markets and securities partner at McMillan LLP, Sandra Zhao, echoed that sentiment. "Parents, first and foremost. They raised me to go after my goals, work hard, and believe in myself."
Lexpert also extends special thanks to event sponsor Fasken, silver sponsors Blake, Cassels & Graydon LLP (Blakes), Lavery and Marks & Clerk, for supporting the recognition of excellence among lawyers under 40 rising in the legal industry.
We would also like to thank this year's advisory panel for dedicating their time to selecting and awarding excellence.