Alexandria Winterburn and Zachary Davis hope to build on firm's relationships with Indigenous groups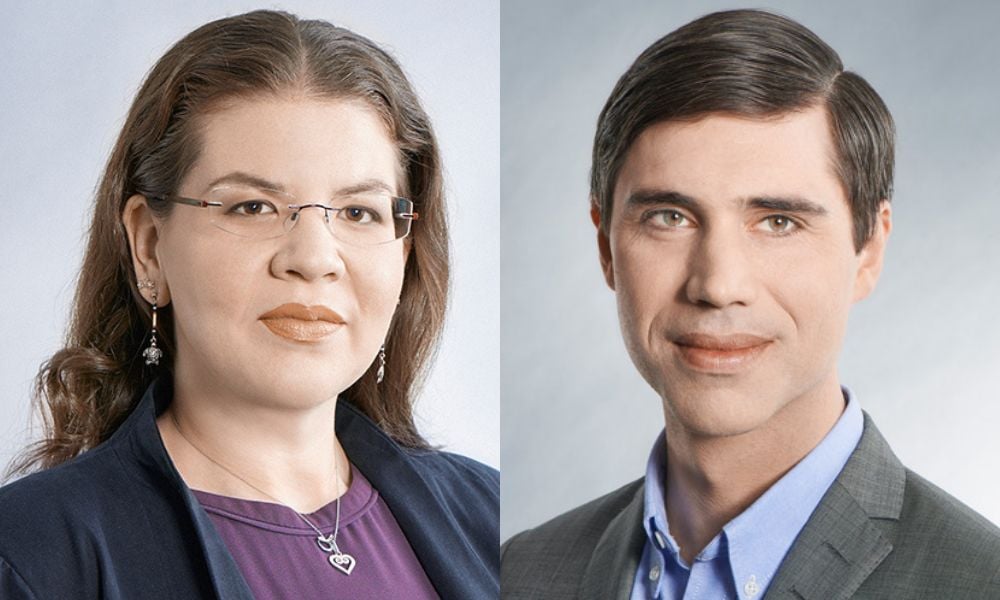 As the importance of Indigenous law grows in Canada, it's a perfect time to move from associate to partner.
And for Alexandria Winterburn and Zachary Davis, recently promoted to partner status at Pape Salter Teillet LLP, it's also a chance to delve further into the many rich relationships that the firm has built with First Nation, Inuit and Metis communities and governments across Canada for more than 40 years.
With 25 lawyers working at offices in Toronto and Vancouver, PST has represented First Nation, Inuit and Métis communities, governments, and nations across Canada for over forty years.
Winterburn and Davis are just two of the PST team recently receiving promotions, along with Marc Gibson, Emily Beveridge, and Alissa Saieva-Finnie moving up to senior associates.
Winterburn says growth in the need for lawyers who understand and have experience in all aspects of Indigenous law has been phenomenal.
"This area of law has just exploded in the last number of years," says Winterburn, not only at her firm but at other firms involved in Indigenous law. "There always seems to be hiring as law firms look for additional support." She adds, "To be part of that growth and development is just wonderful."
Davis concurs, saying indigenous law is a "growth story, and our firm is no exception to that." He notes that since he has been at PST, the firm's size has more than tripled, working coast to coast and from the U.S. border to the Arctic.
"It's a booming industry. There are so many issues to be resolved that have been ignored for so long. And even in the time I have been practicing, more powerful doctrines have been articulated that Indigenous communities can use to address and advance their interests."
Winterburn, whose father is from Tyendinaga, part of the Mohawk nation, and whose mother is from Abenaki Nation in Quebec, graduated from the University of Alberta in 2008 with a degree in anthropology and Native Studies, graduated from the University of Toronto law school in 2011.
While at law school, she was co-editor in chief of the Indigenous Law Journal (volume 9) and did a semester exchange at the University of Victoria faculty of law where she was able to do courses on Indigenous law with noted Indigenous legal scholars Val Napoleon, John Borrows, and Gordon Christie.
Called to the bar in 2011, Winterburn articled and worked for five years at the Ontario provincial government's Ministry of Indigenous Affairs. While there, she advised on several Indigenous-related portfolios, including land claim negotiations, the duty to consult, UNDRIP, the Truth and Reconciliation Commission, and Missing and Murdered Indigenous Women and Girls.
She joined PST in April 2017 and primarily focuses on self-government negotiations and working with Indigenous communities and governments to advance their vision of self-determination.
Likewise, Davis wanted to do "something meaningful" and gravitated towards constitutional law after getting his undergraduate degree in philosophy at McGill University. He graduated from McGill law school Zachary and interned at the United Nations Secretariat for the Convention on Biological Diversity, where his work focused on protecting the traditional knowledge, innovation, and practices of Indigenous and local communities. Before joining PST in 2015, he practiced with a firm specializing in Indigenous rights law based in Montreal, Quebec.
At PST, Davis specializes in Indigenous rights law, with an emphasis on litigation and governance. He focuses on constitutional law, administrative law, self-government issues and employment matters. He has been actively involved in several regulatory proceedings relating to significant energy and infrastructure projects. He also advises and supports Indigenous communities on a broad range of issues, including self-governance, rights assertion, and employment matters.
Many Indigenous communities have relied on Davis to draft and implement their laws and policies to help them assume effective control of their governance and management.
Davis notes that while Indigenous groups are constitutionally protected, it is often "in a way that leaves a lot of space for interpretation." It has taken the courts decades to "figure out what constitutional protection means." A few years ago, the "duty to consult" concept was just being articulated, but today, "there is no major project in the country that is built without some kind of meaningful consultation."
Winterburn and Davis acknowledge that one issue lawyers and courts are grappling with today are, as Davis puts it, "how do we find space for Indigenous law – and by that, I mean the laws of Indigenous communities themselves?"
He adds: "How do we reconcile them with the existing Canadian legal orders, whether that's the civil law or the common law or state law, and that's something that no one has a clear answer yet but is being very actively worked out today."
Davis says there is constitutional space for those laws, but they have been "easy to ignore" for a long time. "What we need to do is figure out how to articulate them in a way that they can be respected."
Winterburn says she sees her role "as an Indigenous lawyer working in Aboriginal law as creating space within the Canadian legal system for Indigenous peoples' own laws, legal orders, and decisions to be exercised and respected." This could be through "reaching self-government agreements, arrangements on resource development, or helping communities to revitalize their laws."
She adds that working at a firm that has long served Indigenous communities is an honour. "PST has worked closely with Indigenous communities and governments in negotiating modern-day treaties or advancing historic wins for our clients. Now, I get to continue to work with these same clients to implement their treaties and build upon the work that [the founding partners] have done."
She adds: "I also hope to use this new role as an opportunity to continue mentoring future generations of Indigenous lawyers and law students – which is something that I am very passionate about. I want young Indigenous law students to know they can achieve amazing things in their careers."
By becoming a First Nations partner at PST, Winterburn hopes it will tell future generations of Indigenous lawyers and law students to see themselves as "achieving similar goals and know that anything is possible."