Olga Farman is co-president of $80-million Carrefour International campaign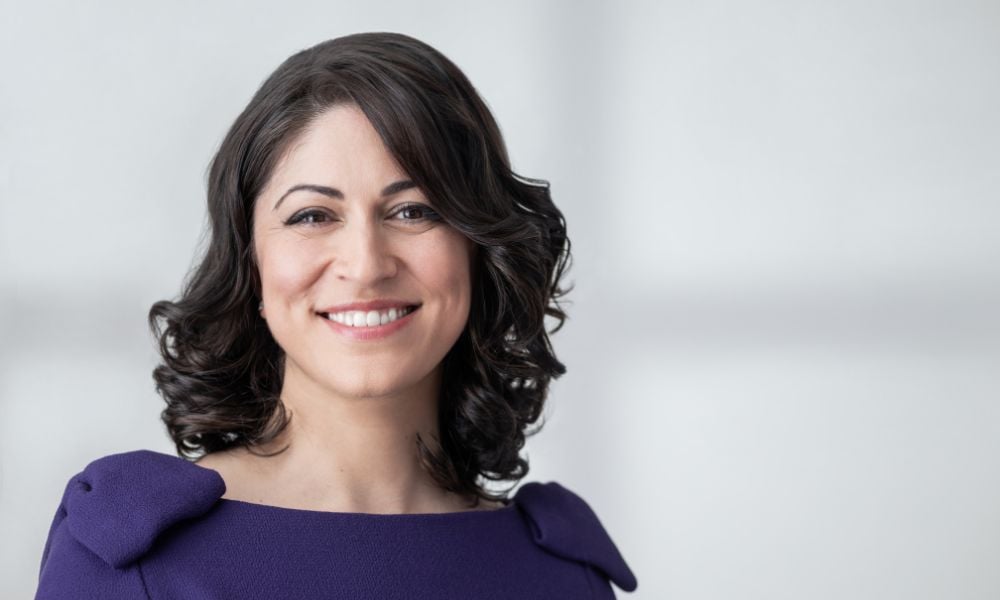 As an alumnus of Laval University's undergraduate, MBA and law programs, Olga Farman always knew she wanted to give back to the school that helped shape her career in many ways.
So, when an opportunity was presented to the managing partner of Norton Rose Fulbright's Quebec City office to become honourary co-president of the university's Carrefour International Brian-Mulroney campaign, she jumped at it.
"Now more than ever, we need global connections, and this is what this project is about," Farman says, adding Quebec must raise its profile on the international stage. "When I heard about the chance to work on it, I raised my hand." She notes that Norton Rose, where Mulroney is also a partner, supports the project financially.
Laval officially launched an $80-million fundraising campaign for the program on Thursday. Over the next five years, former Prime Minister Mulroney, chairman of the campaign, will be assisted by Farman and fellow co-chair Jean Raby. He's another Laval law school alumnus now a partner at Astorg investment bank in London.
Some $40 million has already been raised through contributions from the Government of Québec and donors that include: Mulroney, the Sandra and Alain Bouchard Foundation, Alimentation Couche-Tard, the Choquette Family Foundation, Sylvan Adams, Jean Raby, Claude Dussault, Fondation Ariane Riou & Réal Plourde, J. A. DeSève Foundation, Éric Dupont, and Hubert and Florene Laforge.
Farman notes the word "carrefour" means "crossroads" in French, "and that is what we're trying to achieve – creating that intersection of disciplines with people from around the world."
The campaign's primary goal is to help fund the construction of Carrefour international Brian-Mulroney, which will house the Graduate School of International Studies (ESEI) and bring Université Laval researchers and scholars in international studies together under one roof. The aim is to position Laval as an innovation hub for researching global issues in various disciplines.
Farman admits her own background and interests fit into the aspirations of the Carrefour project. Born in a small town in Quebec to Iranian parents, she says she knew from a young age that she wanted to be a lawyer, with the ambitious goal "of trying to save the world." She grew up with a very strong interest in international affairs and everything connected to politics and public policy.
However, after meeting her now-husband, the couple decided to stay in Quebec, so Farman switched her focus to business law, especially in healthcare and life science.
That was about 20 years ago, and happily, a time when her interests coincided with Quebec developing a reputation for innovation in areas of technology and healthcare. Farman decided she needed a more substantial business background, so she returned to Laval to get her MBA.
"I had zero background in business, and I realized I needed to understand how organizations work – not just the legal parts, but how to create a business, understand it and restructure when you need to," she says. "Even as a lawyer, looking at things through a business lens is important."
She adds that having an MBA background has helped her as managing partner, allowing her to "take better care of managing people and business."
Farman was an associate at Lavery, de Billy from 2003 to 2013 and became a partner at Norton Rose Fulbright in 2014. In 2016, when she was 37, Farman was named managing partner of the Quebec City office. Farman has developed a practice and team that includes corporate and commercial law, litigation, and intellectual property. And while she doesn't spend as much time on specific cases as she once did, she does keep in close touch with clients.
"For me, becoming managing partner was a challenge, but it was an empowering challenge, not only to support partners, but the associates, the articling students, and the overall way we do business," Farman says. Improving the diversity of gender, race, and experience at the firm is also a key goal, as is supporting staff through many challenges, including the "new economy" and mental well-being. "The pandemic has certainly proven how important this is."
Regarding her role as co-president of the Carrefour International Brian Mulroney, Farman says "at the heart" of the project is the Graduate School of International Studies. It comprises more than 70 faculty members from a dozen different disciplines contributing to research on contemporary global challenges in areas such as international security, international trade, democracy, sustainable development, and the environment.
"For me, it's about strengthening Laval's position on anything that is connecte3d to the international Francophone scene," she says. "We want more dynamism, more hosting of international conferences, training experiences. It should be a flagship international flagship program for what is going on in Quebec on the global scene."