Simple coping strategies can go a long way, especially in a pandemic environment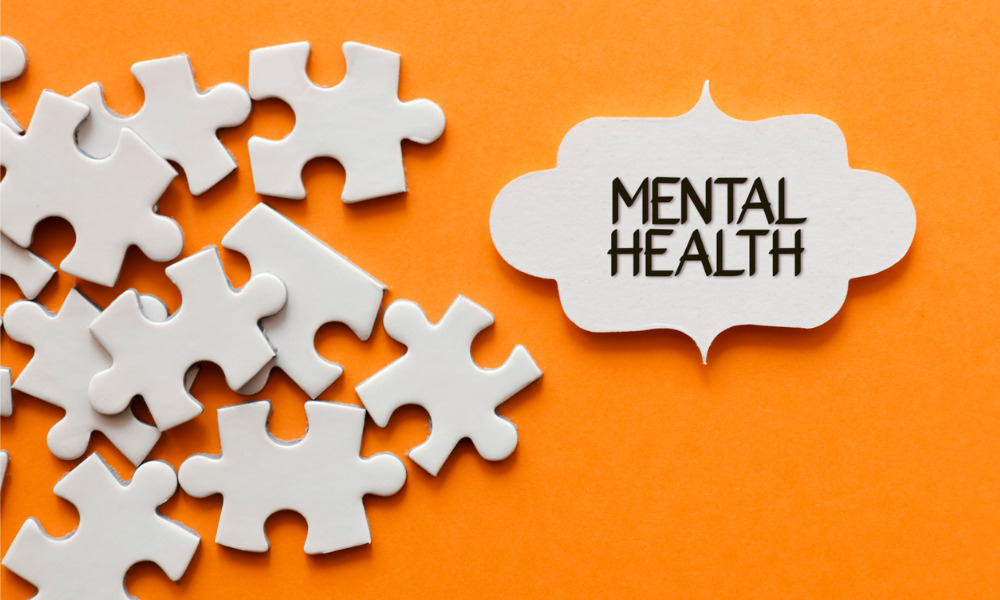 Sponsored article
As hard as the pandemic has been on people's mental health, it has also created efficiencies in the way we work — and the legal profession is no exception.
"There are no in-person mediations or court visits, we've seen it's not necessary to do this part of the job in such a time consuming way," says Lanie Schachter-Snipper, registered psychotherapist and national director of outpatient services at EHN Canada. "When you're gaining back that time, the question is — what do you do with it?"
If Schachter-Snipper had her way, the answer would be "practice self-care and have more balance in your workday" — especially in this pandemic environment — but there are multiple reasons why lawyers in particular face challenges when it comes to promoting and protecting their mental health despite research indicating they need to pay attention to this area of their lives.
Lawyers are among the top three professions to face substance use issues and suffer from rates of depression and suicidality that are higher than the general public. Suicide in the general population is the ninth leading cause of death but for those in the legal profession, it's the third. One study states 58 per cent of lawyers in Canada have experienced significant stress and burnout, 48 per cent have experienced anxiety and 26 per cent have experienced depression.
Schachter-Snipper, whose father, husband and best friend are lawyers, reached out to acquaintances who are 10-15 years into their careers in the legal profession to ask for their thoughts on why lawyers' mental health is such a significant issue. The top response was the profession has normalized excessive working hours, something that's been exacerbated during the pandemic where working from home has taken away the ritual of commuting — and with it a natural start and finish to the day.
"Without those clearly delineated working and non-working hours, work is even more so bleeding into family and leisure time," Schachter-Snipper says. "Every hour of the day becomes a potential work hour."
This is also a profession that normalizes fatigue. Long hours are commonplace, expected, "and in some cases worn as a badge of honour." But the pandemic may be shedding some light on this issue, with one of Schachter-Snipper's contacts suggesting the collective experience of the pandemic has allowed people to more fully understand the significant cost of burnout and exhaustion, which can become chronic mental health issues if not treated. Although any changes are nuanced and discreet at this point, Schachter-Snipper is encouraged by more conversations happening about mental health and work-life balance in a long-standing profession of high achievers and over workers. Building on these signs that the profession is listening, she offers some simple coping strategies that go a long way in promoting and protecting mental health in a challenging time.
Proactive wellness strategies
"Most smart, educated people who do any degree of reading know what they're supposed to do in their day — get up, walk around, get fresh air, do 10 squats — but the reality is it's not the knowing that's difficult, it's the doing," Schachter-Snipper says.
Her advice is to remember action proceeds motivation. You can't wait to feel excited to exercise or do two minutes of breath work, you have to schedule it into your day as you would a work meeting and not de-prioritize it. Humans tend to overestimate our willingness to do this type of self-care, and if we schedule half an hour and only do a minute we get discouraged. The key, Schachter-Snipper says, is to schedule small, attainable amounts of time — really as small as one minute of breath-work, three minutes of pacing a room, walking around the block once.
"Do it, feel the reward and the pride, and then ask yourself, could I do one more tomorrow? And you build on that."
Find support
If things have gone beyond proactive self-care, there are lots of different ways to get support from low-touch sources, like a self-led mental health and wellness app where you choose where and when you use it, all the way to high-touch where you meet with a therapist. While people tend to gravitate towards individual counselling because it's what societally we know best, it's important to do a degree of research around the type of support that would be best for you.
Group therapy is an important option in this climate, and is becoming more popular. For lawyers there are affinity groups with others in the legal profession, or groups with people from diverse professions "to get that peer support and that sense you're not alone in your symptoms and challenges and hear real life examples of how others are coping," Schachter-Snipper says.
Be open
If you're having a hard time, let someone know what's going on with you. It may sound obvious, but it's one of the hardest things for people to do. Whether it's a family member, a peer or your doctor, just the act of sharing with someone can in itself alleviate some distress.
"I think people will be very surprised to learn — especially people who feel a degree of shame or embarrassment around their mental health symptoms — that most of the time whoever you tell will have experienced similar symptoms, especially during this pandemic era," Schachter-Snipper says.
Fear of disclosure and secrecy around your struggles can exacerbate the situation, so try to break the cycle of secrecy, shame and stigma around mental health and reach out to someone you're comfortable sharing with.
It starts at the top
Firms can do their part in breaking the cycle through mandatory training for leadership on mental health. Something as simple as providing messaging around what to do if a lawyer comes to firm leadership to say he or she is struggling can make a difference. Having an approved script that makes the person feel heard and directs them to assistance from HR or lets them know what services are available for them, for example, is a helpful tool. Some organizations identify a high-status person to be a mental health champion – someone who has gone through mental health struggles themselves and is willing to step forward and let everyone know they won't be punished for sharing or asking for help. Identifying champions, and building a corresponding culture, is key to this strategy, so that if people do identify they have challenges it won't be a liability.
Another good idea is a partnership with a mental health organization that can provide content for monthly webinars, source guest speakers and plan information sessions about mental health symptoms and services. The firm itself doesn't have to be a mental health expert but can pair with a group that can provide that content.
Leadership also needs to understand the ROI (return on investment) of mental health programming. As a clinician who works with lawyers, Schachter-Snipper doesn't often see the legal profession embracing mental health programs in the workplace despite the fact that a recent study by Deloitte found that those companies who invest in mental health more than double their investment in a few years. The median yearly ROI on these programs was $1.62, rising to $2.18 after the three-year mark. While some organizations promote work-life balance and offer robust benefits, "the day-to-day reality isn't reflecting a genuine commitment to improving mental health" — and that needs to start trending more strongly in the right direction.
"The reality is historical and habitual tendencies toward overwork are difficult to change," says Schachter-Snipper. "But over the past five years, there's been some very interesting research and compelling information about the cost savings of being proactive in supporting staff's mental health."