Thirteen law firms across Canada made new announcements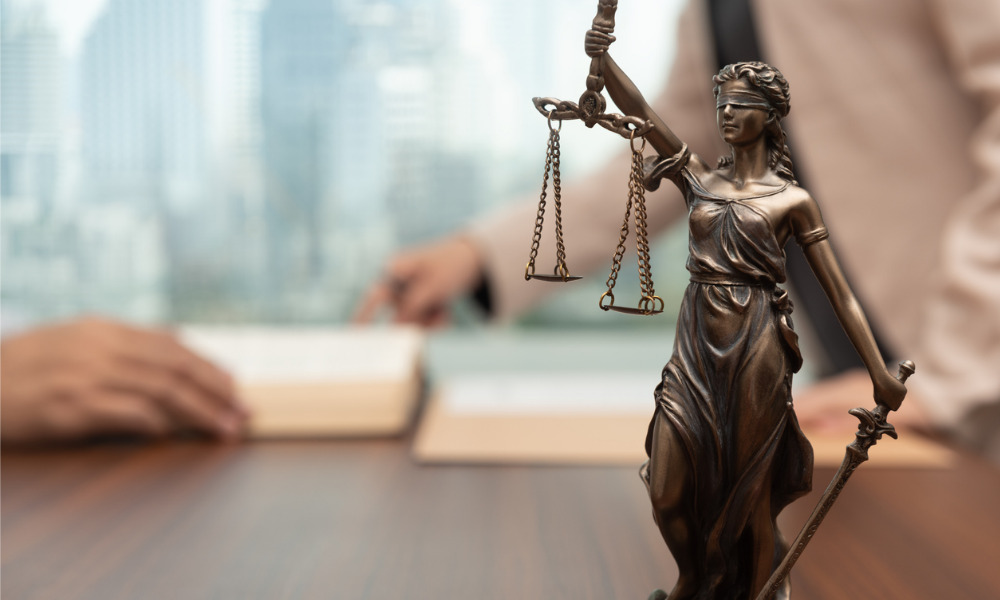 Welcome to this week's roundup of movements among major law firms, in which we sum up significant hires, promotions, departures and other announcements.
Aird & Berlis LLP
Stacey Blydorp joined the firm as a new associate in the tax and estates and trusts groups.
Blydorp regularly advises individuals, families, and trust companies on estates, trusts, and capacity litigation matters. She previously articled with the firm before returning as an associate.
Cain Lamarre
The firm welcomed the following lawyers:
Andrée-Ann Thomas − business law, transactional law
Juliette Liu – litigation, labour and employment law, health law
Florence Bergeron − business law
Mathieu Laplante-Goulet −litigation, professional law
Audrey-Anne Alie and Joannie Corriveau − personal and family law, litigation
Сox & Palmer
The firm named Victor Goldberg as the new interim managing partner in the Halifax office.
Goldberg replaced Dan Ingersoll, who recently accepted a judicial appointment to the Supreme Court of Nova Scotia.
Goldberg has extensive expertise in complex commercial litigation. He previously held leadership roles within the firm as a finance partner and member of the Halifax Executive Committee.
"We congratulate our colleague and friend, Justice Ingersoll, on this well-deserved achievement, which also is an indication of the high esteem at which Cox & Palmer is held by the legal community," Goldberg said. "I am proud to serve in this interim role for the firm as we move through the process of selecting a new managing partner."
DLA Piper (Canada) LLP
Donato Rosati joined the firm as an associate in the Toronto office.
Rosati's practice focuses on commercial and securities law. He has acted on numerous corporate transactions, such as M&A, equity and debt financings, corporate structuring, and reorganizations.
He has advised private and public companies, financial institutions, investment dealers, private equity firms, and venture capital funds.
Goldblatt Partners LLP
The firm announced the departure of Mariam Moktar.
Moktar served as an associate in the firm for three years. She moved to a litigation boutique firm in Toronto.
Gowling WLG
Derek Young is now a partner in the firm's commercial litigation group in the Vancouver office.
Young practises exclusively as a litigator and has dealt with numerous commercial disputes, breach of trust and fiduciary duty claims, debt recovery, and other forms of creditors' remedies. He has appeared in provincial and federal tribunals and B.C. courts, such as the Provincial Court and Supreme Court.
The firm also welcomed George Elvira as a partner in the intellectual property group in the Montréal office.
A registered patent agent, Elvira assists clients in obtaining and managing patent rights, protecting trade secrets and know-how assets, and developing strategic plans to monetize and extract value from these rights and assets.
He has worked closely with clients across various sectors, including biotechnology, cannabis, clean technologies, energy, pharmaceuticals, animal health, and advanced materials.
Lenczner Slaght LLP
The firm appointed Caroline Gelber as director of legal support services.
In her new role, Gelber will implement programs and tools allowing the firm to deliver best-in-class legal services to its clients and lead the team of commercial litigation law clerks. She will also work closely with the firm's leaders, lawyers, legal project managers, and business functions to drive results and identify and execute process improvement initiatives.
Before joining the firm, Gelber worked as a legal project manager and knowledge management lawyer at a national law firm in Toronto.
Minden Gross LLP
Lee Abraham joined the firm as an associate in the business law group.
Abraham's corporate practice focuses on advising clients on M&A and business incorporations and drafting commercial agreements. He also has broad experience in litigation and alternative dispute resolution.
MLT Aikins LLP
The firm announced the appointment of Kristal Allen to the board of Agricultural Manufacturers of Canada. AMC is a national, member-driven industry association representing 250 Canadian agricultural equipment manufacturers and associated suppliers.
Allen is a partner and the national lead of the firm's agriculture and food practice group. She specializes in technology projects and transactions, privacy, data protection and cybersecurity, commercialization and intellectual property strategy, data and technology, agriculture and food, and innovation and emerging growth.
The firm also welcomed Anna and Colin Findlay as associates in the Vancouver and Winnipeg offices, who have experience handling corporate and real estate matters.
Sotos LLP
Lauren Parker is now an associate in the firm's Toronto office.
Parker specializes in corporate and commercial law, focusing on franchising, licensing, and distribution. She advises Canadian and international clients on all aspects of franchise law and has experience in drafting disclosure documents, franchise contracts, master franchise agreements, and ancillary documentation.
Before joining the firm, Parker worked as a litigation and corporate commercial associate at a franchise law boutique firm in Toronto.
Stikeman Elliott LLP
Andrew Foster returned to the firm as an associate in the banking and finance group in the Calgary office.
Foster has broad expertise in banking and finance, financial services, asset securitization, and projects and infrastructure. He has represented various corporate clients and financial institutions in national, cross-border and international, bilateral, and syndicated debt financing transactions.
Torkin Manes LLP
The firm welcomed Roland Hung as a counsel in the technology, privacy and data management group.
Hung's practice encompasses all aspects of corporate law, focusing on technology, privacy compliance, cybersecurity, and data management. He has represented clients in matters relating to privacy requests, cross-border transactions, privacy audits, breach notification, and actions for damages.
He has appeared before administrative boards, privacy regulators, provincial and federal courts, mediators, and arbitrators.
"We are thrilled to have Roland join our team and will benefit from his knowledge and experience as we continue to support our clients in optimizing their business objectives relating to technology, privacy and data protection," said Lisa Lifshitz, the firm's technology, privacy and data management group lead.
WeirFoulds LLP
The firm welcomed two new associates:
Delara Emami – private equity
Jeremy Power – infrastructure and construction
Submit all your law firm news, including appointments, moves and other professional news, to our legal publications by filling out this form.