Firms making announcements include Baker & McKenzie, BCF, Cox & Palmer, Dickinson Wright, Fasken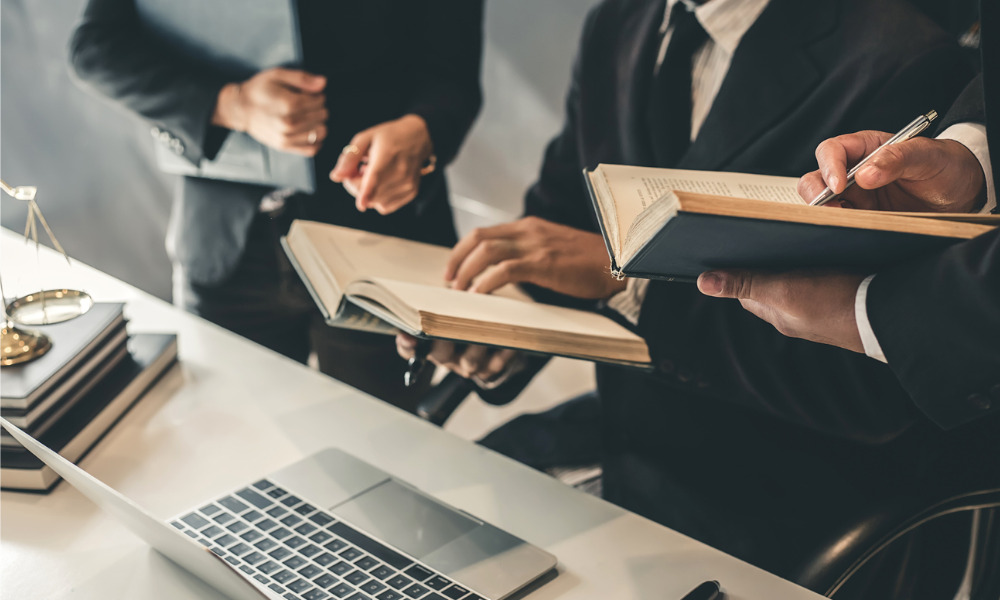 Welcome to this week's roundup of movements among major law firms, in which we sum up significant hires, promotions, departures and other announcements.
Baker & McKenzie LLP
The firm elected 19 new partners in North America, effective Jan. 1, which included one new partner in Canada, Christina Doria, who will practise litigation and government enforcement in Toronto.
Colin Murray, the firm's chief executive officer in North America, said that each new appointment has "showed resiliency, commitment and leadership" amid the COVID-19 pandemic and its impacts.
BCF Business Law
The firm announced the nomination of six new partners, effective Jan. 1:
Amber Beckley (Montreal) — patent agent in the intellectual property group
Barbara Ann Cain (Quebec City) — lawyer in the litigation group
Janie Chaloux (Montreal) — lawyer in the real estate group
Mehrez Houacine (Montreal) — tax accountant in the tax group
Oleksiy Malashenko (Montreal) — patent agent in the intellectual property group
Annie-Claude Trudeau (Montreal) — lawyer in the litigation group
With these appointments, the firm now has a total of 69 partners in Montreal and 25 partners in Quebec City.
"On behalf of all 485 members of the firm, I would like to warmly congratulate our new partners for this professional accomplishment," said Pierre Allard, the firm's managing partner.
Cox & Palmer
Five new partners joined the firm:
Simon-Pierre Godbout (Moncton) — bankruptcy, insolvency and restructuring, commercial litigation, real estate and property disputes
James Green (Halifax) — employment and labour law
Jonathan Hooper (Halifax) — estate law, commercial litigation, construction litigation, insurance litigation
Adam King (Fredericton) — corporate and commercial law, wills and estates law, property law
Andrea Pierce (Halifax) — health law, family law, commercial law
"I am proud to have them in our partnership," said George Cooper, chief executive officer of the firm.
Dickinson Wright LLP
Robert Farmer has been elected a new partner at the firm's Toronto office, effective Jan. 1. Farmer, who also serves as the firm's group head in banking in Canada, has a finance and investment banking career spanning two decades.
Fasken Martineau DuMoulin LLP
The firm has appointed Katherine Pollock as chairperson of its partnership board, effective Jan. 1. Pollock, who has spent her entire legal career at Fasken and who has shared her knowledge with numerous of the firm's committees and programs, has a practice that includes labour, employment, human rights and business-related immigration matters. She succeeds Luc Béliveau in the role.
Langlois lawyers, LLP
The firm appointed five new partners:
Félix Bernard – business law
Simon Chénard (Montreal and Rimouski) — business law
Charles Lapointe (Quebec City) — litigation
Eugénie Lefebvre (Montreal) — business law
Miriam Robitaille (Quebec City) — business law
"Welcoming new partners is the mark of a lively and ambitious firm," said Jean-François Gagnon, the firm's chief executive officer. "2021 promises to be a great year."
Lavery
Four new professionals joined the firm, which included Janet Dell'Orto, a trademark agent in the firm's intellectual property group in Montreal. Dell'Orto centres her practice on managing and protecting trademarks, copyrights and industrial designs.
Lenczner Slaght Royce Smith Griffin LLP
The Toronto-based firm welcomed two new partners:
Andrea Wheeler — commercial disputes, construction and infrastructure matters, professional liability hearings, medical malpractice trials
Andrew Moeser — intellectual property disputes
Tom Curry, the firm's managing partner, said that Wheeler possesses the "qualities that meet our high expectations and will add enormously to our ability to deliver the results our clients expect, every day."
Of Moeser, Curry said, "Andrew brings his wide experience and subject-matter expertise in science, law, and advocacy, to further enhance our ability to meet the demand for our services in solving complex IP legal problems."
Osler, Hoskin & Harcourt LLP
The firm appointed Paul Morassutti as the new chairperson of its real estate department. Based in the firm's Toronto office, Morassutti focuses his practice on all types of commercial real estate matters, such as environmental and contaminated lands issues.
Submit all your law firm news, including appointments, moves and other professional news by filling out this form or by emailing [email protected].