Firms making announcements include Bennett Jones, Clark Wilson, Cox & Palmer, Cozen O'Connor, Fasken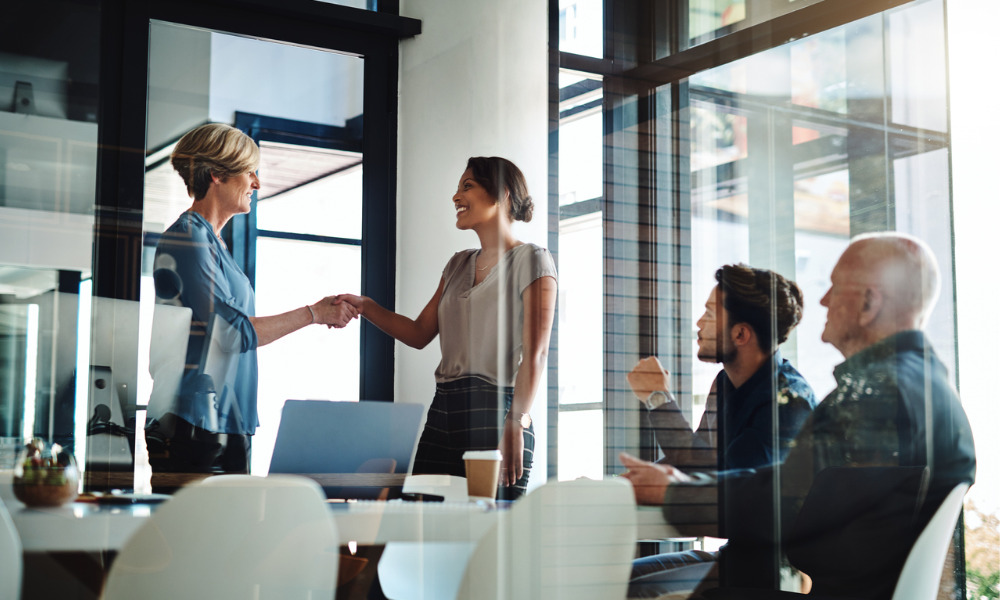 Welcome to this week's roundup of movements among major law firms, in which we sum up significant hires, promotions, departures and other announcements.
Bennett Jones LLP
Zirjan Derwa joined the firm as a Toronto-based partner focusing on competition law, foreign investment and national security, effective June 7.
Clark Wilson LLP
Chris Sharpe is now a partner practising commercial real estate law in the firm's Vancouver office.
Cox & Palmer
The firm announced the appointment of Stephen McNeil as strategic business advisor in the Halifax office, effective June 14.
McNeil has served as dean of Canadian premiers beginning in 2013, then retired in Spring 2021 after serving for 18 years in the Nova Scotia Legislature and after being re-elected five times by the Annapolis voters.
"Stephen's national and international insights and experiences will help our clients and our lawyers recognize and participate in new opportunities," said Dan Ingersoll, the firm's Halifax managing partner, in the news release.
Cozen O'Connor Professional Corporation
Cozen O'Connor announced on June 14 that it added four new lawyers from Cassels Brock & Blackwell LLP to its Canadian offices:
Shane Hardy (Toronto) — chairperson, Canadian intellectual property practice group
Brigeeta Richdale (Vancouver) — vice-chairperson, white collar defense and investigations practice group
Peter Henein (Toronto) — intellectual property
Rebecca Sim (Vancouver) — white collar defense and investigations
"Our clients have seen a dramatic uptick in international litigation and cross border transactional activities, and we recognize the importance of having a strong local presence to best serve our clients' needs," said Michael Heller, the firm's executive chairman and chief executive officer, in the news release.
Clyde & Co LLP
Carolena Gordon, Montreal-based partner, was appointed as senior partner of the global firm, effective July 1. Gordon, who advises commercial and insurance clients on all areas of dispute resolution and risk management, is the first partner from outside the U.K. and the first woman to hold this role at the firm.
Fasken Martineau DuMoulin LLP
Elizabeth Reid joined as partner in the labour, employment and human rights group in the firm's Vancouver office.
"Elizabeth's experience developing clear policy and contracts helps clients prevent labour and employment issues," said William Westeringh, the firm's regional managing partner in the B.C. region, in the news release.
Gowling WLG (Canada) LLP
The following partners have been appointed to the firm:
André Bergeron (Ottawa) — national transfer pricing and competent authority group
Marco Rodrigues (Montreal ) — business law group
"André brings to the firm a current perspective of government workings and a fresh outlook on the changing world of transfer pricing, one that strongly complements the service offering of our practice," said Dale Hill, national leader of the firm's transfer pricing and competent authority group, in the news release.
"Marco has considerable experience in financing and banking law, and will be a valuable asset to our clients and our team," said Pierre Pilote, managing partner of the firm's Montreal office, in the news release.
McMillan LLP
These lawyers have joined the firm:
Steven Sitcoff (Montreal) — tax partner, effective June 7
Marco Clementoni (Toronto) — senior patent agent, effective June 25
WeirFoulds LLP
Peter Gross is a new partner at the Toronto-based firm's municipal, planning and land development group, effective June 1.
"Peter is a well known and very accomplished municipal lawyer and his addition will further strengthen one of our firm's leading practice areas," said Wayne Egan, the firm's managing partner, in the news release.
Wildeboer Dellelce LLP
Jill Winton joined the Toronto-based firm as a partner in the tax practice group.
"We are thrilled to welcome Jill as a new partner at the firm," said Katy Pitch, chairperson of the firm's tax practice, in the news release.
Please submit your law firm news, including appointments, moves and other professional news by filling out this form or by emailing [email protected].