The BC lawyer launched her firm to help underserved communities with estates and family law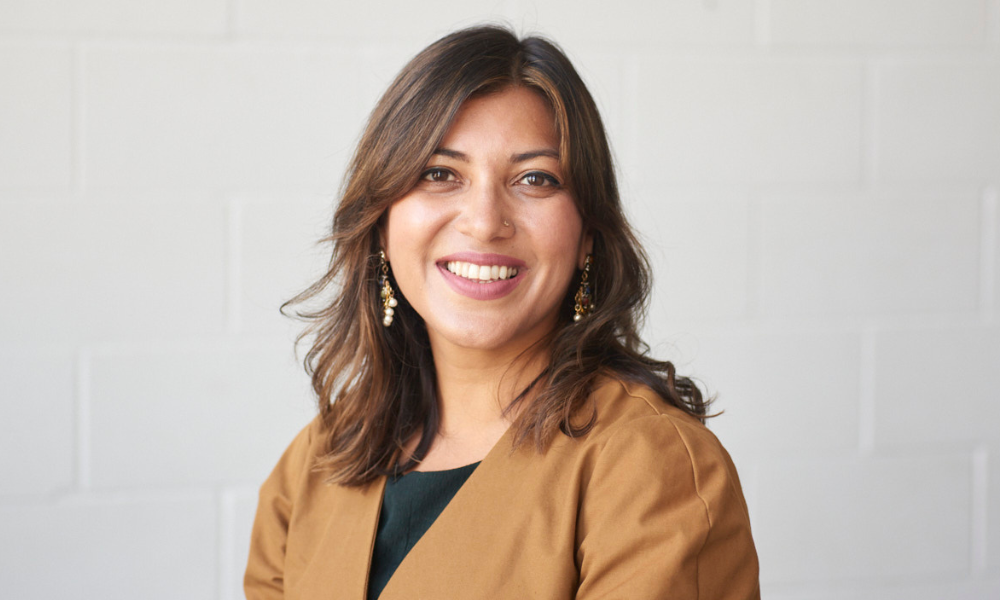 For Sonali Sharma, legal services innovation is not just about technology. It is about reaching underserved communities.
Sharma's interest in service delivery innovation was first sparked when she worked at Vancouver Coastal Health in 2012. Her job was temporary – she had just completed her legal studies and had not yet articled – but the innovative approach VCH took to supporting employees stuck with her.
Employees at the healthcare organization were provided with a service – the Employee Family Assistance Program – that helped them navigate common life issues. Sharma helped deliver financial and legal literacy courses for frontline workers in the healthcare industry.
"This is where unbundling started to become a part of my professional life," says Sharma.
In 2013, Sharma completed her articles in Northern BC with a full-service firm and the Ministry of Justice, where she saw a significant gap in unserved legal needs. "When I was up there, I realized there's such a dire need for legal access and legal supports and resources for people. And there's not enough lawyers."
Sharma then returned to Vancouver to work at a midsized firm, but VCH's innovative approach remained in the back of her mind. She asked herself, "How can I build a practice where there's more knowledge sharing and more public education [where] you're helping clients to actually understand what it is that they're actually trying to solve in their lives?"
Sharma knew that "money and family issues" were the top concerns in most people's minds, so she set out to provide an affordable and innovative solution. She also began to question what makes a good lawyer. "Is it grinding it out at a firm or is it [being] entrepreneurial and just [going] off on your own?" she asked herself.
She concluded she was better suited to the latter and struck out independently. Sharma initially experimented with a fee-splitting arrangement with a lawyer who offered her office space, but she eventually realized she could practise best on her own.
So, Sharma called up her old boss at the Employee Family Assistance Program and made her a pitch.
"I said, listen, stop outsourcing your family and estates matters to random lawyers that you can't vet. I will do those consults for you."
Sharma thought the consults could also help drum up business for her new firm, Athena Law. Her goal was to make legal services as accessible as possible to as many people as possible.
"We do things like scaled billings, so your fees are determined based on how much you make. There isn't a set billable rate. There are flat fee options. And there are different scopes of retainer, which is what unbundled legal services are."
Sharma credits the work done by Access to Justice BC in the late 2010s, led by the recently retired BC Chief Justice Robert Bauman, as paving the way for lawyers like her to provide unbundled services.
"I would say that in the last five or six years, I've seen a real shift. If you do an unbundled legal service Google search, most law firms are offering unbundled services now, which I don't think they were even five years ago."
Sharma stresses that the idea behind how she delivers services isn't complex. "I didn't create an app, or I didn't do anything really groundbreaking. I think I've just gone back to the basics. And I'm just trying to find a way to make law accessible in a way that I think people want it to be because we are such a consumer-driven world."
Sharma says a "massive epidemic" in the legal profession is the idea of scarcity, which measures lawyers' worth by their hourly rate. Instead, she approaches her services with an "abundance mindset," seeing the massive demand for legal services like estates and family work as an opportunity.
She says it is the lawyer's job to determine how to provide that information cost-effectively.
Sharma also works for the Everyone Legal Clinic, designed to help articling students become lawyers and provide lower-cost legal services. She has helped to create the wills and estates curriculum, working with young lawyers to encourage them to think differently about how to serve their community.
Sharma says that while she is happy to be recognized for her work, she hopes her story will help inspire those in the profession who may be suffering from imposter syndrome or feeling like they aren't doing law correctly.
"My journey was not straight and narrow. And it was full of a lot of adversity and a lot of just me kind of bumbling around, and that's okay."
Editor's note: This article was updated to clarify that Sharma was paid for her work with the Everyone Legal Clinic.