Top prizes for insolvency, capital markets, infrastructure, mid-market and overall M&A announced at May 11 gala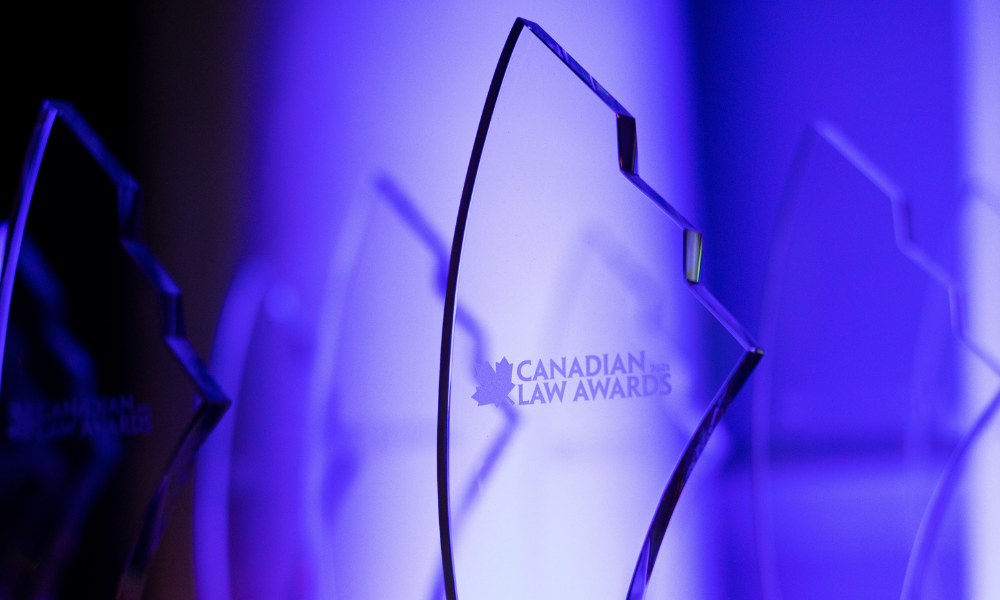 The Canadian Law Awards gala Thursday was a night for celebrating lawyers, but when it came to the deals categories, it was also a night for paying homage to the complex and intriguing deals that winning law firms worked on.
Among the winners in the deals categories, chosen from the excellence awardees announced last month, was Rio Tinto's acquisition of Turquoise Hill Resources. The deal, valued at more than $4 billion, received a lot of attention in the legal and business communities due to agreements reached between Rio Tinto and the largest minority shareholders of Turquoise Hill. The agreements were for Turquoise Hill to obtain the "withhold" vote from the largest shareholders in exchange for private arbitration of dissent and oppression claims and an 80 percent advance payment of any dissent claims.
While the agreements were eventually eliminated, the 80 percent dissent claim was subsequently offered to all shareholders, a first for Canadian M&A deals.
McCarthy Tétrault LLP, with a team led by Shea Small and Eva Bellissimo, acted as legal counsel for Rio Tinto.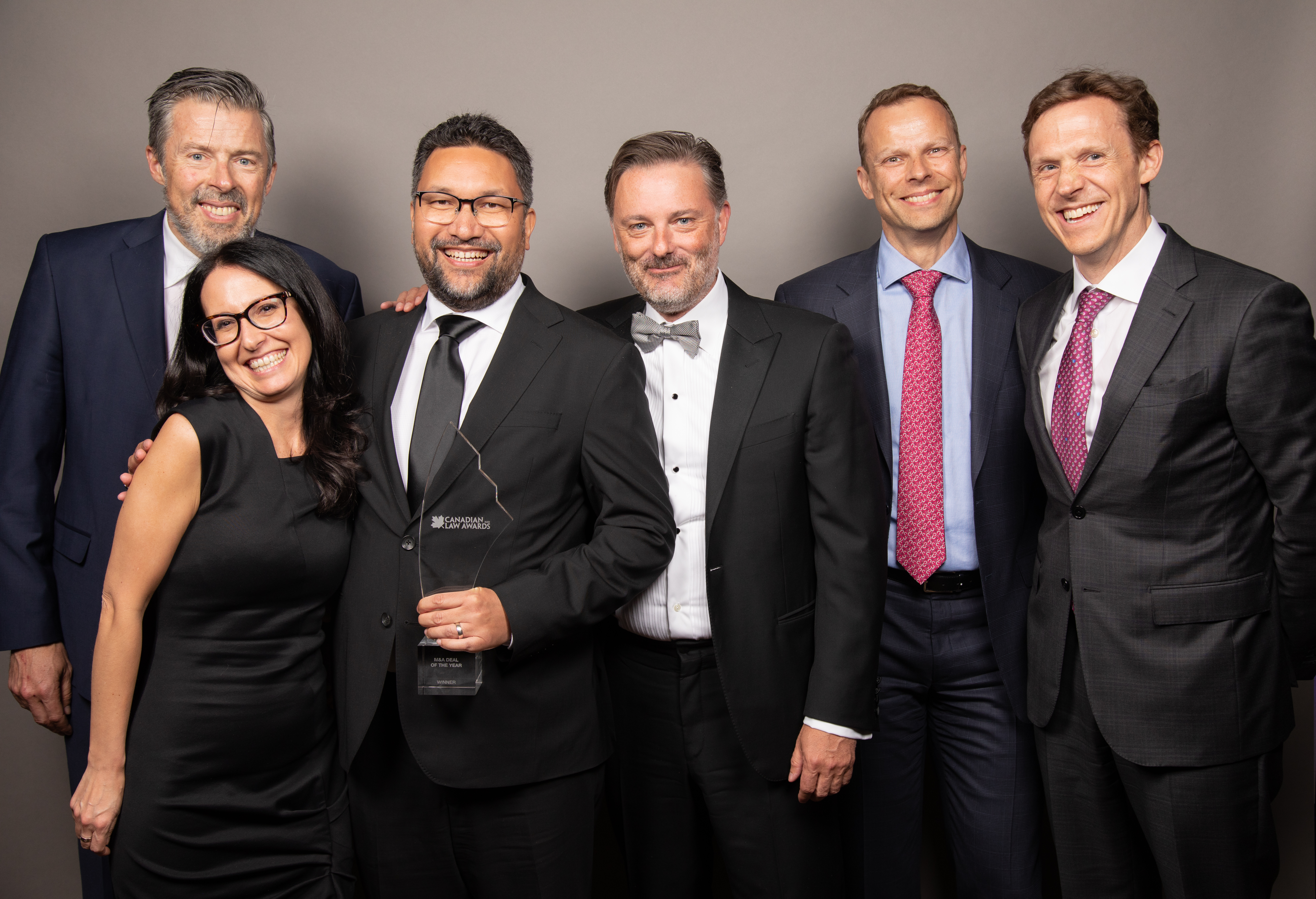 Top deal firm reps: Stephen Kelly, Eva Bellissimo, Dustin Isaacs, Shea Small, Markus Viirland, Alex Moore
At Thursday's gala, Small compared getting the deal done to "trying to solve a law school problem every single week" as new legal issues that had not been dealt with before came up. These included dissent rights, private deals with key shareholders, and dealing with regulatory concerns. "It felt like the most complicated deal ever."
Bellissimo added a successful conclusion to the acquisition came down to "trying to make sure that everybody got through it in a way that made sense for them."
Dustin Isaacs, the former chief legal officer for Turquoise Hill, describes the completion of the deal with Rio Tinto, given the circumstances, as an "outstanding" result.
"It was a spectacular job to get it done, especially when it seemed like mission impossible for some." He added that it was a "precedent-setting scenario" that those in the legal community will likely still be discussing years from now.
The team of Steve Malas, Elliot Shapiro, and Orestes Pasparakis at Norton Rose Fulbright Canada LLP advised Turquoise Hill. At the gala representing the firm, Stephen Kelly, Norton Rose's Canadian national chair of business law, said: "We are proud to have been at the centre of the M&A Deal of the year supporting our longtime client Turquoise Hill Resources. We assembled an exceptional team . . . to execute this complex deal full of twists and turns with a great outcome for all involved."
Blake Cassels & Graydon LLP, led by Alex Moore, acted as legal counsel for the Turquoise Hill Special Committee. He noted that the sellers "sellers had to figure out a way to deal with an acquisition proposed by their controlling shareholder with significant minority shareholders," he said, many who were vehemently opposed to the price the controlling shareholder was offering."
Moore's colleague at Blakes, Markus Viirland, noted that getting the deal done came down to "changing what was once to be a narrow solution to be a much broader solution," meaning the 80-percent deal was offered to all minority shareholders.
Capital Markets deal of the year – Rogers bond offering to support Shaw deal
The top capital markets deal awarded at the CLA gala was Rogers Communications' completion of the largest corporate bond offering in Canadian corporate history to finance its recent acquisition of Shaw.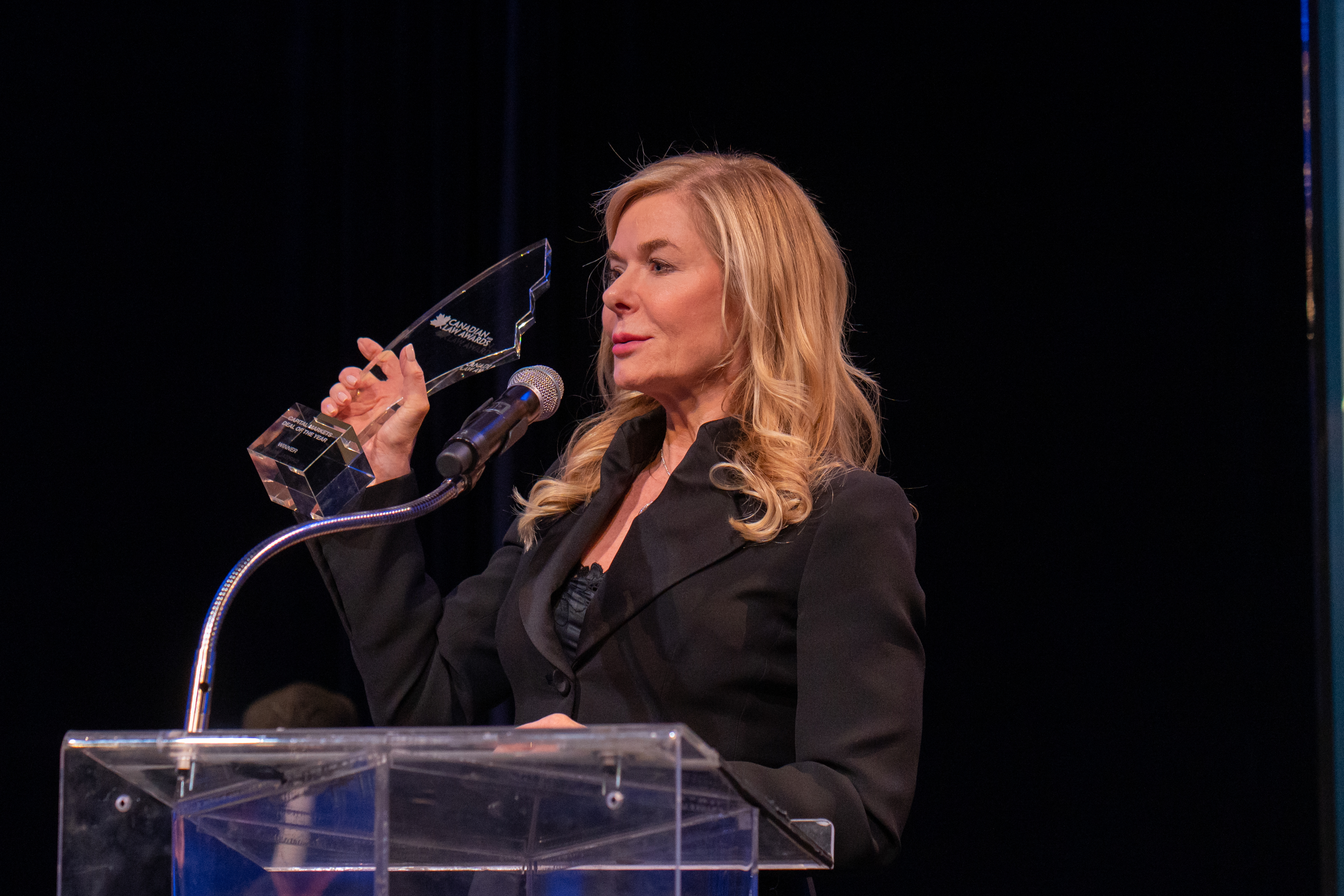 Patricia Olasker of Davies with the trophy for the top capital markets deals at the Canadian Law Awards
Rogers issued senior notes worth $13.25 billion through two concurrent private placements: $4.25 billion in senior notes allocated across four series and a US$7.05 billion issue of senior notes spread across five series, the largest-ever US dollar issuance by a Canadian corporate issuer in US market history.
Davies Ward Phillips & Vineberg LLP acted as chief counsel to Rogers with a team led by David Wilson. Osler Hoskin & Harcourt, with a team led by Michael Innes, represented initial purchasers.
Patricia Olasker, a senior partner in the capital markets, mergers and acquisitions practices at Davies, accepted the award on behalf of the firm. She noted that when the work on the bond issue first started, "there was a lot of capital markets activity," but that has slowed down considerably in recent months along with the spike in bond yields. There was also uncertainty that the deal would even go through, or face significant delays, given the Canadian Competition Bureau's concerns about the merger of the two giant telcos.
So, dealing with these challenges makes winning the CLA prize for top capital markets deal "all the more meaningful," Olasker said. Also, given where the markets are now, Olasker noted, "I don't think we'll see a deal of this size any time soon."
After closing the bond offerings, Rogers obtained the consent of bondholders to extend the outside date specified by the bond terms for completing the Shaw acquisition, for which it paid approximately $0.8 billion.
Getting a deal done in this context requires ingenuity and cooperation, Olasker said, "not just our team, but all the teams that helped come up with solutions."
Mid-Market Deal of the Year – Audax buys Harbourfront Wealth Management
The winner in the mid-market deal category, for deals between $50 million and $500 million was for the acquisition of Harbourfront Wealth Management by Boston-based Audax Private Equity.
The deal, which closed last September, had a transaction value of CAD $425 million and a special pre-investment dividend distributed to Harbourfront's shareholders, including its team of investment advisors.
Fasken Martineau DuMoulin LLP, with a 20-plus lawyer team led by Jon Conlin, led the transaction for Harbourfront alongside representatives of Raymond James, the sell-side financial advisor.
Stikeman Elliott LLP, led by John Leopold, and Kirkland & Elis LLP, served as legal counsel to Audax. Blake, Cassels and Graydon LLP served as counsel to minority Harbourfront shareholders.
Infrastructure deal of the year – GO Transit Corridor Expansion
The GO Transit Corridor expansion in Ontario, currently the second-largest infrastructure project in Canada with a value of more than $10 billion, took the top spot in the CLA infrastructure and project finance category. ONxpress Transportation Partners was selected to partner with Infrastructure Ontario (IO) and Metrolinx, crown agencies of the Province of Ontario that support the government's public infrastructure and transportation programs.
Considered one of the most ambitious infrastructure projects undertaken by the Ontario government, work includes train service facilitations and the operations and maintenance of the GO rail network.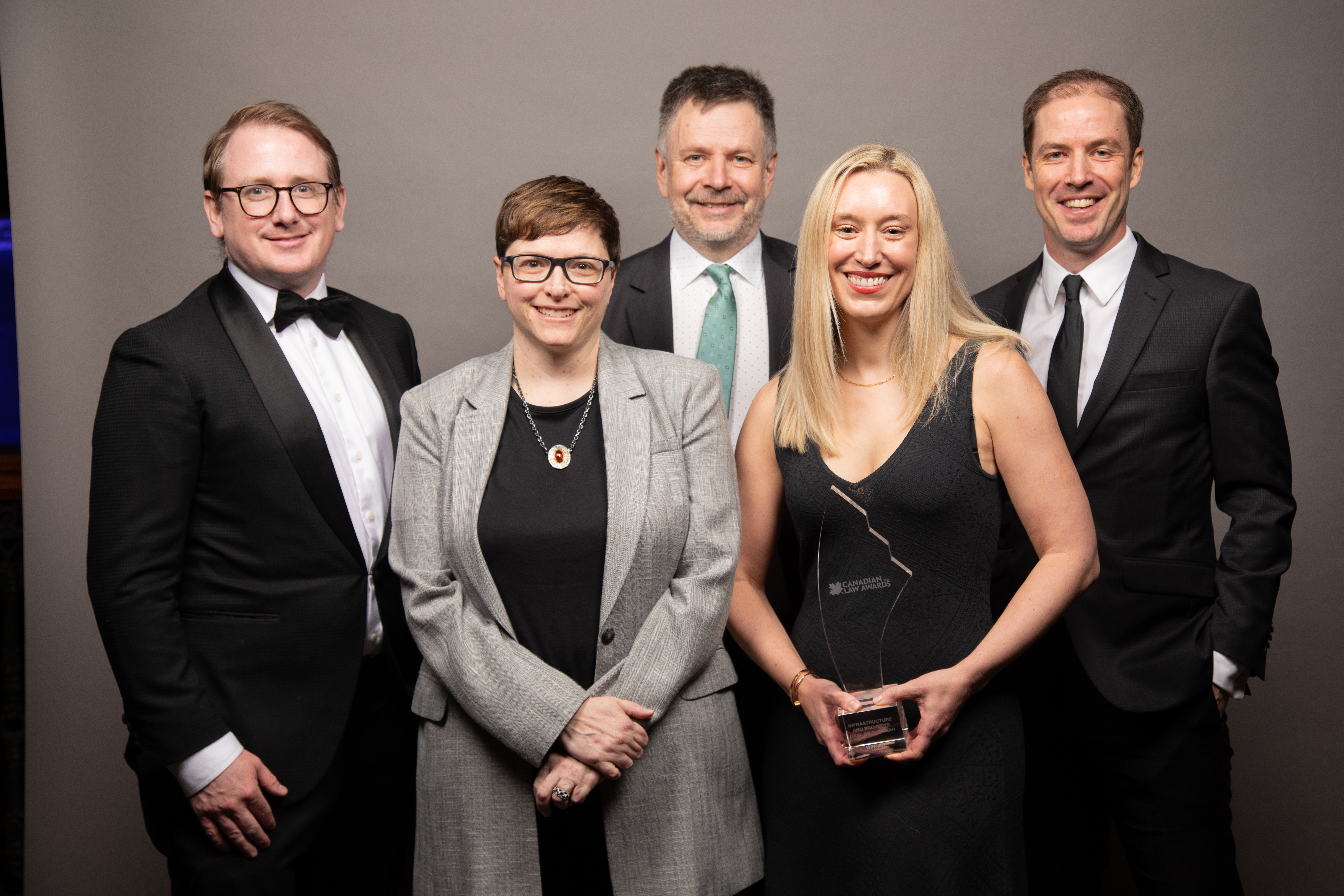 Infrastructure winners: William Buchner, Marianne Smith, Doug Sanders, Samantha Cunliffe, Morgan Troke
Blake Cassels & Graydon LLP advised Infrastructure Ontario and Metrolinx with a team led by Marianne Smith. McCarthy Tétrault LLP, led by Samantha Cunliffe and Morgan Troke, acted as counsel to ONxpress, a group formed by Aecon Group Inc., FCC Construcción S.A., Deutsche Bahn International Operations, and Alstom Transport Canada Inc. Borden Ladner Gervais LLP, with Doug Sanders leading the team, advised Alstom Transport Canada. McMillan LLP served as local counsel to the operations and maintenance provider, ultimately controlled and owned by Deutsche Bahn and Aecon. And Davies Ward Phillips & Vineberg LLP, with a team led by William Buchner, was counsel to the civil construction joint venture.
For lawyers working on a project of this magnitude, "it's probably the transaction of a career," said Blakes partner Smith. "I feel very honoured to be part of this." She added that "cooperation and a lot of respect" between all those involved helped bring together a project like the Go Transit Corridor expansion.
Doug Sanders, a BLG partner on the legal team representing Alstom Transport, agreed. "For such a complex project, we all had to make sure that it was functional and worked for our client for the long term, as well as everyone else involved."
McCarthy Tétrault partner Cunliffe pointed to "the importance of the collaborative process," not only with the other legal teams but the contracting authority as well.
Her colleague Troke noted that this project involved "many different stakeholders," so "our role as consortium counsel was keeping everything in line and understanding the different needs involved."
Troke added that the collaborative nature of the project "was its hallmark," lawyers for the public and private sectors working with their clients for the greater good of public transportation.
Insolvency and Restructuring deal of the year – Aldo Group proceedings
One of the most complicated company restructurings in recent memory – that of Quebec-based shoe retailer Aldo Group - won the CLA in the insolvency and restructuring category. Martin Rosenthal of EY, the court-appointed Monitor for Aldo, described the retailer's issues this way: "It was a very complex restructuring, with a company that had operations in 90 countries."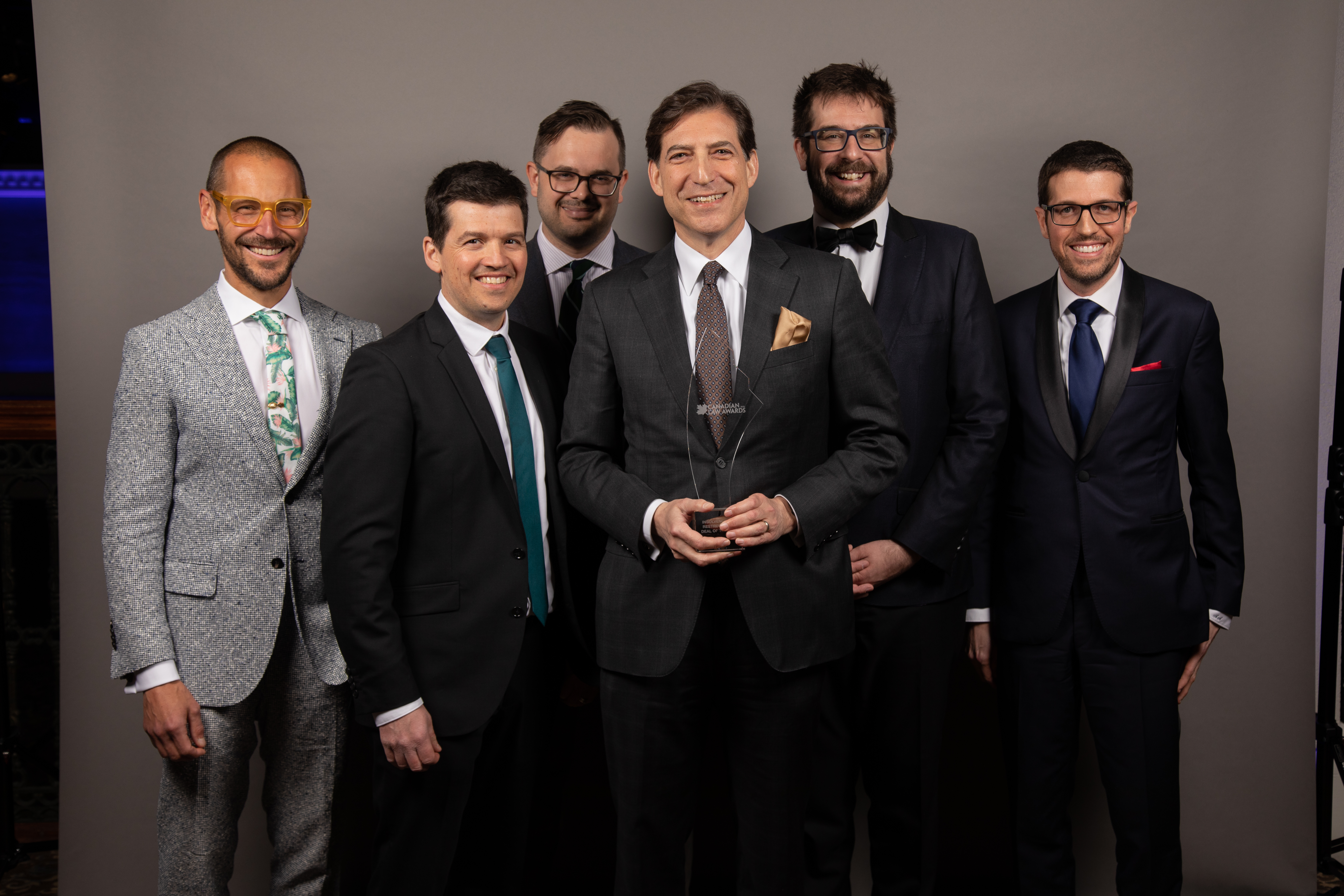 Members of the law firms who took home the top prize for insolvency and restructuring
Although Aldo sold over $1.2 billion worth of merchandise in 2020, it lost $74.8 million at Canadian stores and $52.8 million at its US stores, and its debt exceeded $450 million. Aldo had 3,000 points of sale, employed over 8,000 people, and had over 1,000 franchisees.
Restructuring proceedings were done in Canada under the Companies' Creditors Arrangement Act, and similar proceedings were launched in the United States, Switzerland, France, Ireland, and the United Kingdom.
Last July, Aldo Group's compromise and arrangement plan was approved by nearly all its creditors, sanctioned by the court, and recognized by the United States Bankruptcy Court. A Swiss composition agreement (the equivalent of a plan of arrangement) was also approved by a large majority of creditors and ratified by the Swiss court.
Aldo relied on the counsel of the legal team at Davies Ward Phillips & Vineberg LLP, led by partner Denis Ferland. McCarthy Tétrault LLP, with a group of lawyers led by Jocelyn Perreault, acted for the court-appointed Monitor. Stikeman Elliott LLP was counsel for creditor National Bank, with Guy Martel leading the team. Gowling WLG represented certain landlords of Aldo locations, and Norton Rose Fulbright Canada LLP represented those involved in the exit financing for client CIBC.
Rosenthal noted that Aldo general counsel and VP of human resources Catherine Ross and CFO Genevieve Brouillette also played "considerable roles in the restructuring process." The main reason Aldo's restructuring was so successful, he said, is "because of the collaboration of all the people around the table."
Anthony Arquin, who represented Davies in accepting the award at Thursday's gala, said the firm is "very proud of our role in allowing our clients to bounce back in business again" and that "it was a privilege" to help make sure the retailer would survive, thanks to the collaboration around the table.
Perreault, with the McCarthy Tétrault team, noted that the role of the Monitor is essential in a restructuring situation. "The monitor is the eyes and ears of the court to supervise the restructuring proceedings and to report to the court and to creditors to ensure that all decisions made are fair and reasonable."
He added the role of a law firm that supports the Monitor is to improve transactions and review claims while helping to save jobs. "In this case, it was a huge success for all stakeholders because of the collaboration involved."
Alexandre Forest with Gowling pointed out that the Aldo case was "really the first of the restructurings during the COVID-19 pandemic." He added that, back in May 2020, when Aldo filed for insolvency, "everybody was still trying to figure out what was going to happen with the pandemic."
He added: "It's amazing how things ended up. Everyone wanted [Aldo] to stay alive. So we dealt with the past and then looked towards the future."
Luc Morin of Norton Rose Fulbright said on behalf of the firm: "It was a great outcome achieving a successful restructuring of a retail icon. The strategy required a delicate choreography between many professionals and advisors on both sides of the border. I am very proud of our team that assisted CIBC in providing exit financing."