Mentorship, sponsorship, and good strategizing are all important factors in success, panelists say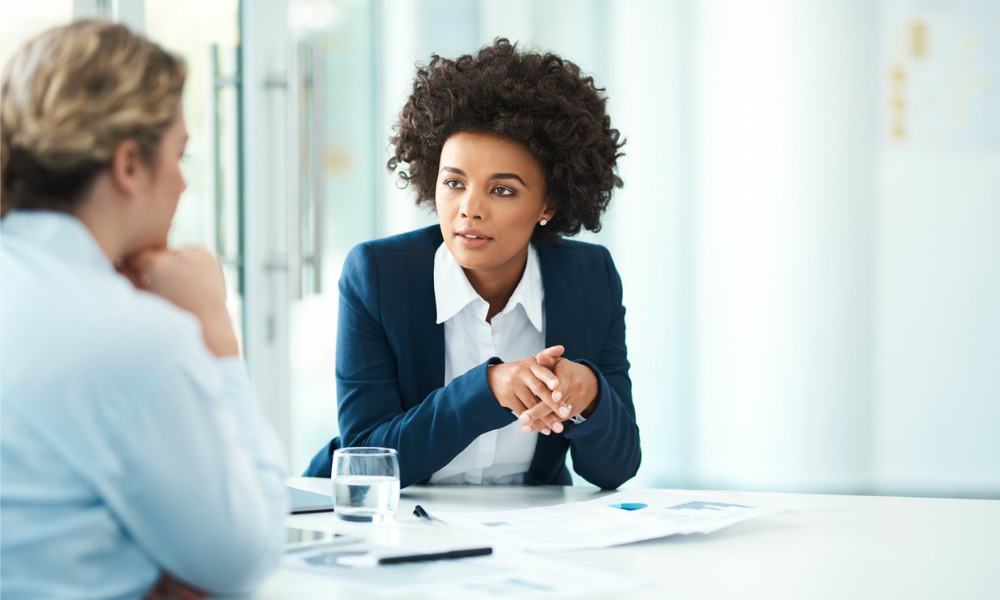 The challenges for racialized people in becoming lawyers was the topic of a panel discussion at Key Media International's Young Lawyers Summit on Nov 25.
The panel on Navigating the headwinds of the legal profession heard from Raphael Tachie, a partner in Private Client Services at Gowling WLG in Toronto as well as president of the Canadian Association of Black Lawyers; Rahim Esmail, senior counsel at TELUS Legal Services in Vancouver; and Taisha Lewis, a partner in Fasken Martineau DuMoulin LLP in Toronto.
The "headwinds" they described as historically underrepresented and racialized lawyers included discouragement in a particular geographic environment, and being one of only a few Black lawyers in a firm.
Tachie moved with his family to Canada in 1982, grew up in Vancouver and received his law degree from the University of Victoria. He told participants that during the student recruitment process coming out of law school he had reached out to several lawyers he had met for advice on pursuing his legal career.
"And it was interesting that one [piece] of the advice I received, which proved to be true, was that firms in Vancouver would not look at me and see a partner that could bring in business," he said -- even though he had grown up in Vancouver. He was encouraged to apply to firms in the larger and more cosmopolitan Toronto and ended up summering and articling at Blake, Cassels & Graydon LLP, before becoming an associate.
Around the time he joined Blakes as a student-at-law, in 2008, "there was a conversation around the business case for diversity … , and the U.S. was pushing its clients to actively seek diverse legal talent," Tachie said. "For the Toronto firms that were doing cross-border business, that was an incentive to hire somebody like me; that's really informed my own thinking about my career journey."
With Toronto experience under his belt, Tachie returned to Vancouver for other legal positions, moved back to Toronto to work in-house at TD Canada Trust, and recently returned to Vancouver for his new partnership.
"But to me, that journey has really highlighted some of the headwinds we will have as Black lawyers, but also some of the opportunities and how the changing landscape and the current environment is shifting how firms are looking at legal talent."
Taisha Lewis had had experience with the legal profession before becoming a lawyer, working in Bay Street firms during her undergraduate years at McMaster University. "I came into the law with an idea of what it would be like to practise, an idea of what a law office would feel like," she said.
After receiving her law degree from the University of Ottawa, she went to practise at a boutique corporate transactional firm there where she had articled, and said she wasn't prepared for the sense of loneliness she felt, as one of three non-white members of the firm, "and navigating this steep learning curve as a junior lawyer, with no one who looked like me at the firm."
It's an experience that a number of her racialized colleagues have had as well, she says, and when she was looking to change firms, "racial diversity was at the top of the list, and I was happy that I was able to see that in Fasken as a firm."
Mentorship, sponsorship and networking
"The mentorship piece is key," noted panel moderator Sandeep Tatla, Chief Equity, Diversity and Inclusion Officer at Fasken Martineau DuMoulin LLP, which sponsored the panel.
"We know from the research that people tend to mentor those who look like them or who they connect with, and a lot of time connections are based on some of those more personal attributes or connections around culture. If you don't have more senior people who take you under their wings and teach you some of those more soft skills, we see that people sometimes are left without the support or the systems of support they need."
All three panellists spoke to the importance of mentorship, sponsorship and good networking – both for homegrown and foreign-trained lawyers.
Law school doesn't teach some of the softer skills such as keeping clients happy and managing time effectively, said Lewis, who has no lawyers in her own family and was the first to pursue post-graduate work. After identifying a mentor, she recommended placing "a structure" around that relationship. "When someone agrees to be a support for you, put it in the calendar, on a periodic basis," scheduling meetings that would suit both parties.
The year that Tachie arrived in Canada the Vancouver Canucks hockey team was the runner-up in the Stanley Cup tournament. He's a big sports fan, he said, and in conversations with other lawyers he would mention he was a Canucks fan, which gave them common ground (and, he says, might turn the conversation from summer cottages and the like that "marked privilege I didn't have. … The [legal] environment is not designed to make you feel like you belong").
And sponsors are important too, said Tachie – they are not mentors per se, but the people who are "attracted to you in terms of who you are, and what you're doing," and who suggest you be invited to work on certain deals and cases. "Once you figure out who your sponsor is, they should get benefits from that" from the junior lawyer, he said; "you can give back to that person, so they are invested in your success."
Young lawyers would also do well to look to their external network, said Rahim Esmail. "You may not have a direct contact, but there may be friend of a friend or a family member [who can] be an external mentor." At times when he found his own perceived network limiting, he made a point of reaching out to people, he said "and proved my network was bigger than I thought it was."
For foreign-trained lawyers, networking may be especially important, and "joining organizations to show you're part of legal community in Canada" – such as Canadian Bar Association and its provincial affiliates, or groups such as the Canadian Association of Black Lawyers – "all of that shows you're invested in the legal community here, which would add to you [job] application."
Positioning and presenting your prior experience to show how it would support current job requirements is also important, added Lewis, whose corporate commercial and securities law practice is focused on mergers and acquisitions and corporate finance. Experience is transferrable, and "a deal is a deal."
Members of equity-seeking groups must also claim their spaces, Tachie said; "you have to bring your uniqueness, and [say] 'you as a firm need to accommodate me.' That seems like a lot early in your career, but I hope you will say, 'what is unique about me, and how will this firm accommodate my uniqueness?'"
As well, he added, early in a law career, "Take the opportunity to be really intentional about where you want to be."