New guidelines address issues such as social media use, post-retirement careers for judges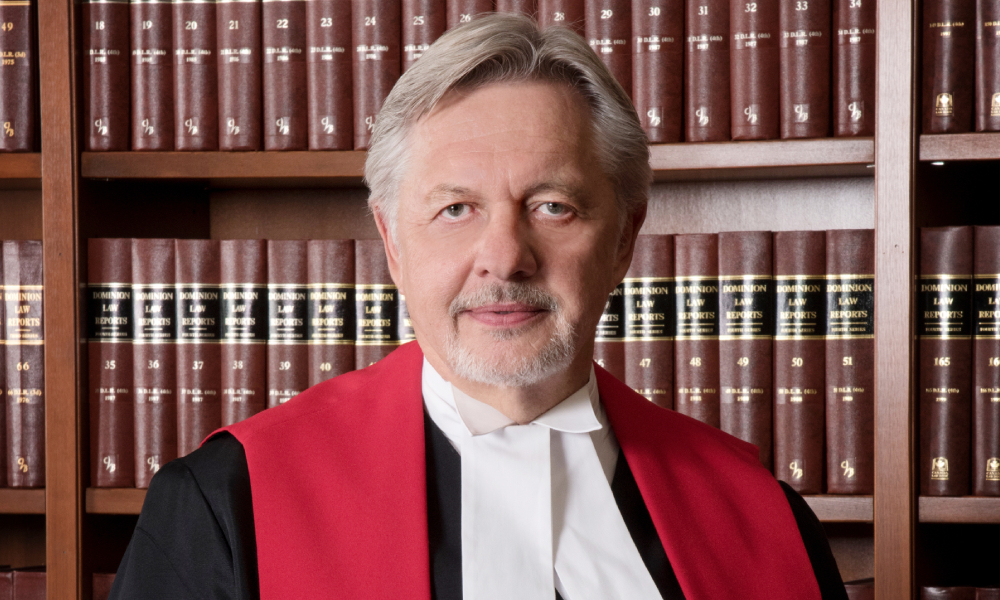 The Canadian Judicial Council has revised its ethical principles for judges – the first major revision of the principles since they were published in 1998 – and have been well-received to date, says Martel Popescul of the new Ethical Principles for Judges.
In updating the principles for 2021, "we were very careful, because we realized that our audience is beyond just the judges" to whom it is directed, says Popescul, who is Chief Justice of the Court of Queen's Bench for Saskatchewan, and who, along with Deborah Smith, Chief Justice of the Supreme Court of Nova Scotia, was appointed by Canada's Chief Justice Richard Wagner to lead the committee to revise the ethical principles.
"We tried to write the document in plain language, and it is designed to be read and understood by the various audiences that we target, including the public," Popescul says. This meant avoiding complicated terms, making the statements of principles short and crisp, "and I believe easy to understand. The commentaries are stripped of technicalities, and include only minimal outside reference. We've tried to clean it up and make it a real crisp and clean document."
Ethical Principles for Judges, the most consulted publication of the Canadian Judicial Council since its first edition was published in 1998, is intended to guide federally appointed judges on issues related to the principles of independence, integrity, competence, equality and impartiality, "in the exercise of our functions and private lives," says Popescul.
But the principles "also provide valuable information to the public on the difficult roles of judges, and our constraints," and can also inform judicial ethics at other levels, and the former version was used by other, non-federally appointed judges as well, he says.
The ethical principles are also often quoted by courts, Popescul adds; for example, the 1998 principles were quoted in Yukon Francophone School Board, Education Area #23 v. Yukon (Attorney General). "It's a multifaceted document that has a variety of purposes."
The draft Ethical Principles for Judges were introduced in November 2019, but work on them started in September 2016, says Popescul. "We determined that it ought not be rushed," preferring to produce a good product over one that was speedily produced, and after extensive consultation and consideration. It was finalized after the committee had made its recommendations to the Council.
Read more: CJC revises Ethical Principles for Judges, with input from public, legal community
What's new
Although the first edition of the principles has been relied on by other judicial systems around the world, "a lot has changed since 1998," Popescu adds, "and as society has evolved, so do ethical principles." Changes since the late 1990s include the massive use of social media, an uptick in self-represented individuals, and settlement conferences.
The revised document therefore includes topics that address components of judges' work that were not part of the 1998 version, he says, including case management, settlement conferences, traditional mediation, and dealing with self-represented litigants. It also covers social media, the importance of professional development for judges, and the transition of judge to post-judicial roles.
"Also, I think notably, the new version was mindful of the fact that judges are expected to be alert to the history, experience and circumstances of Canada's Indigenous people, and to the diversity of cultures and communities that make up the country," says Popescul.
The new version reflects that the judiciary is now more actively involved with the wider public, with the reason being to enhance public confidence and "expand our own knowledge of the diversity of human experiences in Canada."
New, accessible structure
The document has also been restructured, with the original 1998 format preserved but each chapter now organized hierarchically, beginning with a statement, followed by a set of principles, and then a series of commentaries that are aligned with each principle, says Popescul.
"At the highest level of abstraction, each statement reflects a fundamental value or theme of judicial ethics. The principles identify components of each statement and articulate behaviours that would constitute the highest aspirations of an ethical judge with respect to that principle.
"With occasional exceptions," he adds, "we determined that the statements and the principles should be stated in declarative language, which essentially says what the ethical judge does, or how an ethical judge acts. That would be consistent with the goals of describing the attributes of an ethical judge."
Finally, the commentaries associated with each principle provide explanations, context, and further elucidation of the principles, usually in aspirational language offering, on occasion, concrete examples.
The document was co-drafted in English and French, so "each version is equally authoritative," Popescul says – "each version informs each other" – and has a comprehensive index for greater reading ease. In the electronic version, the index can directly link to relevant documents. This will assist in easily guiding to a particular area, says Popescul.
There have already been several comments about the revised ethical principles, both in domestic and international media, and have been positive regarding the guidelines on technology and more.
"I think that we're happy with the feedback that we have received thus far."