MacPherson's work in Yellowknife has spanned high-level policy to front-line child protection work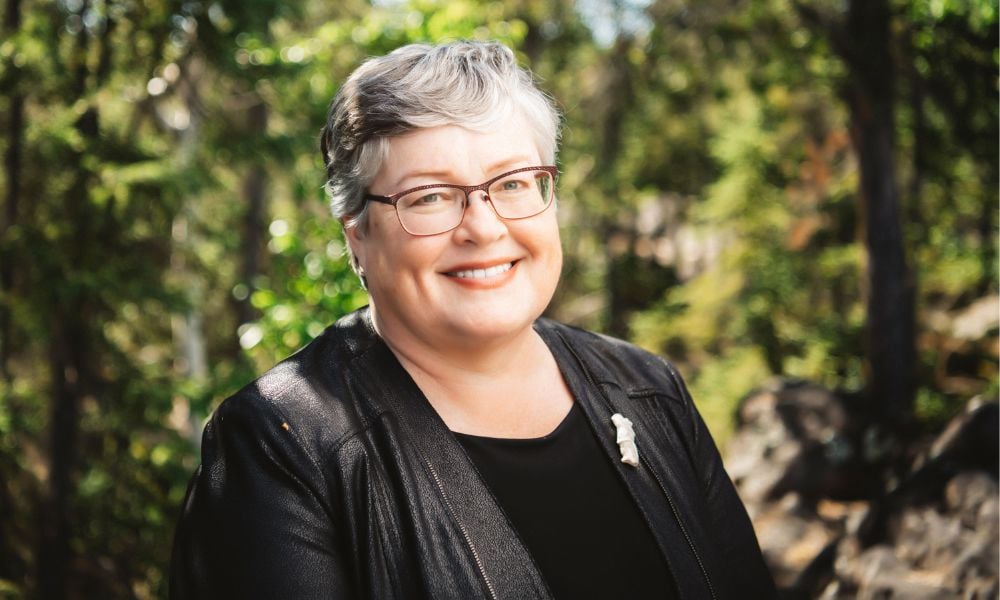 Sheila MacPherson's heart has always been in the North. She was born in Nova Scotia but raised in the Northwest Territories since she was a year old. MacPherson grew up in Inuvik and then Frobisher Bay (now Iqaluit). Her father was a teacher, and her mother worked for the Hudson's Bay Company.
MacPherson always enjoyed looking at political systems and how governments work. So, she chose to study political science for her undergraduate degree in the heart of the action – at Carleton University in Ottawa.
"When I was a first-year university student, I was lucky enough to be a page in the House of Commons," says MacPherson. "A lot of the work I did in undergraduate studies was around political systems, why people organize how they organize, but with a very northern perspective. There seemed to be a lot of political and legal change happening in the world around me and the North. And I was interested in pursuing that."
MacPherson also worked in the NWT Legislative Assembly during her undergraduate degree, which solidified her fascination with politics.
She then studied law at Dalhousie in Halifax and considered practising law in southern Canada. But, MacPherson says, "in my heart of hearts, I always knew I was going to head back north, so the only issue really was where."
She thought she would head "home" to Iqaluit but ended up making a career in Yellowknife, which had more articling opportunities. MacPherson joined a firm that was then called Cooper Johnson. The founding partners were looking for someone to help them provide legal advice to the NWT Legislative Assembly, and MacPherson's CV fit the bill.
She says this shows how a person "picking out something out of a resume can actually be quite life-changing."
Yet larger events also helped solidify MacPherson's experience with public service in the North.
MacPherson was the law clerk, or legal advisor, to the NWT Legislative Assembly when the division of the NWT and the creation of Nunavut occurred in 1999, a role she still holds.
The creation of Nunavut resulted in massive and unprecedented legal and policy challenges, including the need for entirely new legal structures. MacPherson says decision-makers had to ask themselves, "How do we divide organizations? We have one power corporation for the entire territory. How do we divide that Crown corporation into two, and do we, or do we continue to operate it as one?"
MacPherson also served in the same role when the federal government transferred its responsibility for land, water and resources management to the NWT in 2014.
"This initiative involved replicating all of the federal resource legislation for the NWT in a very compressed time frame," she says.
In addition to her growing practice advising government, MacPherson's firm was growing. In 2002, what was then called Gullberg, Wiest, MacPherson & Kay merged with Lawson Lundell LLP.
"You give up your autonomy. But at the same time, I think we recognized that there was a great deal of value that having a regional platform could give to our clients that we couldn't offer to our clients as a standalone firm," MacPherson says.
Shortly after the merger, MacPherson's young daughter was diagnosed with advanced cancer. MacPherson had to take six months off from work to care for her.
"The firm and the entire northern legal community were amazing at supporting us through this difficult time," says MacPherson. "Lawsons was really well regarded for how well they had dealt with us and how much people knew that they have provided me with the space that I needed to be with my daughter at a critical time."
MacPherson's daughter recovered, and MacPherson proudly reports that her daughter is now studying to be a pediatric nurse.
In addition to her government work, MacPherson was very active with the Federation of Law Societies of Canada, culminating in her election as president in 2018.
"I viewed myself as just a little kid from Frobisher Bay at the time. Growing up, it was about 1,000 people. And here I was put in as leader of an organization that represents 14 law societies in Canada and collectively regulates 140,000 people."
This role involved responding to the Truth and Reconciliation Commission's recommendations regarding the legal profession, reforms of money laundering rules and the federation's internal governance.
As law clerk to the Legislative Assembly of the NWT, MacPherson has worked on many leading parliamentary law cases. She acted on Morin v. Crawford, the first decision which authoritatively held that the same parliamentary privileges afforded to all provincial legislatures were equally applicable to the NWT Legislative Assembly. She also acted on Villeneuve v. Legislative Assembly, the first Canadian decision expressly dealing with whether members' expenses were cloaked with privilege and immune from judicial review. Villeneuve was relied upon in the case brought by Senator Duffy, challenging his suspension from the Senate.
While this work can be very intellectual and policy-focused, MacPherson also works on the front lines in child protection cases, acting for Nunavut's Director of Child and Family Services.
"Child protection work is gritty. It's hard and brutal," says MacPherson.
"I'm very keenly aware of the challenges around child protection and the huge disproportionate number of Indigenous children in care across Canada… But it is so important that if it's done, [it] be done properly, with an understanding of that larger political and societal context. We try very hard to bring that to the table."
MacPherson says the high-quality work done at Lawson Lundell's Yellowknife office, which is celebrating its 20th anniversary this year, assures her that this hard work will continue after her time.
"It's nice to know, at some point when I am retired, that I'll have left this office and a firm in really good hands."