Bujold says the role was an unprecedented networking opportunity and left him optimistic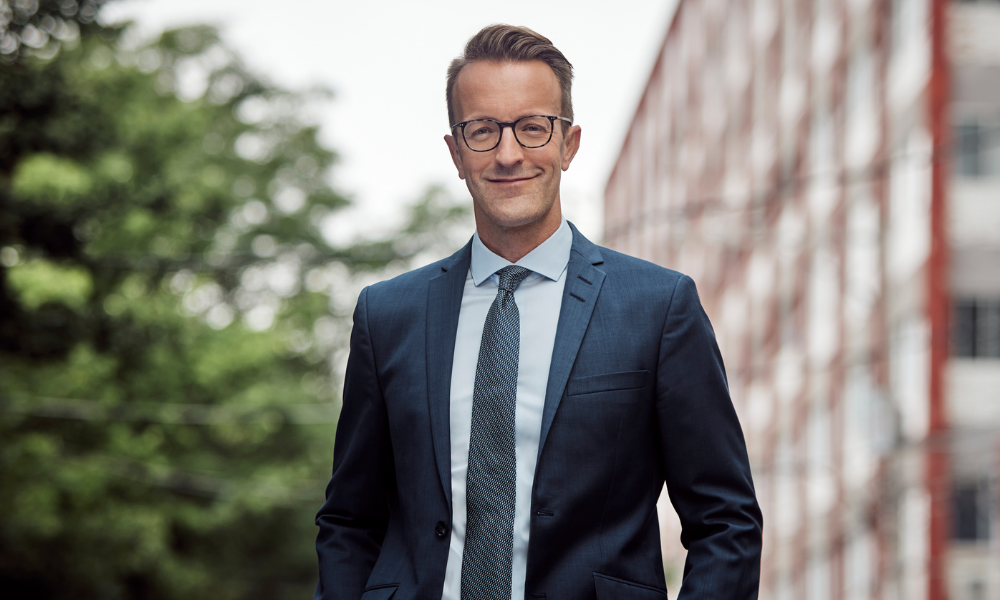 Canadian Lawyer recently spoke with Steeves Bujold, the outgoing president of the Canadian Bar Association, about his term, accomplishments, and the value of participating in the CBA.
What are your plans now, apart from returning to your full-time practice at McCarthy Tétrault?
I was recently appointed to the executive committee of the International Bar Association's lesbian, gay, bisexual, transgender and intersex law committee. So, it's the continuation of what I've been doing locally and nationally, defending the rights of 2SLGBTQI community members, now on the international level. I will also be the moderator on two panels at the IBA's annual meeting in Paris in early November.
Was this something that came about through your role as CBA president?
As a lawyer, I have been interested in sexual minorities' legal issues but wasn't involved in the IBA until this year. As the president of a national bar, you're invited to attend the IBA meeting.
Canada is leading in this area. So, the other countries are looking to us as an example.
You spoke to us at the beginning of your term and said 2SLGBTQI rights and threats to democratic institutions were two of your main priorities. How do you feel you have achieved these goals?
I'm proud of what we accomplished. I visited most of our branches nationwide and met thousands of members. I also appeared twice before the Senate, once before the finance committee and once before the legal issues committee, to advocate for the CBA.
I attended several international events, including IBA and ABA meetings and other meetings in Africa and London.
We released a report on access to justice for trans and non-binary people, which was a significant milestone in the long march of our association toward equality for everyone.
For my priorities, we launched the presidential advisory group on inclusion and access to justice for trans, non-binary and gender-diverse people. On judicial independence, we hosted an in-person summit on June 21 in Ottawa, bringing together lawyers, judges, chief justices, and journalists to discuss judicial independence.
This year, the Law Society of Ontario bencher elections involved many fundamental debates about the role of a legal regulator – what is your opinion about that and the results of that election?
Our association does not and won't comment on the result of the election, but I can say this: You can see through my work that diversity and inclusion are very close to my heart. I believe in ensuring that wherever you are in the legal community, you can feel safe, welcome, and treated fairly, and only your credentials, efforts, and accomplishments lead you to your next position or appointment.
But if we talk about self-regulation, law societies are critical. They are being challenged in many places around the world. When democratic institutions are being attacked, they often start with lawyers and judges. We uphold the rule of law and fight against fascism and dictators. So, ensuring law societies protect the public but are also valued institutions is significant.
I was pleased to see a robust debate. When you lose self-regulation, you become closer to the state and lose some of the independence you need. Without an independent bar and bench, you don't have a strong democracy. And we see that in other countries.
What was surprising about being in this role?
Canada is rich in diversity, and you have to spend time with people to realize how vast and diverse our country is. I was blessed by the weather as well. I travelled during winter, but it wasn't that cold. And I didn't lose a single piece of luggage.
You did a lot of travelling?
It was the first full year in person, which was great because a big part of the role is networking and meeting people in their community and at their law firms. It is also about getting together internationally with other national bar leaders.
At the beginning of my term, I was lucky to travel to Kenya and Tanzania for a project we are doing with Global Affairs Canada. It was challenging personally, but it was a privilege to see the great things our volunteer members are doing.
What advice would you give to lawyers about the value of participating in the CBA?
It's an amazing association. It's the voice of the profession. We have 38,000 members nationwide at every stage of their careers.
If you're a law student, you have a whole network to build, and you must learn what field you're interested in. CBA can also give you so much if you're a senior lawyer if you want to share your expertise and connect nationally or internationally.
If you're in a big law firm like mine or a solo practitioner, there is much to offer, including leadership opportunities. I am an example of that.
What advice would you give to future CBA presidents?
One of my law partners gave me this advice before I started thinking about applying for this position. He said, "Did you talk to your life partner? If not, talk to him and come back to me. Because you'll need the support of that person."
It was so accurate because it was a challenging year. It's a full-time position to be CBA president, but it's only one year, so most people who go through that journey have a practice before and hope they will have one after.
How did you balance your role with your practice at McCarthys?
You know 18 months in advance that you will become the CBA president, so it allows for planning. I practise in litigation, and there are surprises, but a big part of my schedule is known far in advance. I'm also lucky to work in a big department with generous partners. If you communicate well, you train people to help you, and then you can help them in return when you're back.
My clients were also understanding and supportive. When I told them in advance, they were happy and said, "Oh, that's great, what can we do? We'll wait for you and be there on the other side."
Are there any other issues you would like to note about the legal profession in Canada now that your term is ending?
I want to leave on a note of positivity. All the conferences and all the people I met throughout the year gave me a unique perspective. I'm very optimistic about the future of the legal profession.
We often focus on the problems, and young lawyers or law students sometimes feel scared and skeptical about the future. I'm optimistic because there is there is more work than there are lawyers to perform that work.
However, we need to work differently for two reasons. First, even if there are more than 100,000 lawyers in this country, most legal needs are unmet. We also released a report this year on wellbeing and mental health, which told us that we need to change our mentality about how we work. We need to change our rhythm. We need to allow for part-time work; for example, we need to change the relationship we have with substance abuse and alcohol, and we need to bring mental health at the centre of our business plans.
So, I am optimistic, but we have to address those challenges. But we'll do it.
Answers have been edited for length and clarity.