Education is part of the solution to attacks on judicial independence, says Steeves Bujold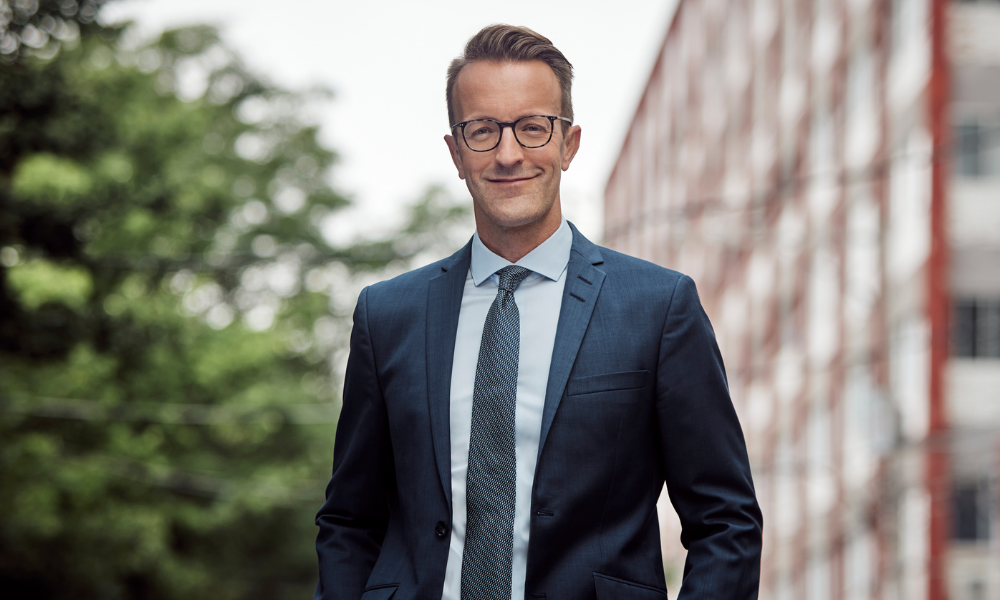 LGBTQS+ inclusion and countering the mounting threats to judicial independence, in Canada and globally, are two main priorities for Montreal-based litigator Steeves Bujold, as he begins his year-long tenure as president of the Canadian Bar Association.
Bujold is the CBA's 94th president and succeeds Stephen Rotstein of Toronto. Winnipeg's John Stefaniuk has begun his term as vice-president.
Bujold is the CBA's first president with a same-sex partner, and he says he wants to address the discrimination the LGBTQS+ community still experiences in Canada, while specifically attending to the needs of the trans and non-binary community.
"I think that's where there's much work to be done still, in terms of making their reality, their challenges better known to the legal community, and also beyond, across Canada," says Bujold.
He notes that Canada's 2021 Census, the first in the world to provide data on the number of trans people in the country, found that of the 30.5 million Canadians over aged 15 and older, 100,815 were transgender. That the proportion was seven times higher for gen z and millennial respondents than those in in the older generations, indicate trans inclusion is a burgeoning issue that the legal profession and other institutions in Canada will need to address, he says.
"In my opinion. It's a low number. It's a low estimate because people may fear to answer, 'yes,' to that question in a national survey," says Bujold.
"There is a wave coming… We need to change our institutions, so we ensure that they are welcoming, they are well designed to address the needs of our fellow citizens that are non-binary and trans."
Bujold has been practising law since 1999 and leads the Quebec region litigation group at McCarthy Tétrault in Montreal. He has a general practice, focussed on health law and pharmaceutical class actions, and he chairs the firm's pride action group and is a member of the diversity and inclusion council.
Bujold has been active with the CBA since 2001, and throughout the years has chaired the CEO selection committee, the governance and equality committee, the policy committee, and the equality subcommittee.
Growing political polarization in the world is part of a growing challenge to elected officials and democratic institutions such as the judiciary, says Bujold.
"We've been seeing a growing numbers of attack against judges for their decisions, in Canada and in other countries," he says. "I see it as an attack against a pillar of democracy. So, it's concerning for our association, and it is something we need to address."
Education is part of the solution, Bujold adds. It is necessary to remind Canadians why it is important that when Canadians experience an attack on their fundamental rights, they have recourse to an independent third party that will rule solely on the law and will not be influenced by threats to them or their family, he says.
"It's extremely important that we remind everyone of that and why we need to have an independent judicial body."
"However, at the same time, we need to make sure we remind everyone that freedom of expression allows people to be vocal about when they disagree about the decision or when they disagree about the behaviour of an appointed judge," says Bujold. "That's fine, and that's fair in a democratic society, but it has its own limits. And we've seen more and more attacks recently that go beyond what are usually the norm in such circumstances."
The CBA is in its 126th year and is composed of more than 37,000 lawyers, notaries, law professors, and law students.