The pandemic has been a game-changer, but these firms found ways to thrive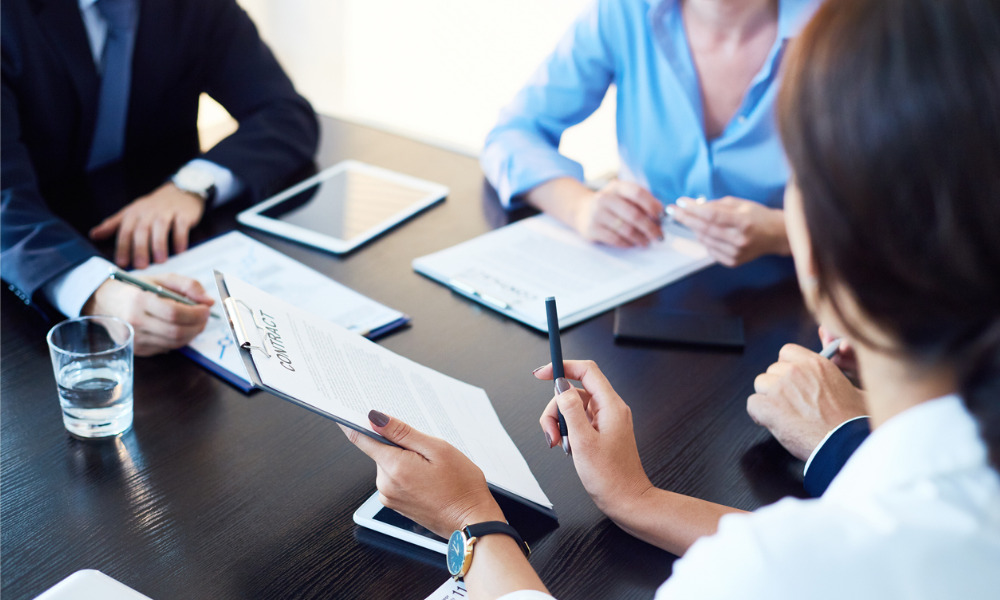 In March, corporate law firms were worried. What was going to happen to the business if beleaguered clients took shelter from the pandemic storm and put aside projects or deal-making? How would operations continue as staff were forced to work from home but still provide service as if they were at the office? For those on our list of top corporate law firms, the answers may be surprising. Some types of business slowed down, but the need for other services remained solid. And some law firms saw certain types of work grow fast. Mining deals, whether financings or M&A, increased thanks to higher prices for gold, silver and other commodities that made projects potentially more profitable. Transactions in the tech sector remained robust and perhaps even increased, in size if not volume, because COVID-19 showed the usefulness of innovations that were being developed long before the pandemic hit — innovations that made working or learning remotely easier. The great innovator Alexander Graham Bell once said: "When one door closes, another opens, but we often look so long and so regretfully upon the closed door that we do not see the one which has opened for us." These top 10 corporate boutiques have kept their eyes on that open door.
HOW WE DID IT
Canadian Lawyer asked lawyers, in-house counsel and clients from across Canada to vote on the top corporate law boutiques. They were asked to rank their top firms from a preliminary list, with a chance to nominate a firm that was not included on the list. To be considered in the vote, firms were required to have at least 80 per cent of their business come from corporate law. The final rankings were determined through a points system, in which firms were rewarded on a sliding scale for the number of first to 10th-place votes received. The quantitative results are combined with feedback from respected senior members of the bar and in-house counsel when applicable.
Please find a full description of our methodology at canadianlawyermag.com/survey/method.
Allen McDonald Swartz LLP
Toronto
www.amsbizlaw.com
It has been challenging these past few months for many of the corporate clients with which Allen McDonald Swartz deals, says managing partner Henry Bertossi, as firms paused to see what "the world would look like" as COVID-19 took hold. The M&A business slowed down, he says, and much of the work that the firm did do revolved around looking for "contractual outs, renegotiations and things like force majeure clauses." He also found clients were feeling "more pressed in terms of governance issues — bumping up against stakeholders and balancing the need to keep the lights on and keep their workforce engaged."
But five months into the shutdown of many non-essential business and government services, Bertossi is starting to see a lot of the transactional work come back — and there is definitely "more vibrancy in the marketplace," he says.
Allen McDonald Swartz provides strategic counsel and business law advice to Canadian and international clients. The firm is known for closely collaborating with its clients to develop practical legal solutions that meet its clients' objectives.
The firm's lawyers — Bertossi, Jennifer Allen, Brad Elberg, Fraser McDonald and Jillian Swartz — are all Bay Street veterans. They have experience across a diverse range of industries, including agri-business, alternative energy, automotive consumer products, event planning and hospitality, manufacturing, professional services. media, sports and entertainment, technology, mining and natural resources and private equity. Clients include entrepreneurs, high-net-worth individuals, family-owned businesses, private and public companies, multi-national enterprises, law firms, independent committees, charities, and not-for-profit organizations
The lawyers at AMS advise clients on mergers and acquisitions, reorganizations, privacy and anti-spam issues, financings, securities compliance and regulatory work, capital markets transactions, governance and business-critical commercial arrangements. Among notable deals on which the firm has worked on, Bertossi says AMS represented 2Keys in its sale t Interac. The transaction included the purchase and sale arrangements involving many vendors. 2Keys designs, develops and operates digital identity and cybersecurity platforms and provides secure authentication and access solutions to governments, financial institutions and commercial clients.
One part of this deal that is particularly relevant in the days of COVID-19, Bertossi says, is that it included a particularly complex earnout arrangement and perhaps provides a template for how deals might be structured in uncertain times.
"It's a way to bridge perceptions of value in a business. So, if sellers are constrained in circumstances and they want to sell, and a potential purchaser wants to buy but is uncertain about the value of the business, earnout arrangements may be the way to go." AMS also acted on behalf of management at Fundata Canada that wanted to buy the firm. The transaction included the settlement of the purchase and sale documentation, related debt and equity financing components and the completion of go-forward governance arrangements, all of which were completed in the required 30-day period.
Fundata Canada is a leading data distribution and investment fund data analytics company. "That was particularly noteworthy to us because of its time intensity and the breadth of the work that had to be done, because the buyers wanted it that way," Bertossi says. He adds that the company's size and business model has made its "highly personal approach to corporate law possible.
"We're able to quickly synthesize the client's business situation, the facts on the ground and the sensitivity to provide solutions." Having the flexibility to spend time "off the clock" getting to know clients and guiding them through issues is another competitive advantage.
"Not everything has to end up as money in the pocket. We try to take the time to get closer to the client."-
BAX Securities Law
Toronto
www.baxsecuritieslaw.com
Almost seven years after starting on her own as a securities lawyer, following a long career with large law firms and the Ontario Securities Commission, Barbara Hendrickson says she wishes she had done it earlier.
"I've really enjoyed the experience," says the founder of BAX Securities Law in Toronto. She says she likes the flexibility that running her own business offers and the knowledge that clients "are your own." She adds that, in many respects, "it's a much mor satisfying type of practice."
Hendrickson say that when she talks to other lawyers — especially young female lawyers — she likes to tell them that striking out on their own is an option, especially if they have left the profession for a while to raise children. "It can be a tough catch-up" trying to get back in, she says.
However, she recognizes that many young lawyers don't have the 20 years of experience that she has to make it easier to work independently and build a client base. Still, for some, Hendrickson says, it may be an alternative to working in a large firm, for government or as in-house counsel, so it is "some-thing that should be considered."
BAX Securities Law provides what Hendrickson calls "bespoke" corporate finance, securities, and financial services regulatory advice. It has a focus on fintech, P2P, crowdfunding, securities and financial services registrants, crypto-currency and real estate syndication. The firm's clients are public and private companies from across Canada.
Hendrickson says many of her clients don't necessarily have experience in the capital markets, but they have an idea they want to pursue. "I can sit there and work with them and assist them," she says, "playing that adviser role" and getting the idea off the ground and through the regulatory regime in Canada.
For the most part, Hendrickson says, she can provide these services on her own and, if necessary, can bring in a tax lawyer, an IP lawyer or a commercial real estate lawyer, for example, if one is needed. As for the impact of COVID-19 on the firm's business, Hendrickson says much of it relies on the state of the capital markets. "It's like a tap on, tap off sort of thing," she says, adding that 2019 was a "crazy busy" time for her, so this year is slower in comparison. However, clients with ideas that were postponed at the start of the pandemic are starting to come back, Hendrickson says, but they are "holding their breath" waiting for what the fall will bring. The year 2020 won't be a great year, but she hopes 2021 will be better. "We're in uncharted territory now."
Hendrickson says she has thought about expanding her firm but feels that an expansion would force her to focus too much on the business part of running a law practice. "I love practising law and I want to keep on practising it for as long as I feel comfortable doing it."
DuMoulin Black LLP
Vancouver
www.dumoulinblack.com
Back in March, the team at DuMoulin Black LLP went through some planning exercises to try and figure out what to do if COVID-19 started having a negative impact that led to significant drops of revenue.
Fortunately, "that just hasn't happened," says managing partner David Gunasekera. "It has just been the exact opposite."
Business has been so good, Gunasekera says, that the firm recently hired two associate lawyers and the entire legal team has been working "really hard." As to why the work is still coming despite the pandemic, Gunasekera says that uncertainty in the economy has prompted a huge upswing in gold and silver price that has led to more exploration activity as projects potentially become profitable and companies are looking to raise more capital.
The same reason applies as to why more junior miners are becoming takeover targets, with acquirers wanting to jump in before the targets get too pricey. This boom in activity also applies to sectors other than mining, such as the tech sector, as more private companies look to go public through an initial public offering or reverse takeover. "There's a real rush out there, as there is a bit of concern that this access to capital is just a window and not a fundamental change, so they are anxious to take advantage of it now."
Gunasekera points to two transactions as examples of the types of deals that DuMoulin Black has handled: the acquisition of Northern Empire of Gold by Coeur Mining for US $90 million and the purchase earlier this year of Otis Gold by Excellon Resources, an all-share deal worth an estimated $32 million. While the firm has a sound vetting process for potential clients, Gunasekera says it is happy to get involved with potentially risky but solid ventures. "Part of our job is to ensure companies disclose properly, high-light those risks so investors know what they are getting involved with."
Founded in 1966, DuMoulin Black is based in the hear of Vancouver, but its clients and their transactions reach around the globe. Its lawyers have experience in corporate, commercial and securities law in a wide range of industries including mining, life sciences, industry technology, food and beverage and energy. It currently has a legal team of 17, the most the firm has had in the past 10 to 15 years, Gunasekera says.
However, Gunasekera says the firm wants to stay true to its boutique firm values. "The way we like to describe ourselves is that we are a small firm, but we're a large focused practice group that matches up with any national firm." DuMoulin Black also has no desire to change its focus, he says, preferring to stay "very specific in the type of work that we do."
Another advantage of being a boutique, Gunasekera says, is that the firm's roster of lawyers ranges in experience from first-year calls to senior practitioners. "That gives us the ability to staff files with the right people, with, say, a partner, a mid-level associate and a junior associate or student. We don't over-staff files and throw bodies at it, and there's a certain amount of efficiency and cost savings that can come out of that." The firm also likes to emphasize its steady long-term relationships with the exchanges and the regulators, he adds, "giving clients comfort that we can complete the task at hand."
Hansell LLP
Toronto
www.hanselladvisory.com
While the work at Hansell LLP hasn't changed much since the reality of the COVID-19 pandemic hit, "where that work is being done now certainly has," says firm founder and corporate governance expert Carol Hansell as she goes on to describe the day the decision was made for all staff to work from home.
"It was Monday, March 16, and there was so much concern about COVID-19 and how it was ramping up," Hansell says. "We had lunch and then at 2p.m. we all got together and agreed we probably shouldn't come back to the office for a while," Hansell says. "So, we opened a couple of bottles of champagne and said we'll meet again — but we haven't yet." While a couple of people are now working from the office because they prefer it that way, Hansell says the experience of transitioning to working remotely "has been a fabulous one."
Hansell founded the firm in 2013 after spending more than 25 years in private practice, including almost 20 years at Davies Ward Phillips & Vineberg LLP. The firm acts for boards, investors, shareholders, and management teams on various matters, and its clients include public, private and Crown corporations. It provides expert evidence in litigation, counsels on strategy, designs governance structures and processes and advises clients on board effectiveness. Sister firm Hansell McLaughlin Advisory provides government relationships and communications advice and, together with Hansell LLP, belongs to the Hansell McLaughlin Advisory Group. The two firms are comprised of five lawyers, three senior consultants, two senior advisors, a data scientist, a governance analyst and three administrative staff members.
Hansell says that, in general, the course of work at the firm hasn't changed much. "COVID has made some issues come alive and put other issues to sleep," she says. "The governance reviews, the board evaluations, they are just continuing on their own path."
However, some clients are putting aside some projects, "not so much for cost reasons, but because management wants to focus on how to manoeuvre through what is happening — if it's not mission-critical, it might be set aside."
The firm also works on "crisis management" files, such as when a board member leaves a company, and that person needs to be replaced or if there is some problem with financial statements. Hansell says that type of work is still going strong, and the firm is also building up a significant litigation practice, dealing with, for example, situations in which boards are being sued. Hansell says one of the things she has noticed since she started practising law is that general counsel for companies increasingly understand the value of expertise on corporate governance issues. And being a boutique firm means there "usually aren't the kind of potential conflict problems that large firms might have," so her firm can "come into a situation more cleanly."
One project that Hansell's firm has worked on is putting together an opinion paper on how boards have a duty to consider climate change not only for the sake of the environment itself but as it pertains to any risk factors the company might face. "It sounds obvious, but we do make the case that boards have to align their strategies to make sure climate risks are being taken into account and how to navigate through those risks." The firm is developing its use of data analytics to help benchmark what companies are doing in relation to each other.
One recent example is a paper gauging the sentiment of Warren Buffett's annual CEO letter for Berkshire Hathaway. The study showed that Buffett's letters are more "neutral" than the others studied (Alphabet, Johnson & Johnson, General Electric, Chubb and JP Morgan Chase). "Johnson & Johnson fell on the other end of the spectrum with consistently cheery letters," the paper says. At the same time, Buffett's neutral tone might contribute to the credibility of his personality and make him appear frank.
Hansell says these are the types of issues in the world of corporate governance that need to be examined "so we can make sure" that governance is aligned with best practices.
LaBarge Weinstein LLP
Ottawa, Toronto, Vancouver
www.lwlaw.com
Working with many of the tech companies that are at the core of LaBarge Weinstein's practice, firm lawyer Michael Sami says you'd almost not know that there are parts of the economy that has been damaged by the coronavirus pandemic.
"The tech sector has just been amazing and somewhat insulated from the broader market effects," he says. "If anything, we've had a lot of companies that are now success stories, and you almost hate to say this, but COVID-19 has accelerated their growth." Founded in 1997, LaBarge Weinstein primarily serves knowledge-based companies, technology startups and their investors.
The firm provides business-focused solutions throughout a company's life cycle from an idea to IPO and beyond. It now has a team of 26 lawyers who have recognized expertise in public and private financing transactions, mergers and acquisitions, securities law, tax structuring and commercialization of technology. Among Its list of current and past clients are Coherent Path, Fully Managed, Canopy Growth, ApplyBoard, Avivagen, Fiix, 7shifts, Vena Solutions, You.i TV, Mejuri, Shopify, Wattpad and MindBridge Analytics.
Kyle Lavender, another firm lawyer, now based in Vancouver but planning to soon move to the firm's Toronto office, agrees that some aspects of the tech firms he works with are inherently well suited to the circumstances surrounding COVID-19 or have pivoted to succeed in a world where the virus exists.
For instance, he says, the firm earlier this year helped Top Hat — a digital textbook company that hopes to disrupt the traditional print market — raise $72 million in a Series D financing. Lavender points out that it has an "active learning platform" for higher education and offers digital, interactive text-books and course materials for professors and students at post-secondary institutions, something that could be an important tool as students return to class but often in an online format.
Sami gives another example of a LaBarge Weinstein client that fits into the reality of COVID-19 — last mile logistics provider GoFor Industries. It recently closed a seed round of financing worth almost $10 million. GoFor's on-demand platform matches its large inventory of operators and drivers to the needs of retailers and suppliers. Other deals on which the firm has worked include financing for Equispheres, totalling $30 million, to develop its technology of metal powders that can be used in 3D printing applications.
"We may be doing fewer deals in terms of volume, but they are bigger, high-quality deals," says Sami. He adds that the Canadian tech sector, while still young, is maturing, and Toronto is becoming a tech hub, which is why Lavender will be joining the team there.
As a boutique firm, Lavender says LaBarge Weinstein can work more as a "partner or coach" for firms that may have innovative technology but are just starting out and don't have a lot of cash flow. "They appreciate that we don't throw a bunch of lawyers at a situation, that we are focused and take a personal approach rather than a delegation approach.
Sami agrees, and notes that LaBarge Weinstein understands the early days of startups and is willing to "catch up on payments" from firms when they do get the financing. "I think that is a model that has worked well for us and one that clients thank us for."
MEP Business Counsel
Vancouver
www.meplaw.ca
Most of the staff at MEP Business Counsel have "been there, done that" when it comes to working with the big national and international law firms, managing partner Marshall Pawar says, so when they come to the boutique corporate law firm, what they're often hoping to do is "flex their entrepreneurial muscles."
"The reason we broke out from the large firms is not just to focus on smaller deals or work nine to five. It was very much wanting to continue doing sophisticated corporate work but be able to do it on a different, nimbler platform," Pawar says.
MEP Business Counsel launched in 2014 and has now grown to 11 lawyers and a total staff of 23. It is made up of recognized business lawyers from leading national and international firms who bring expertise M&A, corporate/commercial transactions, project finance and commercial real estate matters. The firm has been doing so well, Pawar says, that it recently hired additional paralegals, as well as adding a lawyer to the team with an extensive commercial real estate practice.
While the firm deals with all facets of corporate law and is "industry agnostic," Pawar says the company's sweet spot" is meeting the needs of private growth companies. "These are firms that have gotten to a certain level and are looking for more capital to grow further."
The firm provides strategic counsel to a broad range of clients, including serial entrepreneurs, growth companies, private equity investors and multinational corporations across multiple industries. Corporate clients have included: Launch Academy, Storkcraft, Essilor Group (Clearly) and MODO Car Share.
MEP has also represented many notable film studios, such as ITV Studios, Legendary Pictures and Lionsgate, and well-known feature films and television series. These include Coffee & Kareem (Netflix), To All the Boys I've Loved Before (Netflix), Sacred Lies (Facebook Watch) and Invincible (Amazon).
Pawar describes the firm as having "unparalleled" entertainment law expertise in the form of partner Arthur Evrensel. With more than 30 years of experience providing counsel on content creation, TV and motion picture production, financing, distribution, animation and licensing, Evrensel represents content producers, financiers, creators, animation studios, distributors, investors and global studios involved in content creation and exploitation.
Among notable recent deals, MEP represented Asian Coast Development (Canada) in the sale of a majority interest in The Grand Ho Tram Strip, a luxury hotel and casino resort located in Vietnam, to an affiliate of Warburg Pincus LLC. It also represented Austria-based AVL List GmbH — one of the world's largest independent companies for development, simulation and testing technology of automotive power-trains — in its acquisition of the majority interests in a Canadian company involved in the design, manufacturing and sale of battery and fuel cell test equipment. As well, MEP acted for CoPower, a leading provider of financing to clean energy and energy efficiency projects, in its acquisition by Vancity Community Investment Bank.
"We relish those relationships with our clients because we find they keep coming back to us over and over again because we made their lives easy and can add value," says Pawar.
Metcalf and Company
Halifax
www.metcalf.ns.ca
Like a seafaring captain of yesteryear, Eric Machum, a partner at Metcalf and Company in Halifax, admits he could spend hours regaling people with tales of marine law and the cases with which he's dealt, complete with unique terminology and perhaps even tinged with the salty dialogue for which sailors are known.
And after talking to him for a while, you would be correct in assuming that Machum, and his partner and firm founder Frank Metcalf, at one time must have made their livelihoods directly off the sea
Metcalf at one point owned a fishing business and ran a branch of a large shipping firm. Machum worked on tugboats for a time. But today they both make their living by understanding the intricacies of the law of the sea.
"There's not a lot of us who do this — marine law and any law to do with making a living off the water," says Machum, born to a Canadian father and a Venezuelan mother of German background. He practised law for a while in Caracas before getting his LLM degree at Dalhousie.
Established in 1986, Metcalf and Company represents clients in the marine, transportation, and related industries. The firm's lawyers advise on all aspects of the corporate and commercial component of its clients' business, in addition to maintaining a strong insurance practice in the P&I, H&M and subrogation arena.
A lot of its work has to do with ship purchases, sales, importation, and financings. Metcalf and Company has also been involved in many case of a ship being "arrested," a special recourse available through the Federal Court, where one can have a ship seized "before you even prove damages," Macham says. Just by filing a statement of claim and an affidavit, a ship can be held at the port until the situation is dealt with. "It's basically because ships are so mobile, you need to do things quickly," Machum says.
For the most part, the pandemic hasn't affected Metcalf and Company's business, but it has brought on some interesting cases, Macham says. One involves a ship in Nigeria, in which the party leasing it didn't want to make payments, invoking force majeure as a result of COVID-19. Machum adds that those in the marine world often do pay close attention to force majeure clauses because of the ability of ships to travel the world.
"It's always been an issue because they are going from place to place," he says, noting that most marine contracts have a quarantine clause and an infected ports clause.
Miller Titerle Law Corporation
Vancouver
www.millertiterle.com
It can be a tough world out there for smaller and medium-size businesses in British Columbia, thanks to COVID-19, but Miller Titerle wants these businesses to know that the firm understands and is trying to do things to help.
Project manager Yvonne Choi says the Vancouver-based law firm has launched a division, called MT Access, which is offering fixed-price legal products to help businesses that may be suffering because of the pandemic. "It's our way of trying to give back to the community during tough times."
Choi points to some examples of the fixed-price services being offered — from free incorporation work for entrepreneurs (only disbursements of about $500 needs to be paid) to a customer and supply chain contract assessment for $500.
Tenants and landlords can also have a commercial lease review done for $300, while small businesses can have a workplace review for $350 and a financial relief review for $300.
Many small business clients had to get legal advice on how they could keep people on the payroll, Choi says, and figure out what made the most sense for staff and the business. MT Access can highlight what sort of financial relief might be hard hit by the pandemic," Choi says. She also says the fixed-price program can work as a great marketing tool. "We're hoping people will remember us when they get through all this and are looking for a law firm."
Aside from MT Access, Choi says the main business of Miller Titerle has been chugging along well during the pandemic. The firm's practice covers a full range of business legal services, including M&A, corporate commercial law, employment law, resource and project development, financial services, litigation, and Indigenous law.
Key clients have included institutional clients such as Paper Excellence, Royal Gold and KSL Capital Partners and "mission-driven" small and medium-sized businesses such as Habanero, and ChopValue. The firm's Indigenous practice includes First Nations clients like Squamish, Tsleil-Waututh, Osoyoos and Sto:lo.
Choi says the team at the core firm, with a staff that includes 25 lawyers, switched over "quite seamlessly" into working from home during the pandemic. The firm also communicated to clients about what was happening, and how the firm was there to help, while the hope was that invoices would be paid.
While a lot of the firm's M&A work did get postponed earlier in the pandemic, business has picked up to the point where "all the deal closings we've had recently has been making us super busy."
Sangra Moller LLP
Vancouver
www.sangramoller.com
Gary Gill, a partner at Sangra Moller, says one would think that, with a pandemic raging around the globe, transactions in the world of financings and M&A would be tepid at best. "In fact, all of a sudden, things have been on fire," he says. "I don't recall this amount of activity, especially during what is considered a recession."
Gill says the firm, which specializes in M&A, debt and equity finance, securities and corporate and commercial law, was experiencing steady growth before COVID-19 hit, but in some areas of activity, especially in the area of mining, work has picked up more than he would have expected. "If you had asked me in January if I would have predicted this kind of interest in mining, I would say there's no chance of that," he says.
"But here we are, with many of our mining clients attracting more interest and more able to raise money to do what they need to do." If anything, COVID-19 has helped mining companies in a couple of ways, Gill says.
Gold prices have skyrocketed since mid-March, when the pandemic lockdowns began, to about US$2,000 an ounce from the US$1,400 range. Gold has always been a haven in tough economic times, Gill says, so project that were not profitable when gold prices were lower "now start to look very attractive."
Secondly, Gill says many investors are thinking mid to long term when it comes to what sort of economic stimulus will be needed when the pandemic is over. "Many are betting on infrastructure spending, and that requires materials like copper."
The result is that Gill says there is more money being put into junior mining — stocks that were literally trading in pennies are now going up tenfold in the last few months. As well, these juniors are looking for financing to take their projects to the next level, such as drill work and feasibility studies.
"So, we've been working on a bunch of deals right now, mostly in the $10 million to $20 million range," Gill says.
Additionally, Gill says "almost every single one of our junior clients is at least in discussions with one of the big miners," whether that is for a joint venture agreement, a royalty deal or to be acquired. "It may be at a very early stage, but the interest is there."
Sangra Moller may be a boutique firm, but Gill says it regularly leads significant domestic, cross-border and international transactions similar or greater in value and complexity than many of the national firms. The firm regularly advises clients on the TSX, NYSE, NASDAQ, TSXV and other major international markets.
Part of the attraction to clients in using the firm, Gill says, is that while it "doesn't compete on price," it does present clients with the value proposition of being more efficient.
The old idea of throwing a football team of lawyers on a transaction is being replaced by using a few lawyers and working more efficiently," he says. As well, Gill says, there is more emphasis these days on not just working with a firm, but with a lawyer or team of lawyers. "We are always getting the question 'If we retain you, who am I working with? We want to hire you, not just the firm'," he says.
Wildeboer Dellelce LLP
Toronto
www.wildlaw.ca
With more than 15 transactions completed between April and June, says Perry Dellelce, senior partner at Wildeboer Dellelce, judging from the work it was doing, it barely felt that Canada — like the rest of the world — was in the midst of the biggest pandemic since the Spanish Flu outbreak of 1918.
"People wanted capital and the markets have just been so buoyant," he says, "and I don't think we were unique in seeing that."
Things have been so busy that the Toronto-based firm has been able to keep all its articling students on full-time, notwithstanding COVID-19. "I can tell you that we're very fortunate that demand is certainly exceeding supply," he says. "We have way more work than we can do, and that's a good feeling."
With about 60 legal professionals, Wildeboer Dellelce offers private and public clients advice in a multitude of categories in corporate law: asset management and investment funds; corporate and commercial transactions; corporate finance and securities; corporate governance and investor activism; debt products; entertainment, media (e)sports and gaming; executive compensation; mergers and acquisitions, private equity and venture capital; real estate; regulatory matters and compliance; and working with startups and emerging companies.
"I know we're considered a boutique law firm, but I like to consider ourselves as being a focused law firm," Dellelce says.
The firm works across all traditional industries, such as financial services, automotive, technology, life sciences, health care and pharmaceuticals, agribusiness, food and beverage, industrial and consumer goods and mining, energy, and natural resources.
But it has also been recognized, Dellelce says, for its work in new and emerging markets, including cannabis and fintech. Recently, the firm has acted for Nest Wealth Asset Management in its expanded partnership with the National Bank of Canada. As well, it acted for Sangoma Technologies in its $81-million public offering and helped Bridgeway National acquire Input Capital for $97.5 million.
In addition, it acted for Mind Medicine (MindMed) Inc. — which is looking into the medical potential of psychedelic drugs such as LSD — in listing on the NEO Exchange, as well as securing a $32-million private placement for the company.
In the mining sector, Wildeboer Dellelce represented Caldas Gold in its $54-million acquisition of South American Resources and a $50-million private placement offering, and represented Gran Colombia Gold in merging with Guyana Goldfields and Gold X to create a high-growth, Latin American-focused intermediate gold producer.
The transition to remote working during the pandemic went very smoothly, Dellelce says, as most staff had already been on a program of working from home one day a week.
As for communicating with clients during the pandemic, the firm instituted a "20-10" program, where lawyers were expected to call 20 clients within 10 days, by phone or video, just to keep in touch and see how they were doing.
The firm is planning to do this again in the fall, but this time it will be trying to connect with clients in a public place in a socially distanced way. "You can't take people out to dinners or hockey or basketball games, but we want to ensure the ongoing contact continues."