New #1 firm emerges in bi-annual survey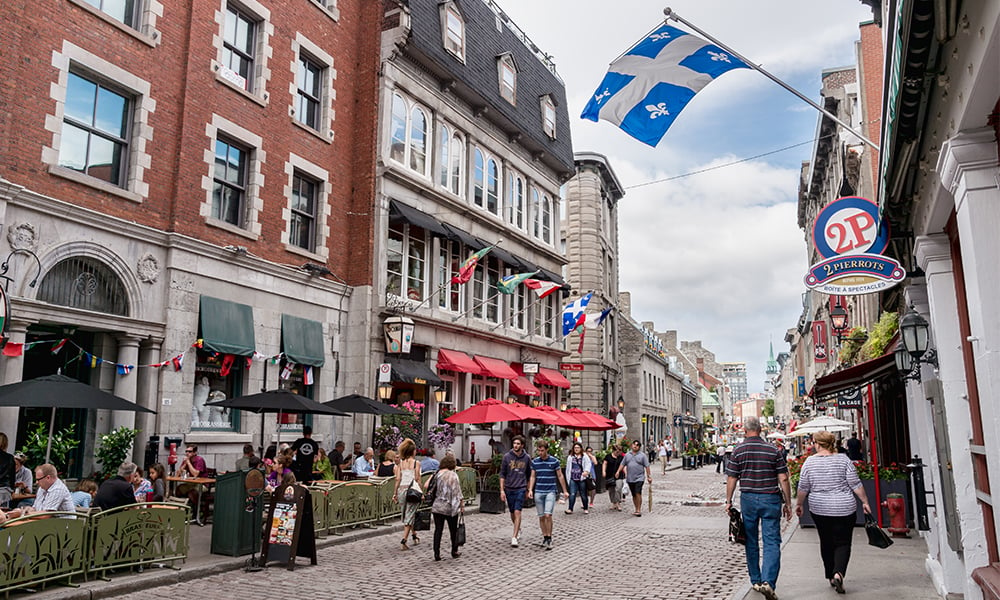 Top 10 Quebec Regional Firms
How we did it
Canadian Lawyer asked lawyers, in-house counsel and clients from across Canada to vote on the top full-service regional firms in Quebec. They were asked to rank their top firms from a preliminary list, with a chance to nominate a firm that was not included on the list. Respondents' rankings were based on firms' regional service coverage, client base, notable mandates, service excellence and legal expertise. To be considered in the vote, firms were required to have offices only in Quebec and offer a wide range of legal services. The final rankings were determined through a points system, in which firms were rewarded on a sliding scale for the number of first- to 10th-place votes received.
The rankings:
1. Langlois lawyers LLP
langlois.ca
Langlois came up from second place in the 2018 survey to take the No. 1 spot this year.
"Langlois Lawyers has been known not only for providing excellent services but also because of its values and the efforts it puts into making its working environment one of the best," read one survey comment regarding the firm. "This is probably why the firm has doubled in size over the last five years."
The firm prides itself on its values. Partner Sophie Perreault describes managing partner Jean-Francois Gagnon's philosophy as "Everything is possible." But at the heart of the firm's growth in the past five years is how it treats its lawyers and their clients, Perreault and Gagnon both say. The firm aims to be as accommodating of their lawyers as possible, offering an unrestricted work-from-home policy, and ready-made meals for home (its parents pressés program) to meet the needs of busy parents. It also emphasizes a team approach, with members supporting each other when one might be struggling.
"We think we can build a law firm that is high performing, efficient and kind," Gagnon says. "Each member of the firm is valued and considered important. That's how we run the business." That attitude is extended to the firm's clients, too. "We want the best for our clients and for the members of our firm."
Seven years ago, Langlois numbered 70 lawyers, says Gagnon, who became managing partner 15 years ago. Today, that number has more than doubled, to more than 150. And 56 per cent of those are millennials, says Perreault.
"We're ahead because we make it possible for younger lawyers to have a life," she says. "It's important to the younger generation and that [the] younger generation remains with us, and that's key to our clients."
"Langlois is giving the best services on multiples levels: Lawyers from Langlois are competent, rigorous, honest and trustworthy," read one survey commendation of the firm.
"Capacity to attract and retain talents from major national or international firms," read another comment. "Therefore, you have big law firm quality at [a] regional firm rate. The best deal in the province!"
Core practice areas and notable mandates: litigation, arbitration, class action and dispute resolution; insurance; employment and labour law; insolvency; business law (M&A transactions, construction, including mining, energy, environment and cannabis); corporate governance
Represented a client in a constitutional challenge of the jurisdiction of the Provincial Court of Quebec, before both the Superior Court and Court of Appeal, where it was heard by a panel of seven justices. The Quebec Court of Appeal partially agreed with the client's position and five parties (including Langlois's clients) filed appeals before the Supreme Court in October 2019
Obtained intervenor status for clients in a constitutional challenge of Bill C-14, which introduced the medically assisted dying regime into the Criminal Code
Represented a client in connection with a multi-jurisdictional class action alleging collusion and anti-competitive practices in the credit card industry before the Court of Appeal of Quebec, British Columbia and Ontario
Represented Université de Montréal in the context of judicial and quasi-judicial remedies associated with the strike of the stationary engineers represented by the Canadian Union of Public Employees Local 4338
Acted as lead counsel for Victoriaville & Co Inc., one of the largest wood casket manufacturers in North America, in its acquisition of all the shares of Alliance St-Laurent Casket Corporation, a subsidiary of Matthews International Corporation, a NASDAQ-listed company
Successfully defended an OEM of industrial equipment in an ICC arbitration related to alleged underperformance of the equipment and associated production losses. The ICC issued an award dismissing the claim in its entirety
2. Lavery, de Billy LLP
lavery.ca
Survey respondents likewise praised Lavery for its relationships with clients and for a positive culture, with one pointing out that the firm had hired a lawyer who was about to take maternity leave.
"Quality of the work done by the lawyers, great relationship with clients, overall a very human approach," read another survey comment. "Their expertise, the diversity of the lawyers and depth of analysis they provide. The level of professionalism they show in their interaction is outstanding as well."
Anik Trudel was named CEO of Lavery, de Billy in 2017, and described her role then as transformational, "to support Lavery's vision to be recognized for having transformed the way we deliver legal services," she says.
"Over the years, we have found it important to enhance our service offerings by providing expertise that complements the legal advice that our lawyers provide, in particular by involving non-lawyer resources in client matters," Trudel says.
"As an example, a year ago, we hired a director of pricing, embedded in our client service department. His main role is to support our partners in proposing and explaining pricing models adapted to our clients' realities and business needs."
Founded in 1913, Lavery today has four offices covering each of the major Quebec business centres — Montreal, Quebec City, Sherbrooke and Trois-Rivières — and 198 lawyers.
Core practice areas and notable mandates: business transactions/mergers and acquisitions; taxation; litigation and dispute resolution (class actions, commercial/restructuring, insolvency and banking/civil); labour and employment; financing and financial services; insurance
Advised Camso Inc. in its sale to Michelin
Represented Groupe Sélection in the acquisition of the Molson brewery site in Montréal
Represented TSO3 Inc. in entering into an agreement to be acquired by Stryker Corporation
Represented Falco Resources Ltd. in the Silver Stream transaction with Osisko Gold Royalties
Represented Osisko Gold Royalties in a secondary offering of approximately $95 million
Key clients: La Caisse de dépôt et placement du Québec, Canada Mortgage and Housing Corporation, Bank of Montreal, Hydro-Québec, National Bank of Canada
Star alumni: Chief Justice of Canada Richard Wagner was in private practice at the firm for 24 years before being appointed to the bench in 2004.
3. BCF LLP
bcf.ca
Business law firm BCF LLP numbers 171 lawyers and more than 500 employees in total, with offices in Montreal, Quebec City and Paris, and it has held its spot for a second consecutive survey.
"BCF is the go-to firm for business leaders, growing companies and well-established global enterprises who have chosen Québec and Canada as a steppingstone for their growth and success and also the only law firm ranked as one of Canada's Best Managed Companies for the 12th year in a row," read one survey comment.
"For legal firms serving entrepreneurs [particularly], all areas are strong," says managing partner Pierre Allard. "Almost everything has been good."
Allard says "the baby boomer impact" has been a boon to the firm's practice in recent years. The first of the baby boomer cohort is now more than 70 years of age, and many are entrepreneurs and shareholders of their own companies. "Maybe they fear that the economy won't be as good in future years," and the increase in their companies' value "has been so great in past years that they think it's time to sell," says Allard.
"I've never seen as many transactions in the owner-manager field, in private enterprise," he adds. "Baby boomers are monetizing their value, and there can't be a better time to do it."
Core practice areas and notable mandates: mergers and acquisitions; labour and employment; wealth management, commercial litigation; intellectual property, real estate
Acted as legal counsel for Prevtec Microbia Inc. in its sale to Elanco Animal Health
Acted for Hydro-Quebec in a successful judgment and dismissal of a claim against Hydro-Quebec
Represented Allied REIT in two major acquisitions in Montreal
Represented Trudel Alliance in its acquisition of seven shopping centres around Quebec City
4. Cain Lamarre LLP
cainlamarre.ca
This firm has more offices in Quebec than any other firm, and it climbed a rung to fourth place from fifth place, in this year's rankings.
Cain Lamarre is the result of the merger in 1999 of three well-established firms. Cain Lamarre Wells, founded in 1928 in Chicoutimi, was the oldest law firm in Saguenay/Lac-Saint-Jean. Gauthier Nepveu Leblanc Brouillette, which opened its doors in Sept-Îles in 1951, was a player in the development of the North Shore; and Casgrain Desrosiers Lévesque Bujold Villeneuve, founded in Rimouski in 1877, was one of Canada's oldest law firms. The new firm that emerged set up shop in Montreal and Quebec City before opening offices across Quebec, positioning itself to serve all clients working in various sectors in the province.
Now with 220 lawyers and 17 offices throughout Quebec, one survey respondent described the firm as the "only true regional firm, which serves clients locally throughout Québec, including Montréal and Québec City. . . . [It is] able to compete with national and international firms, because of its expertise and size of the practice groups and local teams."
Core practice areas and notable mandates: commercial and corporate affairs; real estate law banking and finance; labour and employment law; transportation; municipal affairs; environment law; aboriginal law; public administration
Aboriginal law team worked on several pre-development agreements between First Nations and mining companies with regard to the exploration and mining in northern Quebec
Involved in negotiating various social and economic partnership agreements for First Nations groups
Obtained several favourable rulings in high-profile defamation, labour law, education law, procedural law, contractual law and constitutional lawsuits
Won a Superior Court ruling in the highly publicized case Investissements Novacap et TELUS Québec inc. c. VIDÉOTRON
Star alumni: Canadian ambassador to France and former Quebec premier Lucien Bouchard; Quebec Superior Court judges including Isabelle Breton, France Bergeron, Nicole Tremblay, Pierre Simard, Carl Lachance, Robert Dufresne, Jacques Babin, Martin Dallaire, Michaël Cain and Charles Ouellet.
5. De Grandpré Chait LLP
dgchait.com
Maintaining its position in the top five of the Quebec regional firms, managing partner Eric Lalanne says the firm is moving into expansion mode again.
"We went through a generational transition in the past five years, so we compacted and downsized by 10 per cent of our team," he says. "But right now, we're in a rebuilding mode, focused on our niche being properly serviced; now we need to expand."
With 60 lawyers in its Montreal office, one survey respondent described the counsel as "incredibly smart and down to earth." That last part mirrors what Lalanne describes as a core value of the firm: "Let's get the deal done.
"We help them find ways to get a project done and don't focus on complications," he says.
De Grandpré Chait is the result of the 1999 merger between De Grandpré Godin and Chait Amyot, with more than 90 years of experience in Quebec's business community.
The firm was praised for its "expertise, great jurists, customer service, friendly and professional team, quality service, reasonable rates, solid knowledge and reputation in law."
Core practice areas and notable mandates: real estate; taxation; litigation; construction; business law, municipal law and expropriation; insolvency, bankruptcy and restructuration
Assisted the Timbercreek Mortgage Servicing Inc. in the acquisition and financing of two newly constructed senior residences and a condominium building in Montréal for $134,600,000
Since 1998, worked on the largest class action suit in Canadian legal history involving the Québec Council on Tobacco and Health and the three major Canadian cigarette manufacturers. On March 1, 2019, five judges of the Quebec of Court of Appeal rendered a unanimous judgment of almost $17 billion against the tobacco companies for having misled the public as to the dangers of tobacco.
Represented a client involved in the biggest tax fraud case in Quebec and successfully obtained a Jordan ruling in the file of Revenu Québec against Métaux Kitco
Represented a subsidiary of Crofton Moore who had been expropriated from a shopping centre due to the extension of the Montréal Metro Blue Line, a $3-billion public infrastructure project
Star alumni: Québec Superior Court justices Christiane Alary, Martin Castonguay, Carol Cohen, Pierre Labelle and Yves Poirier, and Court of Québec justices Normand Amyot, Daniel Bourgeois, Gilles Lareau, Christian Tremblay and the late Vincent Piazza
6. Dunton Rainville LLP
duntonrainville.com
As an appropriate way of marking its 65th anniversary last year, Dunton Rainville leapt onto this year's Top 10 list without having been ranked in the 2018-2019 survey.
"A few years ago, we decided to [take] another path to our development," says chairman Jean-Jacques Rainville.
The firm focused first on recruitment, "because the lawyers' business is a people business, and the people who work in the firm [are] our product," he says.
Second, says Rainville, five years ago, the firm started to gear its practice more to the corporate and transactional sector, including financing and M&A. Today, "I think all our team is on a growing path," including in civil, commercial, public law and labour law. All the groups are in expansion.
Rainville says that "2019 was a beautiful year, and 2020 is going in the same way. There's more expansion of businesses, more recruitment."
With 135 lawyers across seven Quebec offices, the firm has experienced "notable growth in regional coverage in the last year," achieved in part through its merger with Sherbrooke's BGO-Legal in November. Another respondent described the firm as a "team of professional and committed experts, [providing] service excellence and also has ensured sustainability of the organization."
Core practice areas and notable mandates: commercial, banking and real estate matters, labour, employment and immigration law, public, municipal, education and health law, civil, insurance, construction and family law
Provides counsel and guidance on employment and health and safety-related matters for Air Transat and Air Algeria; also represents Air Algeria in class action matters and other commercial affairs and, administrative questions regarding the Canadian Transportation Agency
Provides Desjardins with counsel and representation in various matters
Represents major international artists in the music and entertainment industry.
Assisted Emgold Mining Corporation in carrying out strategic mining acquisitions
Assisted the Redberry Group shareholders through the acquisition of Redberry Group, one of the largest quick-service restaurant franchisees in North America, by City Capital Ventures, LLC, a private investment partnership headquartered in Chicago
Provides counsel and representation on real estate matters to Fairstone
Counsel and represent a large group of employers in labour business, including Ville de Longueuil and Olymel
Star alumni: Gérald Le Dain, puisne justice of the Supreme Court of Canada
7. Stein Monast LLP
steinmonast.ca
A successor of Stein Monast Pratte & Marseille, a Quebec City firm that was founded in 1957, it partnered with Montreal's Desjardins Ducharme from 1992 to 2007 and now operates from its Quebec City offices with 67 lawyers and five notaries. Largely a corporate law firm, Stein Monast recently added transportation and immigration as new practice areas.
"It has a single place of business in Quebec City and yet provides services to institutional clients and a large client base located almost everywhere in Canada," wrote one respondent about the firm. "Stein Monast is a law firm known for the excellence of its lawyers and other professionals, as shown by the number of lawyers who were appointed judges in the various courts of the province of Quebec, including the Court of Appeal, in the recent years."
Core practice areas and notable mandates: corporate law and financing; commercial law; securities; civil and professional liability; insurance; labour and employment law; real estate; class actions in defence including professional liability, intellectual property and public health; disciplinary law; bankruptcy, insolvency and restructuring; commercial litigation; transportation; immigration
Construction of Nemaska Lithium's electrochemical plant and spodumene mine in Quebec; $1.1-billion financing package closed in May 2019
CDPQ Infra completes structuring and procurement of REM project; Apr 12, 2018
Key clients: AIG, Bridgestone Canada Inc., BDC Capital, Chartis, Desjardins Venture Capital, Fonds des architectes, Groupe Le Massif, Manac, National Bank of Canada, Prelco, Roynat Inc., Université Laval, WSP Canada
Star alumni: Quebec Superior Court Justices Marie-Paule Gagnon, Lise Bergeron, Jean-Francois Émond, Jacques Blanchard and Alicia Soldevila; Quebec Court Justice Jean Asselin; Quebec Court of Appeal Justice Geneviève Cotnam
8. Robinson Sheppard Shapiro LLP
rsslex.com
With 87 lawyers in Montreal and three in Saguenay, this business law firm, whose clients are at all stages of development from startups to major international companies, notably represented the Uniprix drugstore network and its shareholders for the sale of the second largest pharmacy chain in Quebec in 2017 (approximately 375 stores, 4,000 employees and revenues in excess of $1.6 billion) to McKesson Canada.
The firm is committed "to innovation in Quebec," has "top-tier expertise, top-quality client services" and a "humanistic and inclusive" approach, survey respondents said of the firm.
Core practice areas and notable mandates: business law including M&A transactions, tax, finance, real estate, leasing, insolvency, transportation, employment, IP, litigation and arbitration/mediation and estates, wills and trusts; insurance law; family law
Represented the winning party in Yared v. Karam, in which the Supreme Court of Canada resolved the issue by deciding that the value of a family residence held in a trust can be included in the family patrimony when it is determined that a spouse retains the rights that confer use
Represented an international manufacturer and distributor of medical, dental and related supplies on the purchase of a minority shareholder's interest in a foreign affiliate in accordance with the laws of the Netherlands
Retained to instruct counsel in proceedings before the court in Saint Vincent and The Grenadines on the validity under the laws of Quebec of certain documents, to effect an enforceable transfer of estate assets to a third party
Acted as Quebec counsel to an Ontario-based transportation business in the negotiation and possible acquisition of a Quebec-based trucking facility, including its real estate holdings
Advising on a cross-border (Canada-U.S.A.) structured settlement in a personal injuries case that occurred in the U.S., involving a U.S. citizen resident in Canada
Assisted out-of-province counsel in putting in place Quebec security against the local subsidiaries of a U.S. borrower under a $350-million syndicated loan
Representing and advising a post-secondary education institution in the negotiation with a neighbour toward the conclusion of an agreement to allow construction work on certain buildings
Successfully applied for orders to compel two internet service providers to disclose the identity of internet subscribers who, using aliases, were defaming its clients. Disclosure by the access providers was indispensable before filing procedures to protect its clients' privacy
Representing a major coffee shop chain before the Superior Court in litigation with a commercial lessor in Quebec City over the conditions of occupancy of a food court area expanded after the conclusion of the lease
Star alumni: Superior Court judge Dominique Poulin
9. Bélanger Sauvé
belangersauve.com
Bélanger Sauvé was formed in 1967 through the merger of two Montreal firms. It opened an office in Joliette in 2000 and merged with Beaumier Richard in Trois-Rivières in the same year. Its clientele includes a large number of corporations and public institutions.
The firm has more than 50 lawyers across its main office in Montreal and smaller offices in Trois-Rivières and Joliette.
"Amazing lawyers that care about the clients and employees," read one commendation of Bélanger Sauvé. "Friendly, cost effective and professional" and "Service excellence" read others.
Core practice areas and notable mandates: municipal law; labour law; insurance; civil litigation; professional liability
The firm has intervened on behalf of a number of cities before the Federal Court of Canada with regards to Canada Post and defended the city of Montreal in regard to the so-called "manifestation bylaw." In December, the city of Beaconsfield hired the firm to evaluate legal options to recuperate millions of dollars from the Montreal Agglomeration Council.
Key clients: cities and municipalities in the Montreal region and the regions of Trois-Rivières and Joliette; various municipal regional councils; insurance companies, including Aviva, Northbridge, R.S.A. Canada, La Mutuelle des municipalités du Québec and Lloyd's Underwriters; universities and various professional orders; a major airline
Star alumni: Superior Court justices Richard Nadeau, Luc Lefebvre, Pierre Journet, Sylvie DeVito, Michel Delorme and Michèle Monast; Quebec Minister of Natural Resources Pierre Moreau
10. Lapointe Rosenstein Marchand Melançon LLP
http://www.lrmm.com/
This Montreal firm with 63 lawyers and notaries is among the largest independent full-service business law firms in Quebec, and with its predecessor firms, it has been serving clients for more than 50 years. Lapointe Rosenstein Marchand Melançon LLP has also developed an international presence and practice, and it offers legal services in several languages.
"The diversity of the firm, its ability to serve clients in more than 12 languages, the quality of its clientele and a wide range of mandates, both locally and internationally," keeps this firm on the Top 10 list, according to one survey respondent.
Core practice areas and notable mandates: corporate and commercial; civil and commercial litigation; bankruptcy and insolvency; labour and employment law; taxation, taxation litigation and estate planning; insurance; financing; intellectual property, information technology, franchising, licensing and distribution; construction; and real estate.
Represented a foreign-based multinational corporation in the context of its agreement to acquire a North American division of a local aerospace industry leader for US$550 million plus debt, involving the transfer of complex government programs and certifications
Represented Le Holding Angelcare Inc. in connection with the acquisition from Edgewell Personal Care Company of its infant and pet care businesses for the sum of US$122.5M and in connection with the implementation of financing and credit facilities for the purposes of the transaction and continuing operations
Served as Canadian counsel to Mallinckrodt Pharmaceuticals, a global biopharmaceutical company, on the sale of its wholly owned subsidiary, BioVectra Inc., located in Atlantic Canada, to an affiliate of H.I.G Capital, a leading global private equity investment firm, for up to US$250 million
Represented one of Quebec's largest employers in the automotive industry in the negotiation of a first collective bargaining agreement with Unifor. The matter was deferred to interest arbitration. The sentence was rendered in September 2019
Represented a client in connection with a $25-million financing with a Canadian financial institution.
Star alumni: Former Barreau du Québec president Yvon Jasmin and Superior Court of Quebec Justice Pierre Jasmin.