Clients favour cost-effective, business-oriented service from these leading firms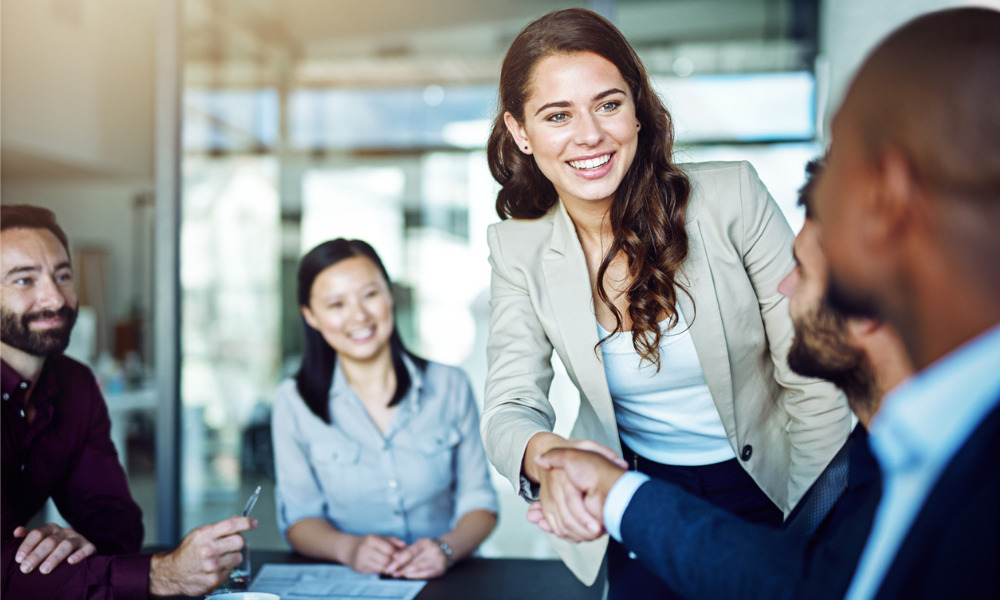 Corporate law boutiques are in high demand in today's evolving marketplace, as businesses of all sizes and industries seek expertise for their unique business needs. Uncertainty driven by the pandemic has given rise to significant merger and acquisition activity, strategic investments and financing transactions, creating a heightened demand for experts to handle these complex transactions, as well as day-to-day corporate matters. Many organizations turn to corporate boutiques for their personalized service, attention to detail and competitive pricing.
Named among the Top 10 Corporate Boutiques, MEP Business Counsel serves many kinds of clients, including serial entrepreneurs, growth companies, private equity investors and multinational corporations, across multiple industries.
"They know our industry very well, and it's a very specific industry," says Elyot Waller, SVP, business affairs and general counsel at Vancouver, BC-based Mainframe Studios, a computer animation company. Mainframe has been a client of MEP since the firm launched in 2014, primarily seeking help with entertainment law, entertainment finance and matters such as performer and writer agreements.
"Compared to any of the other entertainment firms, they have this very good corporate group — which means that when we're making decisions in terms of our entertainment projects and entertainment business, they are able to advise us on how that builds value for the company," says Waller.
Also named among the top 10, Wildeboer Dellelce LLP works across all industries, including agribusiness, food and beverage, automotive, cannabis, financial services, fintech, mining, technology and energy and natural resources.
Among its many clients, CI Financial Corp. has retained Wildeboer for several Canadian M&A transactions, strategic investments and some investment fund work over the past five years.
"Being a smaller firm in terms of personnel, they tend to be quite efficient — particularly for smaller transactions — where larger firms have a hard time being cost-effective," says Ted Kelterborn, EVP and chief legal officer at CI Financial. "They are very practical, very business-oriented and very detail-oriented."
Another client of Wildeboer, auto parts manufacturer Martinrea, has been calling on the Toronto-based firm for over 20 years, mainly for corporate securities and tax matters.
"They are great people, and they don't run up huge legal bills," says Kerri Pope, general counsel and corporate secretary at Martinrea. "Any time you ask them a question, they just get straight to the point, and they are very reliable and trustworthy."
DuMoulin Black is also on our top 10 list. Based in Vancouver, the firm consists of 20 lawyers and 16 support staff and students. Both public and private sector clients call on DuMoulin Black to structure and coordinate their corporate finance and M&A deals, from early to complex international transactions.
"They are efficient and get good results," says Bruce Scott, VP and general counsel at Seabridge Gold Inc. — a client of DuMoulin Black for over 20 years. "They are very capable lawyers," he adds. "You can go to some big firms and not get such capable lawyers [but] pay more for the delivery of services."
HOW WE DID IT
Canadian Lawyer InHouse asked lawyers, in-house counsel and clients from across Canada to vote on the top corporate law boutiques. They were asked to rank their top firms from a preliminary list, with a chance to nominate a firm that was not included on the list. To be considered in the vote, firms were required to have at least 80 per cent of their business come from corporate law. The final rankings were determined through a points system, in which firms were rewarded on a sliding scale for the number of first- to 10th-place votes received. The quantitative results are combined with feedback from respected senior members of the bar and in-house counsel when applicable.
Top 10 Corporate Law Boutiques
(Listed alphabetically)
Allen McDonald Swartz LLP
Toronto
www.amsbizlaw.com
Allen McDonald Swartz LLP provides clients with strategic counsel, sophisticated business law advice and exceptional client service, and has done so consistently and without interruption in today's changing legal marketplace and despite the dramatic impact of COVID-19. The firm's lawyers — Jennifer Allen, Henry Bertossi, Brad Elberg, Fraser McDonald and Jillian Swartz — are all Bay Street veterans. Their clients include entrepreneurs, high-net-worth individuals, family-owned businesses, private and public companies, multinational enterprises, law firms, independent committees, charities and not-for-profit organizations. The lawyers at AMS advise clients on mergers and acquisitions, reorganizations, privacy and anti-spam, financings, securities compliance and regulatory work, capital markets transactions, governance and business-critical commercial arrangements. Among the firm's clients are a world-renowned museum, a U.K-based value-oriented, a fundamental investor who proactively engages on ESG and other matters, Canadian private debt providers, a multinational that produces luxury vehicles, Canadian sports leagues, a social enterprise offering affordable housing and a not-for-profit organization that provides services to persons with developmental disabilities.
BAX Securities Law
Toronto
www.baxsecuritieslaw.com
BAX Securities Law (BAX) has a national and cross-border focus and offers corporate and securities advice to its clients operating in a number of areas including the fintech industry (including cryptocurrency), investment funds, real estate sydication and commodities (carbon, energy, and minerals) sectors. It specializes in online offering platforms including crowdfunding and peer-to-peer lending, and acts for public companies, venture capitalists, private equity firms and securities registrants including exempt market dealers.
Barbara Hendrickson is the founder of BAX and a senior securities lawyer with more than 20 years experience including with the Ontario Securities Commission, a leading Canadian national firm, and one of the world's largest international law firms.
DuMoulin Black LLP
Vancouver
www.dumoulinblack.co
DuMoulin Black is a leading corporate finance and securities boutique law firm based in Vancouver, providing exceptional service to its clients.
Since 1966, Canadian companies have relied on the firm to structure and coordinate their corporate finance and M&A deals, from early-stage to complex international "company maker" transactions. The firm acts for both private and public companies in various industries, including technology, mining, life sciences, food and beverage, industrial and energy. Its lawyers combine deep transactional experience and large firm expertise to provide the personal, timely and efficient services of a specialized boutique firm. Its clients benefit from its strong relationships with investors, regulators, stock exchanges, underwriters and other industry professionals. Whether its clients need assistance with day-to-day corporate matters or sophisticated transactional advice, DuMoulin delivers cost-effective, tailored legal solutions. As of September 2021, the firm consists of 20 lawyers, with 36 people, including support staff and students.
Hansell LLP
Toronto
www.hanselladvisory.com
Carol Hansell founded Hansell LLP in 2013 after more than 25 years in private practice. The firm acts for boards, investors, shareholders and management teams on a range of matters. Its clients include public, private and Crown corporations. Hansell LLP advises clients on significant transactions and internal investigations. It provides expert evidence in litigation, counsels on strategy, designs governance structures and processes and advises on board effectiveness. Hansell McLaughlin Advisory provides government relationships and communications advice and, together with Hansell LLP, belongs to the Hansell McLaughlin Advisory Group.
LaBarge Weinstein LLP
Ottawa, Toronto, Vancouver
www.lwlaw.com
Founded in 1997, LaBarge Weinstein primarily serves knowledge-based ventures — especially technology start-ups and investors — from Ottawa, Toronto and Vancouver offices. The firm provides business-focused solutions throughout a company's life cycle from an idea to IPO and beyond. It now has a team of 30 lawyers who have expertise in public and private financing transactions, mergers and acquisitions, securities law, tax structuring and technology commercialization.
MEP Business Counsel
Vancouver
www.meplaw.ca
MEP Business Counsel was launched in 2014 to redefine the way legal services are delivered for business. Its lawyers are recognized corporate and entertainment advisors from leading national and international firms, who bring expertise in sophisticated M&A, corporate/commercial and project finance matters and unparalleled entertainment law expertise. Led by partners Arthur Evrensel, Marshall Pawar, Ryan Patryluk and Jesse Ahuja, MEP advises some of North America's most progressive companies in established and leading-edge industries. The firm provides strategic counsel to a broad range of clients across multiple industries, including serial entrepreneurs, growth companies, private equity investors and multinational corporations. The firm also represents many U.S. and Canadian film studios, including Lionsgate, ITV Studios, STX Entertainment, Air Bud Entertainment and Skybound North. It acts as counsel to several well-known feature films and television series, including A Series of Unfortunate Events (Netflix), Unspeakable (CBC and AMC), Scaredy Cats (Netflix), To All the Boys I Have Loved Before (Netflix), Sacred Lies (Facebook Watch) and Invincible (Amazon).
Metcalf and Company
Halifax
www.metcalf.ns.ca
Metcalf & Company is a leading boutique law firm in the shipping, transportation, insurance and fishing industries. The firm is consistently named a leading maritime and commercial law boutique by Canadian Lawyer magazine and recognized in Chambers and Partners, Who's Who Legal and Best Lawyers. We act for small to large corporations principally involved in the marine and aviation business and increasingly renewable energies sector. The firm provides corporate and commercial advice to well-known Canadian, U.S., and European ship-owners and operators, shipbuilders, classification societies, ports and insurers.
A significant part of the firm's experience and work relates to commercial and litigation matters in the shipping industry; complex contract negotiations; corporate financing and reorganizations; international and domestic sale of goods and vessels, and their importation into Canada; public procurement matters (including defence procurement); and employment and workplace law. The firm is also growing a significant public procurement practice. As part of its services, the firm works closely with leading international tax and financial experts to ensure the best outcome for each engagement.
The firm and its lawyers are registered and cleared under the Controlled Goods Program.
Miller Titerle Law Corporation
Vancouver
www.millertiterle.com
The bright minds working on the world's most important challenges and interesting opportunities need more than a law firm. They need true partners and allies who understand the complexity of what they're tackling — who can help build vision and strategy — and who bring a team of experts who get it.
Miller Titerle started in 2009 as a law firm based on the following principles: that a law firm can care about sharing values with clients and can boldly say their purpose is to help people do good things; that important law isn't the sole purview of Big Law and that a focused team of passionate professionals can get you as far (or further) than the large national and international firms; that you are a client with a cause, not an invoice number; and that you should like your lawyer.
Since then, the firm has worked exclusively with two types of clients: forward-thinking businesses and Indigenous organizations on the cutting edge of reconciliation. An integrated team supports the game-changing work of clients by breaking down roadblocks and building roadmaps for the large and important opportunities they are chasing. From vision to strategy to execution, Miller Titerle assembles a specialized team that gets the right things done.
Sangra Moller LLP
Vancouver
www.sangramoller.com
Sangra Moller LLP is a leading corporate and securities law firm representing local, national and international clients. Their core practice areas include corporate finance, securities, mergers and acquisitions, strategic investments, takeovers and takeover defence, natural resources and corporate and commercial. The firm's breadth of experience in such practice areas allows it to participate in large and complex transactions on a national and international level. Sangra Moller's lawyers are regularly called upon to act as special counsel to boards of directors concerning complex corporate governance matters, including proxy contests and hostile takeovers. Sangra Moller counsels clients in a broad range of businesses, including financial services, natural resources, technology and manufacturing. The firm routinely represents issuers, underwriters and financial investors, working in partnership to deliver the most effective solutions for their needs. Sangra Moller utilizes expertise and specialization to provide solutions that add value to their clients' endeavours and complement their business strategies and goals.
Wildeboer Dellelce LLP
Toronto
www.wildlaw.ca
Based in Toronto, Wildeboer Dellelce LLP is one of Canada's premier corporate, securities and business transactions law firms. We offer advice to private and public clients in asset management and investment funds, corporate and commercial matters, corporate finance and securities, corporate governance and investor activism, debt products, entertainment, media (e)sports and gaming, executive compensation, mergers and acquisition, private equity and venture capital, real estate, regulatory and compliance, start-ups and emerging companies and tax.
The firm works across all industries, including agribusiness, food and beverage, automotive, cannabis, financial services, fintech, industrial and consumer goods, life sciences, healthcare, pet care and pharmaceuticals, mining, energy and natural resources and technology.
To add value to our clients and cultivate more meaningful engagement overall, the firm has expanded its business services over the years and formed the WD Group of Companies. The WD Group of Companies includes WD Capital Markets (M&A Advisory), WD Numeric Corporate Services (Accounting and Corporate Services) and WD Sports & Entertainment (Sports Agency and Talent Management).