Developing a new legal resource hub and rethinking contracting systems among Gandhi's goals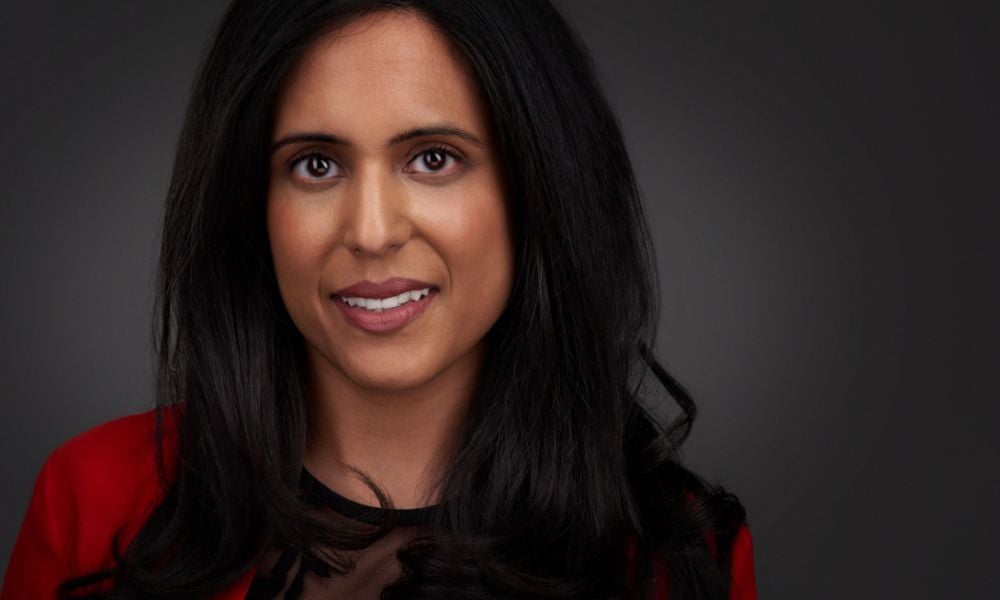 Having developed a passion for health law while she was in law school, Ratika Gandhi went on to develop a health law practice at McMillan LLP where she started her legal career. As she honed her expertise in health law, Gandhi expected to stay at McMillan for the long-term, but in her fifth year she was approached by a recruiter who offered her the chance to join the legal department at Alcon Canada – a medical device and pharmaceutical company in the eye care space.
"I was a bit hesitant to interview because I was very happy at McMillan, but I did want to work in that industry, so I decided to jump ship and move over to Alcon," says Gandhi. She was hired in 2016 as director of legal and compliance at Alcon, where she rapidly moved up the ranks, following a turnover of the senior leadership team.
"I took it as an opportunity to just learn whatever I could and indicate to my new general manager what value I could add, even though I wasn't on the senior leadership team at the time," says Gandhi. Within a year she was promoted to general counsel, head of legal and compliance.
In her role, Gandhi manages all legal matters to support Alcon's two business units: a vision care business and a surgical business. She also handles employment matters for the organization's 200 employees in Canada, and she stays abreast of privacy obligations.
Alcon operates in a heavily regulated environment so monitoring compliance matters is another significant task for Gandhi.
"I try to embed compliance within the fabric of the organization to make sure we do things with integrity and preserve the reputation of the organization," she says. "It's about championing a tone from the top down, so I make sure my stakeholders at the top are brought into that, so they understand why compliance is so important." She also ensures that her five-person legal team embodies an open-door policy so that colleagues come to legal at the ideation phase of a project, to make legal a collaborative business partner, and not a roadblock.
Gandhi also stays in close contact with Alcon's North American team to ensure the business is aligned on international contracts and business lines.
Keeping on top of the evolving landscape is top of mind for Gandhi this year, as she navigates Alcon's hybrid return-to-office model which was implemented at the start of April. She is also keeping a close eye on evolving right-to-disconnect policy obligations in Ontario.
"We're in a unique business in the sense that our customers were heavily hit by COVID, with significant backlogs for our ophthalmologists and surgical cases in hospitals, so we support them as they navigate those issues," says Gandhi.
Gandhi's strategy for working with the entire organization is to showcase the value of legal and compliance, to move away from the notion that legal is simply a cost centre.
"I use the national sales meeting as a platform for us to showcase how many contracts we helped to facilitate, and how many projects we worked on with our business partners," says Gandhi. "That's part of the strategy of getting the buy-in and the legal case for legal and compliance." She also challenges her team members in their objectives to contribute to continuous improvement opportunities for the legal function, as they seek new ways to streamline and simplify.
Gandhi is currently developing a legal resource hub which will serve as a one-stop shop for commonly asked questions, to empower people and direct them to the type of resources they need. She is also busy re-thinking the organization's approach to contracting which includes a new global policy on contracting for the entire organization, and the implementation of a new contract lifestyle management system.
"That has been a great opportunity for change management that I'm particularly proud of because it's not really in its essence a legal task," says Gandhi. "It's more of a project management initiative that has allowed me to work with so many people across the organization."
Also passionate about diversity, equity and inclusion, Gandhi is the co-executive sponsor for Alcon's Canadian diversity and inclusion counsel, and she represents Alcon on the City of Mississauga's equity, diversity and inclusion collaborative for healthcare life science companies in the city.
For the remainder of 2022, Gandhi is focused on supporting both business units in the launch of various new products, as well as getting the new legal resource hub up and running to add value for business partners.
"I really want to focus on being strategic partners for our business, not just in the weeds of the day-to-day contractual work, or what you would normally assume is legal compliance tasks," she says.