Federation of Indigenous Sovereign Nations' Aly Bear says law background a tool in fight for justice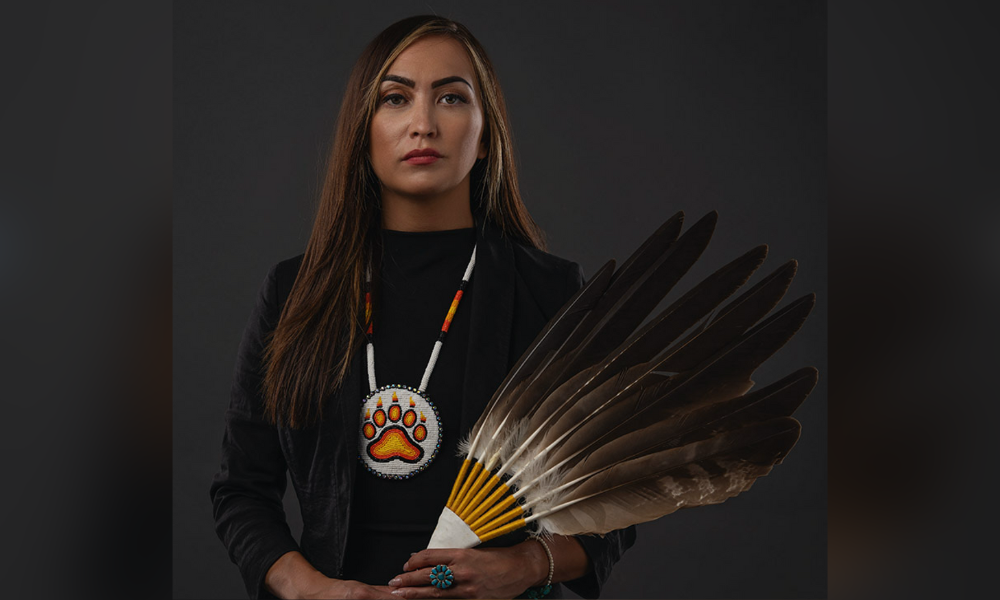 It was a game-day decision, says Aly Bear, deciding how she'd look and dress on the day she officially signed the roll to signify she had become a lawyer in Saskatchewan. At least when it came to her makeup.
In the end, she chose to wear a red pantsuit and paint a red handprint over her mouth. She also brought along her Federation of Indigenous Sovereign Nations' (FSIN) third vice chief headdress, having been elected to the position last fall.
For Bear, the first-ever lawyer to hail from Whitecap Dakota First Nation, located south of Saskatoon, it was a way of honouring her people, especially murdered and missing Indigenous women, and providing inspiration for the fight for justice.
"It was a last-minute decision, at least about the red handprint," says Bear, whose dad is from Whitecap and mother is from Cote First Nation. She's a single mother of two girls, seven and eight years old, who graduated from law school at the University of Saskatchewan in 2020.
While called to the bar in 2021, Bear didn't get around to signing the roll at the Law Society of Saskatchewan until late August. But when she did, she wanted to make a statement.
She had seen the red suit about a week before the ceremony and could "just picture" herself wearing it. Red is a powerful colour. As for the handprint, she had seen it numerous times and considered wearing it on her face.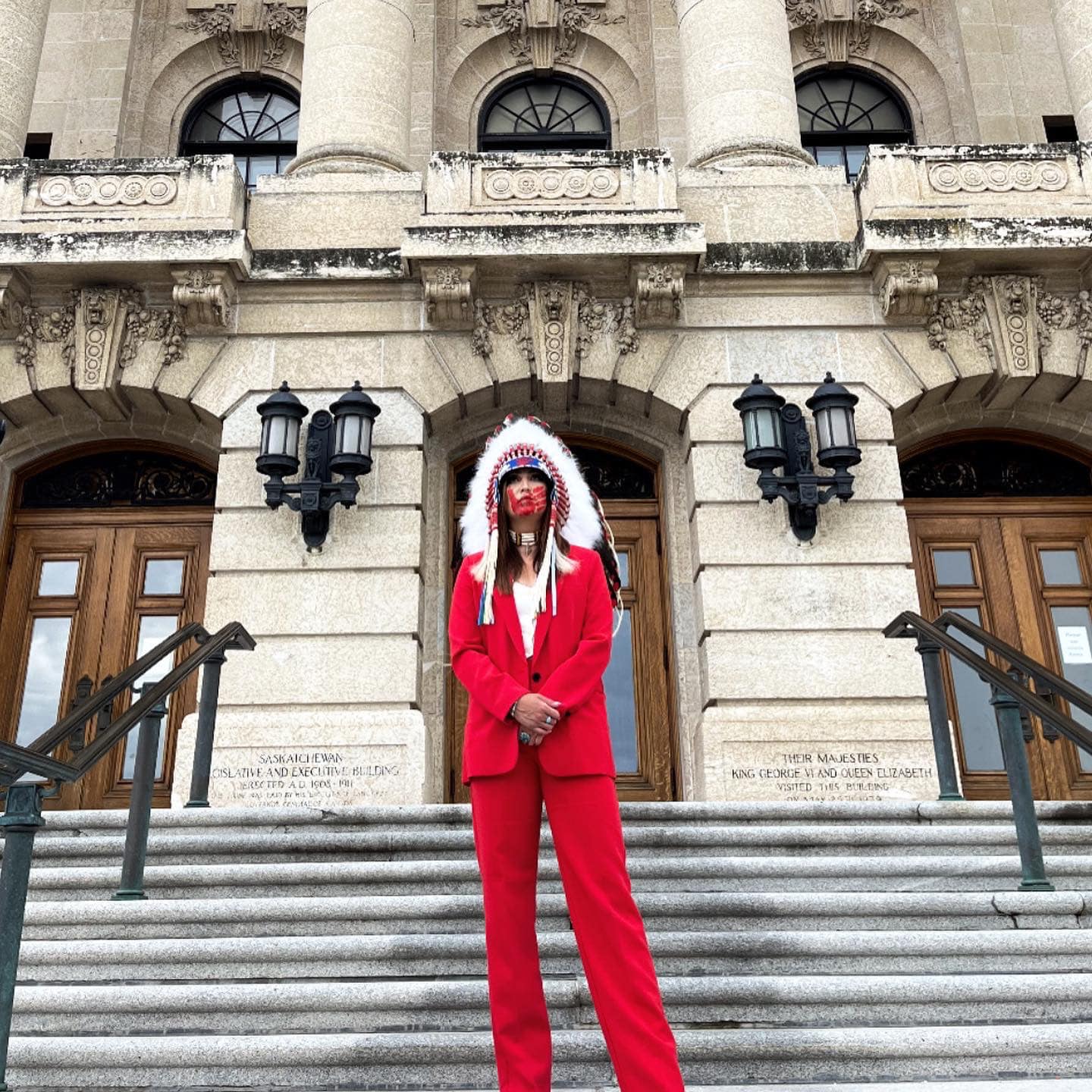 "I was waiting for the right moment, and this was a very important moment in my life. I wanted to wear it for the people I represent."
Bear says that after years of working hard to study law while raising her daughters, becoming a lawyer is a "huge deal" for her and her community.
"There's such a sense of relief that I managed to do it; a weight was lifted from my shoulders."
Bear originally started at the law school at the University of British Columbia. "It was my dream to go there, and even though I am a single mother, I didn't want to give up my dream."
However, Bear says she quickly found out that moving to a city where she had no family that could offer support made things very difficult. "I realized that we need community, we need family."
Bear and her children ended up moving back to Saskatoon and enrolling in the law program at the University of Saskatchewan three weeks after classes started. "Luckily, I was allowed to do that." While her parents, siblings and other relatives are also busy people, she says, it was still helpful to have them close by.
Still, Bear admits her two children spent a lot of time in the library with her. And she wasn't shy about taking her children along to events, "even fancy law school events." Her daughters, dressed up in ribbon dresses and shaking hands with adults, were considered "very well behaved – which makes sense because I have been taking them with me from the time they were in the womb."
As for becoming an FSIN chief, Bear says it wasn't something she was planning to do. However, after graduating from law school and doing her articling period at McKercher LLP in Saskatoon, "people kept asking me if I was going to run in the FSIN elections.
"I never thought about being a chief, but my dad's been a chief, so I knew what it was about, and it made sense," Bear says. She adds that using her legal training for advocacy purposes was also appropriate, given her reasons for getting into law in the first place.
"Working for a law firm, you sometimes must be careful about what you say when it comes to advocating, and you may not want to offend people in general or clients," she says. "But as far as I am concerned, my people are dying, and if I can't speak up for that, then I'm not in the right place. So being an FSIN chief allows me to do what I want."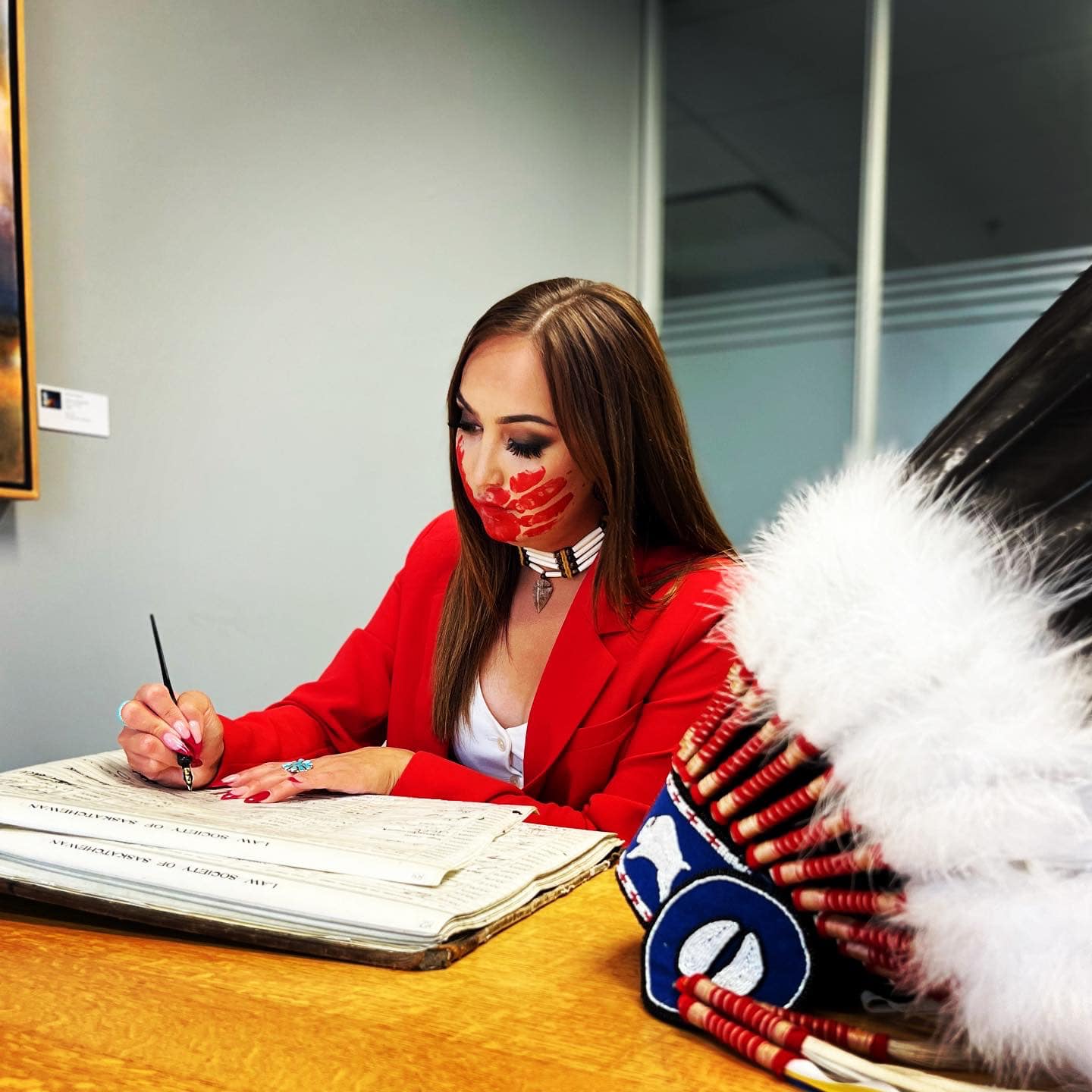 Bear decided to aim for law school in her first-year undergraduate studies. In one of her courses, she came across the writings of Patricia Monture, a professor at the University of Saskatchewan's sociology department. She was also the academic coordinator of the aboriginal justice and criminology program.
A Mohawk from the Six Nations Grand River Territory who studied at Osgoode Hall law school, Monture is known for being an activist, writer, and scholar. Monture, who died in 2010, also authored several important works, including Thunder in My Soul: A Mohawk Woman Speaks (2003) and Journeying Forward, Dreaming First Nations Independence.
"I knew her daughter growing up but learning about what Patricia Montour did for furthering Indigenous rights had a real impact on me," Bear says. "So, I started reading and studying everything about Patricia Montour, and I kept thinking, 'This is how I help my people, this is how I help myself,' and I was dead set on becoming a lawyer."
Bear says that understanding the Canadian legal system is essential for Indigenous leaders, even though she firmly believes in the Indigenous justice systems that go back centuries. "A lot of people get trapped in this legal system, and I hope knowing the Canadian system can help them navigate their way through it," she says.
"Indigenous people need to understand the system, because that is what has been imposed our people – a governance and legal system put in place by a colonial regime."
Bear hopes that young Indigenous people seeing her work as a lawyer and as an FSIN chief will motivate them to follow a similar path. "We're in the middle of an evolution, where we're starting to see more Indigenous judges and lawyers, and there are young people who now understand what happened with the pain caused by colonialism and residential school," Bear says. "I feel there is a window of opportunity. We can't let it pass."
As for the advice, she would give other young Indigenous people contemplating becoming lawyers, Bear says: "I would let them know that it's hard. But nothing worth having comes easy. We need more people who understand this system and can apply our laws into that system and work towards decolonization."
But to do that, some sacrifice is needed, she says. "It means not hanging out with your friends all the time and more time hanging out at the library, because after those three years, you'll get this piece of paper that can open doors and law school will have been worth it. Treat that hard work as part of a ceremony that comes with a heavy workload but pays off in the end."