"Many challenges have arisen as COVID-19 has impacted an already thinly-resourced court system," he says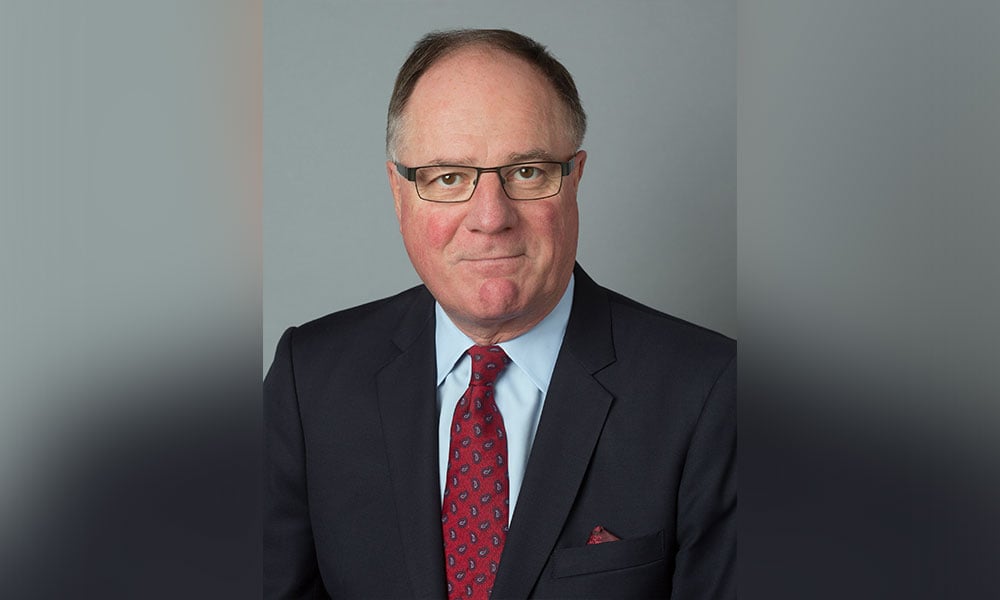 Canadian Lawyer has surveyed a number of chief justices of courts across Canada as to how they are handling the COVID-19 crisis, for a series of online articles meant to inform the profession about the challenges and opportunities faced by our courts. Here, in the first of the series, Robert J. Bauman, Chief Justice of British Columbia, answers Canadian Lawyer's questions about COVID-19's impacts on the Court of Appeal of British Columbia. Chief Justice Bauman will also be participating in a Key Media webinar, "Virtual Advocacy: Best Practices for Navigating the Courts in the Post-COVID Era," on May 21.
What is your greatest concern right now?
My greatest concern is to have the Court of Appeal up and running at full capacity as soon as possible. To achieve this involves a balance between taking on some risks inherent to acting swiftly -- for example, trying a new technological tool -- and ensuring the basic requirements for the hearing are in place, which include the equipment that judges need to deliver justice, and the technology and staff support to provide access to members of the public who wish to observe proceedings.
What specific challenges have you been facing in the wake of COVID-19, and how are you overcoming/adapting to them?
Many challenges have arisen as COVID-19 has impacted an already thinly-resourced court system. The Court's electronic filing system is not adequate for receiving all of the types of documents that need to be filed in an appeal. The Court does not have a stable enterprise videoconferencing system capable of supporting a virtual appeal or application. The Court has a very small staff, which means a limited capacity to respond quickly and effectively to the crisis.
All of these challenges persist, but we've made progress through hard work and keeping an open mind about what's possible: how we might re-envision appeal hearings, what adaptations are available and acceptable. We have collaborated with a number of other actors including the Provincial and Supreme Courts, the Law Society of British Columbia, the Attorney General, and of course the court services branch of government to remove barriers that used to seem immovable. The decision to proceed with all appeals by Zoom beginning on May 4 is not something that we could have imagined in early March, but here we are, a few days from that reality.
What have your experiences been in operating a virtual courtroom?
I sat in my first virtual courtroom yesterday as a member of the Court of Appeal of Yukon. Two Court of Appeal justices, one northern judge, a court clerk and the lawyers all attended from separate locations using Zoom. The hearing went smoothly, including some minor technical issues, which is great, because that is how we learn. This appeal gave me an early chance to test out the processes and resources that court staff have been working to bring online to support the shift to virtual courtrooms starting in May.
The appellate courts are fortunate in that we do not need to grapple with some of the difficult issues that trial courts face in taking evidence from live witnesses. That said, the experience the appeal court gains with virtual courtrooms beginning in May will, no doubt, be the source of some valuable lessons for all courts.
How have you used judicial discretionary powers to achieve just and fair results?
I issued a direction suspending time limits for litigants to complete the various steps of an appeal. This step was necessary to address the very unusual and challenging circumstances so many litigants and lawyers find themselves in, ranging from lack of childcare to respecting quarantine restrictions to illness. Time limits will remain suspended through May.
What are your plans for further adaptations?
Beginning May 4, all appeal hearings will proceed by videoconference. We will initially be using Zoom until a more permanent enterprise video conferencing solution is provided. Increasing our capacity to receive e-filing is also a top priority for the court. We have made significant progress on that front in the past two or three weeks and we expect to make further progress over the coming month. This project has been underway since 2012 but the progress we are making right now is tremendous.
More personally, I know that adapting to working virtually is a process; I take two steps forward and one back every day right now, but my colleagues and I are open-minded about the potential to change how we work and are committed to adapting our practices to the changing environment around us. At the same time, I am very mindful that digitizing existing court practices is not going to answer the access to justice problem that has existed long before the pandemic started. First, it is incorrect to assume all court participants have equal access to online proceedings, but even more importantly, a culture shift needs to take place that allows us to significantly change the way we administer justice -- while, of course, preserving fundamental values and principles.
Have you had any technological successes and challenges you wish to highlight?
The Court has been successful in transitioning judges and staff to working from home, thanks to the hard work and dedication of our IT team. However, as far as securing the continuation of hearings, we will need to evaluate and adjust as we go if we want to determine whether we've had any technological successes.
Which processes, if any, will your court continue to adopt in the post-pandemic world?
The Court will push to continue expanded electronic filing. A stable enterprise video conferencing system that allows for appeals to take place in a virtual format from disparate geographic locations is also something I expect to see the court use post-pandemic.
What are your courts considering "urgent" matters that must proceed now?
The urgent matters that must proceed include bail, child protection and certain criminal matters so far. We recognize that all matters before our court are of real significance to the parties and, often the public more generally and the development of the law, which is why we are moving ahead with the Zoom platform for all appeal hearings, including non-urgent ones, starting next week.
What are the most immediate changes that would be most helpful for your court to address these challenges, be it legislative, procedural or the availability of specific resources?
The Minister of Public Safety and Solicitor General issued an order suspending all limitation periods which was a necessary step to pair with the Court's direction suspending the timelines for taking various steps in an appeal.
More generally, the Court needs a number of resources to tackle these challenges. Equipment, software, training, staff resources and technical solutions to support judges, litigants, and the public in delivering justice and seeing that justice is done are all critical parts of addressing immediate challenges.
What can lawyers do to help the courts overcome its challenges?
The Court is helped greatly by a supportive, solution-oriented bar. It is normal to receive some resistance to the changes the courts wish to implement, and that is an important part of the process -- we need all voices. However, I've appreciated the lawyers who have said, for example, "Okay, how can we make that work?" and really engaged with the issues in a constructive way, rather than simply listing off barriers. For example, we are working with the CBA BC to ensure that anyone appearing in a video conference appeal hearing has a point of contact for technical support as they prepare to use zoom. CBA BC and the TLA have also coordinated efforts to offer a free webinar on May 8 open to all members of the profession to learn more about modified operations in the Court of Appeal. Likewise, I appreciate the patience among those members of the bar who want to know what to expect next. The courts do not pretend to have all of the answers, but we certainly recognize and sympathize with the challenges many lawyers and members of the public are facing, and we want to do everything we can.