CourtCall system allows all appearances to be heard remotely, says Chief Justice Strathy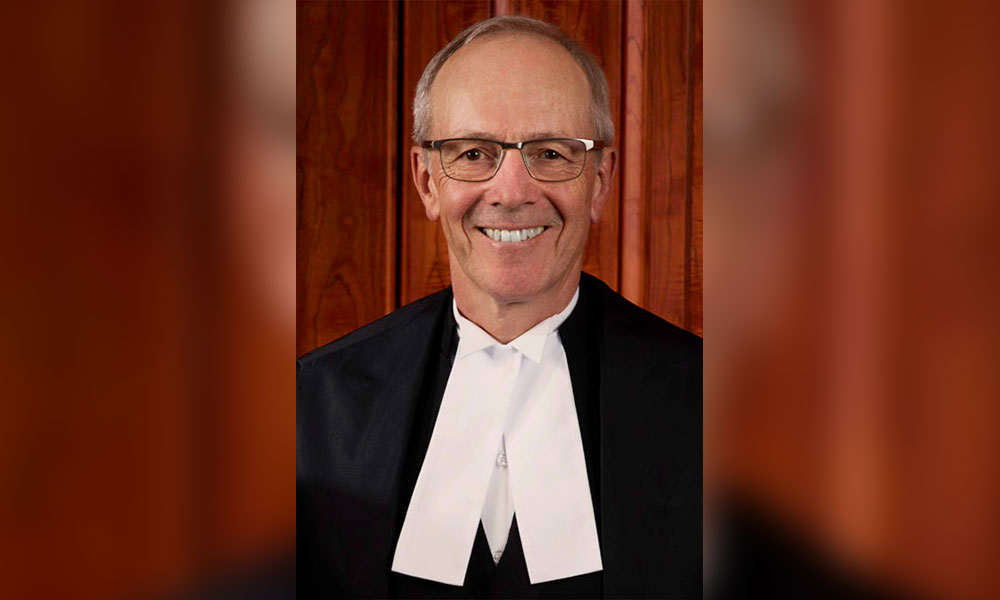 As courts across the country have struggled to continue operating in light of COVID-19 and the physical distancing required, Canadian Lawyer has surveyed chief justices of courts across Canada on how they are managing the crisis.
Here, George Strathy, Chief Justice of Ontario, answers Canadian Lawyer's questions about COVID-19's effects on his court.
What are some of the adjustments you've had to make since COVID-19 was declared a pandemic?
Both trial courts, the Superior Court and the Ontario Court of Justice, have been able to do some important aspects of their work remotely, but they are planning to conduct in-person trials as soon as measures are in place to ensure they can be conducted safely. In the criminal courts, trials aren't able to proceed because of the need for witnesses to appear. The criminal courts are dealing primarily with issues of bail, and relief of individuals on bail.
In our court [of appeal], where appearances can be done remotely, we're much better equipped to carry on business more or less as usual, although we've had to do a fair amount in terms of technological innovations.
I am not saying that we like doing things remotely. I think my colleagues and the bar would agree that we much prefer engaging with counsel in person and in the courtroom. We like the dynamic of in-person oral advocacy and in most cases we benefit from oral argument. But we also recognize that we are in the middle of an unprecedented pandemic, and adjustments have to be made in order to serve the public and do the essential work of the courts.
We were fortunate at the Court of Appeal in that we already had CourtCall in place, a system used in hundreds if not thousands of courts in the U.S.A. to provide remote access to court hearings. We had them installed about three years ago to accommodate occasional remote appearances for out-of-town [participants], and we have converted the system to conduct all appearances remotely.
We have been assessing different technologies, including Zoom, which is being used in the Superior Court and in other courts across the country.
What is your greatest concern right now?
My greatest worry is that when all this is over we'll go back to our habitual way of dealing with things. COVID-19 has shown the cracks in the system: we can serve the public better by taking advantage of technology. I wouldn't want to see a day where courts go entirely to television court hearings, because I think that in trials and appeals there's a great value in face-to-face appearances before a judge. But many of the procedural appearances that courts have can be dealt with remotely because they're appearances that don't accomplish much other than move the case a little bit farther down the road. And those are completely suitable for dealing with remotely; they save the public time, they save the court's time, and they save the expense of those in-person appearances.
What have your experiences been in operating a virtual courtroom?
We're actually proceeding fairly well, [though] the ramp-up was a little slow.
In our [appellate] court, we were hearing four or five appeals in the early stages [of the pandemic]. Now, although we are not entirely back to normal, we are able to hear between … 15 and 20 appeals per week. In order to do this, we needed counsel to file all their materials electronically, but the bar has quickly adopted to this process and we are proceeding, in most cases, with an entirely digital record.
It takes the judges and the lawyers a little bit of time to access the electronic record that we're dealing with. I think lawyers and judges are finding the actual hearing of the appeal a little strenuous as they cope with dealing with the technology and the new method of dealing with digital rather than paper stuff. But people are reporting, I think, pretty good results.
One of the problems with the justice system has been we deal almost entirely in paper at every level of the court, and generally with in-person attendances. Most courts across the country, certainly in Ontario, are dealing with outdated and inadequate technological systems.
What are your courts considering "urgent" matters that must proceed now?
Right from the outset we were dealing with urgent matters. These would include things like people who have been convicted in the trial court and have filed an appeal to our court and are seeking bail pending the hearing of their appeal.
We've also dealt with some sentence appeals where people have been convicted in the lower court appeal their sentence, and we have heard appeals from those sentences, particularly where the person was close to the end of the term of their sentence, or needed to get out beforehand. And we had been prepared, certainly, to hear any urgent family appeals.
What change do you see in the courts going forward?
I think everyone hopes that we will not go back to business the way it was, and that we'll benefit from the experiences that we've gained and that judges have had, and realize that we can do our work, we can do it better [and] more effectively in some ways, by making use of the technology.
The problem remains that we won't go back to business as usual unless or until the provinces open up their practices, that they allow people to go back to work. We're public institutions, we have to let the public in, and so we can't do it until it's safe for them to come in.
What can lawyers do to help the courts overcome its challenges?
In Ontario, we've found that the bar has been incredibly helpful with technology. The private civil litigation bar is way ahead in its capacity with technology; they have served as tutors to the judiciary, and as aides to us, as we try to develop a system that is responsive to their needs. They've assisted with developing training for judges, and have been an important aid to getting these systems up and running.