'The practical concern is making sure our system runs in September,' says Chief Justice Wood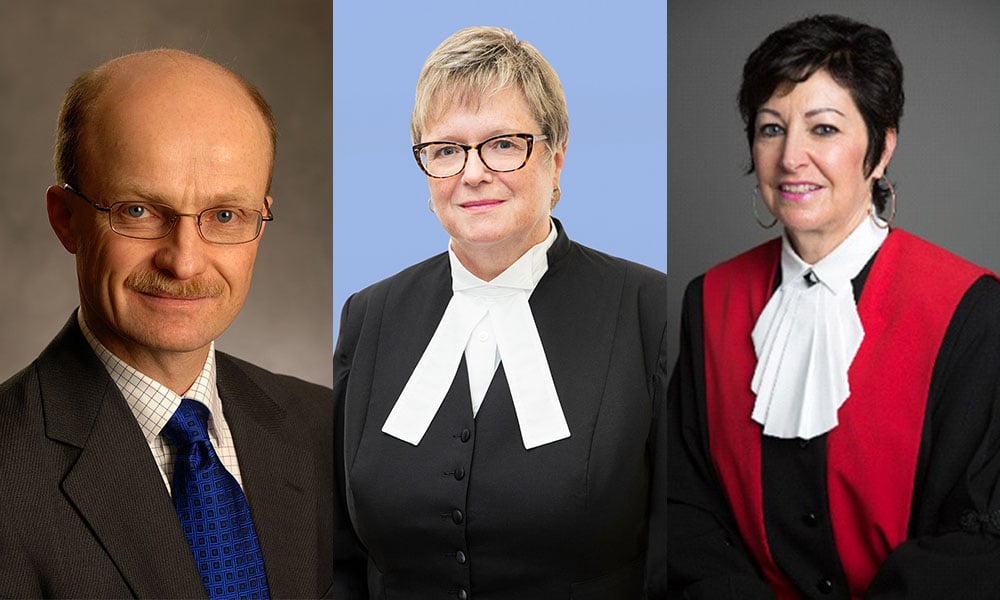 Canadian Lawyer has been surveying chief justices of courts across Canada on how they are handling the COVID-19 crisis, and the challenges and opportunities faced by their courts.
Here, Michael Wood, Chief Justice of Nova Scotia and of the Nova Scotia Court of Appeal; Deborah Smith, Chief Justice of the Nova Scotia Supreme Court; and Pamela Williams, Chief Judge of the Provincial and Family Court of Nova Scotia, share with Canadian Lawyer how their courts are functioning in the midst of the pandemic, and the changes that have been necessitated.
What are some of the adjustments you've had to make since COVID-19 was declared a pandemic?
C.J. Michael Wood: In mid-March there was a real move across the courts to try to reduce the people coming and going into the buildings. In the Court of Appeal we initially cancelled/postponed all the appeals scheduled, now June's hearings are rescheduled to fall. That allowed us to pause and give extensions of filing periods, and allow staff to work remotely. We're now in preparation for remote hearings for fall; we've written to all parties with cases set for the fall, and the court will dispose of cases without a hearing if agreed to by the parties.
C.J. Deborah Smith: The way that we do business has changed significantly. We have quickly moved from an in-person system to a virtual world where chambers, Crownside, motions and settlement conferences are handled over the telephone or by video. These changes have been intense but extremely interesting.
C.J. Pamela Williams: In the provincial court a huge adjustment had to be made, given the volume of cases we hear on a daily basis. We had to move from an in-person, paper-heavy system to a virtual, electronic system. We identified urgent matters first, those affecting people's liberty, and issues involving peace bonds [in domestic violence cases], and we have done many hearings remotely. In the early days there was advice from public health officials to reduce the number of persons in custody at our provincial facilities. Crown defence considered 235 to 250 cases of people who were in custody, remanded, and they were able to work through relief for approximately 115 of those people. We have also held weekend bail review courts.
What is your greatest concern right now?
Wood: My biggest concern is making sure that when fall hits, we can conduct all these hearings remotely. Once term starts we're going flat-out; if there's a glitch in the system and it stops working, if there's something that prevents us from using the remote technology the way we thought it was going to work, that's a problem. And we should do all the testing and be ready to roll; but that's my concern: if we get there and something comes up, it's going to be hard to scramble and deal with it.
Secondarily, I'm concerned about access to the public; normally the pubic is entitled to sit in in the back of the courtroom.
My third concern, as we move into the technology world, [is that] we have to remember that access to justice [now] requires litigants to have access to technology, and that's not possible for all. So, some accommodation will need to be made for them.
Smith: My greatest concern is restoring the services that we provide to the public. A healthy democracy requires an open and accessible court. We need to adapt and move forward while ensuring the safety of those who work in and use our courthouses.
Williams: In the Provincial Court the greatest concern is dealing with the backlog. There are a huge number of cases adjourned to late spring/early summer; meanwhile, there are new charges that are being filed. How do we deal with that backlog given things like the availability of judges and adequate court staffing? We're looking at doing some in-custody trials and in-custody preliminary hearings; we're innocent until proven guilty, yet [individuals are] continuing to be held on remand. So, it's wanting to respect public health, and keeping people safe, while dealing with cases.
What are your courts considering "urgent" matters that must proceed now?
Wood: Child protection cases. There are also some fairly tight statutory periods for some proceedings. We also deal with bail in our court, and that would be a matter that would be considered urgent to deal with. We haven't had to cross this bridge, but criminal appeals with inmates in custody would have some priority. But we had enough space in the fall docket that we were able to move everything from the spring into the fall without having to prioritize.
Smith: Our goal now is to move away from restricting trials and hearings to urgent and essential matters. We are expanding our services so that non-urgent cases can be dealt with, provided that they can be conducted in a safe manner. This will involve operating in both the virtual world and in-person (but from a distance).
Williams: We've identified bail, and a peace bond hearing, particularly where there may be domestic violence [involved]; and we are now starting to look at the in-custody trials and preliminary hearings. What we've also been doing is identifying non-urgent matters that can be dealt with virtually remotely either by telephone or video conferencing, and of trying to remove as many matters from the docket as possible by way of resolution of the cases: referring matters to restorative justice, matters being withdrawn because there's not a realistic prospect of conviction are some examples.
What have your experiences been in operating a virtual courtroom?
Wood: Our court has been doing telephone chambers for years now, for uncontested matters. We also had, last year, or main courtroom outfitted electronically: video monitors on all the desks, remote connections, and the ability to receive electronic evidence, including sharing electronic evidence with people participating remotely. We have that level of technology; it would probably still require judges to be in the courtroom or some presence in the courtroom to access [the technology].
Smith: As soon as the pandemic struck and it became clear that we could not operate as usual, we put together a Virtual Court Working Group led by Justice Christa Brothers. Within a short period of time, through great effort, that group made it possible for us to conduct court remotely. The court clerk, counsel and the judge are all able to work outside of the courtroom. The proceeding is recorded directly onto the court's recording system. This was important as we wanted to ensure that we have a reliable and proper recording of each proceeding.
We are in the process of rolling out this virtual court system. At the present time, we use it for motions that do not require viva voce evidence, settlement conferences and the like. We anticipate soon being in a position where we can have a full hearing or trial remotely. Naturally, there are limitations and complications with a remote hearing. In my view, nothing will replace an in-person hearing. However, it is wonderful to have this technology available for use in appropriate circumstances.
Williams: Telephone appearances were uncommon, but now they're much more common. We have the use of videoconferencing with persons in custody [and] with the pandemic it has become a way of life. We have combined bail hearings by having the judge and courtroom connecting to the jail and the accused, with defence counsel on the phone. With good quality Bluetooth microphones, able to hear hearings, it works out well. It takes more time to get through hearings, but it's manageable.
With our Dartmouth wellness court, we are going to start resuming our pre-court meetings with our court team, by telephone conference starting June 4. I will be in the courtroom with the clerk and the lawyers will call in, and then we will put on the record a synopsis of what's happening with each of the cases and providing the adjourn date.
Although we have capacity to use business for Skype, that platform is not interfaced with videoconferencing platform, so the accused, counsel and witnesses can't appear by Skype and all see and hear each other at same time. But the system we have now is working.
Wood: The province has provided us with Skype for Business; we use it. One of limitations is that not all the main consumers use it. The province is also looking at ways people can participate otherwise, via WebEx, Zoom, and variety of packages; we're looking at what might work best. It may be multiple ones.
What can lawyers do to help the courts overcome their challenges?
Wood: A few things: be patient and flexible. It's all the more important for counsel to be accommodating, not just with the court and court staff, but with each other. Narrow the issues down and resolve things that can be resolved. We have bench-and-bar liaison committees, and we are meeting more often than in past. The local branch of the Canadian Bar Association has written to the minister [of justice] offering suggestions offering various solutions [for] accessibility of technology and remote hearings, to help assist government in deciding priorities.
Smith: Be understanding. The pandemic placed everyone in an unprecedented situation. The courts were no exception. We needed to balance the need to remain open with the need to ensure that the public and our staff were safe. That is a difficult balancing act.
Moving to an essential services model was difficult for many. I am grateful to those who understood the situation and offered to help as we navigated our way through this.
Be flexible.
We are all being forced to think outside of the box and come up with new ways of doing things. Be open to this. I am convinced that at the end of the day we will have new and innovative ways of doing things and that the courts will be more effective as a result.
Williams: From the provincial court perspective, our judges are really encouraging lawyers to work their files, to negotiate and resolve matters as soon as possible to bring them forward. We're encouraging pre-trial conferences on all matters, and resolution conferences, which haven't been commonly used. We're looking at streamlining processes for in-person hearings, and limiting the number of witnesses providing exhibits to try to create efficiencies, so when a matter is ready to go it can be heard in as expeditious a manner as possible.