Greater demand for firms in virtual health sector from both strategic and financial players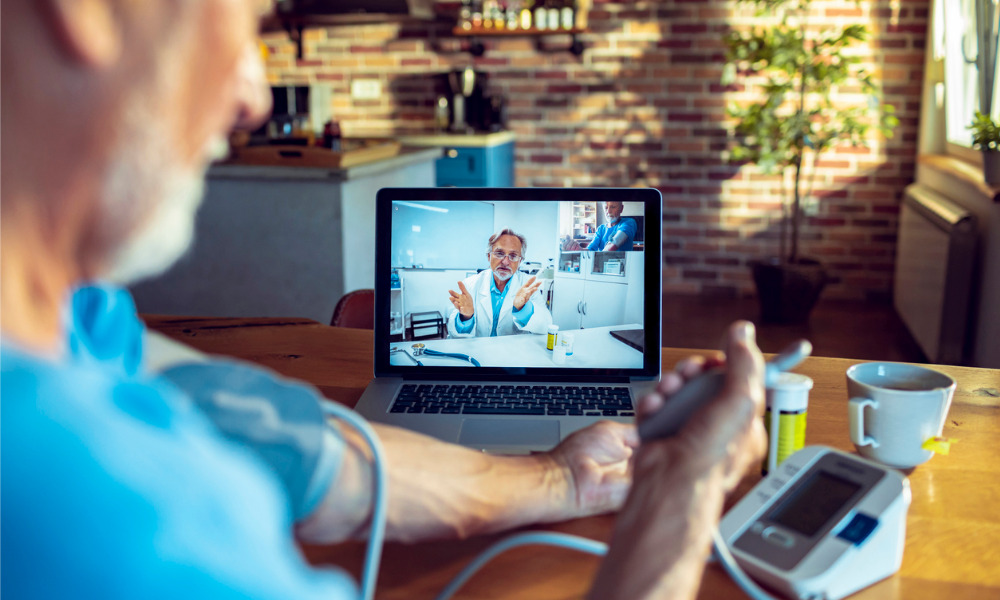 Mergers and Acquisitions in the digital healthcare space have increased dramatically during the past 18 months as the COVID-19 pandemic created a crisis for the healthcare industry, resulting in the acceleration of virtual care delivery, speaker at a recent Norton Rose Fulbright LLP webinar were recently told.
"Businesses found that they unprecedented access to capital," said Deloitte Canada partner Jason Ding, who heads up the firm's National Life Sciences & Healthcare M&A practice from Edmonton. The share prices and valuations of firms in this sector also created "valuable equity" that could be used as currency to acquire companies.
Ding noted in the late September webinar that of more than 400 closed transactions that Deloitte studied from the past five years, one-third of those happened in the past 18 months, about the same time that the pandemic reared its head. However, he noted that even before COVID-19, there was a shift in capital towards healthcare tech that favoured sellers.
As well, Ding said there had been 11 Health tech innovators that went public in the United States over the past two years, and in 2020, almost 20 SPAC transactions were focused on the healthcare industry.
Ding said that valuations have risen over the past five years. The average enterprise value-to-EBITDA multiple over that period is 7.7, but it has grown from 5.5 in 2016 to 11 today.
Many of these acquisitions were strategic deals made by players in the sector instead of financial players. Specifically, Ding said, "we are seeing two scenarios" – consolidation among innovators that saw COVID as an opportunity to merge or acquire other innovative businesses and larger incumbents acquiring innovative firms to help with their shift in strategies.
Venture funding for health tech companies is also setting new records, Ding said, pointing to the US414 billion spent in the first half of 2021, a number that almost surpasses the US$14.6 spent in all of 2020. There were 212 transactions involving VCs in the healthcare sector in 2020, compared with 100 five years ago.
Ding's examples pointed to the U.S. or North American number, but he also spotlighted Canadian digital healthcare M&A activity. He noted the "tremendous shift" in the focus of private equity towards healthcare, with both health tech-focussed funds and diversified funds adding healthcare-related firms to their portfolios. Strategic players in Canada have also been "on an acquisition tear" over the last few years. Valuation multiples have also been in the high single digits or lower double digits.
Vancouver-based Norton Rose partner Brad Sollis gave webinar attendees three key legal considerations and challenges to consider when conducting M&A transactions in the digital healthcare field.
The first is how an acquisition is structured, given the unique regulatory framework for the healthcare sector. For example, if a buyer is not a registered health care professional, that buyer will be restricted from carrying on the business directly, Sollis said.
"As a result, the buyer must carefully plan its acquisition structure with regulatory counsel to enable it to continue to operate the business and derive profits in a manner that doesn't go offside applicable healthcare regulations."
One structure, for example, is the buyer owning or leasing a medical clinic's assets, including the physical clinic space or IP comprising the virtual care platform. The buyer would then employ nonregulated clinic staff to manage and oversee all administrative functions of the clinic generally, then engage the registered physicians as independent contractors to carry on the practice of medicine from the brick and mortar or virtual care clinic.
Sollis pointed to the use of representation, and warranty insurance is another essential consideration. The high demand for healthcare businesses in Canada leads to significant seller power in the healthcare M&A space, Sollis said, resulting in more competitive auction processes and more deal terms that favour the seller.
"This results in a gap between the buyer's expectations, . . . particularly when buyers are paying high multiples for digital health care businesses, and the terms that sellers can drive in the current market conditions," he said. Rep and warranty insurance can play a crucial goal in bridging this gap to ensure buyers can be indemnified if there is a problem, transferring the risk to the insurer from the seller.
The third critical legal consideration, Sollis said, centres around third-party consents. Sollis said health care businesses often rely heavily on third-party payers, both government and private insurers, given the nature of Canada's universal healthcare system.
Sollis said it's common for third-party players in the healthcare sector to have requirements related to consent, including detailed application packages and supporting information on the buying entity and its directors.
"For example, in a recent transaction that I was working on, the governmental third-party payer required criminal record checks for all of the directors and officers," Sollis said. "Which is fine, but unless you have those criminal record checks on hand, they can take several weeks to obtain depending on the jurisdiction where the directors and officers reside.
This can have an impact on the timing of the closing of the deal, Sollis said, "so it's important for parties to develop plans to obtain to identify and obtain third party consents early on in the process."
Sara Levine, with Norton Rose Fulbright in Vancouver, agreed that understanding the multiple regulatory regimes in Canada is essential, from governments to the regulatory bodies for healthcare professionals. It's also crucial for parties in a transaction to understand the regulatory environment is "on constantly shifting ground."
"In the context of a particular target that you're engaged with, what kind of professionals do you have? Are they duly licensed? Do they have any complaints against them?"
Likewise, cybersecurity risks in the context of healthcare are also a significant consideration, said Imran Ahmad, Norton Rose's Canadian Head of Technology and Co-Chair of the Data Protection, Privacy & Cybersecurity practice.
"When we talk about the healthcare ecosystem, it is large, it is diverse, and it is multifactorial in terms of the number of participants, where they're based, and what their contribution is," he said. "So we can often see a challenge in identifying who's responsible for what and what liability may flow from a potential breach or non-compliance issue."
Dan Pawliw, managing director of M&A and partnerships at TELUS Health in Toronto said that digital adoption in the healthcare sector has escalated since the beginning of the pandemic and is here to stay. He added that virtual care is becoming another accepted way of delivering care, with choices made on which method depending on the considerations for each case. Governments in Canada are acknowledging this, with billing codes, for example, that reflect the new reality.
Pawliw also pointed out that with the higher valuations that digital health entities now command, potential buyers will need to find the synergies and integration opportunities to make these deals profitable in the long run.
"It may not need to be on day one, maybe it's a three-to-five-year synergy discussion. But you really do need to have a line of sight into synergies and integrations. You really need to have an understanding what is the path over a 12-to-24-month footprint just to start off those integration and synergy conversations."