Elliot Pobjoy fights for access to justice for women and children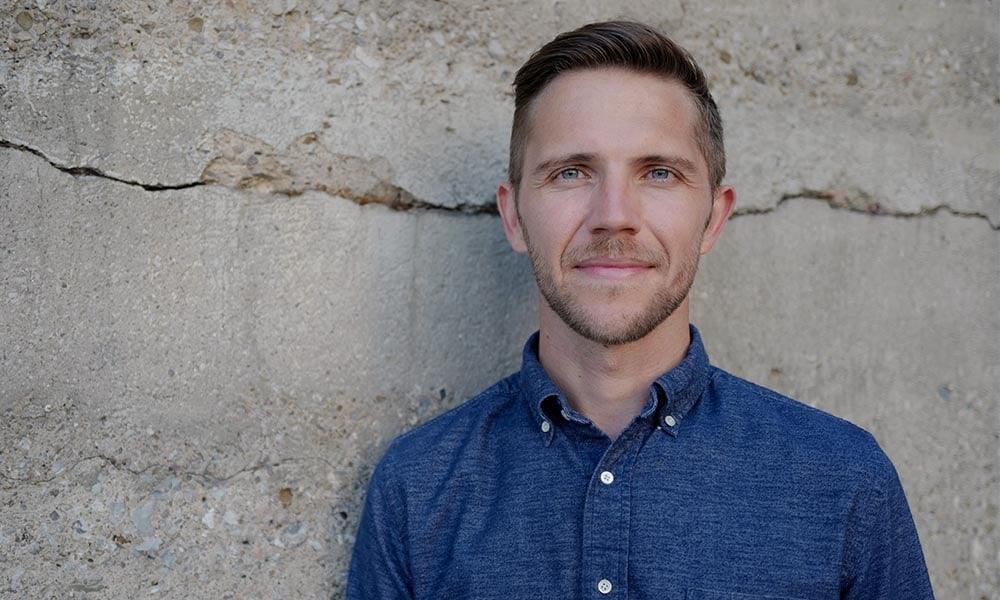 Although Elliot Pobjoy took an unconventional path to become a lawyer, his journey made him the perfect fit for his role as chief strategy officer and general counsel at War Child Canada. This global humanitarian organization works to empower and protect women, children and families affected by war and conflict through education, economic opportunity and legal protection.
His early career in humanitarian and human rights work in Canada and India and his experience in politics gave Pobjoy an understanding of the importance of the law, which led him to law school at the University of Toronto. Although he enjoyed his time as an associate at Goodmans LLP, an accident that almost cost him his eyesight changed his perspective and accelerated Pobjoy's path back to philanthropy. In 2018, he moved to War Child, where he combined his interest in the law with his passion for human rights.
"War Child is a really high-impact organization that drives real change for communities that are recovering from war, and it's a real privilege for me to be a part of that," says Pobjoy. The organization currently has more than 400 staff operating in eight countries, including Afghanistan, Uganda, Iraq and Sudan.
Pobjoy wears two different hats as one of just two executive leaders at War Child. As chief strategy officer, he focuses on strategic direction, marketing and donation revenues. As general counsel, he takes responsibility for all legal direction, which can involve anything from dealing with a security crisis abroad to restructuring the organization across borders, supporting program teams to register new offices or negotiating a licensing deal for an ambassador or a corporate sponsor. Finalizing major donations and general corporate matters also fall under Pobjoy's remit.
"With an organization like ours that operates in war zones, the challenges we face run the gamut," he says. "As a sole lawyer and an executive, I'm privileged to work with every part of the organization. I'm able to weigh in on the challenges and opportunities in our programs abroad and to work with counsel across the world in our local offices." He often partners with War Child's founder and president, Dr. Samantha Nutt, on her advocacy work, and he also facilitates fundraising and manages IP protection.
"In an organization like ours, all our staff are really required to be a jack of all trades in some of the most challenging and diverse environments you can imagine, and so my legal work really reflects that," says Pobjoy.
War Child is pioneering new and evolving models to bring access to justice and law programs in many war-torn regions. Through an initiative to register law firms in Afghanistan and Uganda, War Child has trained lawyers and paralegals to advance human rights and protect women and children from abuse. The organization offers free legal representation from local counsel to women and children who have survived violence and abuse. The organization also ran mobile legal clinics to reach women in refugee and distant communities and develop human rights education programs for women and girls.
When the pandemic first struck last year, Pobjoy was one of the leaders of highly successful, nationwide emergency coalition of around 300 leading charities and community organizations to advocate for support from the federal government as the sector was in danger of collapsing. War Child also made an abrupt pivot to respond to the pandemic challenges for people living in precarious situations.
"Our local teams in every single country had to radically alter what they were doing so that kids could continue to be educated and protected," says Pobjoy. These teams expanded radio and distance-based education programs to ensure that children could continue to learn. At the same time, War Child's local groups provided COVID-19 education and supplies to the communities in need. As War Child had to cancel fundraising events and donations plummeted in the early stages of the pandemic, the organization shifted to organizing virtual events and made substantial cost cuts at the headquarters in Toronto. At the same time, Pobjoy's team successfully pitched COVID relief programs to donors and funding partners.
War Child operates with the help of pro bono expertise from firms including Blakes, Bennett Jones and Paliare Roland.
"Not only have these firms been generous with their time, but they've actually also provided us with financial support over the years, which is incredibly meaningful for us," says Pobjoy. The organization also benefits from the local knowledge of external counsel in almost every country in which it operates.
Pobjoy's goals for the year ahead are to support the organization's ongoing expansion to reach more communities in need. War Child has recently received registration in Yemen. Hence, the organization plans to open up community centres where children and their mothers can receive psychosocial support and education to help them rebuild their lives amid the ongoing civil war that has devastated the country. He also plans to work with War Child USA to focus on bringing support to El Salvador, where conflict has impacted many lives.
Working overseas on the frontlines and seeing the power of the frontline teams has been a highlight for Pobjoy since he joined War Child.
"I've met with teenagers who told me that our education program saved their lives or prevented them from being forced into war, and I've talked to women who overcame tremendous challenges in gender-based violence with the support of our local teams," he says.
"I feel that my role is really just facilitating and giving some extra support to those on the ground in those communities and to push them forwards and have their backs when there is a challenge."
Name: Elliot Pobjoy
Company: War Child Canada
Title: Chief strategy officer and general counsel
Career highlight: Any time I've been overseas on the front lines of our work at War Child is a highlight. Seeing the power and intelligence and capacity of our local frontline teams on the ground always brings it back home and makes my work worth it.
Career lowlight: Like the rest of the charitable sector, we saw a temporary drop-off in support at the start of the pandemic, so we had real fears for the future. We had to cancel our galas and events, and suddenly our prospects for funding were looking scarce. However, we got rid of our office, sold our office supplies and started to tell our COVID-19 story to supporters, and our teams overseas persevered. What began as a lowlight turned into a highlight.
FACT FILE
Completed a Doctor of Law at the University of Toronto
Worked for the Ontario government as senior advisor to the minister of health
Is the sole lawyer at War Child Canada
Articled and practiced as an associate at Goodmans LLP
War Child Canada was recognized as one of Canada's Top 10 Impact Charities by Charity Intelligence Canada