Gotlieb was a Companion of the Order of Canada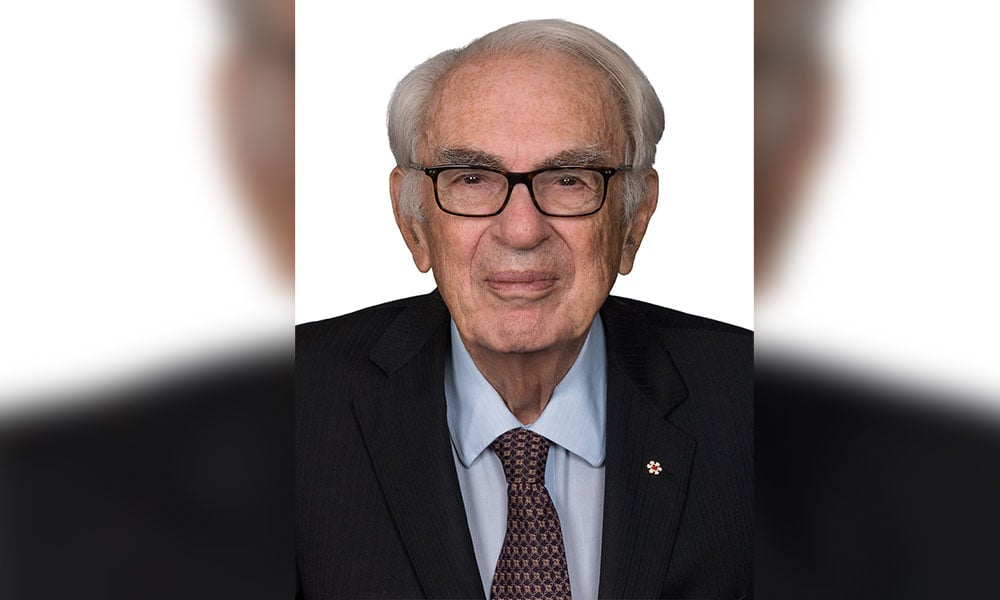 Lawyer and diplomat Allan Gotlieb died at his Toronto home on Apr. 18, age 92.
A native of Winnipeg and graduate of Harvard Law, Gotlieb most recently served as senior business advisor in the Toronto office of Bennett Jones LLP for over a decade, retiring in May 2019.
Before joining Bennett Jones, Gotlieb had an illustrious career in the public service. From 1982 to 1990 he served as Canada's ambassador to the United States, where he worked on the Free Trade Agreement and the Treaty on Acid Rain, among other significant foreign policy matters.
In the Department of External Affairs Gotlieb held many other roles, including head of its legal division, undersecretary of state for external affairs, and alternate delegate to the General Assembly of the United Nations. He also served in government positions relating to communications and immigration.
For his many contributions, the government honoured him as Companion of the Order of Canada, the highest civil honour in the country. He also received an Outstanding Achievement Award from the Government of Canada.
Global Affairs Canada called Gotlieb an "exceptional public servant and diplomat whose influential work has left a lasting impression on Canada's foreign policy," while Hugh MacKinnon, chairman and chief executive officer of Bennett Jones, called him a "patriot who served his country with exceptional skill and dedication."
In addition to his law degree from Harvard University, Gotlieb earned degrees from the University of California, Berkeley and from the University of Oxford as a Rhodes Scholar. He received honorary doctorates from a number of schools, including the University of Toronto. He also taught at Harvard and at the University of Toronto as a visiting professor.
Gotlieb held prominent positions in several private companies, public companies, not-for-profit organizations and charitable organizations centred on public policy, foreign relations, education and the arts. He was also published books and articles relating to international law and political science.
He is survived by his wife, author and journalist Sondra Gotlieb, by his son Marc, daughter Rachel, and six grandchildren. He was predeceased by his daughter Rebecca.