The pandemic is throwing up roadblocks to meeting Canada's ambitious targets for new Canadians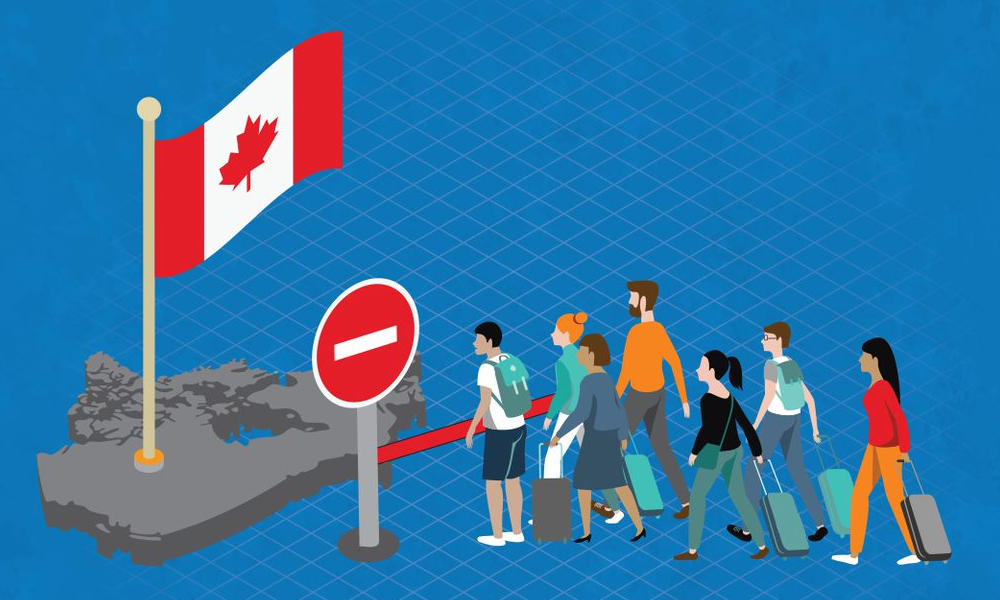 For at least some would-be immigrants to Canada, there was a bit of good news announced in mid-February. The federal government said that it sent invitations to 27,300 candidates to apply for permanent resident status under the Canadian Experience Class category, giving them 90 days to apply.
They have at least one year of Canadian work experience and are already in Canada, and they are unaffected by current travel restrictions caused by COVID-19. They don't face the same barriers as overseas applicants when gathering the required documentation and undergoing criminality and medical screening.
Immigration lawyers who have been helping hopeful candidates find a pathway to residency and eventual citizenship say these invitations are an important step in acknowledging the benefit these workers bring to Canada. But many also say it doesn't go nearly far enough to meeting Canada's ambitious immigration targets over the next few years.
"Immigration Minister Marco Mendicino has talked about wanting to increase immigration, but how do you reconcile that with what we aren't doing now to make it easier for would-be immigrants to come to Canada?" says Mario Bellissimo of Bellissimo Law Group. "We need immigrants now and will need immigrants in the future, and we need to get more creative on how to get them here, even during a pandemic.
"This is one of those times in history where the Canadian government is really going to have to decide very quickly what role immigration is going to play in the economy, or you risk the potential for damage for years and years."
While there are clear benefits to transitioning temporary residents already here in Canada, especially during a pandemic, Evan Green, a partner with Green and Spiegel in Toronto, says the federal government should not be excluding those skilled workers and other immigration candidates who are living overseas, many of whom have already been granted status to come to Canada.
"There has been some movement on processing people already in Canada, but most of those outside the country already approved are not being allowed to come in," he says. "This is very frustrating to them and something they can't quite understand. Sure, we need to have checks on people travelling to Canada and we have a process for quarantine, so why not let them come to Canada if they are good to go?"
With an ageing population and low birth rate, immigration is seen as a means of stimulating the Canadian economy and encouraging prosperity across the country, especially in a post-pandemic economy. Currently, with only "essential" overseas workers now able to come to Canada, Green says immigration will be needed as an economic catalyst to ensure labour force growth and to kick-start the economy when it comes out of lockdown.
The federal government has certainly acknowledged the need for increased immigration as part of building an economy in a country with an ageing population. In October of 2020, it announced immigration targets until 2023. The plan aims to increase the number of permanent residents accepted to 401,000 in 2021, 411,000 in 2022 and 421,000 in 2023. As a comparison, Canada accepted 341,180 permanent residents in 2019, before the pandemic hit.
During 2020, travel restrictions and quarantine requirements drastically changed the rules for who can enter Canada, while visa office closures outside the country and processing challenges within Canada increased wait times for most applications by at least several months.
Barbara Jo Caruso, of Corporate Immigration Law Firm and past chairwoman of the Canadian Bar Association immigration law section, says that, while there has been some innovation on dealing with the immigration issues of candidates with work visas who are already in the country, the delays in processing and the "black hole" of not getting any answers on already-filed applications is creating a lot of anxiety.
One area where she has seen clients particularly anxious is in spousal sponsorship applications, which is still a paper-based system that has been clogged up due to slower processing times. Given the pandemic, enough hardship has been created that close family members should not be kept apart unnecessarily, she says, especially if it is due to a processing blockage.
It got to the point, Caruso says, that the government in the fall finally came up with a "band-aid" solution to the fact that the applications are not an online process. "What they did is have their mailroom scan applications so that officers, most who are still working from home, can access them remotely."
But this is not online filing by any means, she says. "Scanning documents is simply helping address the backlog created by the slowdown in processing due to COVID-19, but it is a temporary fix at best." Caruso says this is just a small example of the need to develop online systems for processing applications for most classes of immigrants.
Warda Shazadi Meighen, a partner with Landings LLP, agrees that there has been innovation, with new programs popping up that, for example, help those who are "falling out of status" or who are looking to extend their work or study permits. "There's been flexibility in terms of how those types of applications are proceeding."
As well, there have been several targeted programs such as Pathways to Permanent Residence for Pandemic Workers, which allows certain asylum seekers who have worked in health care on the front lines of COVID-19 to apply for permanent residence. This acknowledges the risk that many of these people are taking in working under conditions where they might be exposed to the virus.
There's also a pilot program, launched before COVID-19, for workers in certain sectors of the agricultural and food processing industry to come to Canada with the prospect of permanent resident status, a recognition of how important these workers are to the agricultural economy.
Shazadi Meighen is also concerned that Canada has closed its borders to refugees for the time being and says we should continue to welcome refugees as per Canada's commitment under the United Nations Refugee Convention, with proper precautions for COVID-19, in keeping with our country's humanitarian tradition.
Winnipeg-based immigration lawyer Alastair Clarke says that even programs such as Pathways to Permanent Residence don't consider the skills of overseas applicants that we need in Canada, especially during a pandemic.
"I have a Romanian nurse working at the United Nations in Mogadishu who wants to come to Canada," he says. "She is a specialist in immunology and has been working in the health-care sector for 15 years, and she is highly skilled, but under the Manitoba provincial nominee program, they don't consider nurses like her.
"You would think that, during a pandemic, they would not only be soliciting nurses such as her but fast-tracking these applications."
Calgary-based immigration lawyer Michael Greene of Sherritt Greene says one of his concerns when it comes to long-term thinking about immigration of skilled and educated workers from overseas and how the pandemic could have an impact on the future is the question of foreign students. Right now, they are not allowed to come into Canada if there is no in-class program for them to enrol in. And because of the pandemic, virtually all university education is being done online.
The problem, says Greene, is that foreign students in Canada often make the best candidates for immigration, because they have the education that Canadian employers respect and the language abilities to make them good future Canadians.
"So, what we're doing right now is affecting the pool of future permanent residents and citizens that come from the foreign student class," he says. "When immigration opens up again, it will likely be at a time when the United States and other countries will be opening up, too, so the competition will get tougher."
Ambitious goals: permanent resident targets
2021 401,000
2022 411,000
2023 421,000
Permanent resident immigration to Canada
2015: 271,883
2016: 296,379
2017: 286,479
2018: 321,035
2019: 341, 180
2020: 184,370
Source: Immigration, Refugees and Citizen Citizenship Canada