Leading firms offer creativity and value for money, clients say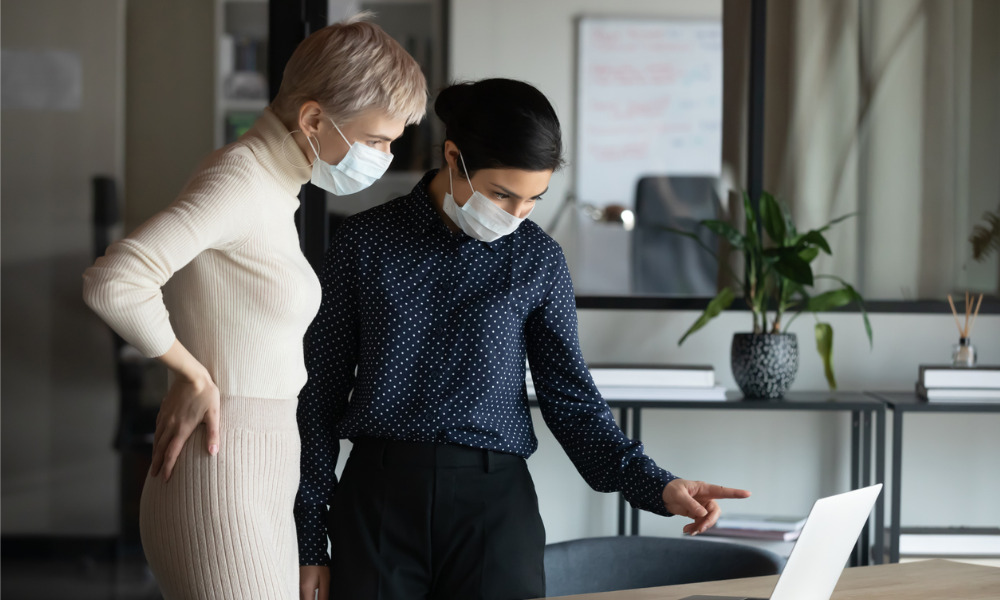 Since the pandemic crisis led to layoffs, staffing changes and many new workplace safety regimes, labour and employment issues have been top of mind for in-house counsel. Retaining a reliable firm to navigate these intricacies is critical, so labour and employment boutiques have been in high demand during the past year. As the COVID vaccine rolls out and many employees begin to return to physical workspaces this year, that is likely to continue.
Readers voted Rae Christen Jeffries LLP among Canadian Lawyer's Top 10 Labour & Employment Boutiques. Since its inception in 2018, the Toronto-based boutique firm has continued to grow and has attracted a team of associates who serve a wide range of client needs.
As executive vice president, chief legal officer and public affairs at Sun Life, Melissa Kennedy juggles various labour and employment issues for the financial services giant. She values the help of law firm lawyers such as Angela Rae, founding partner at Rae Christen Jeffries.
"Angela brings practical expertise, real common sense and vast experience from being an expert in her field for 30 years," says Kennedy.
Mary Senkbeil, associate vice president, employment law, safety and risk at Regis Corporation, enjoys working with Rae Christen Jeffries partner Frances Gallop.
"Frances is my go-to person," says Senkbeil. "I value that she knows and understands our business, and she is extremely timely and has a good sense of humour."
Another client of Rae Christen Jeffries, Ontario Teachers' Pension Plan, outsources several labour relations and employee relations matters, including arbitration, workplace investigations and wrongful dismissal claims.
"I've worked with the firm since its inception, and before that, I worked with the founding partners and many of the associates, says Sharon Chilcott, managing director and associate general counsel, employment law and litigation at OTPP. "What I find in Rae Christen Jeffries is responsiveness, creativity and a deep expertise." Chilcott also appreciates the cost-effective service provided by associates working at the boutique firm.
"A firm is most useful to us when they understand who we are, what we stand for and what we believe in so they can come up with practical solutions, and Rae Christen Jeffries does that extraordinarily well," says Chilcott.
Also recognized among our top 10, Sherrard Kuzz LLP is a Toronto-based firm of 30 lawyers that serves a wide range of clients across the country, including adidas Canada Limited, which just joined the client roster in March 2020. adidas regularly retains law firms to assist with labour and employment claims, and the pandemic crisis has resulted in an uptick in such matters.
"I can tell that employment and labour lawyers have been busier than usual since the onset of the pandemic, due to the plethora of occupational health and safety and other issues that COVID-19 presents to employers and employees alike," says Matt Rossetti, senior manager, legal counsel at adidas Canada.
"I like the practical approach from Sherrard Kuzz," says Rossetti. "I don't always need a 10-page memo on every legal issue, and they do understand that, so for small questions, they will respond with short, actionable, practical responses, which is exactly what I need." Rossetti also appreciates the briefing summaries on major legislative updates that the firm has provided throughout the pandemic.
Another client of Sherrard Kuzz, The Brick, has seen an increase in disputes and litigation relating to changes within the labour force due to retail shutdowns during the pandemic. As vice president, legal and corporate secretary at The Brick, Greg Nakonechny has worked with the boutique firm for 15 years, and he values the prompt and timely service provided by the partners and associates.
"They are very good at understanding our culture and providing practical solutions to many of our problems," he says.
Roper Greyell LLP also made the top 10 list. Located in Vancouver, the firm is one of the largest employment and labour law firms in western Canada, with 43 lawyers serving clients in almost every sector.
Indigo has seen an increase in labour and employment matters due to the pandemic crisis and subsequent retail lockdowns and layoffs, so the legal department decided to expand its roster of providers to meet the demand for work.
"Roper came to us on a referral about a year ago, and we've been really impressed by the expanding work they do for us," says Damien Liddle, general counsel at Indigo. "The folks we deal with have been really excellent and really sharp."
BC Hydro has been working with Roper Greyell since its inception.
"They provide excellent service and value for money in terms of the service we receive for what we pay," says Nicole Prior, senior solicitor and counsel at BC Hydro. "They respect our budgets by staffing files appropriately, and they don't overcharge."
Also recognized among our top 10, Mathews Dinsdale & Clark LLP represents employers across Canada with lawyers and consultants in six offices from coast to coast.
"We're pretty frequent fliers with the Mathews Dinsdale folks," says Michael Bigioni, general counsel at The Miller Group. "I tend not to make many moves that could affect labour relations without consulting with them in some way or other. The main thing you want in a law firm is effective representation, and we get it in spades from them."
The firm's full knowledge of The Miller Group's labour relations history means that strategizing can begin as soon as a file comes in the door, Bigioni adds.
Top 10 Labour & Employment Boutiques
(listed alphabetically)
Barteaux Labour and Employment Lawyers Inc.
Halifax | https://www.barteauxlawyers.com/
Barteaux Labour and Employment Lawyers Inc. is a management-side boutique firm based in Atlantic Canada. Founder and principal Nancy F. Barteaux leads the labour and employment team. The firm recently added a business immigration practice led by Andrea Baldwin, who brings with her years of experience in that area. The Barteaux team, known for its successful outcomes, represents a diverse range of employers regarding all aspects of their employment, labour and immigration needs. Appearing at all levels of administrative tribunals and courts throughout Atlantic Canada and beyond, in 2019, the firm acted as employer counsel before the Supreme Court of Canada in a case regarding interpretation of employment contracts. Barteaux and Baldwin say their clients most enjoy their tireless, competent and strategic advice, allowing them to focus on their business and not their legal issues. As Atlantic Canada's only member of the Employment Law Alliance, Barteaux works with partners across Canada and worldwide to deliver for national and multinational organizations. The ELA is a global network of select labour and employment lawyers.
Filion Wakely Thorup Angeletti LLP
Toronto, Hamilton, London| https://filion.on.ca/
Filion Wakely Thorup Angeletti LLP is one of Canada's largest and highest-ranked law firms practising management-side labour and employment law exclusively. With 46 lawyers in three offices — Toronto, Hamilton and London — FWTA acts for federally and provincially regulated employers in the private, public and broader public sectors. The firm's clients operate in diverse sectors of the economy, including retail, energy, manufacturing, health care, education, hospitality, transportation and government. Many have national or international operations. FWTA is a founding member of Advocates for Employers of Canada, a nationwide alliance forged among five of Canada's preeminent management-side labour and employment practices. The firm is also the sole Canadian member of L&E Global, a top-ranked alliance of more than 1,700 employers' counsel in more than 150 offices worldwide.
Hicks Morley Hamilton Stewart Storie LLP
Toronto, Waterloo, London, Kingston, Ottawa | https://hicksmorley.com/
Leading in labour and employment law, with in-depth public and private sector experience, Hicks Morley Hamilton Stewart Storie is one of the largest Canadian firms advising employers and organizations. The firm advises on a wide range of workplace issues, including strategic advice, risk assessment, consultation and training on all aspects of labour relations, employment law and pension, benefits and executive compensation law. Its 120-plus lawyers are here to partner with clients to strategically navigate complex legal issues and achieve positive outcomes.
Mathews Dinsdale & Clark LLP
Toronto, Vancouver, Calgary, Halifax, Sarnia. Sault Ste. Marie /
https://mathewsdinsdale.com/
Mathews Dinsdale is the only labour and employment boutique on this year's list representing employers across Canada. With lawyers and consultants in six offices from coast to coast, the firm provides strategic advice, litigation and advocacy services and immediate crisis management locally, nationally and (through its membership in the Ius Laboris alliance of global HR law firms) internationally. Mathews Dinsdale offers employers a full range of support in employment law, labour relations, construction labour relations, occupational health and safety, human rights, workers' compensation, business immigration, Aboriginal labour and employment law, workplace investigations, pay equity and workplace privacy and information. The firm is more than 60 years old, and it was the first in Canada to provide advice and representation exclusively to employers.
Neuman Thompson
Edmonton | http://neumanthompson.com/
Neuman Thompson was established in 1977 by Ron Neuman and Brian Thompson as a labour and employment law boutique serving employers in Alberta. The firm has grown to 13 lawyers who provide all types of labour and employment law advice to local, national and international clients throughout western Canada. Through its membership in the Employment Law Alliance, Neuman Thompson offers clients ready access to high-quality and specialized local expertise across the country and in more than 100 countries worldwide. The firm works with a broad range of employers in both the public and private sectors. It serves governments, public agencies, major health-care providers and post-secondary educational institutions. The firm's roster includes clients such as Alberta Health Services, Epcor, Suncor and Nutrien, as well as other private sector clients in the industrial, manufacturing, oilsands, forestry, agribusiness, transportation, continuing care, communications and retail industries.
Rae Christen Jeffries LLP
Toronto | https://www.rcjlaw.ca/
Rae Christen Jeffries LLP is a boutique management-side labour and employment law firm established in 2018 by a group of seasoned practitioners. Since its inception, the firm has continued to grow and has attracted a team of talented and creative associates. Collaboration among all firm lawyers is key to the firm's ability to precisely tailor services on each file to specific client needs. Overall, clients credit the firm with providing timely, practical and nuanced advice and notable excellence in advocacy.
Roper Greyell LLP
Vancouver | https://ropergreyell.com/
Roper Greyell LLP was founded in 2006 by lawyers from two leading employment and labour law practices in British Columbia. Today, it is one of the largest employment and labour law firms in western Canada, with 43 workplace lawyers serving clients in virtually every sector of the economy, including construction, forestry, marine transportation, mining, health-care, post-secondary education, retail, public transportation, utilities and the municipal sector. With the recent addition of lawyers based on Vancouver Island and in the Kootenay region of B.C., Roper Greyell has further expanded its reach throughout the province. The firm practises in all areas of employment and labour law, including human rights law, disability and accommodation, workplace investigations, employment litigation, privacy law, workplace bullying and harassment, collective bargaining, employment standards and workplace health and safety issues. Roper Greyell is the exclusive representative in B.C. of the Employment Law Alliance, one of the most comprehensive networks of labour and employment lawyers in the world.
Sherrard Kuzz LLP
Toronto | https://www.sherrardkuzz.com/
Known for its unparalleled client service and practical, business-savvy advice, the Toronto-based law firm of 30 lawyers serves clients across Canada. The firm is consistently named among Canada's Top 10 Employment and Labour Boutiques (Canadian Lawyer®), Canada's Leading Employment & Labour Law Firms (Chambers Global®, Best Lawyers® and Legal 500®) and as Repeatedly Recommended (Lexpert®). The firm's clients are national and international, public and private, and they operate in a wide range of industries. Areas of expertise include the full range of employment, labour and human resources matter, including: advising the multinational and multi-jurisdictional employer; labour relations board proceedings; collective agreements and bargaining; compensation and benefits; construction labour relations; executive employment agreements and compensation; grievance arbitration; human rights and accommodation; injunctive court proceedings and judicial review; interest arbitration; management training; mediation and alternative dispute resolution; occupational health and safety; pay equity; privacy; responding to union organizing and applications for certification sale or closure; strike or lock-out preparation and business continuity planning; workplace investigations; workplace safety and insurance; and wrongful and constructive dismissal litigation. Sherrard Kuzz LLP is a leading member of the world's largest alliance of employment and labour law practices — Employment Law Alliance — and has a strategic alliance with Roper Greyell in B.C.
Turnpenney Milne LLP
Toronto, Vancouver | https://www.turnpenneymilne.ca/
Turnpenney Milne LLP is a boutique employment firm with offices in Toronto and Vancouver. Turnpenney Milne's practice focuses exclusively on workplace law, which encompasses all aspects of the employment relationship from the pre-hiring stage to termination and retirement. The firm represents both employers and employees and successfully mediates and negotiates legal disputes on behalf of its clients. As a significant part of the practice, Turnpenney Milne acts as a neutral, third-party investigator in various workplaces and engages in training on related topics including harassment, discrimination, violence and respect in the workplace.
Whitten & Lublin, Employment & Labour Lawyers
Toronto | https://toronto-employmentlawyer.com/
Whitten & Lublin's guiding principle is the results. David Whitten and Daniel Lublin formed the team more than 10 years ago and are now consistently recognized as "leading practitioners" in Lexpert's annual survey. The firm is regularly noted for excellence, including a previous designation by Canadian Lawyer as one of Canada's Top 10 Labour & Employment Boutiques and Canadian HR Reporter's Employment Law Boutique of the Year in each of the last four years. The firm's outstanding service is confirmed by other lawyers and HR professionals and its diverse client base, including executives, employees and corporations. The firm says it has more positive and verified Google business reviews than any other similar practice in Canada.
How we did it
Canadian Lawyer asked lawyers, in-house counsel and clients from across Canada to vote on the top intellectual property and labour and employment boutiques. They were asked to rank their top firms from a preliminary list, with a chance to nominate a firm that was not included on the list. To be considered in the vote, firms were required to have at least 80 per cent of their business come from intellectual property or labour and employment. The final rankings were determined through a points system, in which firms were rewarded on a sliding scale for the number of first to 10th-place votes received. The quantitative results are combined with feedback from respected senior members of the bar and in-house counsel when applicable. For additional information regarding the methodology & criteria, please find a full description of our methodology here.