Read on for answers to these and other questions concerning COVID-19 vaccination in the workplace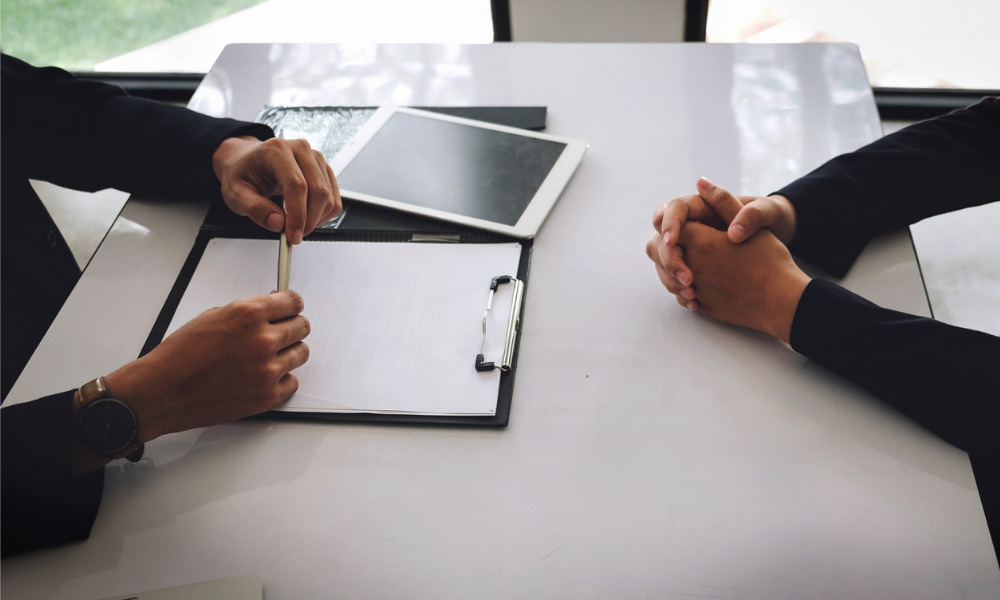 With vaccinations for COVID-19 ramping up and a return to workplaces looking likely for the fall, at least, but the pandemic not yet quelled, the issue of requiring new hires to show proof of vaccination raises its head. Here's a sampling of what employers may require, or be entitled to do.
Read more: Ontario pharmacists now allowed to administer COVID-19 vaccines via injection
Can an employment offer be made conditional on a new hire being vaccinated for COVID-19?
Since the vaccine is widely available to the public an employer can likely require this, Atlantic law firm McInnes Cooper said in a blog, in the same way employers can require pre-employment drug and alcohol testing and medical and criminal record clearances in certain circumstances. But the firm recommends that COVID-19 vaccination, and proof of it, as a condition of the employment offer and part of the onboarding process be made clear in advance to prospective hires. The requirement should be part of a broader vaccination policy reflecting the employer's vaccination standard in the workplace, and not applied only as part of a new hiring process.
Is asking for proof of vaccination discriminatory?
If the workplace or job requires that the employee be vaccinated, asking for proof of vaccination would not be discriminatory, says Marie-Hélène Jetté, head of the labour and employment law group for Langlois Lawyers in Montreal, with some exceptions provided for in human rights legislation.
Human rights laws ban discrimination and require employers to make accommodations to the point of undue hardship, notes the publication HR Insider in an article on requiring employees to provide proof of COVID-19 vaccination. For example, employers aren't generally allowed to ask employees or job applicants about their disabilities; requiring proof of vaccination may discriminate against employees who refuse to be vaccinated because of their religious beliefs, and also on the basis of creed -- a system of non-religious beliefs that may be integral to a person's self-identity and standard for conduct, which arguably may include the anti-vaccination movement.
Read more: COVID-19 vaccine passport development must have legal and ethics expert input: medical journal
Can employees be required to provide evidence of COVID-19 vaccination, and what evidence can they be asked to give?
Although vaccination for COVID-19 is not mandatory it may be required for certain jobs, or to attend a place of work, says Marie-Hélène Jetté, head of the labour and employment law group for Langlois Lawyers in Montreal. "I think you can ask a candidate if he is vaccinated and if so, ask for the proof."
Employees can be required to provide evidence they received a COVID-19 vaccination, just as they can be required to provide certain other medical evidence, says McInnes Cooper. "The keys will be the reasonableness and proportionality of the personal information you require employees to provide," the firms says. "In the policy, require [employees] provide a medical note or certificate from a medical practitioner confirming they received the vaccination. In addition, require the note or certificate specifying the brand of vaccine they received; this information could be important once more is known about COVID-19 vaccinations, for example, how long the protection will last."
Jetté suggests employees might simply "flip the email or text you received once you have been vaccinated, which also provides the date for the second dose," in addition to showing the little note confirming vaccination.
What are the privacy concerns in disclosing vaccination status?
Asking an employee whether they've had the vaccination and requesting proof of vaccination or a vaccination certificate is a collection of personal health information which triggers privacy considerations, says McCarthy Tétrault LLP in a blog. "Employers should be mindful of the applicable privacy legislation (if any) that applies to them."
In Saskatchewan, the Office of the Information and Privacy Commissioner (OIPC) issued an advisory in December, which did not prohibit asking employees about their vaccine status, or asking for proof of vaccination, McCarthy Tétrault noted. "In fact, the OIPC implied that employers may do so in some circumstances and with appropriate privacy protection measures in place. While employers in Saskatchewan, and all provinces, have an obligation to ensure the health, safety and welfare of its workers, this must be balanced with the employee's right to privacy. Employers should evaluate whether implementing a vaccine verification program is integral to providing a safe workplace and ensure that such a program does not unreasonably infringe on an employee's privacy expectations."
The employment agency Peninsula Group recommends employers have a vaccine records policy that "should include details on your reasons for collecting the data, the appropriate privacy protection measures you'll follow to store, secure, and destroy such data.
"It is advised that employers collect only as much information as needed. Only statistical information on the number of vaccinated employees should be shared. Regard this data as highly sensitive and confidential."
Employees who don't wish to share this information may be accommodated "by offering them alternative job duties or an option to continue working from home."
Can employers require employees to be tested for COVID-19 as a condition for reporting to work?
Yes, in some circumstances, such as for workers in the health-care sector. In Quebec, health-care workers who don't wish to be vaccinated must be tested for COVID-19 a minimum of three times a week, says Langlois's Jetté. "So even if you cannot force vaccination, there could be consequences to deciding not to be vaccinated."
The federal government and some provincial or territorial governments have mandated COVID testing in certain circumstances, notes McInnes Cooper.
"And while the balancing of interests approach also applies to assess the reasonableness of COVID-19 testing policies, at least one arbitrator has acknowledged that the characteristics of COVID-19 distinguish COVID-19 testing from employer drug and alcohol testing policies," the firm said in its blog.