It's about trading guilt for gratitude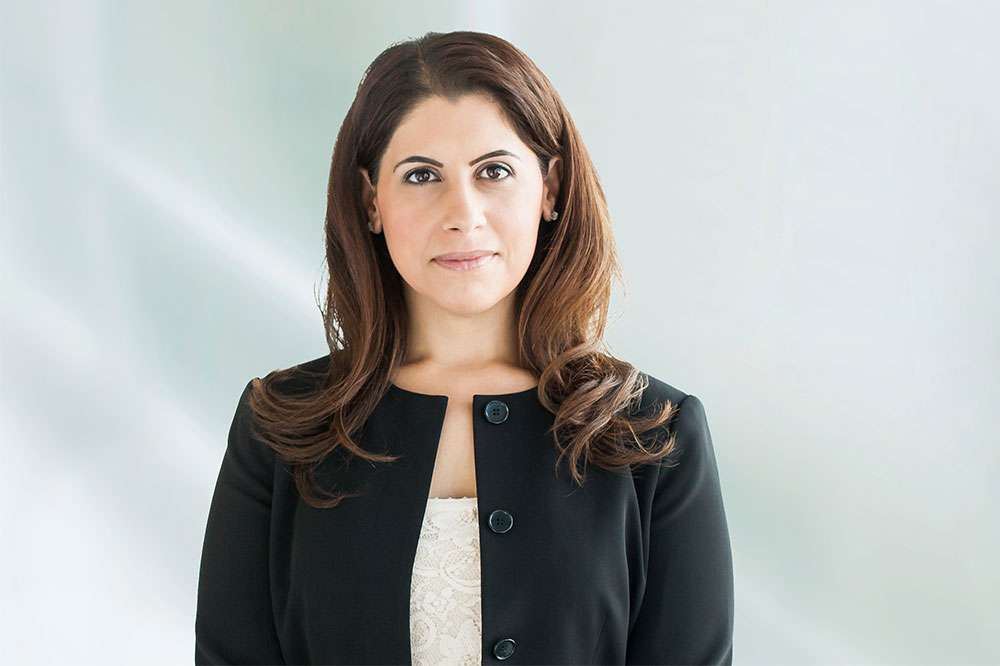 Personal injury isn't exactly the glamourous type of legal work espoused by your average law professor.
But for Rose Leto, who was basically born an advocate, it was a perfect fit.
"When I'm advancing this person's case, whether it's for a long-term disability policy, or medical malpractice, or compensation for an injury, my job is to present this person: their needs, their struggles, and their lost ambitions," she says. "I think one of my strengths is being able to tap into my clients as human beings and understand their struggle — to be able to articulate that and find evidence to support that in the litigation."
Born and raised in Toronto, Leto got her first taste of the law as a pre-teen — when a teacher decided to resolve a student squabble with a mock trial, and Leto served as counsel.
From there, she never looked back — after just two (very focused) years as an undergraduate at York University, she went to Osgoode Hall law school. She summered at Neinstein Personal Injury Lawyers, came back as an articling student and then as an associate. Now a partner, she is about to celebrate her 20th year at the firm.
"I am a very practical person," she says. "And people know that if I say I'm going to do something, I am going to do it."
Despite her drive, Leto says she spent many of her earlier years in the profession second-guessing herself.
"If someone had just said, 'You got this. You can do it. Believe in yourself,' I don't know if I would have listened," she says. "But the difference I see in myself, now, is that I'm so much more confident. I'm able to do things and not worry about the judgment and what other people are going to think. I really feel like confidence makes all the world of difference."
It didn't help that the stereotype of a macho advocate has been hard to shake, notes Leto, who will be speaking at Canadian Lawyer's Women in Law Summit on Feb. 12 2020, about diversity and inclusion strategies that attract and retain female talent.
"The clients come to see me when they're in the worst time of their life. Something terrible has happened to them. They never expected to be sitting in a lawyer's office and having this relationship, and I think people have a perception of lawyers being stoic and lacking emotion. And we, personal injury lawyers are really the opposite," she says.
"What kind of surprised me is how much of the other aspects of my personality in life come into the practice of law. It's not just about the case law and the textbooks and the research, but it's about you as a human being — and your experiences and your personality and your relationships."
As a woman in an area of law that requires marketing and relationship-building, Leto has learned to forge her own way (and now feels less pressure to participate in golf tournaments and after-work drinks.) For example, she says the firm hosts networking events such as spa days — a forum where some women in the industry more comfortable playing up their strengths.
"We all hear this concept of the working mom and 'mom guilt,'" she says. "I don't think I've ever heard someone talk about a working dad's 'dad guilt.' . . . . And it's amazing that this concept has been coined into a phrase that you keep hearing used, and it's a challenge to have to be each of those: to be mom, and to be a lawyer."
Leto says that when she looks to help young lawyers, she is mindful to do something that mentors can sometimes forget: Listening.
"The mentor needs to help the young lawyer and just give them the tools — help that young lawyer find their own style. Develop their own way of doing things, their own niche," she says. "Often, mentors tend to want to project what they're doing."
Although legal practice isn't always easy, Leto says something as simple as a "thank you" from a client can keep her going. Another mantra that keeps her going is the common proverb: "The difference between stumbling blocks and stepping stones is how you use them."
"My clients are struggling, and they're dealing with a great deal of adversity," she says. "Practicing law and being given this responsibility in their life is a privilege. And looking at the way that they handled their adversity gives me strength to handle mine. It's about putting things into perspective. At any point, something could seem like it's the worst stress, the most difficult time. And once that passes, you're able to look back and reflect on how that developed you as a person, and made you stronger."
To hear more from Rose and other leading women in law, book your ticket to the Canadian Lawyer Women in Law Summit here.