Opportunities are growing for Black lawyers in private practice – but more must be done, says Tachie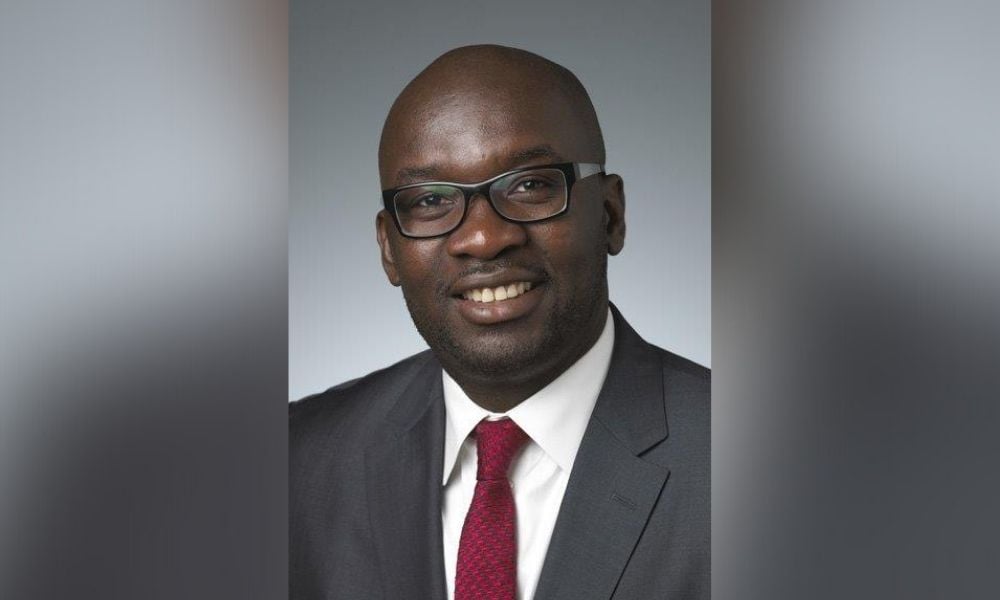 Raphael Tachie has joined Gowling WLG as a partner and head of the firm's Private Client Services Group in Vancouver. In this role he provides strategic legal advice to high-net-worth clients and financial institutions across all areas of estates and trusts law.
The role is a perfect fit for Tachie who was educated in B.C. and brings more than 10 years of experience as an estates and trusts lawyer, including several years at large Canadian financial institutions. Most recently, he spent three years as senior counsel at TD Financial Bank Group in Toronto where he delivered integrated financial, insurance, estate and tax planning solutions to clients.
Tachie believes that coming from an in-house background gives him a competitive edge in his practice, as he has a deep awareness of the needs of his clients and an understanding of business matters. He also has a keen awareness of the wealth management needs of Canada's varying demographics including immigrants and elderly and vulnerable clients, which enables him to be culturally responsive.
The choice to move back to private practice after several years in-house arose when a legal recruiter told Tachie that he would be a very attractive candidate to many firms, so Tachie decided to explore his options. This resulted in two appealing offers, so Tachie jumped at the chance to return to his Vancouver home-base with Gowling. He is excited to bring his expertise to the firm, where he hopes to be a role model for aspiring Black lawyers.
"One of the driving forces for me saying 'yes' to Gowling was the fact that I am not just a partner, but a practice leader," says Tachie. "I can hopefully be a face in our Vancouver office that tells Black students that the practice of law is an option, and they can do it in many different ways, and being at a big corporate firm is one of those ways."
The time is ripe for Black lawyers and lawyers from other visible minority groups to seek positions in private practice, according to Tachie, as he says barriers are starting to break down following a social awakening which began after the murder of George Floyd in 2020. The largest Canadian law firms, came together and signed on to the BlackNorth Initiative last year, pledging to address anti-Black systemic racism.
It was a very different landscape when Tachie first graduated from law school at the University of Victoria, B.C., in 2009. He struggled to find work at law firms in B.C., despite having grown up in the province and being educated there. A Black mentor advised Tachie to apply to firms in Toronto, as she said opportunities for him would be limited in western provinces due to prevailing systemic racism.
"She said: 'I guarantee you none of the Vancouver firms will offer you interviews, and if they do, you're not going to get an offer. Not because you're not good, but because when they see you, they don't see a practice and they can't imagine how you would succeed'," says Tachie.
The mentor was right, so Tachie pursued work at firms in Toronto where a business case for diversity and inclusion had started to emerge. Although Toronto firms were hiring junior lawyers from different backgrounds, they still weren't doing enough to provide diverse lawyers with a path to succeed, in Tachie's view.
"There were no clear ideas as to the resources somebody like me needed to succeed, and I think that happened to a lot of Black students and lawyers who walked into firms," he says. Today, the conversation is far broader, and more nuanced, so candidates are more likely to be seen as individuals with unique skillsets that can be leveraged to the advantage of the firm and to the lawyer.
"Firms are not just paying attention because the conversation makes it look good to have a Black partner. I also think they are now looking at me and saying: 'what is the skillset this person brings that's so unique, and how can we leverage it and make him successful?'," says Tachie.
There is still a great deal more that firms can and should be doing to improve their focus on diversity and inclusion, Tachie says – not just in terms of hiring practices, but there also needs to be a greater focus on retaining talent to allow Black lawyers to climb to the leadership ranks and become role models for junior lawyers.
"You don't need to spend a ton of money on branding if people can look and see themselves within your leadership ranks and your partnership ranks. That is the conversation that firms ought to be having," says Tachie. He notes that while many firms are starting to think this way, others still have a long way to go.
Tachie is also president of the Canadian Association of Black Lawyers, and he has been a member of several committees of the Canadian Bar Association and the Canadian Corporate Counsel Association.