New programs offer opportunities for Black lawyers and aim to increase diversity in legal profession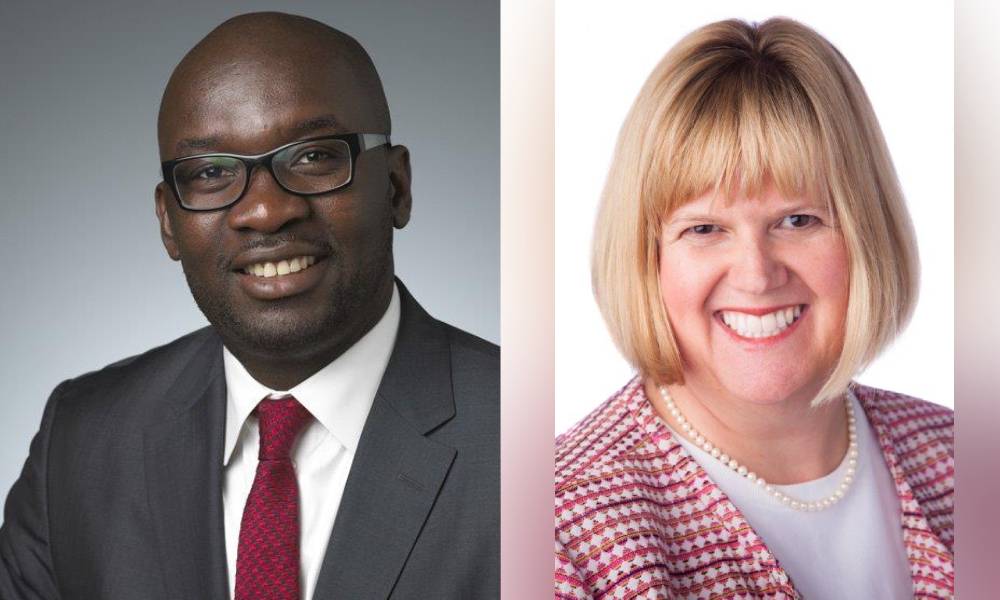 TD Bank Group is teaming up with the Canadian Association of Black Lawyers to create a series of programs designed to support the career aspirations of Black lawyers and to increase diversity and inclusion in the legal profession across Canada.
Together, TD and CABL have launched new initiatives including one-on-one and group coaching and mentoring for Black lawyers, as well as tailored financial planning and wealth management support from TD.
"In 2020, TD was really focused on investing in organizations that address both immediate and long-term impacts of racism," says Jane Langford, SVP, legal at TD. "CABL was selected as an organization doing really terrific work to address the barriers for Black lawyers, and so that's where it started from a macro basis." During the Black Lives Matter movement of 2020, Langford turned to colleague, Raphael Tachie – senior counsel at TD, and CABL president – to better understand the experiences of Black professionals. The dialogue with Tachie allowed Langford to see the benefit of mentorship, and inspired her to use her position at TD to do more to help Black lawyers.
When Tachie joined TD in 2019, he was excited to be given the opportunity to talk about the work he did at CABL and to bring that conversation to the bank by speaking at a panel about diversity in the profession.
"My history told me to separate what I did for CABL with what I do at work, but TD allowed me to bring my entire self and the work that was important to me in the community," says Tachie. "I could be honest with my perspective on the impacts and the challenges of Black lawyers, and how TD could help. This is really an example of how employers can amplify the voices of employees."
As the first program developed by the partnership, TD has initially paired 15 CABL members with senior TD lawyers to build mutually beneficial mentoring relationships. Although mentors have committed for at least two years, Langford hopes the relationships will grow organically and continue beyond that. The plan is to add an additional 20 mentees by June 2022.
Langford hopes the mentoring program will also serve to give mentors a better understanding of the needs of Black professionals, which will in turn have an impact on recruiting for all equity seeking groups, and bring diversity of thought to TD.
For the second program born out of the partnership, TD will support CABL members at different stages of their careers with financial education and advice. Through TD's Black Customer Experience Team, CABL members will have access to financial programs geared towards legal professionals, and personal finance guidance.
"I was particularly struck when Raph shared with me about financial barriers and limitations on Black professionals, and so we talked about how we could leverage some of the bank's positioning on financial literacy and our skills in helping people make good financial decisions, and bring that to Black professionals," says Langford. As such, TD created a financial education program for CABL members which will focus on four components of financial health: spending, saving, borrowing and planning. TD will continue to work closely with CABL to create appropriate and useful content.
The programs are aligned with TD's broader commitment to help address anti-Black racism and its impacts. As part of this commitment, TD is donating $200,000 to CABL over the next three years, which will support the association's efforts to increase representation within the legal community and help dismantle barriers faced by Black lawyers. CABL will also use the funds to conduct a survey to gain quantitative insights from Black lawyers to better understand their experience in Canada's legal profession.
Tachie says he hopes CABL's alliance with TD will serve to build CABL's capacity in the community and shorten the existing knowledge gap.
"I hope the success of our members can be determined through thoughtful, intentional environments with partners like TD that will fill the gaps in terms of their knowledge of how the profession works and the opportunities that are available to them," he says. "As a profession, we train intellectually on equity and the value of equity, but we don't always practice it. I think the dynamic is changing and this program is a great example of that."
Langford adds: "I really hope that through this program we can bring Black professionals more into the mainstream of the profession, and give them the same opportunities that everybody else has. Over time, the profession as a whole will be richer for it."