Former president of Black law students' association helped create new admissions process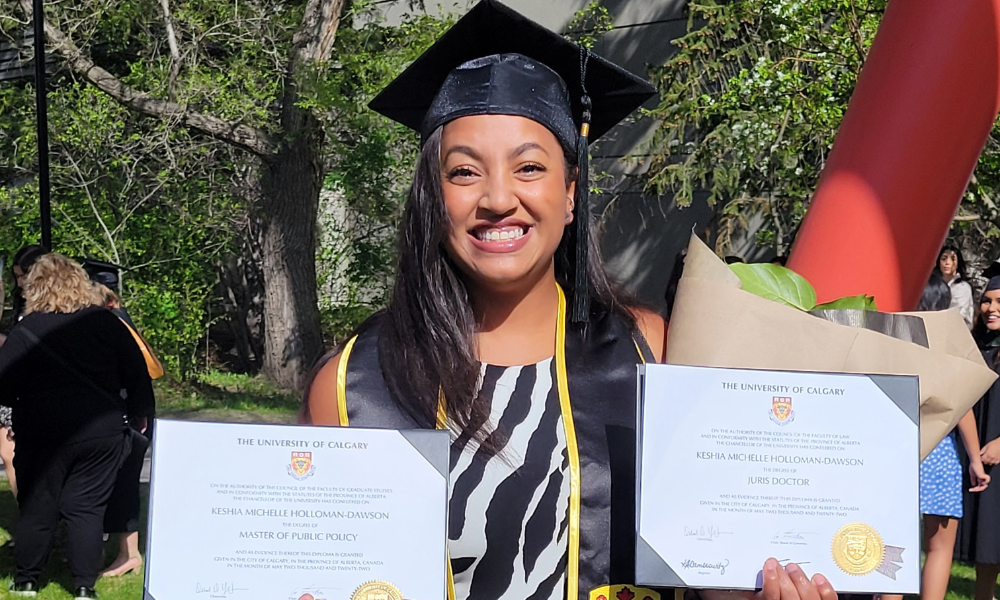 As a newly minted graduate of the law program at the University of Calgary this spring, Keshia Holloman-Dawson can leave knowing she left her mark at the school.
"It's surreal. When you've been in school for so long, it feels strange for it to be completely finished and moving on to the more practical side of things," says Holloman-Dawson, one of the driving forces behind the Calgary Chapter of the Black Law Students' Association efforts to significantly drive up the number of Black students in the U of C law program. "It's hard to believe that after all these years, I'm no longer a student."
This summer, she will be taking the Canadian Centre for Professional Legal Education (CPLED) Accelerated PREP course, then starting a two-part article at Inter Pipeline and Osler, fulfilling her interest in practising corporate law. "It wasn't the direction I thought I'd go when I started law school, but I really love it now. I feel like that's where I work best."
However, a piece of her heart and mind will remain with the law school, continuing her efforts, along with the efforts of other BLSA law students, to increase Black student enrolment in the U of C law school.
"This work of trying to diversify the law student population has been so important to me," says Holloman-Dawson, who combined law school with a master's degree in public policy.
Holloman-Dawson says that the work she and her colleagues have been doing is already paying off. The law school can proudly say it now has about 70 percent of all Black law school students in Alberta enrolled at the U of C. The school's incoming class of Black JD students will be the largest in Western Canada.
The university worked with the BLSA to launch a new admissions process for Black applicants after a call to action presented two years ago by the BLSA's Calgary chapter. At the time, Holloman-Dawson was president of that chapter.
Black applicants are asked if they self-identify as Black in the new process. If an applicant answers yes, the law school will invite them to complete a personal essay which might include their connection to Black culture and the impact of institutional, structural, or personal racism on the applicant or their families.
Additionally, applicants who have self-identified as Black will have their applications reviewed by up to two members of a sub-committee, including members of the BLSA, Black law faculty members, and Black members of the broader legal community.
The Black student admissions process allows Black applicants to speak more about their experiences and the barriers they have overcome.
The U of C law school already has a section to discuss "special facts" related to diversity, including gender and sexuality. Still, the new process for vetting Black potential law students will provide another space on the application to address the issues related to being Black.
When Holloman-Dawson,, who is biracial, applied to law school under the old system, she focused her essay on growing up in a family of "strong, independent and single" women and how that factored in her wanting to become a lawyer. Indeed, the "Dawson" in her name is a recent addition, as it was her great-grandmother's maiden name. "I had it added because I wanted both names on my law degree to be there to honour her and subsequent generations of women that raised me."
Holloman-Dawson says that the first year the school instituted the new process, 12 Black students (now going into their second year) used it. That compares with only two students in her year – Holloman-Dawson and David Isilebo, who also served as president of the BLSA and graduated this year. This year, in the incoming first-year class of 130, 14 Black students used the special process, plus a couple of other Black students admitted under the regular admissions protocol.
University of Calgary law professor Gideon Christian, who sits on the Black students' admissions committee, says, "the last two years have shown that this is an essential program for our law school, a vital initiative in addressing diversity."
He pointed to the significant increase in applications received from potential law students who are Black since the school implemented the program. The admissions process gives racialized students a chance to "describe their lived experience." And telling that story could be a critical part of getting accepted.
Christian notes, for example, that often, factors such as travel, or volunteer experiences, can help tip the scales in favour of a student accepting a student into a law program. However, racialized students may not be in a financial position to have had those experiences. Having an extra opportunity to discuss their own lives could make an impression and help them get accepted.
Christian also sits on one of the subcommittees of the admissions panel for Black students that offers feedback to students who did not get into the program, with some suggestions on what they could do more should they want to reapply. "It's critical that students get that feedback to not feel discouraged."
Holloman-Dawson says that while the work the BLSA and law school have taken to increase diversity is vital, she "hopes for the day when it is not needed, that this type of program becomes obsolete because we are meeting our targets for diversity."
She points out that a campaign to recruit Black undergraduate students to law school in the past two years shows more than enough candidates qualified to take the program. "They may just never have felt that law school, or the legal profession, was for them."
Having a focused effort to recruit Black undergrads to law school involves a lot of outreach, Holloman-Dawson says. That outreach was with the Canadian Association of Black Lawyers or student clubs such as the African Students Association and the Nigerian Students Association. "We need to create this connection to tap into the pool of potential law students," Holloman-Dawson says. "The larger the group of applicants from diverse backgrounds, the better chance to have more admitted."
She notes that the Grade Point Average (GPA) and LSAT scores for the incoming law students, which included the increased number of Black students, are the highest the U of C law school has seen in the last five years. "So, anyone who says that law schools would have to accept lower standards to admit racialized groups who have faced historical discrimination is dead wrong."
The financial burden can also be harder on students from marginalized communities, a problem that the university and the Black students' association hope to solve. There are now scholarships and bursaries worth $100,000 for students entering U of C law school, some designated explicitly for Black students, some for Indigenous students.
"We've been working hard on this," says Holloman-Dawson, adding that many scholarships include financial support and a mentorship and internship component. "These types of scholarships are really important, not only helping students get real-world experience, but earning money for their next year at law school."
Holloman-Dawson says she will "still keep my hands in the cookie jar" with her work for the Black students' association as part of the school's admissions committee and subcommittees. "But I know I've left the group in very capable hands," she adds. Law students Senait Yohannes and Hameedah Baruwa will take over as co-presidents of the BLSA, "and it's good to know that people want to take over the reins."