Black applicants to have more opportunity to tell their story, be reviewed by Black legal community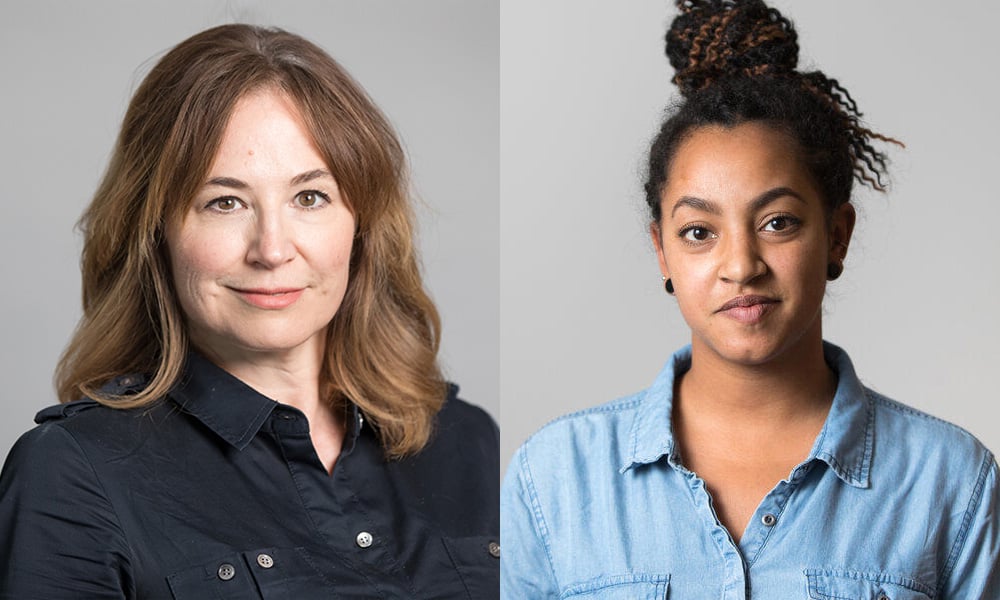 Working with a small group representing the Calgary Chapter of the Black Law Students Association, the Faculty of Law at the University of Calgary has launched a new admissions process for Black applicants.
"This is not just about getting more Black students into law school, and the underrepresentation of Black students in law school, though that is important," says Keshia Holloman, president of the Calgary chapter of the BLSA and a second-year student who is combining law school with the Masters in Public Policy program.
"This is also about the underrepresentation of Black lawyers, and Black judges, a situation which also leads to systemic racism issues such as the overrepresentation of Black people in the justice system."
Catherine Valestuk, Assistant Dean of Recruiting and Admissions at the law school, says the Black student admissions process will allow Black applicants to speak more about their experiences and the barriers they have overcome, with the hope that more Black students will apply to the law school, and that their applications will be seriously considered.
In the new process, Black applicants will be asked if they self-identify as Black. If an applicant answers yes, they will be invited to complete a personal essay which might include their connection to Black culture, and the impact of institutional, structured or personal racism on the applicant or their families.
Additionally, applicants who have self-identified as Black will have their applications reviewed by up to two members of a sub-committee, which includes members of the BLSA, Black law faculty members, and Black members of the wider legal community.
"The review process is intended to ensure that those with a similar lived experience to Black applicants are involved in admission decisions and help applicants feel welcome and supported," Valestuk says.
She says the new program also will give Black applicants who self-identify as Black more than one opportunity to explain their experiences. The U of C law school already has a section to discuss "special facts" related to diversity, including gender and sexuality, but the BSAP will allow them another space on the application to address the issues related to being Black.
Holloman says, for example, that someone like herself could use one section to discuss a desire to go to law school from the perspective of being a woman but could then use this new process to specifically talk about issues related to being Black. "There is more opportunity on the application to talk about both experiences," she says.
The new application process comes after a call to action presented earlier in the summer by the Calgary chapter of the BLSA. Valestuk acknowledges this "took a lot of emotional capital from the students to put together — so we knew it was a time to act quickly to demonstrate that we too felt this was important."
The type of action the group is looking for in making the law school more diverse include:
Providing support to ease their financial burdens, along with mentorship opportunities
Incorporating anti-racism and bias training, not just to law students, but to faculty members, and the legal community as a whole
Targeting mental health support services to Black law students or other visible minorities
Implementing a system where individuals can safely report instances of racism and discrimination, and create a policy that outlines concrete steps on how these reports will be adequately addressed
Facilitating diversity in the faculty by recognizing unconscious bias, encouraging more applicants from diverse backgrounds to apply, and by providing the tools needed to support them during the hiring process, and during their time working at the faculty
Holloman points out that Alberta has the third-largest Black population in all of Canada, yet the U of C law school currently only has six Black students spread out among all years. Valestuk says the total law school student population is about 400, with about 130 students entering each year, so "clearly there is a lot of work to do to increase diversity."
The Calgary BLSA says it is not looking for designated quotas for admission, but rather extending the "holistic" approach that the University of Calgary already takes, using similar principles that are already being applied to Indigenous law school applicants. LSAT and GPA admission requirements will remain the same.
Valestuk says the new process doesn't mean there is a lower bar for admitting Black students, and there is no quota system — "they are being looked at under the same admissions criteria." But what the new admissions process will give Black applicants "more space to be visible than other applicants."
Holloman says that often educational institutions talk about the lack of qualified candidates as being a factor in the lack of diversity. She says that this needs to be addressed by a strong recruitment program that reaches out to qualified students from minorities to let them understand the opportunity to go to law school is achievable.
Often the barrier to Black students "is not being able to be seen themselves as becoming a lawyer, even though they have the education and ability to do whatever they want." And speaking from her own experience, knowing that you might be the only Black student in the class "can be very isolating."
Valestuk says there is going to be a greater emphasis on actively recruiting Black candidates, rather than simply hoping that more will apply, even under the new admissions process. "A good chunk of our budget for recruiting this year is going to be looking at ways we can find people and reach out to them in ways we haven't done before."
The financial burden can also be harder on students from marginalized communities, something that needs to be addressed by the bursary and scholarship system, Holloman says. Aside from the standard bursaries and scholarships available, there is only one form of financial support promoted to Black students — the BBPA Scholarships — which involves competition at a national level rather than targeting incoming University of Calgary Law students.
A redistribution of scholarship funding to help diversity initiatives "would enable the creation of alternate scholarships that provide enough financial support to at the minimum get another Black law student through the door."
Aside from finances and the "lack of community" that comes from being one of a very few Black students in a program such as law, Holloman says more effort needs to be put into recruiting Black professors into the law faculty. She acknowledges that this is the type of change that can't be done immediately, but still needs to be addressed. There are currently only two Black professors at the U of C law school.
Valestuk says that while the recruitment of more Black faculty is outside the scope of her duties, there are plans through the establishment of a new equity, diversity and inclusion committee that is specific to the law school, to address such issues "and look beyond more than student recruitment."