Deal with Jindal Global University helps Indian students get a leg up on practicing internationally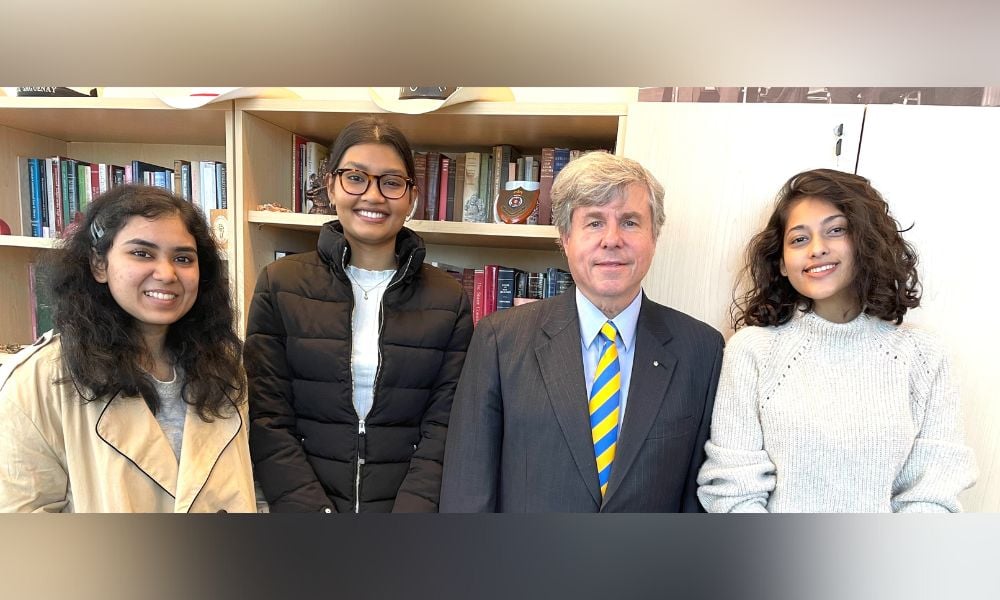 They haven't yet experienced the worst that the looming Calgary winter will throw at them, but University of Calgary law students Riddhi Chattopadhyay and Meghna Jain – newly arrived from India – say that, so far, the charms of the city and their new friends here will more than make up for the snow and the cold.
"We've had quite a lot of sunny days, but it gets a bit chilly a night and I hear the winters here can be cold," says Chattopadhyay. She's one of five students enrolled in the first India-Canada dual law degree program, with the U of C partnering with India's Jindal Global University. "But I've met some wonderful people and I'm really getting to know the city."
Her colleague Jain agrees. "It has been getting colder, but the welcome I have received here has been very warm."
Ian Holloway, the dean of the law faculty at the U of C, chuckles at the worry the Jindal students have expressed about winter in Alberta. "I was talking to one of the students last week, asking 'Hey, how is it going?' The answer was, 'People are very friendly but it's very cold.' And I was thinking to myself 'What are they going to think when it takes them an hour to get to class during a snowstorm when it usually takes 20 minutes.'"
Still, Holloway says that the new program at the U of C "is an amazing opportunity, for both the students from India and the law students here in Canada, to broaden their horizons." He adds: "It's going to help both groups have a broader perspective on the world. Canadians think of themselves as cosmopolitan because of its multi-cultural nature of things," but "sometimes there is a certain degree of parochialism that can exist."
For the university, the dual-degree program adds yet another layer to putting the university on a global scale, says Holloway. It already receives students from all over the world but having a program that offers a law degree that can be used in two countries, such as this one, "puts our law school on a path to increase our global presence."
The program at the University of Calgary is part of 10 memorandums of understanding that Jindal Global has recently signed with top universities in six countries. They include Italy, Peru, Taiwan, the United Kingdom and the United States. These partnerships are among the newest 40 collaborations Jindal Global entered during the COVID-19 pandemic. Since its founding in 2009, it has partnered with 250 law schools and universities worldwide.
Holloway says that the Jindal Global joint degree program at U of C dates to late 2019, just before COVID-19 cases increased exponentially worldwide. Holloway says the law school in Calgary already had a joint degree program in energy law with the University of Houston law school, and Jindal Global thought it would be a good candidate for starting a similar program for its students wanting to study in Canada.
While the interest in setting up a partnership was immediate, Holloway admits the program took much longer to implement than first envisioned, thanks to the pandemic. Negotiations had to be done over Zoom, and issues relating to visas were – and still are – problematic.
"We thought this program would have been launched in fall of 2020, but we're just glad we were finally able to get it going this school year." he says. Despite the challenges that led to the delay, "people here learned how to do business virtually during the pandemic and work on a set of skills to develop programs without being in the same room."
Right now, the program is in a pilot project mode, Holloway says, with the number of students enrolled future and its extension dependent on several factors – including continuing demand from students to enrol and the job outcome for students who have graduated.
Holloway says that if things go according to plan, the five students now enrolled (four already in Canada and the fifth arriving in January) will become "the best advertisers" of the program, especially if they get jobs as lawyers in Canada or back home in India.
He adds that the first group is the "perfect size, large enough to represent a cohort, but small enough to monitor closely."
Holloway notes that the Indian legal education system is somewhat unique in that the Bar Counsel of India, the body that regulates the profession, is "fairly protectionist." A 1961 law prohibits foreign lawyers and law firms from practising in the country.
In the 1990s, a few international law firms, including White & Case and Ashurst, were able to open "liaison offices" that were restricted to advising on transactional matters, but the Bombay High Court reversed that decision in 2009. In 2018, the Indian Supreme Court upheld the ban on foreign lawyers and law firms except for foreign lawyers advising on international legal matters on a short-term 'fly-in fly-out basis.
As a result, Holloway says, "the advantage of the joint program with Jindal Global is that the students will get both the Canadian JD and the Indian LLB," he says, with students getting credit for about one year when they come to the University of Calgary.
Both Chattopadhyay and Jain are keen to work for international law firms outside India and say the joint program will help them reach that goal more quickly.
Says Jain: "I really hope to become a lawyer involved in corporate law and I think the joint degree program will help me get there."
Chattopadhyay is also looking to become a lawyer working in the capital markets. She is especially interested in the oil and gas industry and hopes her relationship with Calgary becomes more permanent.
One of the bigger problems the students in the program faced was getting their visas to come to Canada. For many, it took months.
"These students had legitimate offers of admission and could demonstrate they could afford the tuition, but the processing of visas caused a fair bit of anxiety," Holloway says, with some not even getting their visa until shortly before classes started. "The stress was immense, from getting plane ticket to finding accommodation."
Chattopadhyay says she was quite worried about getting her visa in time. "I applied through the Express Entry System, but it took me about three and a half months to get my visa. I ended up getting my study permit three days before I flew to Calgary."
Along with the education the students in the joint degree program will get, Holloway says there will also be an emphasis on getting them "job ready" and helping them find summer jobs and articling positions. "We've been contacting firms to tell them about the program and the South Asian bar association here, getting the word out."
Ultimately, Holloway says, "it's up to the students to get the job, but since they don't have Canadian job experience yet, or Canadian school transcripts, we want to make sure managing partners at firms are aware of the program and the potential it provides."