The online tool offers a cybersecurity course, policies, privacy breach forms and a referral network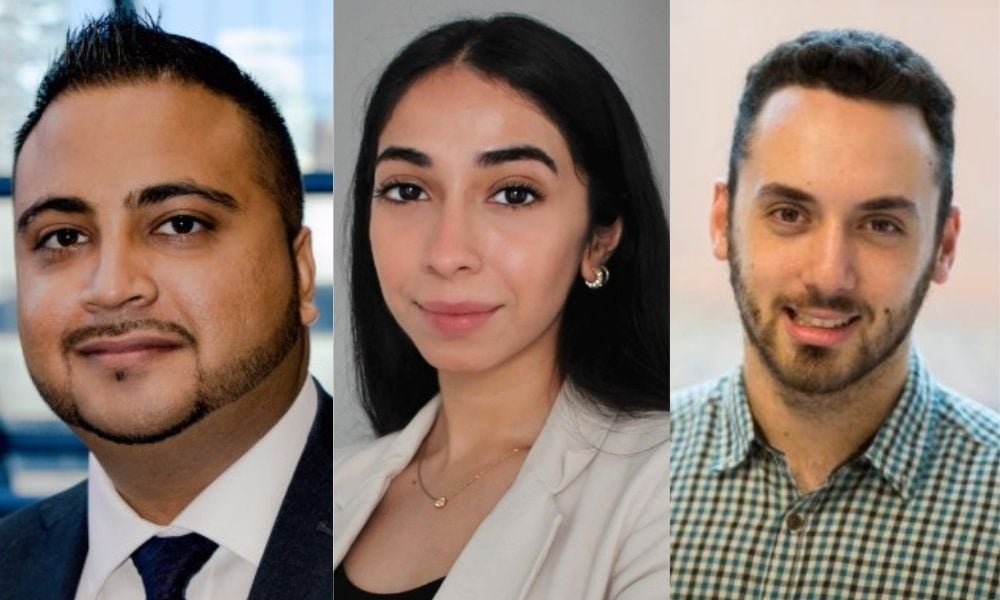 A trio of law students at the University of Ottawa have created jusTech, an online platform offering cyber security training and tools to evaluate and combat cyber breaches and promote access to justice for small businesses.
JusTech outputs mandatory privacy breach forms, including Personal Information Protection and Electronic Documents Act (PIPEDA) forms, client and internal information letters, and a guide on the next steps a small business should follow to safeguard its data.
The platform also provides "basic" cybersecurity policies and a training course for businesses to exercise due diligence and better protect themselves.
Ritesh Kotak, Ayushi Dave and Ryan Mosoff joined forces at the university's Legal Innovation Hackathon event in March to address an issue in Canadian law and created jusTech to alleviate the stress of small businesses as they grapple with the impacts of the pandemic and educate them on privacy.
Dave says, "It can cost up to $15,000 for a small business or law firm to do what our workflow does, and a failure to report can cost up to $100,000. And so we thought that was completely unfair, especially considering small businesses have been hit the most during COVID."
"We are moving into a new era of law where you can use technology to bolster your practice and also help people and keep costs low and so, we're trying to innovate in this field we're joining and share that experience with other lawyers and legal professionals to improve access to justice and keep costs low," Mosoff says.
JusTech's objective is to establish a "one stop shop" for privacy matters. In addition, Kotak says they are working on creating a referral network that connects individuals to lawyers, tech experts or cybersecurity professionals based on the situation.
Victims of ransomware or stolen data can connect with individuals who can help potentially recover data, remove the ransomware and a lawyer to look over documents that have been auto generated.
The platform does not collect individual data but is leveraging specific infographics on what type of breach has occurred, the number of people impacted, and recommendations to aggregate the data and make it available to the public.
"We're doing our best not to collect any information or as little information as possible from the people who use your tools so they can feel comfortable."
Kotak, Dave and Mosoff are also working on including a bonus content section to JusTech's cybersecurity course to provide expertise from leading experts in privacy law on how small businesses can incorporate privacy and the meaning of the latest legislation for small businesses.
"It's not just a static course, there's going to be continuous additions to it that we think would be extremely beneficial."
Mosoff says the Canadian economy is reactive when handling breaches, and JusTech is working to build a proactive approach to cyber security, so no Canadian business suffers from breaches.
Many people are afraid and embarrassed about reporting a breach because it is stigmatized. Mosoff says the referral system is a network of tools and resources to destigmatize reporting a cyber violation and build a community that protects everyone's safety.
"As we move forward, we're going to be adding blog posts and tweets about cybersecurity on social media to enhance people's understanding of this space. We want them to have knowledge and be equipped with the knowledge to move forward instead of having to pay high fees."
Dave says that although jusTech is created for small businesses, it offers knowledge to the general population and anyone interested in privacy law.
"Our process has inspired a group of potential entrepreneurs and innovators and some of them are lawyers that looked at this and got inspired to innovate and build something out accordingly."
Since its launch, jusTech has had a "ripple effect," with professors and students asking for help with automated tasks like refugee claims and fee waivers. Kotak says the platform was recognized by Harley Finkelstein, an Ottawa law graduate and Shopify president. "It's great to see alumni supporting us."
People recognize the lack of guidance in combating cyber breaches, and so having a tool like jusTech gives people more certainty on how to handle a potential breach, Dave says.