Jeffrey Lanctot and Tim Kennaley are the founders of Dockets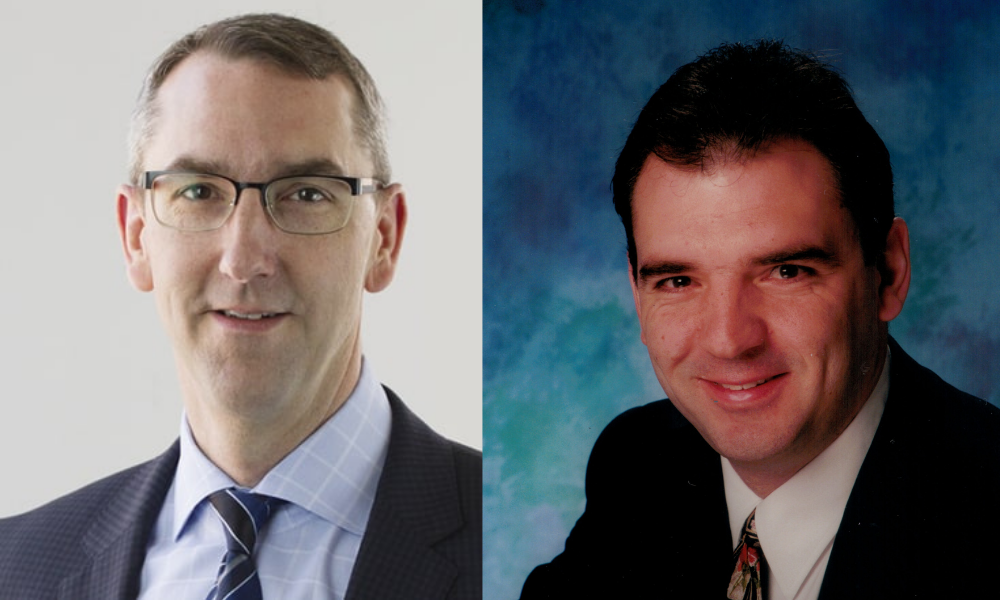 When the COVID pandemic hit, it immediately presented unprecedented challenges for Canada's court system. Jeffrey Lanctot and Tim Kennaley decided a rapid solution was needed, and with no time to build one from scratch, they stitched together existing and proven systems, like a puzzle.
In June 2020, Lanctot, a Peterborough, Ont. civil litigator, got a call from friend who worked in the courts. He explained to him the difficulties the paper-based system was having in adapting to COVID's new normal. The "basis for operations," the circulation of files between lawyers, court staff and judges was now untenable, Lanctot says.
"This friend of mine expressly asked me, he said: 'What are you going to do about it?' And he meant it."
After the conversation, Lanctot told his wife about the major undertaking with which he had been confronted. She recommended he go next door and speak with their neighbour, Tim.
Tim Kennaley is a systems design engineer and entrepreneur who has been designing software for 25 years.
"So I walked over to talk to Tim and I said, 'Here's what the problem is; the courts can't interact with the people who need to be before the court. The communication system has broken down. The courts are looking for a solution, and we need to help."
Kennaley has built software systems for many clients over the years, including Human Resources and Development Canada, Canadian Tire, Royal Bank of Canada, as well as various municipalities and airlines. He has approached working with these entities with a "simple parameter," he says. He tries to meet their requirements, without forcing technology on them.
"It is sort of a puzzle," says Kennaley. "You need to have the right pieces and fit them together in the right way to meet the needs of the problem. We also need the system to meet the needs of the courts and not a system that imposed a solution. We didn't want to be a round hole that a square peg has to be jammed into."
"I look at what their needs are and try and create systems that mould to what their needs are, so it doesn't disrupt their work environment,"
A disruption of the work environment was what the court system faced and what Kennaley and Lanctot then set out to correct.
Lanctot is also a deputy judge of the small claims court. Through that role he has developed an understanding of how the court system operated "from the other end," he says. He has witnessed the interplay between court staff and judges and has used this knowledge of their communication habits to inform his and Kennaley's system.
"It was a big project, but the best part of it was I had it almost all built, in pieces, in all the different systems I had," says Kennaley. "So the exercise, really, was to suss out from Jeff, because he's got a lot of knowledge as a lawyer, and as a judge… the workflow and the processes that the court systems have, and take my puzzle pieces and apply it to that problem."
Lanctot, Kennaley and their team created Dockets, an electronic case management system, for filing and tracking court documents, executing remote proceedings and delivering online court services. On Dec. 30, 2020, Dye & Durham became a partner after acquiring a majority stake in the company.
Once Lanctot, Kennaley and his team designed the initial structure, they began presenting their product to stakeholders and interest groups to get feedback. Among the requested added functions was a calendar system that would integrate with the Dockets' document-management, says Lanctot.
The calendar system is an example of a function for which Lanctot, Kennaley and their team took an existing system and adapted it to fit the court's needs. This one had been developed to schedule referees at hockey rinks.
"Instead of a rink with multiple pads, it's courthouses with multiple courtrooms," Kennaley says. "The judge is like the referee. And you can use the same sort of logic when you're scheduling referees as you do for scheduling judges and court staff."
"Neat little problem, but since it was already built for hockey rinks, we just adapted it."
Dockets accesses the user's entire calendar and if that user is appearing in court tomorrow, they will get an email reminder today, says Lanctot. That email will include access to all the court documents and the Zoom link the court has provided, he says.
The system's infrastructure can also adapt to courts throughout Canada, as well as tribunals and some foreign jurisdictions, says Kennaley. It is built with an "open architecture," so other technological products, such as the document-management and storage platform CaseLines, can be integrated into it, he says.
They are offering Dockets to provincial governments from all over Canada and are currently waiting to hear how their various procurement processes work so that they can demonstrate the system's value.
"Governments are struggling across Canada, because there are many issues that they're trying to deal with that rise from COVID," says Lanctot. "Our view is that the court system and the operation of the court system is one of the central things that ensure that people with disputes are able to resolve disputes without sort of turning to other ways to resolve them."
They are also working with colleges to integrate Dockets into courses, so that students studying to be paralegals or court reporters can understand the court process.
Jeffrey Lanctot is partner at LLF Lawyers, in Peterborough, Ont. He will be appearing at Canadian Lawyer Magazine's upcoming LegalTech Summit, taking place virtually on June 29.