Mercury says firm will stick to its knitting and keep its Calgary-based culture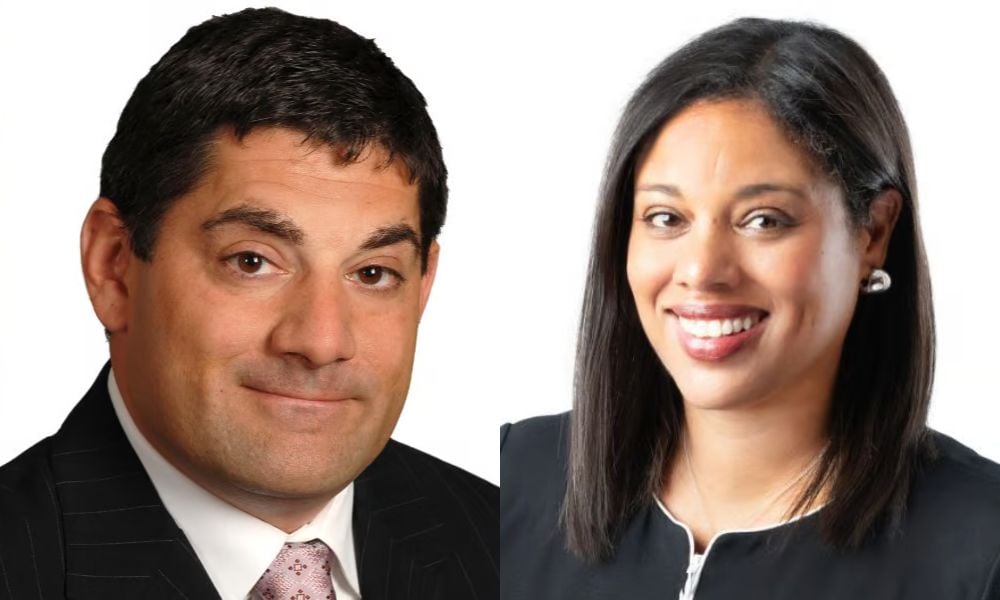 A change in leadership doesn't mean that Bennett Jones will be changing how it operates. It's the opposite, says John Mercury, the firm's incoming executive chair.
"When you've had a leader in place for so many years, naturally, everyone – clients, the firm – is looking for, 'what's the next signal?' and I think that sending the right strategic message, a message of inclusiveness and stability, will be really the key, and thanking our clients," he says. "My mission for the next year will be reaching out to key clients and clients of other partners… to thank them for their business and to be a listener."
Mercury will begin his new role on January 1, 2024, and he won't be the only person taking on new responsibilities. Dominique Hussey will also start a new career stage on that same date, becoming Bennett Jones' chief executive officer. Hussey and Mercury will be succeeding Hugh MacKinnon, who has been chair and CEO since 2005.
Splitting up the two most senior positions will allow Hussey and Mercury to continue their practices. Hussey focuses on IP litigation and patent dispute resolution, especially in the fields of pharma, biotech and energy and worked in New York before joining the firm in 2005.
Mercury also had a US-based career before coming to Bennett Jones in 2006. He worked as an investment banker in Merrill Lynch's M&A group and had a New York-based corporate and US tax law practice. Currently, he serves cross-border M&A and private equity clients.
He says being both chair and CEO is a "big, big burden on one person. This way, at least to some degree, we'll be able to keep going. I'm not ready yet to stop the transaction practice, and [Hussey] enjoys her day-to-day practice as well. We're hoping this model gives us a chance to do that."
Mercury was in New York when he spoke with Canadian Lawyer, enjoying the buzz of the city as it ramps up into the Christmas season. While he's there to meet with clients, he also takes advantage of the opportunities to engage with leaders at other law firms and learn from them. He does it wherever he goes, whether in major American cities or international business hubs like London.
"We learn from some of the top firms in the world about their thoughts and strategies. And they tend to be very generous in sharing their observations, good and bad. I think it's important that we have emissaries that come down [to the US] and learn about these things."
Mercury is insistent that the firm continues to build on the lessons it has learned, no matter how they are taught. He will focus on guiding more junior firm members – a lesson from the pandemic.
He says that giving young lawyers hands-on experience and the attention of more senior members of the firm is a vital part of growing their careers and developing the talent pool at Bennett Jones.
"Being in corporate or litigation and having that real, hands-on investment is the key. That is a very, very important part of the mentorship part of the business. I think there was a bit of a loss of that during COVID, and we are seeing a resurgence of people who are craving that type of inclusion and involvement. We will be putting an even higher level of expectation on our partners to [play] an even deeper role in developing our associates from a very early stage. And I think that will find a pretty receptive audience."
Mercury explains that part of what Bennett Jones does to foster the growth of younger members is to offer them leadership training long before they make partner. The intention is to expand that program with more financial education and business training.
"Supplementing people's skill sets with that type of investment, which they don't necessarily get in law school, is something that the leading firms are turning their eye to, and really understanding what that means and giving them licence to grow."
Mercury stressed that the firm is intent on listening to input from younger generations and living up to its diversity and inclusion principles.
However, he isn't just focused on new talent. He also intends to keep in mind the future of senior members of the firm. As with the younger members, he says getting input from partners and senior lawyers is essential, but it's also about more than that.
"We need to be zoned in on twin principles, which are clearly advancing the ball on our profitability – that's, frankly, just table stakes. I think our partners expect that from us. The marketplace is just as competitive as it has ever been… That's clearly a priority, as it should be, but doing so in a manner that preserves the best of your culture. That, to me, is clearly important. You do it in a way that brings out the best of your people."
Mercury's approach to building on the firm's profits isn't to go wider but to go deeper. He says he doesn't believe in being all things to all people and that his preferred model is finding the right people who can offer specific services strategically. Any effort Bennett Jones puts into growth will be done "in a, hopefully, very disciplined manner in a very competitive landscape," he says.
"I use the word 'discipline' deliberately because I think it's important for all firms to have their thesis and to really stick to their knitting. We've just seen too many stories where a lack of that discipline can [hurt]. I don't think you can afford that in this marketplace. That's what we're trying to do."
While Mercury talks of the need for being disciplined, strategic and careful, that's just one aspect of the business. The other side is the spirit in which the firm was founded, and that is a vital part of what makes Bennett Jones the firm it is, and it's an essential aspect Mercury doesn't want to lose. He says that being founded in Calgary and not Toronto gives the firm its identity.
"Last year, we celebrated our 100th anniversary, but we started representing risk-takers and entrepreneurs and pioneers. That impacts the nature of your service when you are spending decades and decades representing people who are on that side of the table. That's where we flourished. Obviously, we will have a diverse client base, but that entrepreneurial spirit is not something we want to lose and that we will actively try to maintain. That's something that unites our offices, our philosophy," he explains.
"We're not a firm that has been in Toronto for 150 years, representing all of the old Canadian chartered banks and insurance companies. That's not Bennett Jones, and I don't think that will become Bennett Jones, although we do play a meaningful role on Bay Street."