Interac's D&I program is intentional about its eight dimensions of diversity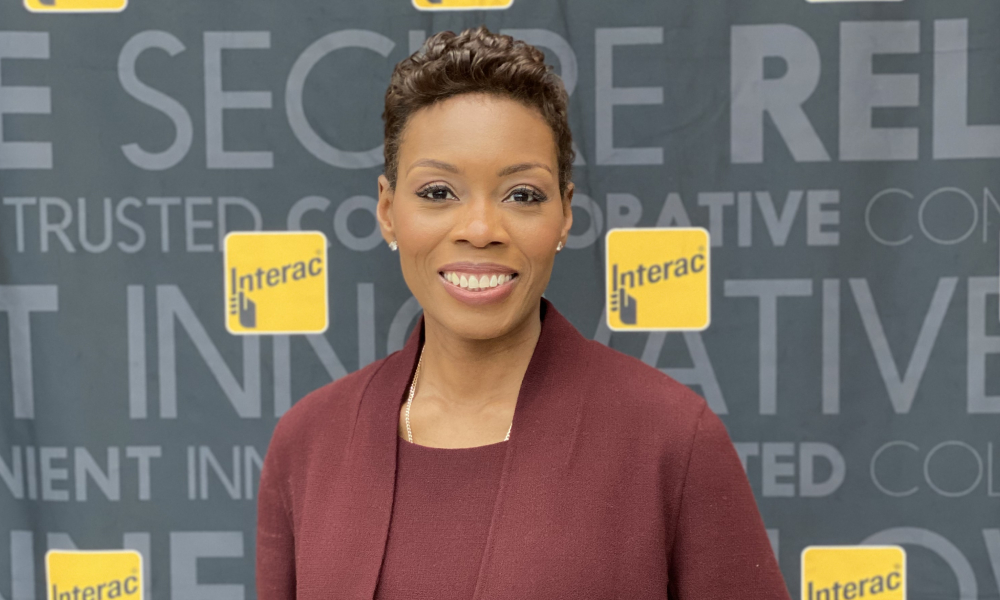 View the Interac Anatomy of a Diversity & Inclusion Program (IHL Copyright) document here.
As Kikelomo Lawal prepares to leave Interac Corp. after 12 years to run CIBC's legal department, she leaves behind a legacy – not just in terms of her legal success, but also with regard to her considerable efforts to improve diversity and inclusion at the financial services organization.
As chief legal officer, ombudsman and corporate secretary, Lawal's primary focus at Interac has always been the practice of law, but she has also made it her mission to spearhead a multilayered diversity and inclusion strategy. The two responsibilities can go hand in hand, in Lawal's opinion.
"Fortunately, I was able to do this alongside my day job because the organizational commitment was there, and because I had the most dedicated core team," she says. "Diversity and inclusion runs the risk of being something that enjoys momentary or temporary focus but if you put the effort in at the outset, it can actually generate some momentum of its own."
When Lawal was named executive sponsor for Interac's D&I program in April, 2019, she began by building a core team, drawing heavily on members of her own accountability, governance and oversight team. With the help of data-driven consultancy, Diversio, the team created a new survey to identify strengths and weaknesses in the organization from both diversity and inclusion perspectives, to help determine a vision for the program.
Two months later, a comprehensive program was announced during an Interac town hall, with an opening visual that featured the faces of all 400+ Interac employees coming together to form a mosaic of the company logo. The event and the vision were met with tremendous interest from all levels of the organization.
"What we did in those first two months was really to identify the dimensions of diversity that we're going to target and tailor the program to speak to the Interac population," says Lawal. That positioning led to the following statement of intention:
"We are united by our deep sense of pride in the Interac brand. Our aim is to translate that into a passion for our workplace: into creating an environment for diversity of thought and experience to thrive; where unique ideas, perspectives and voices are not only welcomed but encouraged; and where we are aligned in both strategy and culture."
The team created a program that recognizes eight dimensions of demographic and cognitive diversity:
Gender/gender identity
Race/ethnicity
Sexual orientation
Physical ability
Age/generation
Religion/spiritual belief
Thinking styles/personalities
Life experience
The roll-out of the D&I program featured eight types of initiatives designed to embrace diversity as a strength, and to promote fair treatment, equal access to opportunities and organizational flexibility:
Employee engagement
Practical training
Wellness and personal development
Professional leadership and development
Internal groups and events
Community partnerships
Tracking and reporting
Awareness and information exchange
The program has had full buy-in from the executive committee, and individual initiatives are staffed by teams of employee volunteers.
In its first ten months, the program gave rise to multiple initiatives including "No Meeting Mondays", a four-week Black History Month celebration, the designation of space for a quiet room, and a recruitment challenge in which more than 250 students and new graduates vied for a one-year internship with rotations through four business units.
"The diversity of the pool that we got was pretty fantastic and it came about completely organically, with candidates who spoke six languages and claimed regional and cultural heritage on four continents," Lawal says.
Interac also created an art installation that was a featured exhibit at a global summit last Fall. The 2,000+ attendees were able to collectively create a graphic representation of their identities.
Overall, the D&I program created tremendous benefits for the organization, including generating 500,000+ social media impressions, raising $95,000+ for local charities, and inspiring more than 15 external sponsorships and partnerships.
"I'm really proud of what we've been able to achieve," says Lawal. "We embedded all these elements to make sure that the program would speak to all employees, thereby making it sustainable."
In response to recent events, the team at Interac pivoted to place more emphasis on combatting anti-Black racism and prejudice. As Lawal puts it: "We called our intitiave the Equity and Empowerment Initiative and our mission was to drive positive change within and outside our walls through employee-based, public-facing and community-oriented actions." Today that effort is reflected in multiple workstreams that include company-wide open forums, a resource centre, targeted donations and partnerships with organizations focused on direct action, empowerment, growth and entrepreneurship, and a renewed effort to develop, and in some cases re-examine external relationships.
Although she is due to depart Interac for her new role in October, Lawal hopes the D&I program will continue to flourish as the building blocks are now in place, and commitments have been firmly established, both at an employee level and at a management level.
"The design of the program and its focus on eight dimensions of diversity was very intentional," says Lawal. "The goal is to ensure that everyone is both an owner and a beneficiary of the outcomes we hope to achieve, and I think that is how you get followership. That's how you get employee engagement. That's how you get executive buy-in."