Tsiofas draws on expertise in legal software development and operations management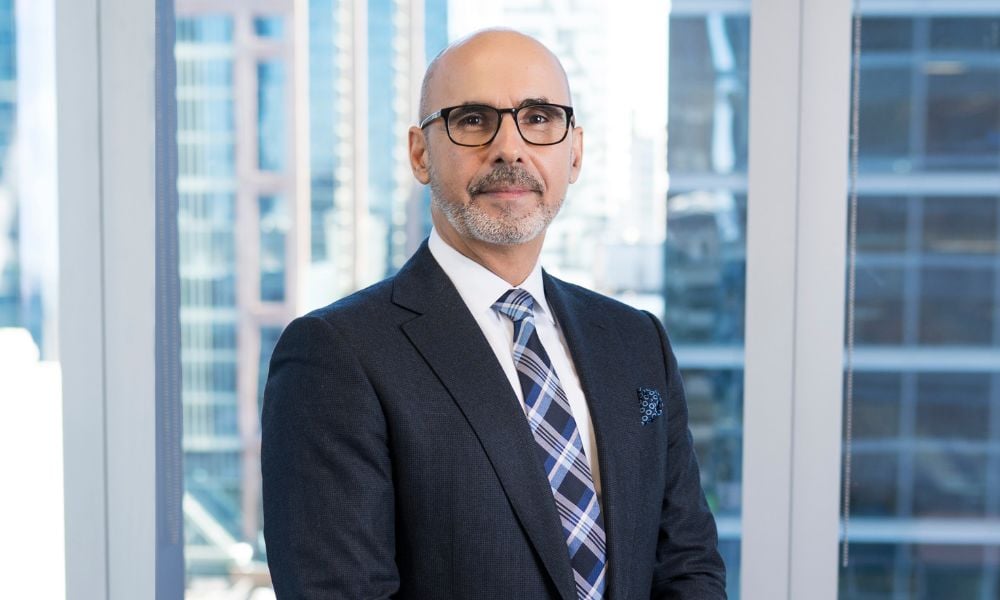 John Tsiofas may have risen through the ranks of law firms after "coming through the back door," but the new director of Canadian operations for US-based Cozen O'Connor says working with lawyers to oversee their administrative and support operations has been a perfect fit.
"Since I was introduced to the legal industry, I haven't really looked back," says Tsiofas, who studied computer science at the University of Toronto and became involved with law firms after developing software used in the legal industry. That gave him a grounding in how law firms operate, leading to a career that sees him work closely with management to make them more effective and efficient.
And it's that skill set that made him a recruitment target for Cozen O'Connor, a Philadelphia-headquartered law firm that is in the midst of major expansion into Canada.
It first opened an office in Toronto in May 2005, followed by offices in Montreal and Vancouver in 2019, but these focused on the relatively narrow field of subrogation.
Last March, the firm expanded in Vancouver, following additions in June 2021 to its Toronto office. The aim this time is to build a full-service corporate law firm in Canada. A key part of that expansion plan is finding the right person to manage operations here.
"John's experience in legal operations is unmatched in the Canadian market and, as such, he'll play a key role in our ongoing Canadian expansion," says Michael J. Heller, Cozen O'Connor's Executive Chairman and Chief Executive Officer. He notes Tsiofas operations executive experience at two major Canadian law firms and 20 years of law firm management experience.
Joining Cozen O'Conner also means Tsiofas has reunited with lawyers he worked with at Cassels Brock & Blackwell LLP, including Shane Hardy, co-managing partner of the Toronto office, and Brigeeta Richdale, managing partner at the firm's Vancouver office.
"Having spent part of my career working alongside John, I'm looking forward to working with him again," said Hardy, who also chairs the firm's Canadian Intellectual Property Practice Group. "We're in a serious growth mode when it comes to Canada and John's addition is yet another reflection of that."
In his new position, Tsiofas will oversee the administrative and support operations of Cozen O'Connor's Canadian offices in Toronto and Vancouver. His primary responsibilities will include developing policies and operating procedures, implementing programs that improve operational efficiencies, monitoring and analyzing existing and proposed business operations, and monitoring key performance indicator results.
Established in 1970, Cozen O'Connor is a full-service corporate law firm that has more than 825 lawyers in practice areas that include litigation, corporate, and regulatory law. It has 30 offices across two continents.
Tsiofas says that he learned how law firms operate after founding a small software development business with two friends from university. It happened that one of the firm's clients was a small law firm, which led to writing software products to automate some aspects of legal practice.
"I was the one who would meet with firms and lawyers to understand what they do, what information they use, and figure out ways that automation can help make their lives easier," Tsiofas says. "And so there just came a point where I realized that I understood not only what law firms do, but the difference between a lawyer who practices in Area A versus area B."
"Over the course of time, I've really had an education in the management approaches and financial metrics that are drivers for successful law firms," he says. That's important, he adds, because "law firms are very challenging environments, as the firm's lawyers and clients rightfully have very high standards."
For example, a law firm may have many different practice areas, which are all "unique businesses unto themselves that can often work in silos," he says. So, connecting them to better leverage business is something that "rarely happens by accident," and it requires real effort to have them working together to grow the business.
As well, because legal services are such a "people business," just because a client uses a firm for a particular service doesn't necessarily mean they'll hire your services for another practice area. "It's not the same as if you're selling widgets – it is based on relationships and track record."
Understanding these differences and developing the skills to make a law firm successful is what led to Tsiofas becoming the Director of Information Systems at Davies and, later, the chief operating officer there before the firm merged with Phillips and Vineberg. Tsiofas saw those firms through the merger transition, then worked in the consulting business at Kraft Kennedy in New York. He landed back in Canada at Cassels Brock & Blackwell LLP as its chief operating officer.
The time in the US gave Tsiofas the opportunity to look at how top American law firms and international law firms manage their operations and the technology they use. "It's been a very fortunate set of circumstances and opportunities that have allowed me to do this kind of work in the industry but from a variety of different positions."
Tsiofas also notes that coming from a technology background, rather than finance, is somewhat of an anomaly for an operations manager at a law firm. In some ways, he notes, it is an indication of the growing importance of the use of technology in the legal world and the impact that technology can have on operations.
"Historically, there has been a comfort level with an operations manager that understands finances," he says. "But over time, if you successfully understand and properly apply technology in the environment, it can benefit the way a firm operates.
Law firms are also realizing that a good leader doesn't have to come from a specific background. "It's finding the right person who understands the business, understands the landscape, and can execute on strategy and work in a way that makes it successful. It's really about the person and the skills they bring to the table."
Tsiofas says that Cozen O'Connor operates in a "very appealing" way to him. Not only is it "nimble and flexible," he says, but the way it finances and manages itself is unique. At most law firms, money that is leftover after expenses are paid is distributed to the firm's partners, but Cozen O'Connor retains a significant amount of earnings to invest in long-term growth.
This practice "avoids a lot of the volatility that can come from market cycles, so it can manage the firm more like a corporation and avoid cancelled projects and layoffs in slow times," Tsiofas says.
He adds that Cozen O'Connor makes no secret of its operating style. "Its pitch to lawyers is that if you're looking to squeeze every last nickel of revenue out of your practice, Cozen O'Connor is not the firm for you. But if you're looking to build a long-term successful practice that plans for the future, it is. So, bringing that model to Canada is quite an exciting opportunity for me."
Tsiofas adds that Cozen O'Connor is also unique in that its current expansion in Canada differs from what other US or international firms have done.
They've either come and set up a small representative office in Canada – something that Cozen O'Connor had in Canada for a number of years - "or they merged with a Canadian firm to establish a presence," he says.
"But to come in and to organically grow a full-service business and do it by hand picking people who we think are going to be the right folks to build our new firm, that's a very interesting path."