Union of two firms set for Feb. 1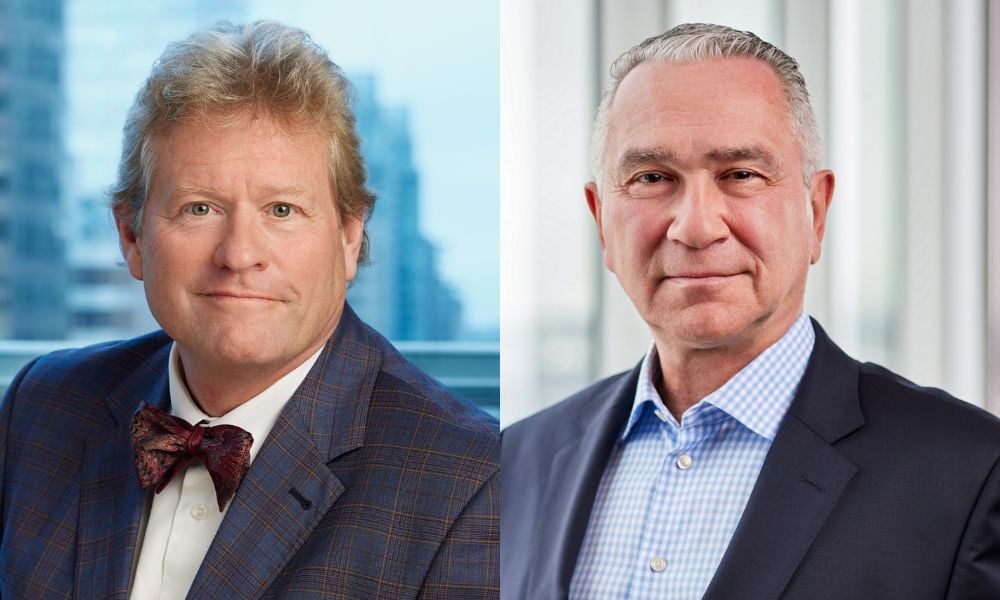 Tapping further into the growth of Kelowna – especially its emerging technology sector – is just one of many reasons Vancouver-based Lawson Lundell LLP decided to join forces with local firm Petraroia Langford LLP, says managing partner Clifford Proudfoot.
"The lawyers and staff from Petraroia Langford are a fantastic addition to Lawson Lundell, and we are delighted that we are combining our strengths and offerings," Proudfoot says. "Clients will significantly benefit . . . as we continue to focus on improving our core capabilities and services in Western Canada and the North."
The two firms recently announced the merger of Petraroia Langford, with 12 lawyers, with Lawson Lundell, effective Feb. 1. The Vancouver firm, with nearly 200 lawyers at offices that include Calgary, Vancouver and Yellowknife, already has a presence in Kelowna. It opened an office there in 2017.
But Proudfoot says that when the opportunity to add on Petraroia Langford's practice came up, he immediately jumped at it.
"It was a relatively quick decision to make on our part," Proudfoot says. He adds that one of the partners at his firm had bumped into Petraroia Langford's managing partner Dominic Petraroia last spring and learned the Kelowna firm was moving away from its relationship with Farris LLP.
"I heard that, and I went to our executive committee saying 'Geez, we should be interested in having them as part of our offerings in the Okanagan given that we think the Okanagan is booming.'"
Proudfoot notes that Kelowna is one of the fastest-growing municipalities in Canada, and "we want to be part of that.," especially as the business community there has taken off.
Petraroia Langford was looking to reinvent itself
For Petraroia's part, he received a call from Proudfoot, who said "point blank 'We'd like you to join us and we'd like to discuss that.'" The Kelowna firm was already "well down the road" to reconstituting itself apart from Farris, so the two firms decided to have a meet and greet.
Petraroia says that being tied to Farris since 2008 was a "great time for us – the partners were fabulous, and they have great people." But over the last couple of years, the focus of the two firms diverged, and "we needed greater focus up here in order to thrive and do what we want to do in the Okanagan."
He says that was the beginning of the decision to reimagine the firm. "So one thing led to another with Lawson Lundell, and we put a business plan together on the terms of merging."
The one "big" question he had at that meeting with Lawson Lundell, Petraroia says, is, "What did Lawson Lundell do during COVID?" The answer would help him decide if there was a good "culture fit" between the firms.
Fortunately, Petraroia says, Lawson Lundell answered in a way that gave him confidence that joining forces could work. While the Vancouver firm was as "scared as any other business" when the pandemic hit full force in 2020, management decided that any blowback would not be borne by the staff, associates, or students but by the partners if necessary. There were no layoffs or pay cuts, and the firm managed to weather the storm. "To me, that shows a commitment to people that was fundamental for us," Petraroia says.
Petraroia Langford started serving the Okanagan in 1995, and Petraroia has been practising in Kelowna since 1991. The firm is known as a leading full-service law firm in the Okanagan Valley, especially for its reputation and experience in many areas of law. These include corporate and commercial law, litigation, corporate finance, labour and employment, real estate, wealth management, and estate planning.
Working with clients involved with agribusiness – whether orchards or vineyards - is another area of his firm's expertise, Petraroia says. "People are coming from all over the place and putting in hundreds of millions of dollars into wineries, so there's an incredible amount of wealth coming into the Okanagan through the agricultural sector."
Lawson Lundell doubles down on Okanagan's grown potential
Proudfoot says that Lawson Lundell's practice in Kelowna primarily focuses on the Okanagan's emerging technology and innovation sector. Adding Petraroia Langford's lawyers and staff will help expand the firm's presence and services locally in Canada, one of the highest-growing regions.
Petraroia Langford acts for several companies and wealthy individuals in Kelowna and major business centres, Proudfoot says, and "there is a pretty nice synergy" between the two firms. "They do things in the tech sector, but they work outside that practice area too," he says. "We're focused very much on tech in the Kelowna office now, but there's a good opportunity to add on services for clients."
Proudfoot adds that with its regional office structure and various practice areas, "the beauty of this merger is that we can provide the expertise ourselves. For instance, the right lawyer for a Kelowna client's tax issues might be in Calgary, and maybe there are lawyers in Vancouver who can provide other services. You don't necessarily have to have that expertise in Kelowna."
Petraroia says that Lawson Lundell's experience setting up offices outside Vancouver is a significant advantage. "It has developed a culture of working across offices on any matter and putting the right lawyer on the right file," he says. "That's going to be a huge benefit to us because we'll be able to offer the expertise, whether it's from Kelowna or somewhere else."
Regarding integrating the two firms, Proudfoot says that the Kelowna offices of both firms are "too small for one to absorb the other." There also is time left on both leases.
"So I think in the short term, we'll probably have some people go back and forth a bit and start to do some mixing while we carefully review where we should go and what is our next step.