Eighteen law firms made new announcements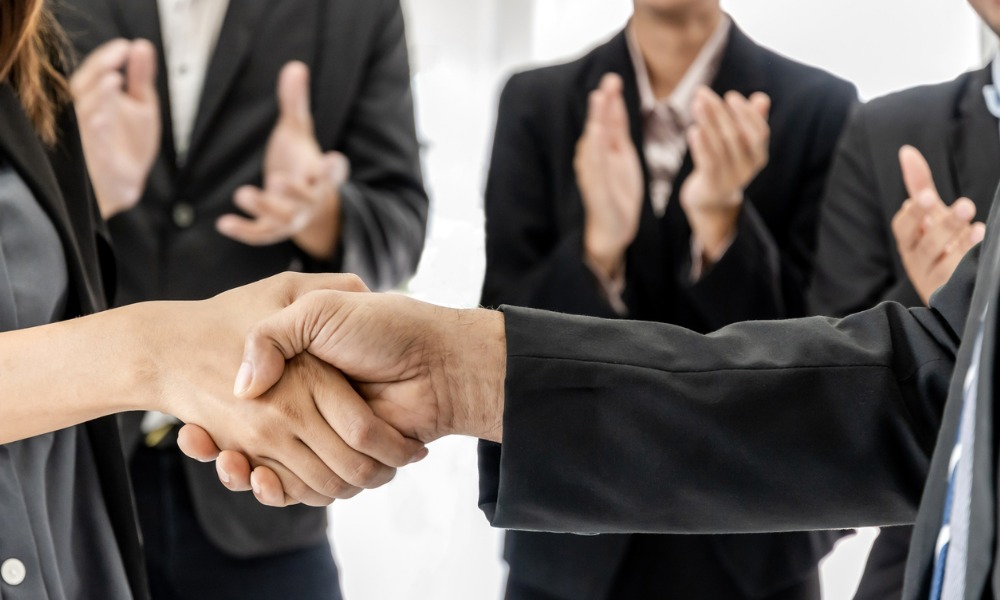 Welcome to this week's roundup of movements among major law firms, in which we sum up significant hires, promotions, departures, and other announcements.
Blaney McMurtry LLP
Shawn Wolfson was named the new managing partner of the firm.
Wolfson is a commercial real estate lawyer who has acted for local, national and international developers, investors, lenders, retailers, lessors, and lessees in leading Ontario real estate projects. He also has experience drafting and negotiating complex purchase agreements, development-related agreements and easements, loan contracts, and commercial leases.
"I look forward to Shawn's leadership. In addition to being an accomplished practitioner, he has been a valuable contributor to our firm management team throughout his career," former managing partner Maria Scarfo said. "His unique blend of intellect, wit, and creativity will enable us to continue to flourish and enhance our wonderful workplace."
Cassels Brock & Blackwell LLP
The firm welcomed Vicki Tickle as a partner in the Vancouver office's financial services group.
Tickle is a seasoned lawyer with international experience that spans Australia, England, and Canada. She has decades of experience in regional, national and cross-border mandates.
In her new role, she will assist clients with all aspects of restructuring and insolvency matters, including identifying solutions for viable businesses in financial difficulty, planning and implementing formal and informal restructurings, and advising on arrangements, receiverships, liquidations, and bankruptcies.
Meanwhile, Tamara Prince joined the International Association of Defense Counsel. Founded in 1920, the IADC is a preeminent invitation-only global legal organization for attorneys who represent corporate and insurance interests.
Prince currently serves as the firm's general counsel and chief EDI officer. Also a partner in the litigation group, she focuses her practice on complex corporate and commercial matters, including those involving energy and environmental law, construction, commercial leasing, class action defence, competition, pensions, tax, securities, employment defence, and franchise disputes.
Cozen O'Connor
Kevin Zimka joined the firm as a shareholder in the Vancouver office.
Zimka is a corporate tax attorney specializing in domestic and international corporate tax matters, including M&A, corporate reorganizations, and equity and debt financings. He also deals with income tax issues involving partnerships, trusts, and other investment vehicles.
Moreover, he has handled various mining industry tax matters, particularly flow-through shares, and has a strong background in inbound and outbound transaction structuring.
"Corporate M&A across industries is very active this year, both globally and here in Canada, and that includes the mining industry," said Rory Godinho, the firm's Canadian capital markets & securities practice chair. "Tax issues are obviously a critical part of any M&A deal and adding an experienced tax practitioner like Kevin clearly benefits our Canadian and American clients. I'm very pleased and excited to welcome him to the firm."
Dentons Canada
The firm welcomed 13 legal practitioners in the national banking and finance group:
Geoffrey Marinangeli (Toronto) – partner
Ryan Therrien (Toronto) – partner
Joel Allen (Toronto) – associate
Hala Abdul Ghani (Toronto) – associate
Nour Chehab Eddine (Toronto) – associate
Maree Bullivant (Toronto) – associate
Lucas Colantoni (Ottawa) – associate
Raman Khera (Vancouver) – associate
Sabrina Kholam (Montreal) – associate
Eve Tal (Montreal) – associate
Yulia Kishchik (Calgary) – associate
Samantha Morden (Calgary) – associate
Lisa Gidari (Toronto) − senior law clerk
"Our growing team of exceptional talent, with access to an unparalleled global network, enables us to deliver sophisticated legal and business advice to clients for all their banking and finance needs – including both domestic and cross-border financings," CEO Tim Haney said.
Dickinson Wright LLP
James Stranges joined the firm as a partner in the Toronto office.
Stranges has extensive expertise in corporate and commercial law matters, such as M&A, public offerings, private placements, venture capital, corporate reorganizations, corporate governance, and commercial agreements. He also provides ongoing corporate and securities law advice to numerous clients.
Fogler Rubinoff LLP
Natalia Sidlar and Ashley Naipaul are now associates in the firm's Toronto office.
Sidlar joined the firm's commercial litigation practice group. Before her private practice, she was a Crown counsel in the Ministry of the Attorney General, Crown Law Office – Civil advisory services group. In this role, she advised various ministries on several issues, including Crown liability, statutory interpretation, administrative and public law, and general civil litigation.
Naipaul joined the firm's wills and estates practice group. She specializes in estate planning and administration, trust administration, and incapacity planning. She previously practised at a boutique estate litigation firm and served as Crown counsel for the Office of the Public Guardian and Trustee.
Gowling WLG
The firm welcomed Antoine Guilmain as associate counsel and co-leader of the Montreal office's cyber security and data protection group.
Guilmain joined the firm from Meta (formerly Facebook), where he held various positions in different countries, including associate general counsel and head of privacy legal for Canada. He advises on data-related matters, such as protecting personal information, privacy by design and new product development, cyber security, anti-spam legislation, consumer protection, freedom of information legislation, and risk management and compliance.
"We welcome Antoine at a pivotal moment in the evolution of Canada's privacy landscape," said Wendy Wagner, the firm's cyber security and data protection group co-leader. "With new legislation and regulations drastically reshaping the playing field, our clients are counting on us more than ever to help them carefully navigate the emerging risks, opportunities and obligations before them. Antoine will be a significant addition to our team and resource for our clients in this regard."
Lavery de Billy LLP
David Tournier and Benoit Yelle joined the partnership in the firm's Montreal office.
Tournier joined the firm's business law group. He has broad expertise in bank financing, project financing, insolvency, and private equity. He has represented start-up companies, multinationals, and investors involved in engineering, green industrial projects and information technology.
Yelle joined the firm's intellectual property group. He is a registered Canadian and US patent agent whose technical expertise ranges from mechanical inventions to quantum technologies, hand tools, medical devices, network protocols, telecommunications, software, and mobile applications.
Lenczner Slaght LLP
The firm welcomed seven new associates:
Amber Blair
Barbara Brown
Sam Hargreaves
Allison Jandura
Keely Kinley
Jonathan Mertz
Bhreagh Ross
"I am excited to introduce seven new colleagues who join us in the pursuit of excellence in the courtroom," managing partner Tom Curry said. "Each of them brings a strong academic record, an incredible passion for advocacy and the ability to work as a team to achieve our clients' objectives."
McKenzie Lake Lawyers LLP
The firm welcomed two lawyers in the London office:
Jon Barnett – partner
Ashley Podolinsky – associate
Barnett practices business and real estate law, focusing on agri-business, acquisitions and sales of private companies, corporate reorganizations, other transactional work in the corporate sector, and commercial and residential land development. He regularly drafts and negotiates purchase and sale contracts, subdivision and site-plan agreements, and loan and security documents for buyers, sellers, lenders, and borrowers.
Podolinsky joined the firm's business and real estate groups. Her practice focuses on corporate reorganizations, buying and selling businesses, and real estate matters.
MLT Aikins LLP
The firm welcomed Hamza Tariq and Nolan Hand as associate lawyers.
Tariq joined the firm's Calgary office. He specializes in commercial and residential real estate, M&A, wills and estates, financing, and other corporate matters.
Hand joined the firm's Regina office. He deals with corporate and commercial transactions, including large and small share and asset purchases, takeovers, reorganizations, incorporation, formation of partnerships and joint ventures, and various forms of real estate work.
Osler Hoskin & Harcourt LLP
Sivan Fox will rejoin the firm as general counsel. She will succeed Terry Burgoyne, retiring at the end of 2022.
Fox has more than 25 years of experience as a corporate lawyer. She previously held public company general counsel and corporate secretary roles in the financial services, investment management, resources, and banking sectors. In those roles, she managed and oversaw all aspects of the legal function and matters related to corporate governance and regulatory and reputational risks.
"Sivan has a demonstrated understanding of the needs of our clients," national managing partner Doug Bryce said. "She also has a solid reputation for being results-oriented and for being a trusted advisor to her business partners. I look forward to the important role Sivan will have here at Osler."
The firm also welcomed 32 first-year associates in the Toronto office:
Philip Abraham − corporate
Arsalan Ahmed − technology
Anxhela Adhamidhis − banking
Jessie Armour − corporate
Irmak Aydemir − employment and labour
Madeleine Blouin − banking
Jordon Bond − franchise and distribution
Clemence Chu − tax
Hannah Davis − litigation
Emilie Dillon − litigation
Shira Dveris − corporate
Sylvia Evans − employment and labour
Ben Fickling − corporate
Darren Gill − emerging and high-growth companies
Madeleine Gottesman − privacy
Lauren Hebert − health
Susan Kimani − litigation
Andrea Korajlija − litigation
Simone Livshits − litigation
Sydney McKibbon − corporate
Sam Muise − construction
Viktor Nikolov − litigation
Josh Pedersen − corporate
Bridget (Claire) Phillips − construction
Nik Popovski − emerging and high-growth companies
Bryan Salazar Roldan − emerging and high-growth companies
Dakota Secours − real estate
Tiffany Sun − insolvency and restructuring
Sean Timlick − tax
Handi Xu − emerging and high-growth companies
Aliza Zigler − corporate
Sam Zucker − emerging and high-growth companies
Singleton Urquhart Reynolds Vogel LLP
The firm welcomed Audrey Warner as a counsel in the Toronto office's construction and infrastructure practice group.
Warner deals with various types of claims, such as construction lien claims, negligence claims, delay claims, and general contract review and claims. Her practice also includes reviewing construction contract documents, advising clients on contract administration, and negotiating and drafting requests for tenders and proposals.
She appeared before all levels of Ontario courts and represented many clients, including owners, developers, contractors, subcontractors, architects, and engineers.
Smart & Biggar
The firm added four new associates to its IP litigation practice:
Irshaad Hashim
Ryan Wong
Lambert Beaulac
Nicholas Di Piano
Hashim and Wong joined the Ottawa and Toronto offices, respectively. Beaulac and Di Piano were assigned to the Montreal office. They rejoined the firm following their terms as articling students. As associates, they will work alongside leading IP lawyers to assist clients in protecting their innovations and solving their most pressing IP issues.
Stikeman Elliott LLP
Patrick Girard was inducted as a fellow of the American College of Trial Lawyers. Founded in 1950, the ACTL is an honorary professional association composed of experienced trial lawyers across the US and Canada.
Girard is a partner in the firm's litigation and dispute resolution group. He practises civil litigation, focusing on private international law and international arbitration. Moreover, he specializes in all areas of public litigation, such as administrative and constitutional law.
He is frequently consulted on regulatory and commercial energy matters and has given legal opinions on agreements involving the trading or generation of gas, hydroelectricity, and wind turbines.
Thornton Grout Finnigan LLP
D.J. Miller was elected to the International Insolvency Institute's board of directors. III is a non-profit, limited membership organization of leading insolvency practitioners, academics, judges, and financial industry professionals worldwide.
Miller has been a partner in the firm for over 20 years. She has a leading restructuring practice in national, cross-border, and multi-jurisdictional matters. Her clients include lenders, companies requiring restructuring or their various stakeholders, landlords, court-appointed monitors and receivers, and counsel from other jurisdictions.
Torkin Manes LLP
Lisa Lifshitz was appointed content officer and content board chair of the American Bar Association's business law section for a three-year term.
In her new role, Lifshitz will oversee the development and distribution of substantive intellectual work-product, including articles, papers, model agreements, checklists, presentations, books, CLE webinars, podcasts, and other educational programs and accompanying materials for over 32,000 section members.
She is a partner in the firm's business law group and leads the technology, privacy and data management group. Her practice involves preparing and negotiating various technology agreements and providing guidance on the Internet of Things, artificial intelligence and smart contracts, blockchain, and open source legal matters.
WeirFoulds LLP
Four new associates joined the firm:
Cassidy Kunicyn – leasing practice group
Baldon Mitchell – private equity practice group
Alfred Pepushaj – commercial litigation practice group
Kristen Robertson – technology and intellectual property and privacy and access to information groups
Submit all your law firm news, including appointments, moves and other professional news, to our legal publications by filling out this form.
You may also send information here.