Perreault is a judge at this year's Lexpert Rising Stars Awards, honouring lawyers under 40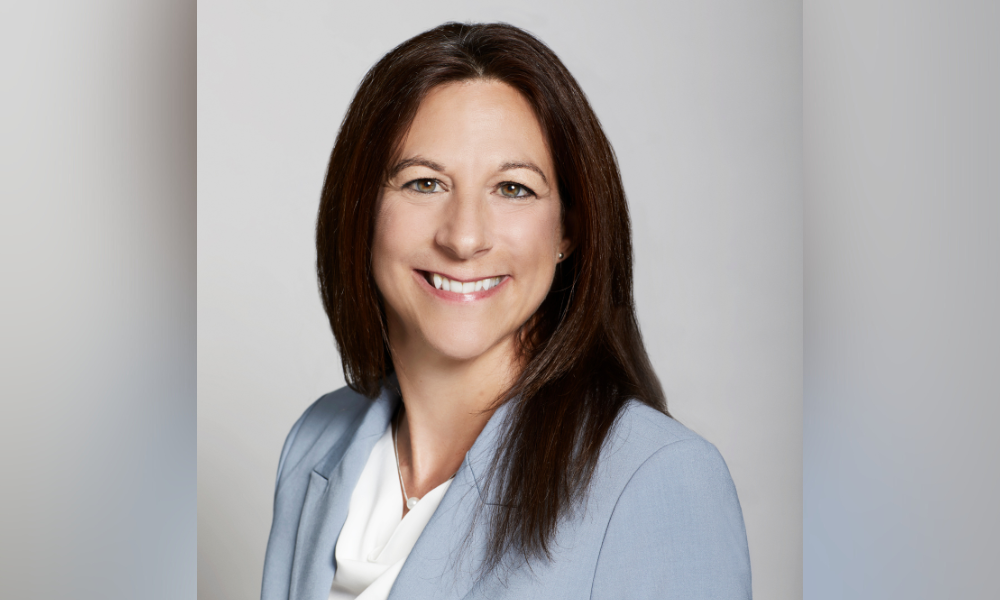 Canadian Lawyer recently spoke to Sophie Perreault, partner and chair of the board of directors at Langlois Lawyers, about development at her firm and her advice to young lawyers.
Perreault is a judge at this year's Lexpert Rising Stars Awards, which honour leading lawyers under 40 from law firms, in-house departments, and other practices. Nominations are open now and close on July 8.
What were the most noteworthy current developments at Langlois?
The most significant development in the last year was the growth of our transactional team when we merged with Séguin Racine Attorneys in September 2021. The integration is going well. We now have a solid business law group with around 40 professionals. We have a strong presence in the market, locally, nationally, and internationally.
We also have substantial litigation, insurance, labour and employment, and construction teams. Infrastructure has seen enormous growth at our firm in the past few months.
We're continuing our growth path, although maybe not at the same rate as in the past seven years when we doubled the number of people at our firm. Now, we are growing by targeting the talent we need in our next growth phase.
The Séguin Racine Attorneys merger increased the size of your corporate group overnight. Tell me about the growth in your other practice areas
We have one of the most prominent litigation practice groups in the province. We do everything from class actions, constitutional challenges, corporate commercial, environmental, and regulatory litigation. Our insurance and corporate commercial litigation groups are substantial.
We also have a strong labour law practice. The head of that team, Marie-Hélène Jetté, has been recognized as a leading labour and employment litigator.
Our construction and infrastructure team is growing, and there are many market opportunities in Quebec and elsewhere in this area.
What about areas of challenge – litigation was disrupted by the pandemic?
Litigation is extremely busy – the period where things were on hold was very short. There's less wasted time, and we are much more efficient. There have been many efficiencies caused by the pandemic and virtual proceedings, to the benefit of clients.
Employment law has been extremely busy because of the many questions that have come up for businesses throughout the pandemic.
Bankruptcy and insolvency have not had the uptick many firms expected
That is correct. We have seen less work in this area. This lack of activity is likely because of government aid programs, which were good for businesses.
What do you anticipate economically in the next 12 months?
I would say in the next 12 months, I don't anticipate significant changes. We're extremely busy. We see that with our clients. The economy is strong, and our clients have many projects of which we are a part.
But there is uncertainty in the world right now. So, we are realistic about the future in that respect.
How have you approached the return to the office?
We've always been flexible, even before the pandemic. We are a firm that has solid ties among its people. So, we want people to be back to the office, and people are coming back. There is no strict rule, though. But people are coming back to the office and enjoying each other's company.
In some of our offices, such as Quebec City, people are there most of the time. People are increasingly coming into the office in Montreal as well.
Are there any plans for mergers or growth?
We are looking for talent. And we're incredibly grateful to have superb young lawyers from law schools and our lateral hires contributing to our growth.
The recruitment environment is competitive. How do you articulate the value of your firm?
Many elements in our firm, our vision and our values make Langlois an excellent place to pursue a career.
I am grateful to be the president of our board. Our board has members with rich experiences and long-term vision. However, we also have younger partners with solid ideas, enthusiasm, commitment, and contagious energy.
At Langlois, women represent 70 percent of our employees, 57 percent of our professionals and 41 percent of our partners.
Last February, I was in San Diego at the American College of Trial Lawyer conference. I was speaking to a female partner of a New York City law firm. She could not believe those numbers.
Our makeup has an impact on who we are. We are a very human firm. And to me, being human is about trusting and caring about your people. When you trust them and care about them, you work better together and produce better work for clients.
A strong female presence at the partnership level and in leadership roles is not a new thing at our firm. It's in our blood. It's been like that for a long time.
We are servicing the most significant clients with the highest level of professionalism and expertise. Yet we are small enough to be agile.
Our young lawyers are not just involved in files. They're engaged with clients but also in the direction we're taking with the firm at all levels.
When younger lawyers have a good idea, we tell them, that's a good idea, go and do it.
People are happy to come to work. It's ingrained in how we are, and clients notice that.
Clients are sophisticated, and they see the harmony within our firm. They know that that translates into a better work product.
Outside of your culture, what do you offer young lawyers?
We have internal programs for our professionals, including mentorship, coaching, and business development, that also reinforce our commitment to the growth of our young lawyers.
What advice would you give young lawyers to succeed?
Trust yourself, trust your instincts, connect with people, and get involved.
When we work with our clients, we partner with them on their projects. So, building relationships is the key to long-term success.
*Answers have been edited for length and clarity.