Sue-Lynn Noel, Marlon Hylton and Naveen Mehta share their views following GC Forum discussion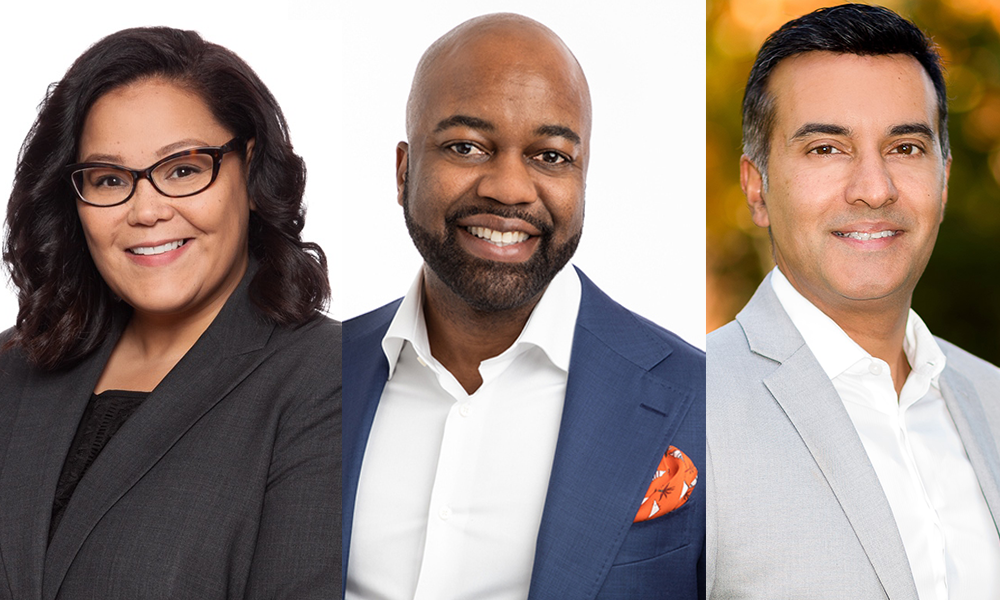 The legal profession still has a long way to go to overcome systemic racism, but general counsel are in a privileged position to have a positive influence according to some legal leaders.
Sue-Lynn Noel, vice-president, general counsel and corporate secretary at Purolator Inc., and Marlon Hylton, CEO at Innov-8 Data Counsel spoke last week in a panel discussion hosted by GC Forum, together with Naveen Mehta, chief legal officer at MESH/Diversity. The online panel, which was joined by 30 legal leaders, discussed the issue of systemic racism and shared ideas for general counsel to bring positive change to the legal profession.
The burden of systemic racism combined with multiple responsibilities can feel like carrying a backpack full of rocks, according to Noel, who spoke in an interview following the event.
"At Purolator, I'm surrounded by fellow executives who are true allies and want to help me by carrying some of those rocks," says Noel. "I'm still going to wear that backpack but it's going to be lighter because those allies are helping me carry those rocks and fight for injustices that we see around us."
As a member of Purolator's executive team, Noel is a trusted advisor to all senior leaders at the organization – a role that she takes very seriously.
"The fact that I have that influence is important because I'm able to help them see things that they wouldn't necessarily be able to see if they had a homogenous group around them. To work with senior leaders with diverse representation is a blessing," says Noel. Using that platform of trusted advisor to influence decisions that can help to stamp out systemic racism is something that all general counsel should strive to do, Noel says.
"Whether you look like me or not you've got the opportunity to speak to other people who sit in that seat of power to help them look at things through a different lens. As GCs we lend a perspective about all the reasons why it's important to tackle anti-Black racism, and once you've got that tone, you can push it from the top down through your organization," says Noel.
As a federally regulated company, Purolator sets targets for representation in terms of hiring from marginalised groups, but the organization chooses to strive beyond those targets. Listening and learning from employees throughout the organization is an important strategy.
"As we dig further into the organization, there are people who have stories to share and suggestions and solutions for tackling anti-Black racism, so we are listening to those stories," says Noel. The legal department is also hosting a movie club to talk about discrimination and the justice system.
The role of the GC in tackling racism goes far beyond individual organizations. General counsel also have a valuable role to play in influencing the issue of diversity and inclusion within the entire legal profession.
"We need to look at what we can do to root out anti-Back racism in the profession. The power lies with general counsel because we hire those law firms. We need to push the envelope more as GCs to move the needle in the legal profession by demanding more of our providers," says Noel. Purolator intends to introduce a survey for its law firm partners to identify diversity and inclusion initiatives that they are taking and the development plans that they have in place to seek out new talent among racialized lawyers.
"It's not just about paying lip service with a nice page on a website. I want to set a benchmark and I want to see growth," says Noel.
The issue of unconscious bias impacts racialized lawyers at every stage, from law schools through to the hiring process and upwards, according to Hylton, who also spoke in an interview following GC Forum's panel discussion.
"It starts by understanding what we mean when we talk about systemic racism," says Hylton. "The marginalization of Black people for hundreds of years has found its way into almost every aspect of life. The legal profession doesn't operate in a vacuum. The same roots and foundation and social acceptance of certain ideas are present in the legal profession." Understanding the unique obstacles that racialized lawyers face is key for GCs, if we are to create a fair system, Hylton believes.
"In my experience on Bay Street, it seems to me that non-racialized lawyers are promoted and incentivized based on potential, but for racialized lawyers you are selected and promoted based on demonstrated competence and contribution," says Hylton. "You have to demonstrate first in order to be invested in, in any kind of meaningful way."
As trusted advisors within the organization, Hylton believes that general counsel have a broad range of influence which uniquely positions them to address issues like anti-Black racism.
"Look at your service providers and what they are doing in connection with tackling this problem because that is where the GC has the most influence and can have an immediate impact," he says.
Speaking after the Forum, Mehta describes some of the conversations he has heard in the legal community about law firms being hesitant when it comes to genuine organizational change around diversity and inclusion, racism generally, and anti-Black racism in particular.
"One analogy that was used was that law firms and lawyers do not want to be in the driver's seat when it comes to anti-racism," says Mehta. "We do not even want to be in the passenger seat, the backseat, or even in the vehicle three cars behind. While that approach fits in with a risk-averse profession, it doesn't work well when we are trying to build workplace cultures where we can all thrive."
Law firms that have engaged in a systemic anti-racism and diversity inclusion program, and have begun to plant seeds of change, will continue to reap benefits in the months and years ahead, Mehta believes. "As was the situation in the United States for the last 20 years, those law firms that just keep their heads down and hope that nobody notices will not be viewed favourably, particularly from the eyes of their large corporate clients," he says. "Those corporate clients are increasingly facing immense pressure from their own clients and customers, and institutional investors, to ensure that their suppliers - including those who deliver legal services - are doing what is required to be part of the solution in tackling anti-Black racism."
Hylton compares anti-Black racism to the COVID-19 crisis, describing it as "a big issue that affects everybody globally, and disproportionately affects marginalised groups."
"It's urgent for us to do something about COVID-19 because if left unchecked it only gets worse. How is that description any different from the way we would describe racism?" he asks. "Are we prepared to bring the same level of motivation and commitment and creativity to tackling anti-Black racism as we are bringing to tackle COVID-19?"
Founded by Resolver's general counsel Peter Nguyen, GC Forum is a group of general counsel, chief legal officers and senior in-house counsel who come together to connect, share and learn from one another in an informal setting.