Alternative legal services, mental health of lawyers, diversity and Indigenous justice are on agenda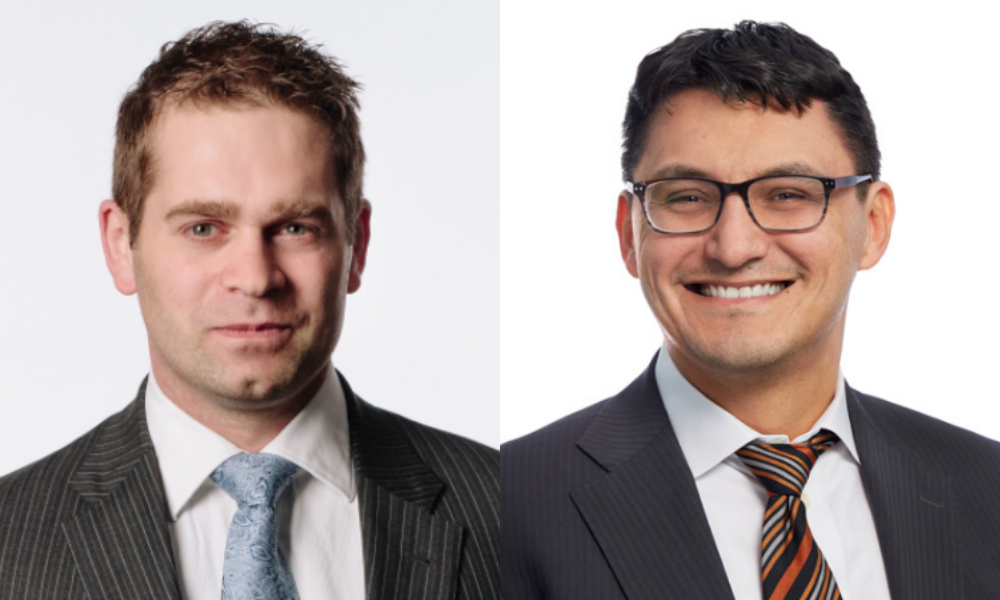 As Grant Driedger and Sacha Paul take over their roles as President and Vice-President of the Law Society of Manitoba starting today, among the issues, they will focus on are greater access to justice for Manitobans and dealing with the fallout of the COVID-19 pandemic on the mental and emotional health of the legal community.
Everyone feels that stress in many ways, and lawyers are no different, says Driedger, but lawyers feel it in particular ways.
"Not only did they have to get used to working at home and juggling family demands in a smaller space, they also are working with clients who are under stress and anxious themselves," he says. "So we're dealing with our own issues along with the issues of those we work with." He adds that lawyers generally struggle with mental health issues disproportionately than the overall population.
The two take over as President and Vice-President of the LSM at today's monthly bencher meeting.
Driedger was called to the bar in 2002 after graduating from the University of Manitoba law school in 2001. He lives in the southeastern Manitoba town of Grunthal and practices civil and administrative litigation with Smith Neufeld Jodoin LLP in Steinbach.
A bencher with the law society since 2014, Driedger has sat on the complaints, discipline and admission and education committees.
Considering the pandemic, new Vice-President Paul says the law society wants to look at what sort of mental health supports are available to lawyers. The disciplinary process for lawyers should reflect the challenges lawyers may face yet be protective of the public. "We want to ensure lawyers are still providing quality to people in this challenging time."
Paul, a member of English River First Nation, has a diverse civil litigation and Indigenous law practice at Thompson Dorfman Sweatman LLP in Winnipeg. He has acted for several large hydroelectric utilities and mining companies, engaging with Indigenous groups in resource development.
In Canada v. Khadr, Paul represented Amnesty International before the Supreme Court of Canada concerning Canada's obligations to assist a citizen detained at Guantanamo Bay. He also acted before human-rights tribunals respecting complaints against governmental bodies in the Northwest Territories and Nunavut and for the Province of Manitoba in the Phoenix Sinclair inquiry into the Manitoba child-welfare system.
Access to justice remains a priority to the Manitoba law society, with Driedger noting that legislative changes are in the works that could allow non-lawyers, such as paralegals, to provide a limited scope of legal services to the public. The province's law society wants a system where there is the ability for everyone to find a lawyer or legal help and to be able to have access to one whether the client can pay or not.
"It's a big challenge," Driedger suggests, especially in a province like Manitoba, where about 60 per cent of the population lives in the Winnipeg area, and access to legal help is relatively easy to get. Still, legal expertise in rural or more remote communities can be harder to access. He notes that almost 90 per cent of lawyers in Manitoba have their offices in the Winnipeg area, "quite disproportionate" to the population split..
He says there is a process already in place, looking at the law society regulating "legal entities," in addition to its current role as regulators of lawyers. The law society has put together a committee to review the idea. "We'll be looking at this to look at the questions surrounding legal entities," he says, even looking at the idea of charitable organizations being able to provide a range of legal help.
He points out, for example, that those who are dealing with family court issues often represent themselves, leading to all sorts of potential challenges. Finding alternative ways to get legal help for those in need is an important step.
In addition to the broader concept of access to justice, both Driedger and Paul hope that they'll address the issue of Indigenous justice during their one-year terms, especially ways to encourage more Indigenous students to pursue a career in law.
For example, following up on recent complaints from Indigenous law school students that the LSM's "good governance" requirements to become a lawyer disproportionately discriminate against members of racialized communities who have had some contact with the law, often when there was no justification.
Paul says that while "good character" must remain an essential consideration in the admission process, the law society wants to be very mindful and careful that the process doesn't discourage applicants. The LSM is reworking its application and other materials in the context of ensuring it doesn't discourage qualified applicants of Indigenous or other diverse backgrounds.
Paul says "it's something worthy of examination" in the broader context of the low number of Indigenous and other racialized lawyers practicing relative to their portion of the overall population in Manitoba.
For example, while the province's Indigenous population is in the mid-teens, percentagewise, the number of practicing Indigenous lawyers is in the low single digits.