The pandemic closed borders, but these immigration practices soldiered on and managed to prosper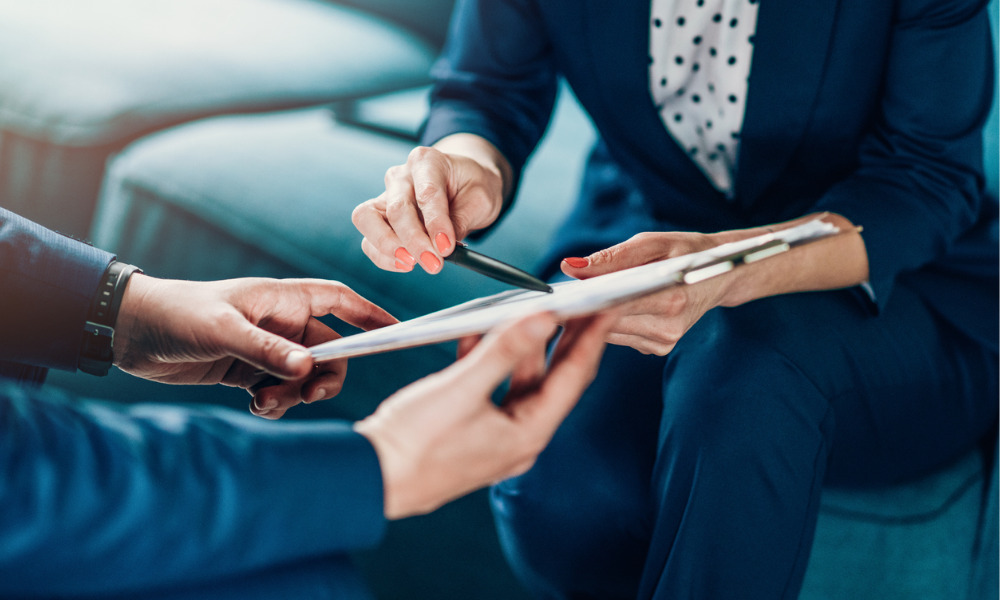 With border closures, courtrooms shut and immigration application processing at a virtual standstill, for Canada's top immigration firms, it was all about adapting to life in the time of COVID-19.
One would expect that immigration lawyers would be in demand more than ever during a pandemic that has shut the Canadian border, with some exceptions, to the rest of the world. While it is true that immigration law experts have been receiving more calls than ever from clients worried about the status of their residency or work visa application or looking at how they might be reunited with a family member in another country who is not a Canadian citizen, it's also been the most challenging of times for lawyers to handle these queries. Not only are they stymied by a federal government that has most of its employees working from home, with most immigration application processing grinding to a halt, getting answers on how to manoeuvre through the new border-crossing rules has become a challenge in itself, as the policies and regulations keep changing.
So, it is a testament to all those who made it on to Canadian Lawyer's list of top immigration law boutiques that all were able to keep busy and hold the hands of clients who needed navigation through some very personal and emotional ordeals. Here are the top 10 immigration boutiques, presented in alphabetical order.
HOW WE DID IT
Canadian Lawyer asked lawyers, in-house counsel and clients from across Canada to vote on the top immigration boutiques. They were asked to rank their top firms from a preliminary list, with a chance to nominate a firm that was not included on the list. To be considered in the vote, firms were required to have at least 80 per cent of their business come from immigration law. The final rankings were determined through a points system, in which firms were rewarded on a sliding scale for the number of first to 10th-place votes received. The quantitative results are combined with feedback from respected senior members of the bar and in-house counsel when applicable.
Please find a full description of our methodology at canadianlawyermag.com/survey/method.
Bellissimo Law Group PC
Toronto
www.bellissimolawgroup.com
Mario Bellissimo, founder of Bellissimo Law Group, likes to refer to the work his legal team does as the "oncologists of immigration law." He says that is because the firm takes on the struggling cases that are "at the end of the road or have been unrepresented or underrepresented." The result is that the firm has managed to build a reputation for helping shape immigration law in Canada.
Bellissimo Law Group started as a general law firm in the 1990s before specializing in immigration law starting in 2002. Bellissimo says that, in close to two decades, it has developed an expertise for complex litigation and dealing with inadmissibility cases for those applying for permanent or temporary residence. Many of the firm's clients are other lawyers and consultants. The size of the legal team fluctuates between seven and 10, he says, with administrative staff bringing the team total up to about 25.
During the COVID-19 pandemic, Bellissimo says, the firm has been busy, especially handling more cases related to self-isolation rules and issues crossing the border. And while a fair bit of litigation has been on hold for a while, that work is starting up again, he says.
Bellissimo adds that immigration law can be complex because it "involves a lot of policy that is not exactly encoded in regulations or legislation." Immigration law also segues into family law, criminal law and administrative law. "It takes years and years to become effective at it, and on top of that, it changes so rapidly you have to keep up with those changes."
As a result, while Bellissimo Law Group is a full-service immigration law firm, it tends to focus on certain types of cases it knows it can do well. It also means it doesn't always take on all cases that it is offered. "We restrict the number of cases to ensure that we can meet the demands," he says. "That's one of the toughest parts — making those decisions on what cases to take because there is a lot of need out there."
The firm also takes on pro bono work, including advising Toronto's Hospital for Sick Children and COSTI Immigration Resettlement Services.
Cases on which the firm has worked include Hassouna v. Canada, where the Federal Court struck down the government's authority to revoke Canadian citizenship from individuals alleged to have obtained it through fraud or misrepresentation. Justice Jocelyne Gagné ruled this violated the Canadian Bill of Rights, as it deprived affected individuals the right to a fair hearing under the principles of fundamental justice.
Bellissimo was also a lead advocate when Canada's medical inadmissibility system was under review. He represented the Canadian Bar Association before Parliament and was pivotal in the introduction of a fairer and more expansive national medical public policy. He argued that to deliver a successful immigration program there must exist a pressing need to protect public health and the integrity of the Canadian health-care system, while striking a balance with the legitimate needs of migrants in a manner consistent with Canadian Charter values and international human rights standards.
There is an inherent tension, Bellissimo says, between working in an immigration system that deals with an ever-growing number of cases and keeping the focus on the individuals who are being assessed for eligibility. "It's a challenge because the numbers are large, resources are all over the place and there are always political shifts," he says. He adds that, while governments might want to create a "plug and play" system for dealing with immigration matters online, "you accidentally tick off one wrong box that can ban you for five years on the grounds of misrepresentation — that's crazy."
Corporate Immigration Law Firm
Toronto
www.cilf.ca
While the COVID-19 pandemic has been a frustrating and challenging time for immigration lawyers and their clients, Corporate Immigration Law Firm founder Barbara Jo Caruso says it has also been an opportunity to "showcase what we do best — and that is personal, high-touch service."
Caruso, who started the Toronto-based firm in 2006, says the pandemic has made it more difficult to "stay abreast of the changes and the current situation for travel restrictions and processing times." But working with these challenges has "demonstrated to us that we have a really strong team and we've been able to pivot quickly and step up to those challenges — we've built a team that is strong enough to withstand a pandemic."
She says the nine members of the legal team in Toronto and Ottawa pride themselves on providing unique solutions to difficult immigration situations — "something that has never been truer" than during the COVID pandemic. "It's been frustrating at times to spend a significantly longer time on applications that previously were routine," Caruso says, noting that the situation has added to the emotions of clients that are looking for answers to immigration questions.
Caruso says being a boutique firm has allowed for more intimate, one-on-one service to help support and reassure clients during the pandemic and show that CLIF is "not a process factory."
The pandemic has also revealed that whether her clients are businesses or individuals, there are "real people" behind the applications, be it for visas for spousal sponsorship, getting essential workers across the border to install or service equipment or seeing loved ones one last time.
In one case, a Canadian woman in palliative care wanted her siblings from Europe to visit her before she died. The siblings were denied boarding as they weren't covered under the travel restriction exemptions. Two requests were made by CLIF, which were refused, but a final plea to the immigration minister's office resulted in success. However, by that time, the family had decided to do a virtual good-by instead.
"The case was still rewarding," Caruso says, because after the woman passed away, "the family reached out to us and thanked us for our efforts."
Outside of COVID-19, Caruso says, one recent case she is particularly proud of is successfully having a Labour Market Impact Assessment set aside by the Federal Court for a long-standing client. The client, who operates two MacDonald's franchises in the Northwest Territories, had his Temporary Foreign Worker applications denied on the grounds that he didn't sufficiently canvas for Canadian workers. The judge overruled that decision, saying the officer who made the ruling relied too heavily on administrative guidelines in determining the franchise owner didn't sufficiently seek more Canadian applicants.
While the decision itself is important and should have an impact on how the Temporary Foreign Worker program is used, Caruso says she is pleased to have helped a client with whom she has worked for 15 years and knew he always took "more than reasonable steps to hire Canadians first."
Caruso adds that, despite decisions that might go against some of her clients, she has "a lot of faith in the immigration system" and how it does leave room for interpretation. The discretion and ability to judge extenuating circumstances it allows immigration officers and border services staff also "allows for lawyers to advocate for clients and make the case for them."
Green and Spiegel LLP
Toronto
www.gands.com
Green and Spiegel might be Canada's largest and oldest immigration boutique, but senior partner Evan Green says the goal "is to make each client feel they are the most important client and give them that type of service."
Green says the firm has grown exponentially over the last several years, along with the growth in immigration to Canada. It now has a staff of more than 100, with U.S. offices in Philadelphia, Providence and Vail. It offers a full range of Canadian and American immigration services for employers, temporary workers, individuals and their families. It also has a sizeable sports immigration practice.
"Our expertise is the border and crossing it," says Green. Before the pandemic, "a lot of companies didn't even recognize there was a border" when it came to moving or hiring staff, given the predictability in getting visas approved, but that has certainly changed today, says Green. Now it is all about "who can get in and if you can get in, can you get an exemption from the 14-day quarantine rules."
While the pandemic has created more business, it has also created challenges in dealing with things that were once much simpler. "There are less travel and fewer work permits, but each one takes that much longer to do." With the current situation, Green says, the biggest challenges he has had recently is getting work permit approvals under tight deadlines, especially in areas such as sports.
Green adds that there is a pre-approval process for getting into Canada, where you can get an advance ruling on these matters rather than going to a port of entry and trying your luck. But the time it is taking for getting those pre-approvals processed has changed dramatically. It has gone "from two or three days to two or three months, because everyone is looking for an exemption from quarantine."
The firm has also seen an increase in cases where Canadians abroad are looking to get their paperwork done for their families. "Say someone moves to England, gets married to someone there and now has three kids but never got citizenship papers for those kids," says Green. "Now everyone wants to have to make sure they have those papers in order because it makes it a lot easier to deal with those travel restrictions."
Green says the firm is also seeing an increase in calls from what he calls "21st-century couples" — those who have long-distance relationships but have not had them formalized by marriage or length of time to make it a common-law relationship. He points to one example of an athlete client of his who could not get a visa for his fiancée, because "there is no legal definition of 'fiancée' in immigration law." However, solving this issue by getting married in one country or the other has become problematic, Green says, given the quarantine rules — and having a Zoom wedding, even if possible, "isn't recognized for immigration purposes."
While the current immigration system generally works, Green says, he sees areas where discretion could be used to alleviate painful situations — such as someone not being able to cross the border to visit a seriously ill family member in Canada or a family breakdown situation he describes in which a 20-year-old son was attacked by his father (the father was charged) and was denied entry because it was deemed discretionary travel.
"It's these types of cases that can be heartbreaking."
Gomberg Dalfen S.E.N.C.
Montreal
www.gombergdalfen.ca
While the majority of Gomberg Dalfen's immigration clients are related to corporate work, partner Seth Dalfen says it is often "difficult to separate" the corporate from personal.
"About 75 to 80 per cent of our work is what we'd call corporate immigration," says Dalfen, who founded the firm with Avi Gomberg in 2000. "But it's hard to divorce the personal from the corporate, and that is what makes the work so challenging, because the people involved can be very emotional when it comes to immigration status for themselves or loved ones."
Dalfen says immigration status has so much impact on a person's life — from someone being able to plan with the knowledge that their work permit has been accepted to someone who wants to become a permanent resident so they "can be more settled in Canada" — that dealing with the process is often very stressful for clients. But Dalfen says the boutique status of the firm — with three partners and two associates — can help clients make their way through the process thanks to the more intimate service it can provide.
"We want to keep a very tight relationship with our client and give them one-on-one service," says Dalfen, who adds that this can lead to some "hand holding" while a client is "stuck at a border point for hours late on a Sunday night because a border guard has decided to take a hard-line approach to an approved application."
The firm assists foreign and Canadian businesses, individuals and community organizations with all aspects of the inbound Canadian and Quebec immigration processes. Dalfen says the firm's lawyers are well versed in handling corporate and individual immigration legal issues regarding permanent residence applications, temporary work permits, relocation of skilled professionals and family reunification. The firm's staff is fluent in English, French, Spanish and German with capabilities in Russian, Mandarin and Hebrew.
Dalfen says the COVID-19 pandemic has also accentuated the "personal side" of immigration, even when it's a corporate file. One client, for example, is on a work permit in Canada, but his teenage daughter spent the summer in France and now wants to come back to continue studying here. Before the pandemic, it was a matter of jumping on a plane, he says, "but it isn't so obvious now — do you need special permission from the consulate to come and join your parents who are on a work permit?"
Other cases dealing with COVID-19 issues include: successfully submitting a work permit extension and waiving biometric requirements, along with expedited approval, to allow the permit holder's spouse to receive medical coverage on time for a high-risk delivery and processing a temporary work permit on a tight deadline to allow a citizen of India client to legally enter Canada from the U.S. before his work status in the U.S. expired.
Dalfen says the firm has also been assisting various Canadian companies deemed essential in getting foreign personnel into the country to service or install equipment. One client in the food industry had a US$15-million production line delivered in 60-plus sea containers from Europe and could not wait until the end of COVID-19 to have personnel from the original equipment manufacturer enter Canada and set up the production line. "We successfully obtained special authorization as well as quarantine exemptions for these workers to enter Canada," Dalfen says.
Outside of cases relating to the pandemic, Gomberg Dalfen has also resolved many other complicated immigration cases. For example, it successfully settled a matter of issuing Certificates of Canadian Citizenship to children born in the United States by way of surrogacy — applications that had been stymied for years. Another case involved the discretionary grant of citizenship to a world-renowned musician based on "exceptional service rendered in Canada."
In matters of obtaining permanent residence, Dalfen says, the firm assisted with the matter of a U.S. citizen who landed in Canada as a permanent resident in 1974 but later left, living in the U.S. and travelling the world. He was able to re-establish himself in Canada, after meeting the two-year residency requirement, and received his permanent resident card less than one month after applying.
As for temporary work permits, the firm was successful in helping a dual U.S./French citizen establish an artificial intelligence company here, and an Irish national who wanted to start a sustainable wood furniture company in Canada.
When it comes to growth at the firm, Dalfen says, the desire is to do it slowly and maintain the intimate service it can provide. A new associate was hired recently, but the strategy is to be careful to recruit "the right people" so that it can continue to provide the one-on-one service and "very much" keep its boutique status.
Larlee Rosenberg Barristers and Solicitors
Vancouver
www.larlee.com
When the COVID-19 pandemic started to unfold in earnest, the lawyers at Vancouver-based Larlee Rosenberg didn't know what to expect, says managing partner Ryan Rosenberg. But as it turns out, "our services are in demand more than ever."
While the Canadian border has been restricted, Rosenberg says, there have been a lot of "compelling circumstances that have been deserving of exemptions from these restrictions." So, the firm of 10 lawyers has been "very busy on cases supporting critical infrastructure, family reunification, basically helping people cross the border when it might have been very difficult otherwise." The firm has been so busy, he says, that it was able to recently take on its articling student full time, as well as hire two paralegals.
Larlee Rosenberg, which was founded in 1993 and restructured as a partnership in 2009, has from inception been focused solely on providing specialized immigration services to corporate and personal clients. It is now one of the largest boutique immigration law firms in Western Canada.
Since the pandemic's arrival in Canada, among those that the firm has helped include a single mother from Mexico who was working in Canada as an engineer on a critical infrastructure project. She had left her son, now nine years old, in Mexico with her mother so he could finish the school year there. But with the pandemic putting that plan in jeopardy, she turned to Larlee Rosenberg to bring her son to Canada. The firm also was able to get a travel exemption for her mother so she could look after the boy.
The firm has also helped contractors working on various infrastructure projects across Canada get exemptions from travel restrictions and in some case bypass the 14-day quarantine protocols on the basis that they were important to critical infrastructure and shouldn't be delayed in doing important work.
Another COVID-19-related situation the firm has handled is advising the National Hockey League Players' Association, a client it has had for several years. The firm worked with the association and member players respecting travel restrictions in furtherance of efforts to get hockey back on the ice in Canada. The issue was challenging, says Rosenberg, because of the fast-changing nature of Canada's border restrictions.
While not related to the pandemic, Rosenberg has also been involved in the Meng Wanzhou case, having participated in her bail hearing, dealing with an immigration issue respecting her bail security.
Another situation, successfully handled by firm partner Steven Meurrens, is the adoption case of a girl in the Dominican Republic, with a deceased Dominican mother and a Haitian father, whose prospective adoptive parents in Canada were having trouble because of her stateless status under DR law.
Rosenberg says the firm receives calls from large companies from the U.S. and other jurisdictions looking to move their North American headquarters to Canada. It's not only because of how COVID-19 is being handled here, he says, but more generally, the difficulty some firms with operations in the U.S. are having obtaining visas for employees who come from other parts of the world. Moving these foreign workers to a Vancouver office, for example, can make things much easier from a visa perspective, he says.
Mamann Sandaluk & Kingwell LLP
Toronto
www.migrationlaw.com
One of the best parts of immigration law, say Joel Sandaluk, a partner at Mamann Sandaluk & Kingwell, are the stories that people tell about why they want to come to Canada and how they got here.
"Everybody that comes to us is so special, so unique," says Sandaluk. He adds that, in the days before COVID-19, it would not be unusual to see clients waiting in his reception area ranging from "the CFO from a European company sitting next to a family of refugees from Yemen, who is sitting across from someone from another country who just got engaged to their same-sex partner in Canada."
While there may not be as many office visits these days because of the pandemic, those unique stories of people wanting to come to Canada remain, Sandaluk says, and make immigration law "without a doubt one of the best areas of law to be in."
"You realize that, as a lawyer, you get to play a small role in a person's journey to Canada, and that can be incredibly humbling." He adds that another gratifying aspect of his practice is watching clients come back, whether it is to sponsor a spouse, seek citizenship or just to tell him how they are doing. "It makes the job so gratifying."
One of the largest immigration law practices in Canada, Mamann Sandaluk & Kingwell represents clients in all types of immigration, citizenship and refugee protection matters, including U.S. immigration. Recently, the firm expanded to provide civil litigation services with the goal of assisting clients seeking civil remedies in how they were treated by immigration authorities. One example of a case the firm has been involved in is the wrongful detention case of Olajide Ogunye, a Canadian citizen who was detained for eight months by immigration authorities. The firm now has about 40 employees, including 14 lawyers.
The pandemic has certainly slowed business overall, Sandaluk says, with fewer intercompany transfer and work permit applications affecting the corporate side, as well as closed government and court offices slowing down the refugee and personal immigration process.
There may be an uptick in work related to the border closure, with people seeking exemptions or trying to get a spouse over, he says, but that work doesn't come "remotely close" to replacing the work that had been going on before.
As well, many of the cases that the firm can do are becoming more complicated by the pandemic, whether it is longer waiting times or even talking to a client about their case when the meeting can't be done in person.
"Technology is better than [at] any time in the past for allowing things like remote work, but in a lot of respects, there is really no substitution for sitting across the table from somebody to discuss their case and developing a plan." And even when he can meet a client in person, communicating through a mask can be challenging.
When starting a lawyer-client relationship, Sandaluk says, it's important to establish a connection with clients and break through any language barrier there might be. "I've gotten really good over the past 20 years of understanding someone whose first language isn't English and making myself understood, but it's incredible the barrier two pieces of cloth over our faces can be to expressing yourself — you have to learn to express yourself with your eyes, and that isn't always easy."
In helping his clients immigrate to Canada, Sandaluk likens the law as a form of "competitive storytelling.
"My job is to listen to my client's story, understand the situation and help them tell that story in a way that makes sense to an immigration office or a government decision-maker," he says. It's a matter of "getting inside somebody's head" and understanding why they made the decisions why it's important that they come to Canada.
He recalls some recent cases of Palestinians working in Saudi Arabia who were working under conditions that virtually amounted to slavery and how using the terminology of slavery helped him win their cases not just because they were true but because their troubles could be understood by officials here.
"It can be an incredibly rewarding experience, and a lot of people are depending on you telling that story in a way that a Canadian immigration official can understand."
McCrea Immigration Law
Vancouver
www.mccrealaw.ca
Immigration law in Canada can at the best of times be a "Wild West" of policy, rules and regulations, says McCrea Immigration Law partner Kyle Hyndman. And that has been "doubly true" since the COVID-19 pandemic began, making it especially challenging for lawyers in handling what would appear to be the most straightforward cases.
That unpredictability has "really been compounded right now," Hyndman says, adding that that is why he thinks immigration lawyers "can add value now, not just in reading the official law and policy but also in having their ears to the ground and getting a sense of what is happening."
Keeping up with all the changes in immigration rules has been challenging, Hyndman says, as the government has been constantly changing the immigration landscape as it adapts to the circumstances brought on by the pandemic. Giving clients some level of confidence in what is possible right now has been a constant preoccupation for the firm. "Do clients want assurance on absolutely every single immigration matter? No. But they do want some confidence on what is possible or not."
Yet this very unpredictability is also providing McCrea with opportunity, Hyndman says, to use its expertise to handle these challenging situations and offer clients a better understanding of what is possible and what workarounds there might be.
Hyndman describes McCrea as one of the "original immigration law firms in Western Canada. It was founded in the 1970s by Dennis McCrea, a criminal lawyer who saw a growing demand for dealing with immigration issues. In 1989, he founded McCrea and Associates, which operated until 2015 until it was bought by the current partners — Hyndman, Deanna Okun-Nachoff and Meika Lalonde — and morphed into its current form. "We're not trying to be the biggest firm. We want to be the best at what we do."
McCrea offers a full range of immigration, refugee and citizenship solicitor and litigation services to individuals and companies of all sizes, Hyndman says, one of the few firms in Western Canada to do so.
In terms of significant cases on which the firm has worked, partner and litigation specialist Okun-Nachoff has argued a line of cases in Federal Court that support a more rationalized interpretation of the rules around caregiver and other work permit and temporary resident visa applications abroad. A nationally recognized adviser on issues related to foreign caregivers and human trafficking, Hyndman says she has successfully taken aim at the way visa offices are processing all temporary residence applications made by nationals of certain countries (mainly China, India and the Philippines). These applications, he says, "see high rates of refusal on dubious grounds, even where applicants have made very meritorious eligibility claims, strong dual intent arguments and offering no legitimate basis for refusal."
On the solicitor side, Hyndman says Lalonde has helped numerous companies and individuals successfully navigate the impacts of the COVID-19 travel ban to continue to transfer employees or reunite with family members in Canada. Associate Silvia Macedo has been among the first lawyers to successfully navigate the B.C. Provincial Nominee Program's Regional Business category.
As for Hyndman, who helped establish a pro bono legal clinic for immigration law in Vancouver that has been operating for a decade and a half, his work now often involves helping technology companies relocate their operations to Canada in the face of immigration challenges in the U.S.
"I think some of my biggest wins have also been wins for Canada," he says, adding that it is not just about the foreign workers these firms are bringing. "They are also hiring Canadians and leasing premises and bringing their intellectual property with them — they are doing all the things that have spin-off benefits for Canada."
Sherritt Greene Immigration Law Centre
Calgary
www.sherrittgreene.com
Michael Greene, a partner with Sherritt Greene Immigration Law Centre in Calgary, has seen a lot of ups and down in the Alberta economy since the firm was started in 1998. And the perfect storm of low oil prices and COVID-19 pandemic has made these days "one of those tough times."
The impact on the foreign worker immigration business the firm had built up when the Alberta economy was on fire a few years ago has fallen dramatically as investment in the Alberta oilpatch has dropped. But unlike many immigration law firms that put "all its eggs into the foreign worker basket," Greene says, his firm has managed to keep up a good immigration business thanks to a "good reputation" and a move from corporate to individual immigration. This has been fuelled by "a critical mass of immigrants already in Alberta who need help in bringing family members here."
The firm has also been spending a lot of time dealing with pandemic-specific cases, such as reuniting families divided by border restrictions, helping clients with exemptions for essential travel "and even cases of Canadians living abroad married to a foreign national who decided they'd like to live in Canada because of the way we've been handling the crisis."
"Luckily for us, we've diversified, we practice across the immigration spectrum and we know our stuff, so we have adapted to the times," says Greene.
Still, while there haven't been layoffs at the firm, there has been downsizing, Greene says. The two partners, Greene and Michael Sherritt, as well as one associate remain as other team members have moved on.
Greene says he is concerned about how the processing of applications has almost ground to a halt. "Going forward, immigration lawyers are going to see the effects of the pandemic on backlogs for a long time, perhaps for years to come." As an example, he says, renewals of permanent resident cards that until recently have taken as little as 33 days to process now "sit around for six months with no action."
On the litigation side of Sherritt Greene's business, Greene says that, so far, after being part of several virtual hearings, "things have gone remarkably well." However, Greene says he is not sure how these virtual hearings will work out in cases where there are witnesses whose credibility is being assessed.
As for non-pandemic-related matters, Greene says he has been doing a lot of work taking on cases in which an immigration application has been denied based on allegations of misrepresentation. Greene says he is concerned that inadmissibility on these grounds is harsh and being used too frequently.
Someone "can make an innocent mistake on their application and are getting refused and banned for five years from reapplying," Greene says, and that "doesn't seem right."
Greene says that, earlier this year, he successfully argued in Albrifcani v. Canada that there was no procedural fairness in how his client had his application turned down because of allegations that the English proficiency exam he took was fraudulent. The Federal Court agreed that the case should be reviewed.
"It's a case of incrementally winning on an issue I believe in. We've made some progress, but there's a long way to go."
Waldman & Associates
Toronto
www.waldmanlaw.ca
When your specialty in immigration law is complex litigation — dealing with matters before the Federal Court and the Immigration and Refugee Board of Canada — the COVID-19 pandemic that has locked down most government facilities is bound to be affected, says Lorne Waldman, founder of Waldman & Associates.
"It's been a challenge for us during the pandemic," he says, because litigation "is what we do." When the courts closed and the tribunals stopped sitting due to the pandemic, Waldman says, "it had a pretty dramatic impact on our business."
However, Waldman, who founded the firm in 1979 and was invested into the Order of Canada in 2018 for his work on immigration and refugee law, says he and his team took advantage of the time to reorganize the office and "catch up on all the work we were behind on." Now, things are picking up again, as courtrooms start to open and lawyers are being given the choice of going to the hearing in person or doing it by video call.
So far, Waldman says, he prefers to participate in hearings via Zoom, depending on what type of hearing it is. For certain types of procedures, having that personal interaction is important, especially if it is a matter of having witnesses give their testimony. However, for proceedings such as a judicial review, where legal arguments are being made, the video calls in which Waldman has participated so far "have worked out fine."
Waldman says his practice has been "evolving" since he started as a sole practitioner. It had grown to a team of about 15 lawyers, but, even before the pandemic, Waldman says, he was in the process of downsizing it, although he admits that COVID-19 "probably hastened things a bit." A year ago, it had a team of eight; now, it is down to five.
But big or small, Waldman and his team have had a big impact on Canadian immigration law. The firm has been involved in many cases defending human rights in immigration, including matters such as advocating against cuts to refugee health care (Canadian Doctors for Refugee Care et al. v. Attorney General of Canada), fighting the niqab ban in citizenship ceremonies (Ishaq v. Canada) and challenging citizenship revocation procedures (Hassouna v. Canada).
Recently, the firm was involved in a Federal Court challenge to the jurisprudential guides issued by the IRB, representing the Canadian Association of Refugee Lawyers. The court found that some of the guides were illegal because they "unduly fettered" the discretion of members to render decisions.
It also represented the United Nations High Commissioner for Refugees in a case regarding the intersection of family law and refugee law. It involved applications for the return of children to a foreign jurisdiction when they have made refugee claims. The Federal Court set aside the decision to return the children and held that the family court should not make an order to return them before a decision is handed down on their refugee claims.
Waldman doesn't advertise the firm's services, as most of his business comes through word of mouth or people learning about him from his lengthy career as an immigration lawyer. "I have been around long enough and dealt with enough cases that a lot of my referrals come from previous clients."
He has also published several books on immigration law, including Definition of Convention Refugee and Canadian Immigration and Refugee Practice.
Says Waldman: "I've always said that it's a privilege to and blessing that I have an opportunity to work on these complex immigration files, because there's nothing more satisfying than taking on a difficult case and guiding it through to a satisfactory conclusion and knowing that you made a difference in somebody's life."
Zaifman Law
Winnipeg
www.zaifmanlaw.com
There is a photo on Ken Zaifman's desk that symbolizes what he loves about immigration law. It's from a newspaper article almost 30 years ago about a large Iraqi family from Kuwait that was able to immigrate to Canada — via Romania and Hungary — and plant roots in Manitoba, thanks to Zaifman's work.
"It's just a compelling story with a successful ending," Zaifman says, a daily reminder of how an immigration lawyer's work can help change lives.
The large Iraqi family was living in Kuwait at the time of the first Gulf War and was due to be sent back to Iraq, where everyone likely would have suffered a great deal, Zaifman says. The family managed to get to Romania, one of the only countries that would accept Iraqis at the time, and from there, made its way to Hungary and then Canada.
Zaifman says he still hears from family members, including a recent call from one of the children, now all grown up. "He was going through some family photos and just wanted to tell me that he's done well, has a business degree and now works for an automotive company.
"I am able to look at his family's picture on my desk and it reminds me why I am in this particular area of law."
Graduating from law school in 1975 and called to the bar in 1976, Zaifman started as a criminal lawyer but was drawn into immigration law in 1979 when a U.S. citizen came to his office needing help on being deported. Zaifman managed to prevent his client from testifying at his immigration proceeding, something that was standard practice in those days, and even though his case won in Provincial Court and made it to the Manitoba Court of Appeal, the man was eventually deported.
Still, it gave Zaifman a taste for immigration law and how the process itself involves a lot of discretion among the many individuals who have decision-making powers along the way. "There are many knowledgeable and competent immigration officers who also have compassion and can use their judgment by examining the details of each case," he says. "And that is how it should be, because immigration is all about human beings and understanding the human condition. And it's up to a good lawyer to help tell that story."
Zaifman started his firm in 1986, with two employees and no associates. The firm now has a staff of 12, including three other lawyers. It deals with all aspects of immigration law for individuals and businesses, and Zaifman has been extensively involved in the recruitment of workers to Manitoba in industries such as food processing, hospitality and transportation. He points to a pork-processing plant in Neepawa that has given the town's economy new life, in part due to the immigrants he has helped bring in.
While many types of immigration-related cases have slowed down during the pandemic, other types have taken on more importance — for example, in situations involving helping foreign workers cross the border into Canada for critical industries. While much of the work has been done remotely, Zaifman says, the firm has had clients come to the office, when it was appropriate, and under proper precautions for staff and clients.
"We've managed to provide service to clients and not have them compromised in any way and keep our office staff feeling that they are not at risk."
Editor's note: An earlier version of this story said the firm Larlee Rosenberg helped contractors on the Eglinton LRT line in Toronto bypass the 14-day quarantine protocols set by the federal government. Crosslinx Transit Solutions, the constructor of the Eglinton Crosstown, says: "Anyone working on the Eglinton Crosstown project is required to undergo a 14 day quarantine period following international travel. There are no exceptions to this policy."