Meet the Canadian lawyers and judges who are making an impact on the profession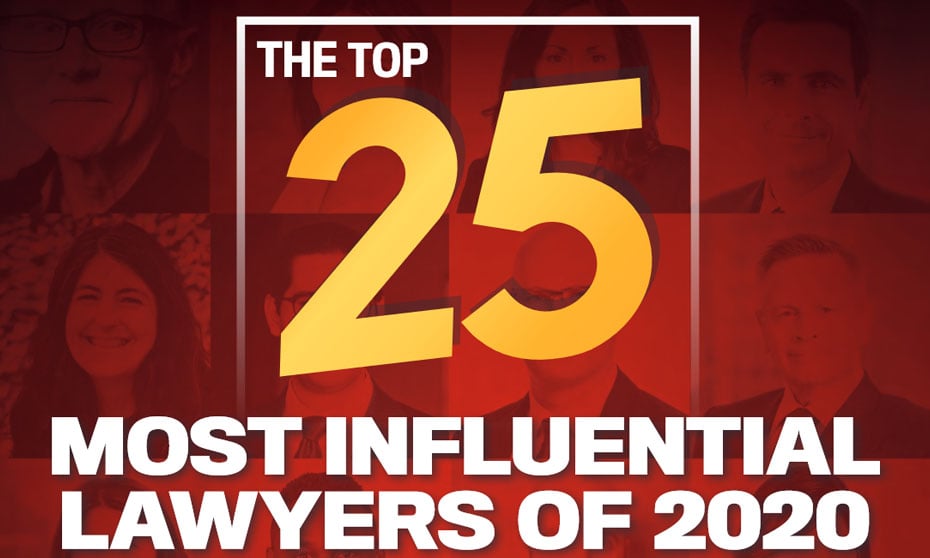 Canadian Lawyer's Top 25 Most Influential in the justice system and legal profession in Canada is now in its 11th year. The pride lawyers, judges and others have in their colleagues is illustrated by the fact that our Top 25 list is always the magazine's most-read and most-commented-on feature. Its popularity is shown both in terms of the number of nominations we receive as well as the number of votes in the public poll.
We started by putting out a call for nominations to legal groups and associations representing a variety of memberships and geographies, our readership and our internal panel of writers and editors.
We were then met with several hundred nominations, which our editorial staff pared back to 174 candidates who met our criteria.
Once we had the long list of candidates, we posted it online and polled our readers for their votes — and you let us know in droves what you thought. A received total of 19,115 votes and voters commented on those whom they thought made their mark over the past 18 months. The final list of 25 honourees is based on that poll with input and the last word from the Canadian Lawyer, Law Times and Canadian Lawyer InHouse editorial panel.
Being named as one of Canadian Lawyer's Top 25 Most Influential highlights the important and significant work jurists have done in the last 18 months or so. Some of them may have steered big deals or made the most splash on the news pages, but it's about their leadership and influence in a larger sphere. It is not a recognition of lifetime achievement. Inclusion in the Top 25 speaks to a level of respect, the ability to influence public opinion and to help shape the laws of this country and others; contribution to the strength and quality of legal services; involvement and impact within the justice community; and social and political influence and involvement.
The Top 25 is split into five areas of influence with five winners in each of the following categories: Young influencers; Business; Changemakers; Human Rights, Advocacy and Criminal; and Government/Non-profits/Associations. Nominees were put in the category in which the individual most recently exercised their influence, which at times might differ from their main area of practice.
Once again, our list featured a naturally occurring gender balance and diverse cast of winners. We did not apply any editorial authority to shift the composition of the list in the name of diversity; the fact that so many accomplishments in Canada's legal profession were achieved by lawyers from historically marginalized groups, reflected by voters' choices, did that for us.
With the Covid-19 pandemic taking Canada, and the world, by storm and taxing the ability to communicate and be productive during a lockdown that kept many at home, many of those on the list stepped into the breach to make sure operations ran as smoothly as possible. Talon Regent in Moose Jaw, Sask. worked on a virtual reality simulator to help lawyers and law students practise their advocacy skills. Meanwhile, Purolator Canada general counsel Sue-Lynn Noel assisted in dealing with the logistics for bringing personal protective equipment into the country, furnishing security to the warehouse and facilitating testing by Health Canada.
The strong legal response to Covid-19 is also shown in the collaboration between Most Influential winners Tony Loparco, president of the Ontario Crown Attorneys' Association, and John Struthers, president of the Criminal Lawyers' Association. The two facilitated the withdrawal of front-line assistant Crowns from court appearances at a time when the official response to the declaration of emergency was perceived as inadequate and advocated on behalf of incarcerated individuals, whose health and safety were particularly in danger during the outbreak.
Another strong theme this year — coming at a time when the Black Lives Matter movement, discrimination and the need for better gender balance are generating big headlines — are the winners who have advocated against systemic bias.
Aird & Berlis's Aarondeep Bains, the top vote getter in the Young Influencer category and president of the South Asian Bar Association, focuses on issues tackling minorities. Business category winner Julie Soloway, with Blake Cassels & Graydon, is a competition lawyer who also mentors women in the profession and is co-author of Leading the Way: Canadian Women in the Law, a book that follows the journeys of 50 female lawyers in Canada.
The top vote getter in the Human Rights, Advocacy and Criminal category, Nader Hasan, has tackled issues such as the rights of Indigenous and racialized persons. The partner with Stockwoods LLP appeared before the Court of Appeal in R. v. Sharma, a case discussing the over-incarceration of Indigenous individuals.
Other category winners this year demonstrated their influence and ability to set precedent. The Federal Court of Appeal's David Stratas, who topped the Government/Non-profits/Associations category, is seen as one of the most influential judges sitting on an intermediate appellate court. His 2017 article titled The Canadian Law of Judicial Review: A Plea for Doctrinal Coherence and Consistency, called attention to the benefits of employing doctrinal clarity, unity and simplicity in judicial review.
In the changemaker category, Vancouver's Lorne MacLean has acted in many cases that have had an impact on family law in British Columbia. As just one example, in Wang v. Jiang et al, 2020 BCSC 145, he obtained a six-month jail sentence against the respondent husband for contempt and perjury in order to protect his client, as well as family property worth $1.2 million, winning a lump sum spousal support of $800,000, child support of $12,666 per month and special costs amounting to $410,000.
While only 25 of the incredible nominees can make the final list, every single one of them has had an impact, and their accomplishments are many and varied — not to mention many of them done behind the scenes or on a pro bono or volunteer basis. It's these lawyers and judges from across Canada and many different areas of practice that uphold the greatest ideals of the profession and are worthy of recognition.
In the following pages, we present the Top 25 Most Influential for 2020. They are listed with the top vote getter in each category first, followed by the others in alphabetical order by last name.
Want to add your own kudos? Disagree with the choices? Did we miss someone obvious? Email it tim.w[email protected]. We'll be doing it all again next year.
Young influencers
Business
Changemakers
Human Rights, Advocacy and Criminal
Government/Non-profits/Associations
Government/Non-profits/Associations
Human Rights, Advocacy and Criminal