Responding to rapidly changing laws is critical in the service industry, says Catherine Chow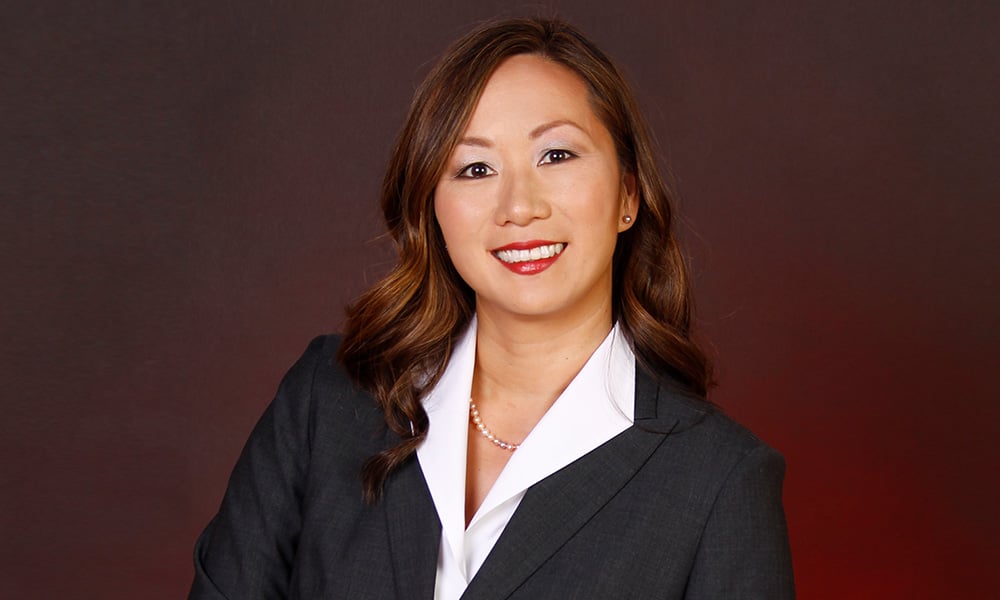 Being responsive to the ever-changing landscape of restrictions and laws during the pandemic crisis was a significant responsibility for Catherine Chow in 2020. As vice president, legal and general counsel at Keg Restaurants Ltd, Chow led the charge in monitoring liquor laws, patio serving hours and restaurant openings and closures throughout the crisis, as well as in guiding the restaurant chain in complying with regulations. Even rules surrounding the transfer of inventory had to be carefully monitored.
"While that may seem like a minor issue, for a company this size, it is important," says Chow, who has been with the North Vancouver-based organization for 14 years. "Having that responsiveness to the changing laws has kept me busier than ever." Like many organizations, Keg Restaurants has been forced to pivot and change its business model in some areas, so the legal team has been on standby to help with any issues that arise. The team also continues to manage day-to-day legal matters while maintaining fiscal responsibility at the Canadian-owned steakhouse chain that has more than 100 restaurants across Canada and the U.S.
"The Keg has been around for 50 years and we have enjoyed a lot of prosperity, so fiscal responsibility has not always been the first lens through which we evaluate ideas, but now, it is definitely one of our priorities," says Chow.
Throughout the crisis, the legal department has sought workable solutions to help support the organization during very challenging times.
Among her initiatives, Chow recently guided Keg Restaurants in moving its entire insurance claims system onto software platform ClearRisk, which allows the team to manage the claims process through a database. For a slip-and-fall incident in a restaurant, for example, restaurant managers can use a guided form on a smartphone or tablet, and the incident can be reviewed and evaluated.
"The platform has created efficiency beyond belief because we're able to track claims not just by location but also by the experience of the general manager and how long they've been in a particular location," says Chow.
The platform has enabled the team to create a safer environment and reduce risks in restaurants by monitoring connections between claims that may arise due to a physical condition such as a patio design.
"Often, litigation is known for dragging and languishing in the back room, but, with this software, we're able to track the age of our claims and move the dial on those claims by getting them reviewed by second counsel," says Chow.
Working as a solo in-house counsel with two paralegals and an insurance expert, Chow's mandate includes legal matters such as financing, real estate and leasing, key partnership agreements, litigation, trademark protection and corporate compliance. She directs risk management and insurance for the company and manages business development for acquisitions and franchising.
"Acquisitions are a lot of fun," says Chow. "There is a lot more to it than just the conveyance piece. It's really about ushering in the integration of assets and personnel to the fold." She also directs teams of external counsel in multiple jurisdictions.
"I physically can't be everywhere, and I don't know all the local laws in all the provinces, so we use external counsel in expertise areas," says Chow, who regularly seeks help from experts including securities, employment, trademark and liquor-licensing lawyers. Ensuring that liquor licences are renewed and operational licences are valid is key for a restaurant chain.
Giving her team security and motivation in their work plans is a goal of Chow's for 2021. She also hopes to encourage them to choose a project or initiative that allows them to use their personal skillsets.
"Given that 2020 was so much about adaptation, I want to be able to give them a road map for what we're going to try and achieve so we're not just managing a crisis but also working toward certain goals," she says.
FAST FACTS: CATHERINE CHOW
Is an adjudicator at the Law Society of British Columbia
Is an adjunct professor at the University of British Columbia
Is a member of the National GC Network
Earned an LLM from the Peter A. Allard School of Law at the University of British Columbia, 2007
Winner of the Lexpert Zenith Award, 2014
Is a founder of the Pacific Post Partum Support Society's Angel Donor's Dinner