Myers takes on new responsibilities with recent promotion to senior legal counsel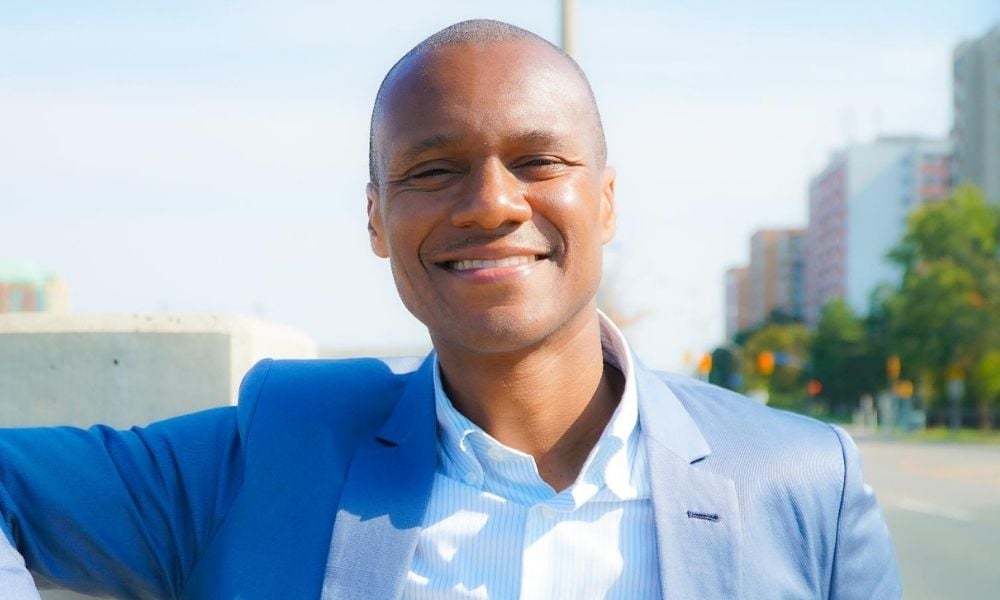 After joining TD Bank in 2019 with a mandate to work on securities, capital markets, corporate governance and public disclosure matters, Jamaal Myers quickly developed a keen interest in environmental, social and governance issues. What started as one small assignment gradually snowballed over the next two years until 50 percent of his workload was related to ESG.
In February 2020, the bank created a new role for Myers, allowing him to focus on the bank's ESG public disclosures. In addition to his corporate practice, he works with internal and external stakeholders on complex ESG matters including climate change, sustainable finance and Indigenous rights.
As part of a promotion last month to senior legal counsel, Myers is responsible for reviewing the bank's ESG reporting suite which includes an ESG report, climate action report and TD Ready Commitment Report – a corporate citizenship platform.
"This promotion was really a sign of confidence that the bank had in me. They created a role for me because they realised my value and the expertise that I brought," says Myers, who previously worked at law firms in New York before returning to Toronto.
This month, TD released its financed emissions report which sets targets for emission reductions, so Myers took the lead in reviewing this report. The new report disclosed net-zero interim financed emissions targets for 2030 for two high-emitting sectors – energy and power generation. This is part of the bank's longer-term goal to achieve net-zero greenhouse gas emissions by 2050.
"My main role is reviewing those documents to make sure everything we say in the documents is accurate and also to make sure we're comfortable with the assumptions that we've stated, and that the information is conveyed in a way that's accurate to the readers," says Myers. He works collaboratively with TD's ESG team to determine how the legal team can provide support and respond to stakeholder inquiries.
Myers is also TD's lead lawyer reviewing reports on behalf of the bank, including the Dow Jones Sustainability Index, the Carbon Disclosure Project report and the Bloomberg Gender Equality Index.
While ESG has always been embedded in the bank's DNA, Myers has seen the focus grow rapidly in recent years.
"I see how much the legal department has grown in terms of having lawyers specifically dedicated to supporting the ESG team, and I see the ESG team increasing year over year in terms of the strategy and the number of people involved," he says.
Myers maintains a collaborative approach when working with other departments throughout the organization, particularly when it comes to making sure that all groups feel their input is valued with regard to public disclosures.
Watching the growth of TD's ESG initiatives such as Scope 3 financed emissions targets is a highlight for Myers.
"Just seeing how much collaboration there was across the entire bank – both on the Canadian side and the US side – is really exciting," he says.
In addition to his work in ESG matters, Myers is proud to mentor a young lawyer as part of TD's partnership with the Canadian Association of Black Lawyers which was designed to support the career aspirations of Black lawyers and to increase diversity and inclusion in the legal profession across Canada. Through the partnership, mentors and mentees are paired based on their interest and background.
"I've been fortunate to be mentoring a remarkable lawyer to help guide her through her career, and it's been a really rewarding experience for me," says Myers. "I would recommend this program to anybody."
Myers is currently exploring his interests outside of the law by running for the municipal elections in Toronto, with the support of TD. Having worked as a community organizer in Scarborough, Ont. for a year prior to joining the bank, he developed a passion for local economic development.
"TD is the kind of employer that gives you the flexibility and the support that you need to accomplish things outside of work," he says.